Joined

Sep 16, 2018
Messages

2,084
Reaction score

2,383
Points

113
Location
Yesterday I cut apart a stock kickstand. Shortened it about 1 1/4" by cutting the shaft just above the toe catch bar. Re-welded it together, at the new short length. Primed and repainted it.
It will be installed on my wife's lowered 2016 NC700x. She has a Soupy's lowering kit. And a Soupy's adjustable kickstand. The Soupy's adjustable kickstand tends to poke through hot asphalt parking lots. The toe catch also snapped off last summer, it was aluminum and under-engineered for its task.
I have not installed it yet because I need to raise her bike up about an inch. When we lowered her bike, we took it all the way down. Bike is too low. So we will raise the bike up and reinstall the shortened-original kickstand, which is now longer than the current Soupy's and shorter than the stock.
I'm hoping I don't have to cut-weld-paint it again,
but I think it should be perfect based on my male intuition and general manly guesstimate skills.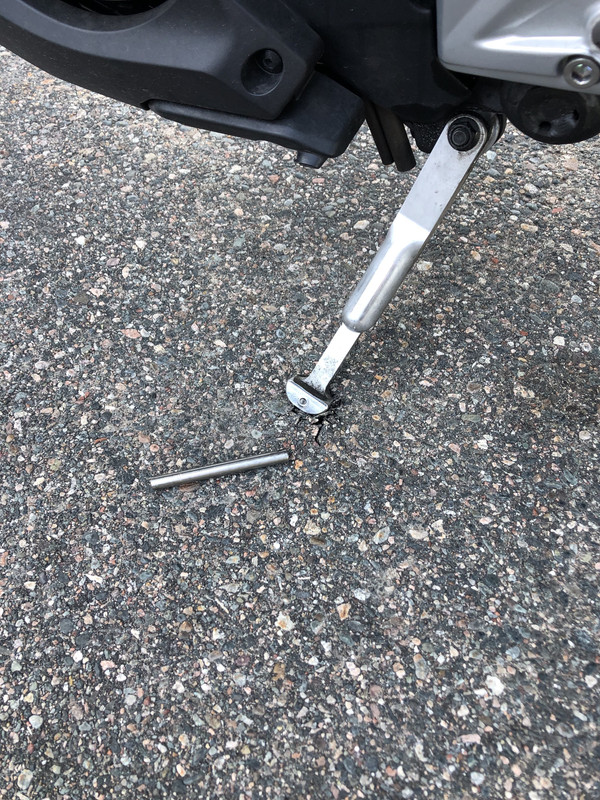 Above you can see the broken Soupy's Performance adjustable kickstand. The toe catch laying on the ground, snapped off just above the threading were it screwed into the kickstand. The rounded bottom of the Soupy's kickstand makes a nice hole in hot asphalt parking lots too.