Joined

Jul 17, 2014
Messages

222
Reaction score

0
Points

0
Location
OK, Ms. Bunny is refusing to cook her signature burgers until I try and get rid of this rear hugger to get it off of 'HER' patio. SO HERE! TAKE IT! I'M HUNGRY!!!
It was on my 2014 NCX, fit perfectly, BUT- It's missing the rubber gasket tape like stuff, because it was crap so I used 1" wide 1/4" thick(??) rubber insulation tape. Kinda dumb to by a roll of the stuff just for this but hey, It worked. I didn't have the hugger on my bike that long though.
Anyway, if you want it, and you cover the shipping, Mr Wallace will box it for ya, and I'll ship it. I'll offer a price as soon as I know where and how it's going. Sendee's choice.
Eric- the almost always friendly FlaFeralCat.
Bigger pics available on request.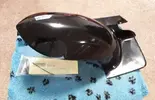 Last edited: