Joined

Mar 30, 2013
Messages

73
Reaction score

1
Points

0
Location
I saw the previous thread installing the single unit Soundbomb so I thought I would throw this up as another option. I accidentally ordered the "split" version with a separate compressor and horn, for my purposes it worked out well.
The compressor mounts with a single bolt pretty easily. I hated to mess up my pristine frunk but after looking at about 5 different spots this seemed to be the best option. Here's the bolt hole location.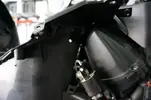 Compressor and Relay attached. I bought a relay holder from Pep Boys that had existing wires. Connectors are standard female spades, I like the ones that a pre-heatshrink wrapped. Red wire (12v power) comes in from a power distribution unit on the other side of the bike pulled through the battery compartment. Ground is to the frame off the bolt that you can see behind the compressor. Two black wires are connected to the original horn wires (both black for aesthetics). The horn wires can be directly connected with off the shelf male spade connectors.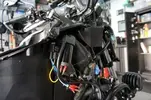 Power distribution (before final clean up, PDU cover, and cable management) PDU is a Fuzeblocks FZ-1. The other box is a Skene IQ-175 LED dimmer.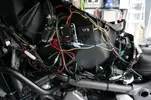 Horn location - I do like the split, it looks like it tucks behind the engine guard better than the single unit. It was a pretty tight fit.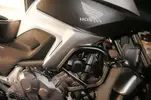 Finally the total frunk presence (compressor and relay)