Joined

Nov 11, 2011
Messages

4,107
Reaction score

104
Points

63
Location
Icon is a name that is very popular in the sport and sport-touring segment of the motorcycle gear world. They manufacture everything from
touring jackets
to full on
racing gauntlets
, and everything in between that could be attached to anything named "touring." This is especially true when it comes to their multi-role gear, especially their Super Duty II Gloves. These beauties implement a combination of different styles of riding into one pair of gloves that does it all. It wouldn't be called a Super-Duty glove if it didn't.
This is not to say that Icon doesn't also make specific gear for certain segments, as they are also involved in superstock and
supersport racing
around the world, as well as motocross and supercross. It is through these programs that many of their products get their start before they are refined and developed for the street. A true "trickle-down" company, we, the consumers, benefit from the active development year after year for the racing world.
Shopping Now? We Recommend:​
webBikeWorld has worked closely with RevZilla over the years to provide our testers with products to review. In addition to being a great site to shop from, they're also a great partner.
RevZilla​

Free shipping on orders over $40
30-day no-nonsense return policy
Excellent selection of all major brands
Awesome pricing
Buy This Glove on RevZilla
Icon SuperDuty II Features​
Primarily based on a motocross chassis, the Super-Duty II uses full "Battlehide" goatskin leather throughout. This leather is quite perforated, yet keeps the hands at a good temperature, even in colder weather. In fact, only when temperatures dipped below 50 F did I even need to turn on my grip heaters, and even then only on the lowest setting.
This leather hides padding in the palm heel that is double reinforced as a primary sliding area. The knuckles are not fully armored per se, instead of using impact foam on a floating expansion panel on the upper layer, and reinforced leather underneath.
Finger sliders on all four fingers provide impact and abrasion protection, and the fingers are finished in rubber to allow for stretching at the tips. The interfinger sections are ripstop Cordura.
The wrist closure is on stretch Cordura, and closes with velcro to form a decent seal around the wrist and prevent the glove from slipping off.
Icon SuperDuty II Fit & Comfort​
My hand circumference is 9.5 inches or just about 24 cm, and I found that the 2XL sizing of the Super-Duty II's was a touch snug across the knuckles, but not anywhere near uncomfortably so. My fingers fit perfectly closer to the fingertip, and only if I straightened them fully did my tips touch the end of the glove.
Being leather, wearing them in took a day or two. To one glove I used the water spray method – applying a mist of water to the glove and flexing it for about 10 minutes – to test the warp of the leather. The other glove (right hand), I wore without misting water onto it. I found that after a day of wearing the gloves, they both felt comfortably stretched and broken in.
The leather isn't too thick, nor is it too thin. The palm is probably the thinnest leather, mostly to give a good bar feel, but it is still not what I would call anywhere near as thin as the palm of a proper motocross glove. It also allows the fingers to feel around objects, from turning on a
SENA 10C Pro
to being able to unzip a small zipper on a camelback bag to allow for a refill from a water bottle without taking the gloves off.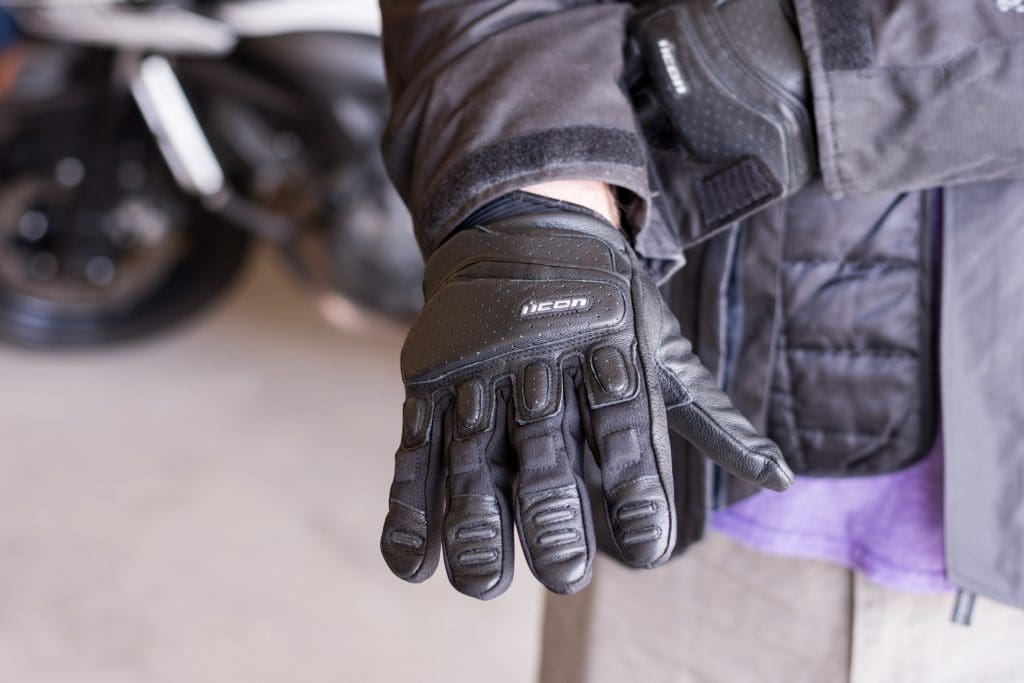 In terms of length, the base part of the wrist covers about an inch down the wrist, while the top ends just before the ulnar bump in the wrist. I found that with my jacket coming down and closing over the base of the glove, there was no restriction of my wrist. It seems designed to allow you to quickly adjust throttle, such as powering over a jump on a dirt bike, a nod to the motocross origins of the glove.
After about 4 days of riding in them in a variety of weather – from ridiculously warm April days to more chilly early Spring weather – they now feel as if they were made of the softest leather on the inside. It's so nice when you find a glove that breaks in nicely, feels great, and can handle a multitude of weather. My bet is that the motocross origins really helped with that.
For fit and comfort, I give the Super-Duty II's full marks, 5 out of 5 stars.
Dexterity​
A glove is only as good as the things it lets you do. While the fingers of the Super-Duty II are pre-curved, they straighten out without effort, and easily move enough to form a tight fist. Spreading and closing my fingers is also completed without issue.
Throughout testing of the gloves, I have ridden everything from a sport naked to a cruiser, and even a dual sport to honor the motocross-style chassis. In every situation, the glove allowed for great feel and full movement. Aiding this is the floating expansion area of the glove that resides right under the knuckle foam.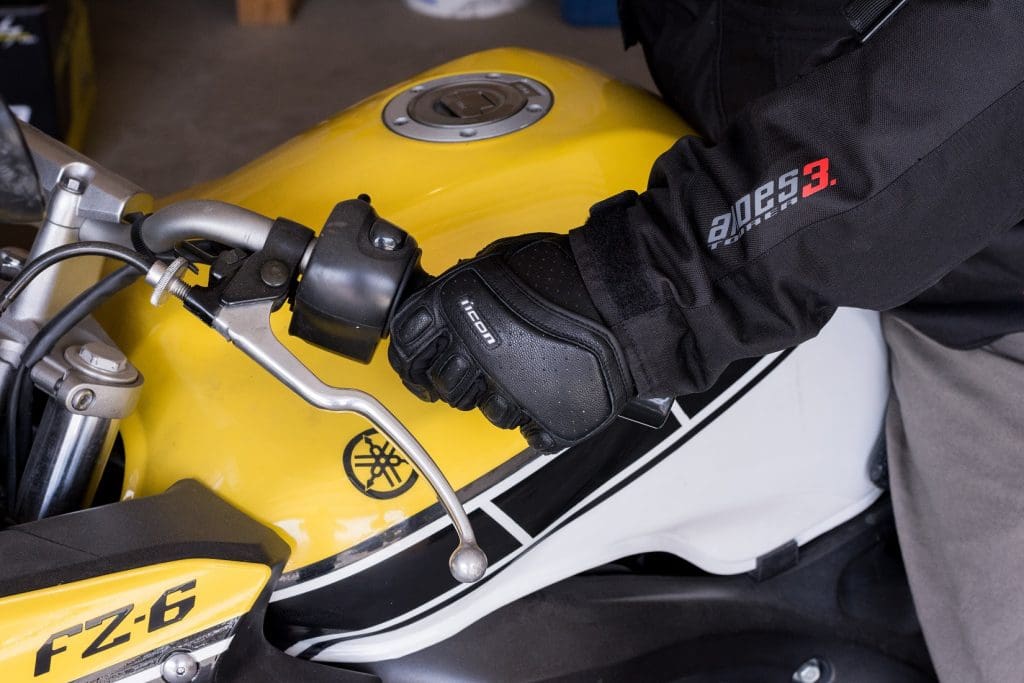 This expansion area will lift up and move forwards as you grasp the bars, and will settle back down onto the glove when you straighten your fingers to reach for the clutch or brake. Despite doing this what must have been a thousand times during testing, it never once felt like the glove was tightening back against my fingers, or that my movement was restricted in any way.
For being super dextrous and having a really smart way of allowing the glove to move around without sacrificing protection, I give the Super-Duty II's full marks for dexterity, 5 out of 5 stars
Airflow​
The Super-Duty II's are a bit weird in this area – and weird in a good way. What I mean by this is that while they are perforated across and around the entire glove, yet they never seem to be too hot or too cold.
When riding at 60 MPH with an air temp in the 60 F range, there was enough air moving through the glove to carry away sweat and heat, yet my hand didn't get cold. The one super hot day I rode with them on, when the temperature was closer to 73 F, there was a bit of sweat starting in the gloves when standing beside the bike, but as soon as I got moving above 5 MPH, the air-cooled my hands off perfectly.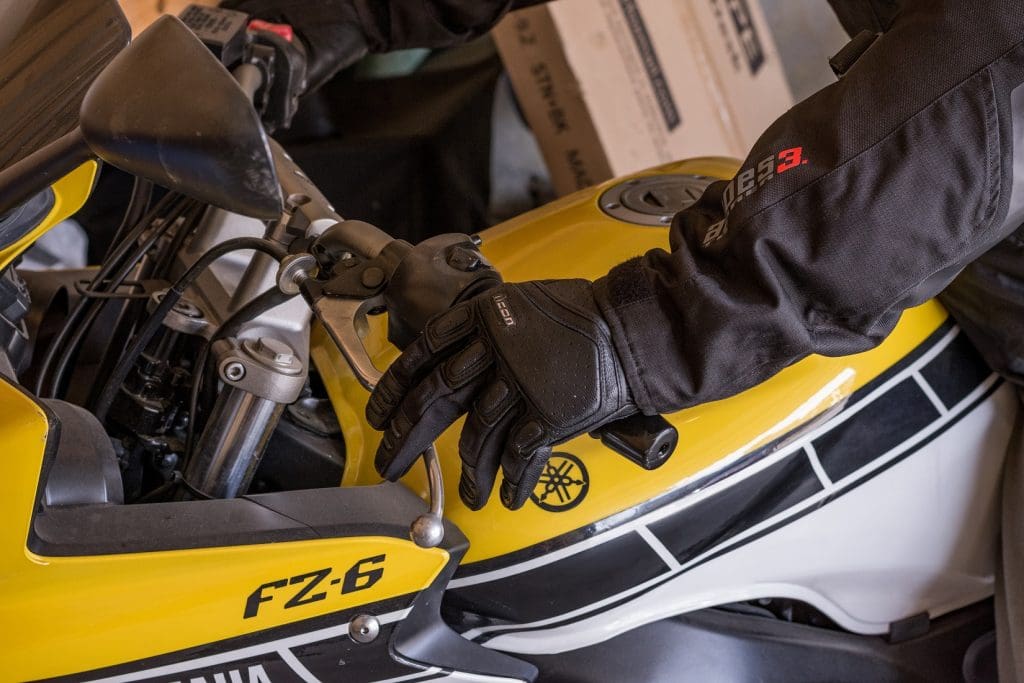 On the other hand (heh, jokes!), when the temperature plummeted to under 50 F, my hands stayed warm, and I only had my grip heaters on to the first setting, which is 15%, and that was mostly to keep the very tips of my fingers warm. Even going above 30 MPH didn't whisk away too much warmth, leaving my hands very comfortable.
I have no idea what magic lining or mysterious incantation was placed upon my specific set of Super-Duty II's, but
they are honestly impressive with their airflow and temperature regulation, and I give them 5 out of 5 stars
Waterproofing​
None. Moving on!
Icon SuperDuty II Build Quality​
With the
Icon Super-Duty II gloves retailing at $65
, one would expect a solid "meh" for the build quality. Yet, despite a lot of movement, twisting, rotating, carrying, smacking the side of the fuel tank once, stretching, and pretty much anything you can do with your hands, not a single thread has loosened or frayed. This is great, especially since you can often find these gloves in
bundle deals or on sale
.
Fingers​
The fingers, possibly the one area where gloves get the most wear, are double stitched to keep the Cordura and leather tightly sealed together. The finger overs are a mixture of leather with stretch Cordura on the second knuckle of each finger. The finger unders are full leather, and the gussets are also stretch Cordura. It has all stayed tightly together without issue despite many hours and many, many shifts, trail braking, braking to a stop, and all the regular motorcycle usage.
Palm & Wrist​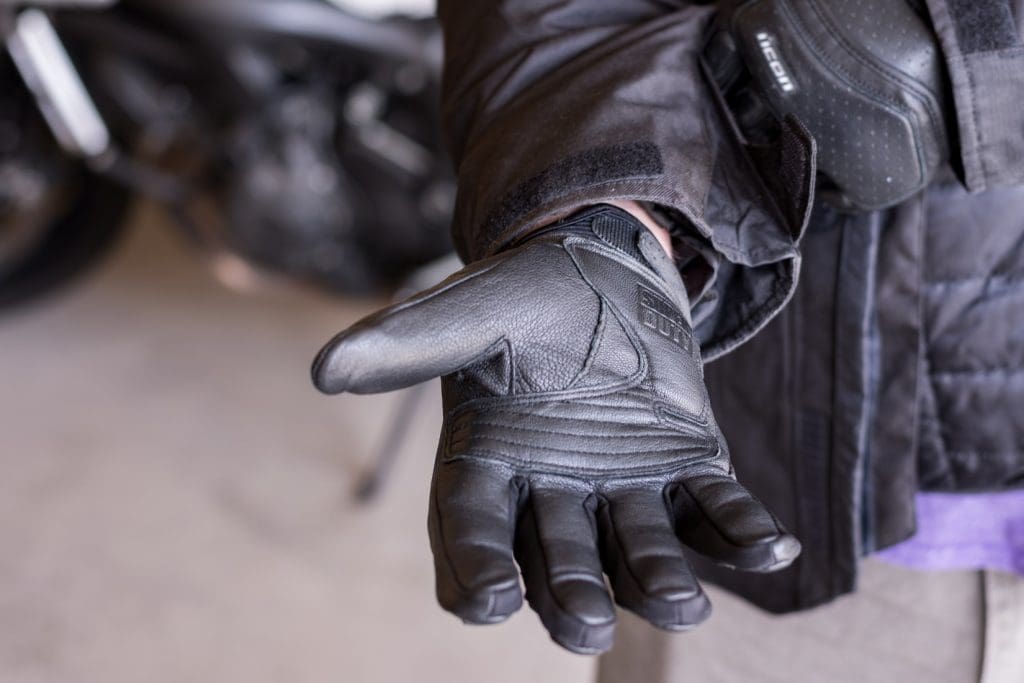 The palm has four distinct sections, with the thumb pad having only a single layer of leather. The finger root area has accordion folds that allow for a wide range of movement. This accordion-folded area translates down into the palm heel area, with a thinner leather reinforcement underneath that also covers the mid-palm.
The only thing that I personally would like to have seen here was a dedicated palm slider, but I will talk more about that in the next section.
The wrist closure is velcro on a stretch Cordura base that has not lost any elasticity over the month I've been wearing these gloves.
The manufacturing quality for a "less expensive" glove is superb, and not a thread has popped or even come loose.
For build quality, I can't fault these gloves, although a palm slider would have been nice. 4.5 out of 5 stars.
Icon SuperDuty II Protection​
As with all good things, there must come a little bad as well.
The palm area of the glove desperately feels like it needs more than just some impact foam and two and a half layers of leather. While I am sure the abrasion resistance of the leather is superb, which for the quality of goatskin leather it is, it's the impact of the palm heel against the oh-so-unforgiving pavement that has my concerns raised.
A small TPU slider, or even a thicker foam area, would go a long way to making the glove feel a lot safer.
Over the knuckles is a bit of an interesting protection idea. As mentioned before, there is a thick plate of impact foam there on a floating expansion area. No matter how flat your hand is, or how much you make a fist, that expansion plate keeps the knuckle foam over said knuckles. My worry, however, is about the impact absorption quality of the foam compared to D3O or TPU. I am a fairly heavy guy, and if my entire weight were to come down on the knuckles, I'm pretty sure I could do a little damage before sliding.
Then again, this has to be balanced against the fact that the glove is based off a motocross chassis, and most motocross gloves only have minimal TPU, and even then it's mostly to protect the knuckles and fingers from rocks.
It's a bit of a tough balancing act, but the bottom line is that these are street-oriented gloves, and I would feel a lot more comfortable with street-oriented armor, as would many riders, I believe.
The lack of proper armor does hurt the score, with the goatskin leather saving the day a little. 2 out of 5 stars.
Closing Thoughts on the Icon Super-Duty II Gloves​
What you get with the Icon Super-Duty II gloves is a thicker motocross-style short glove designed to be used on the street for three seasons.
The build quality is great for the money, the dexterity has to be felt to be believed, and I still for the life of me
cannot
figure out how they made the glove so breathable, and also keep the hand perfectly warm in colder temperatures.
The value for money here cannot be overstated. You get full goatskin leather, Cordura, even a little rubber for protection, and the wrist closure fits inside almost any longer sleeved jacket wrist without issue.
The only pitfalls for the glove is that it features impact foam instead of superfabric, TPU, or even D3O in the knuckles and palm-heel.
Icon Super-Duty II Pros & Cons​
Pros​
Unbelievably comfortable once broken in
Despite being slightly tight at first, they stretched and fit accurately to their sizing chart
Ventilation is great, taking away heat and sweat, but never cooling your hands to the point they feel outright cold
Double stitching throughout keeps everything tight and together
Amazing value for money
Cons​
Missing proper street-oriented armor
Compromises protection too much towards the motocross origins of the glove by using impact foam instead of TPU
Shopping Now? We Recommend:​
webBikeWorld has worked closely with RevZilla over the years to provide our testers with products to review. In addition to being a great site to shop from, they're also a great partner.
RevZilla​

Free shipping on orders over $40
30-day no-nonsense return policy
Excellent selection of all major brands
Awesome pricing
Buy This Glove on RevZilla
Icon Super-Duty II Photo Gallery​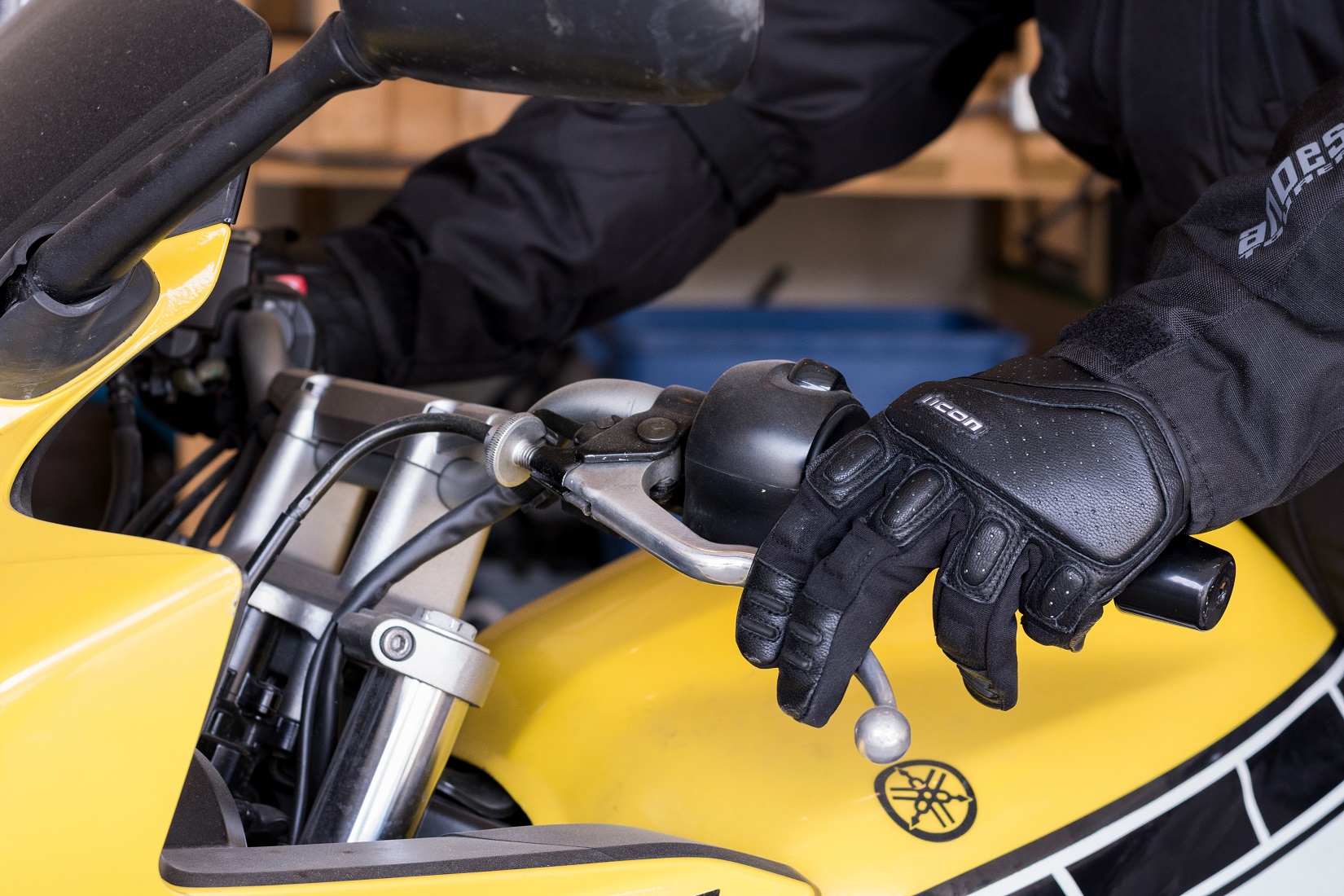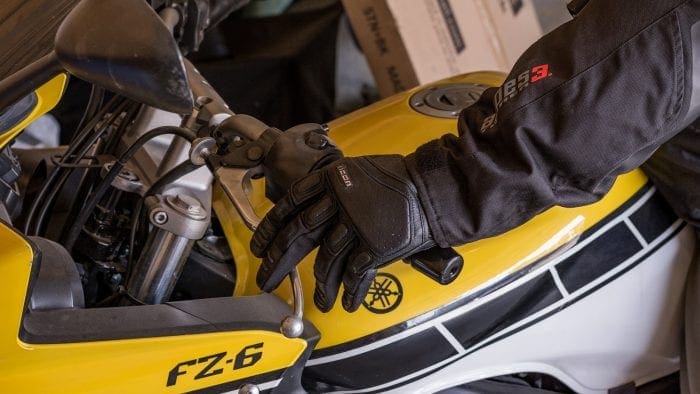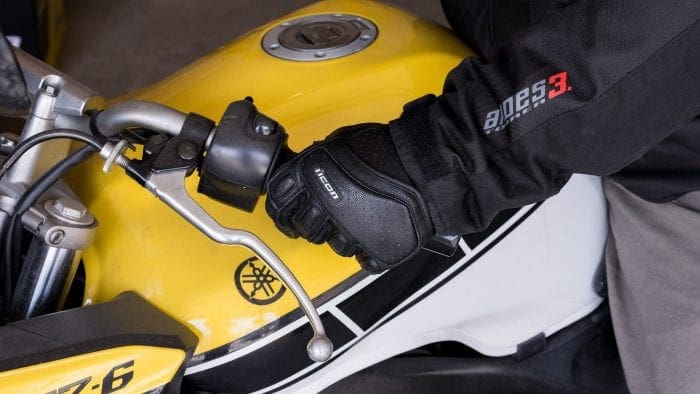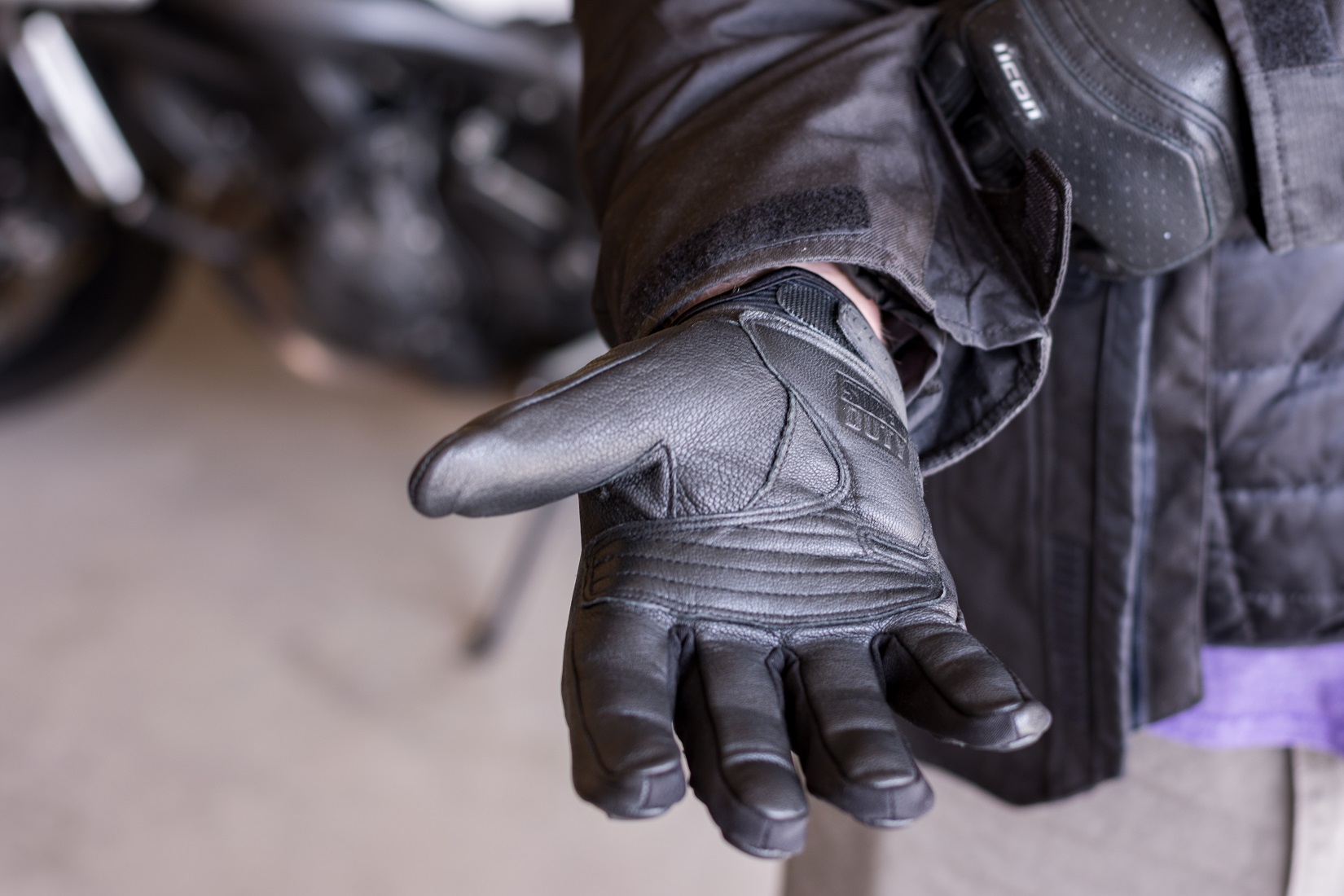 The post
ICON Super-Duty II Gloves: Hands-On Review
appeared first on
webBikeWorld
.
Continue reading...