Joined

Nov 11, 2011
Messages

4,116
Reaction score

105
Points

63
Location
Shopping Now? We Recommend:​
webBikeWorld works closely with Revzilla and Amazon to provide our testers with quality products to review. While we have an affiliate relationship and receive a commission from items purchased, this addition comes at no additional cost to you. It is the primary way we pay for our site and reviewers.
RevZilla​

Free shipping on orders over $40
30-day no-nonsense return policy
Excellent selection of all major brands
Awesome pricing
Buy This on RevZilla
Amazon​

Free shipping (with Amazon Prime)
30-day return policy
Excellent selection
Competitive pricing
Buy This on Amazon
GL Pannier Mount & MotoTrekk Panniers: The Breakdown​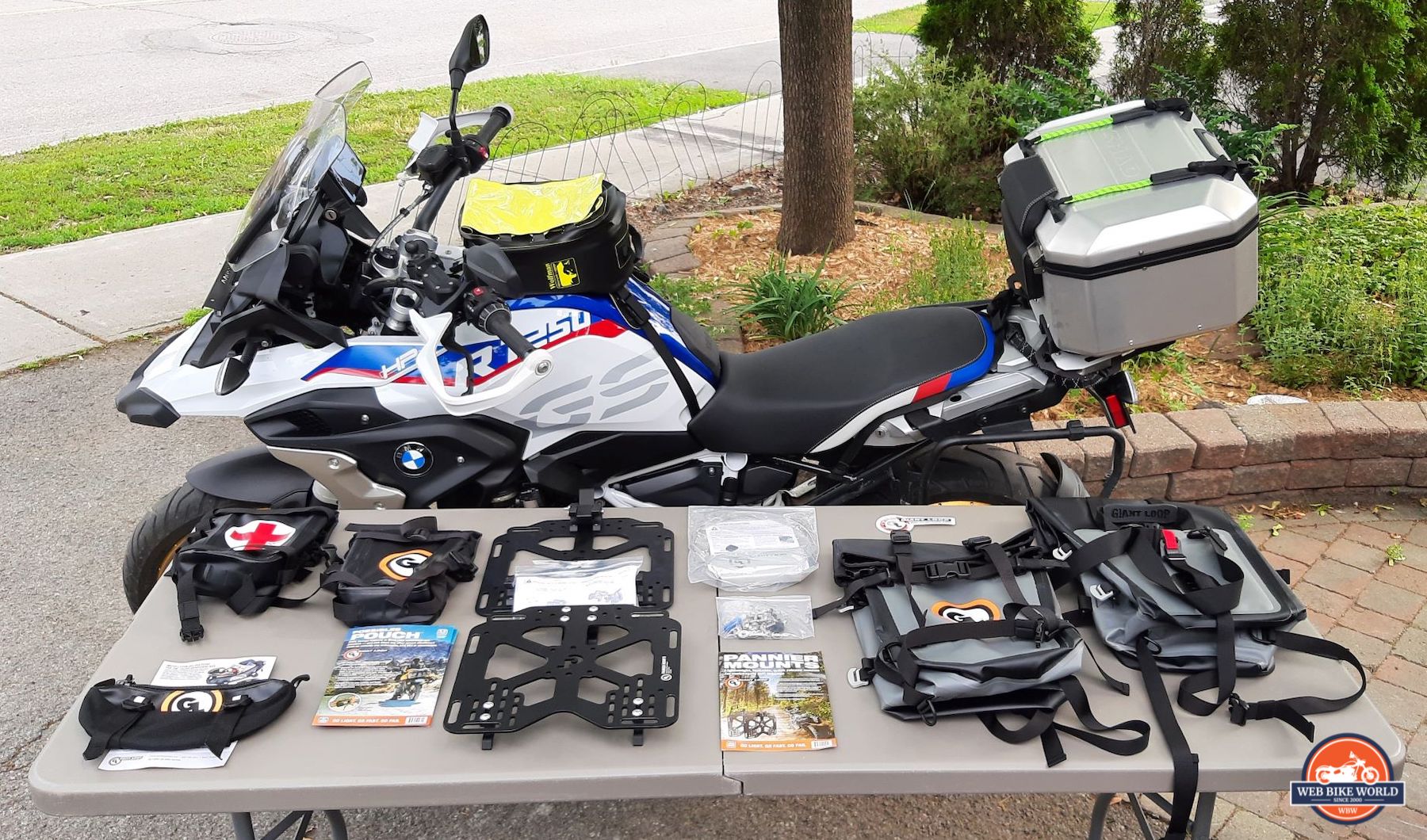 One Reviewer, Multiple Products​
Related to the approach taken with the review Jim Pruner and I did of the
Mosko Moto Reckless 80L V3.0 Revolver Luggage
system in December 2020, this is a bit of a longer-term review although with perhaps less travel and fewer rocky roads involved…at least so far.
Some years ago, while attending a BMWMOA rally, I got the opportunity to bring home one of the first products marked with the large orange circle 'GL' logo. That uniquely-shaped product was the
Giant Loop Saddlebag
that evolved into the Great Basin, Coyote, and Mojavi Saddlebag line.
This luggage was a heavy-duty well-shaped piece that fit perfectly over the back of the motorcycle (an early model
R 1200 GS Adventure
at the time) and while being easy to mount and easy to pack, it wasn't exactly waterproof, something that Giant Loop did identify in recommending the use of additional sealing compound and inner drybags; these actions did indeed make it more suitable for travel when far from home – which we were at the time.
Since then a couple of smaller GL products have been acquired for off-road use and subsequently passed on to riders who were spending far more time off the beaten path at the time – good gear is such a waste when sitting on the shelf…
But in wanting to take a closer look at the newer MotoTrekk or Round the World (RTW) Pannier products and the even newer GL Pannier Mount kit with their quick connect/release feature that seemed to be a good configuration for the home
BMW fleet
, which consists of an R 1250 GS (HP) or BMW F 850 GSA. An email to Giant Loop had things coordinated in short order.
And in early June, a big box of Giant Loop goodies arrived containing a GL Pannier Mount Kit; the BMW R1200/
R1250
/
F850 GSA
adapter (off-set) kit; a set of MotoTrekk Panniers; two Possibles Pouch(es) – one with the First Aid Logo; a Hot Springs Heat Shield; and one of the small Zigzag Handlebar Bags. Good things come in big packages as well…
So the Giant Loop products covered in this first of three related reviews are the GL Pannier Mount and BMW GS ADV Adapter Kits, the GL MotoTrekk Panniers, and the GL Hot Springs Heat Shield accessory.
The second review is a Quick Look that focuses on the GL Possibles Pouch products while the third and final submission in this series will be a short 'Pocket' Review piece on one of the smallest storage products but also one of the most versatile – the GL Zigzag Handlebar bag. Let's get started. But first, a story…
GL Pannier Mount: The Giant Loop Story​
In 2008, Giant Loop pioneered the original horseshoe-shaped biomorphic motorcycle saddlebag design with the bolt-on (strap-on) Giant Loop Saddlebag and since those early days, the Giant Loop adventure proof packing systems, including products based on the original design have been utilized globally under demanding conditions.
Their theory of "go light, go fast, go far" regarding on/off-road travel has become a well-known, well-respected refrain heard virtually anywhere moto-travelers gather.
Everything Giant Loops designs produces and markets is focused on the 'go light' aspect, along with designs that shape and position the pieces perfectly on the motorcycle for the safe loading, better weight distribution, and comfort of the rider (safety over the long haul).
And everything is built to last. "Bombproof" is the word Giant Loop uses so that there are fewer parts to fail along the way. Everything is also made to military specification quality standards and everything is backed by a limited lifetime warranty against defects.
Having used the original GL Saddle Bag for many years on many motorcycles –
off-road
, on-road,
touring
and
sports machines
and now these newer products, this rider can attest that the versatility and longevity of that first product are very evident in the GL gear now being used.
The GL Pannier Mount​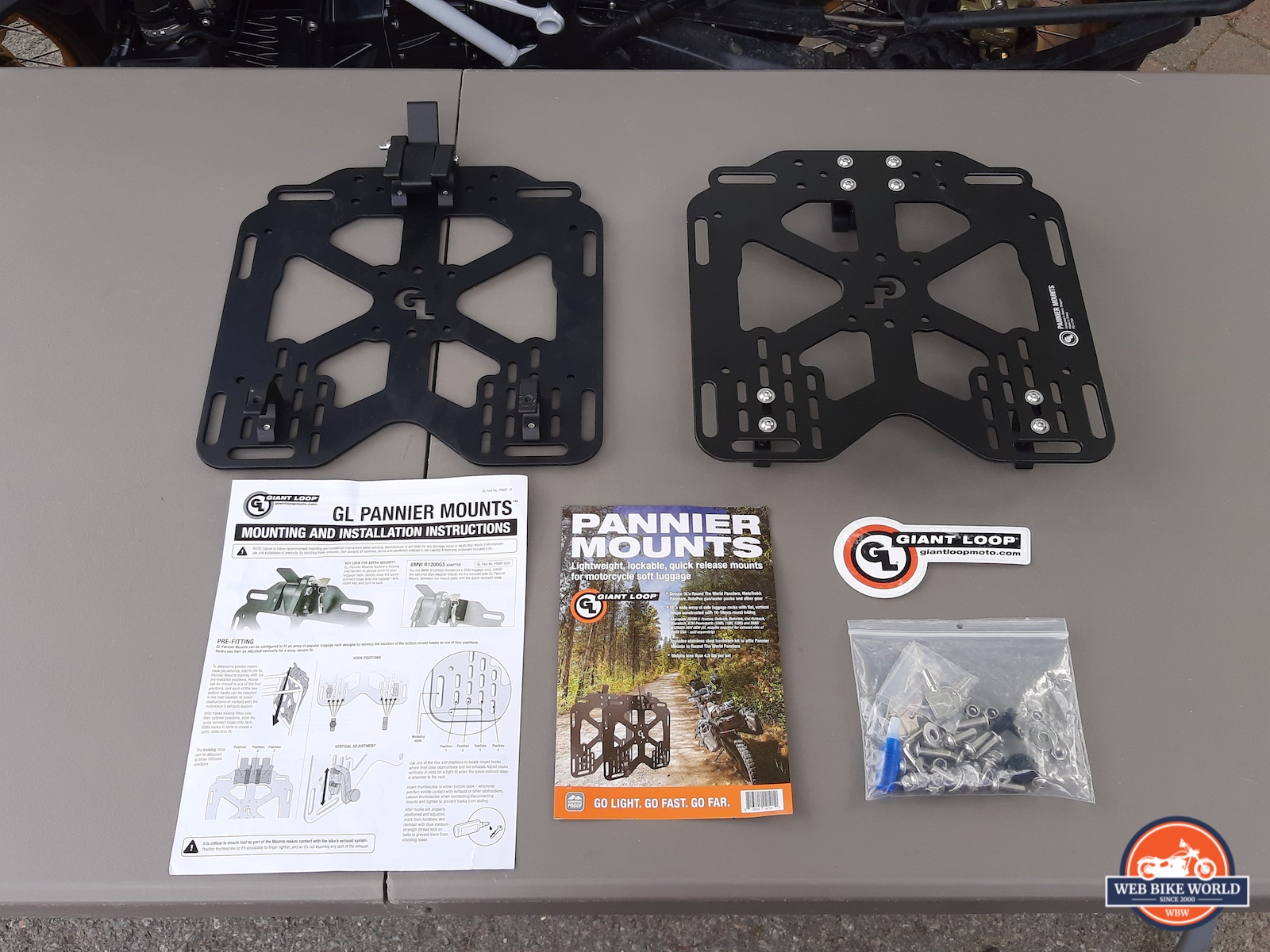 Many soft or semi-rigid bags can be fitted to a side frame of some sort but in many cases, the necessary attachment points are not optimal, and/or the bags themselves are not well shaped or designed for a generic frame but rather intended for use as a specific (proprietary) solution.
Enter the GL Pannier Mounts – similar in some ways to other products on the market, but unique in other ways, with these other ways offering a whole lot of adjustability and versatility for mounting soft or semi-rigid pack bags of some type (and not just the GL MotoTrekk or Round the World panniers).
And, unlike similar fitment solutions, the GL Pannier Mounts, whether mounted for use or in use with attached panniers of some sort and size can be mounted or removed in seconds, with an integrated push-in/key release lock adding additional security…
The GL Pannier Mounts are lightweight black anodized aluminum plates precisely shaped and finished with a hub-centric approach for strength. This center section is drilled for RotopaX style containers or other housings and the plates feature numerous templated holes and slotted cut-outs for mounting adaptability and versatility in mounting side bags.
All the mounting pieces are removable, adjustable, and well secured with M6 hardware. The quick-connect top clamp mount uses a four-hole mounting pattern that is matched up to either of the three positional layouts placed along the top of the plate.
The two drop-in hook pieces engaging the lower frame tubing use two mounting points each that are matched up to the numerous horizontal and vertical slotted cut-outs on the plates for a lot of versatility in getting optimal vertical (up/down) and horizontal (fore/aft) placement of these engagement pieces on (most) tube frames.
Users can mount soft-side or semi-rigid bags to the Pannier Mounts on a semi-permanent basis and use the quick connect approach for mounting and removing the mount, and pannier combination or if the user prefers to keep the Pannier Mounts locked on the motorcycle frames then removing the side bags is doable – more work but an option.
While specifically designed for the GL Round the World (RTW) and GL MotoTrekk Panniers, the GL Pannier Mounts are, as stated earlier, very adaptable and, very versatile and so far, anything here (similar in size and shape to the MotoTrekk panniers) has been securely fitted to the GL Pannier mounts.
The center or hub of the mounts (plates) is pre-drilled for RotopaX (with or without the base plate) or similarly mounted systems. For the
R 1250 GS
and the
F 850 GSA
this provides the means to carry a fuel or water container on the left (non-exhaust) side without clearance issues.
As identified earlier, another unique and most appreciated feature of the GL Pannier Mounts is the small pin-style lock incorporated into the quick connect latch engagement component. With the pannier mount fitted, the quick connect clasp fully engaged around the upper tubing, and the locking pin pushed in the mount is now secured.
Two small keys are provided with each kit and they are easy to use in unlocking the pieces. These integrated lightweight locks are not the ultimate security solution but they sure work to lock the quick connect latch in place while being a good first deterrent for those who like to borrow things…
The GL Pannier Mount: Features & Specifications​
Aircraft-grade aluminum for anodized black finish
Weight: total kit, both sides, 1.81kg or 4lbs
Pre-assembled top quick-connect latch and bottom hooks
Quick Connect latch and locking pin with two keys
Features a horizontally adjustable latch piece and horizontally/vertically adjustable hook pieces
The Centre hub area is pre-drilled for RotopaX style mounting
Multiple webbing slots to anchor MotoTrekk or RTW panniers (with adapter) or other gear
Replaceable bottom thumbscrews prevent Mounts from moving around (one per side)
The GL Pannier Mount: L BMW GS ADV Adapter Kit​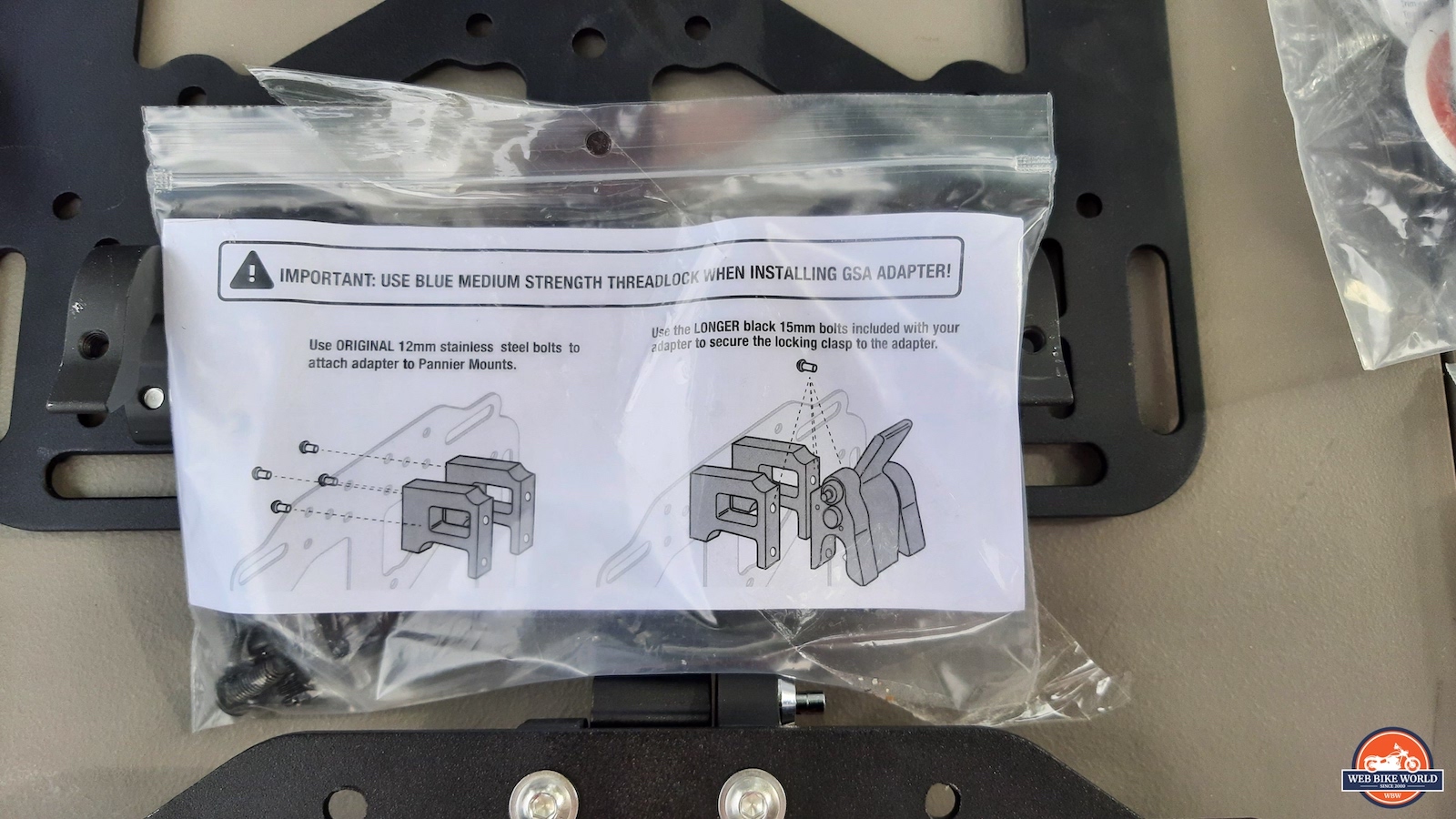 For riders with
R1200
,
R1250
, or
F850 GS
/GSA series motorcycles, or other models that can utilize the BMW Adventure OEM luggage (side frame) system this small adapter kit is the perfect companion piece for the GL Pannier Mounts.
The kits provide a set of offset brackets so the exhaust-side GL Pannier Mount sits vertically providing a flat mounting surface for side bags. See Installation Notes for more details.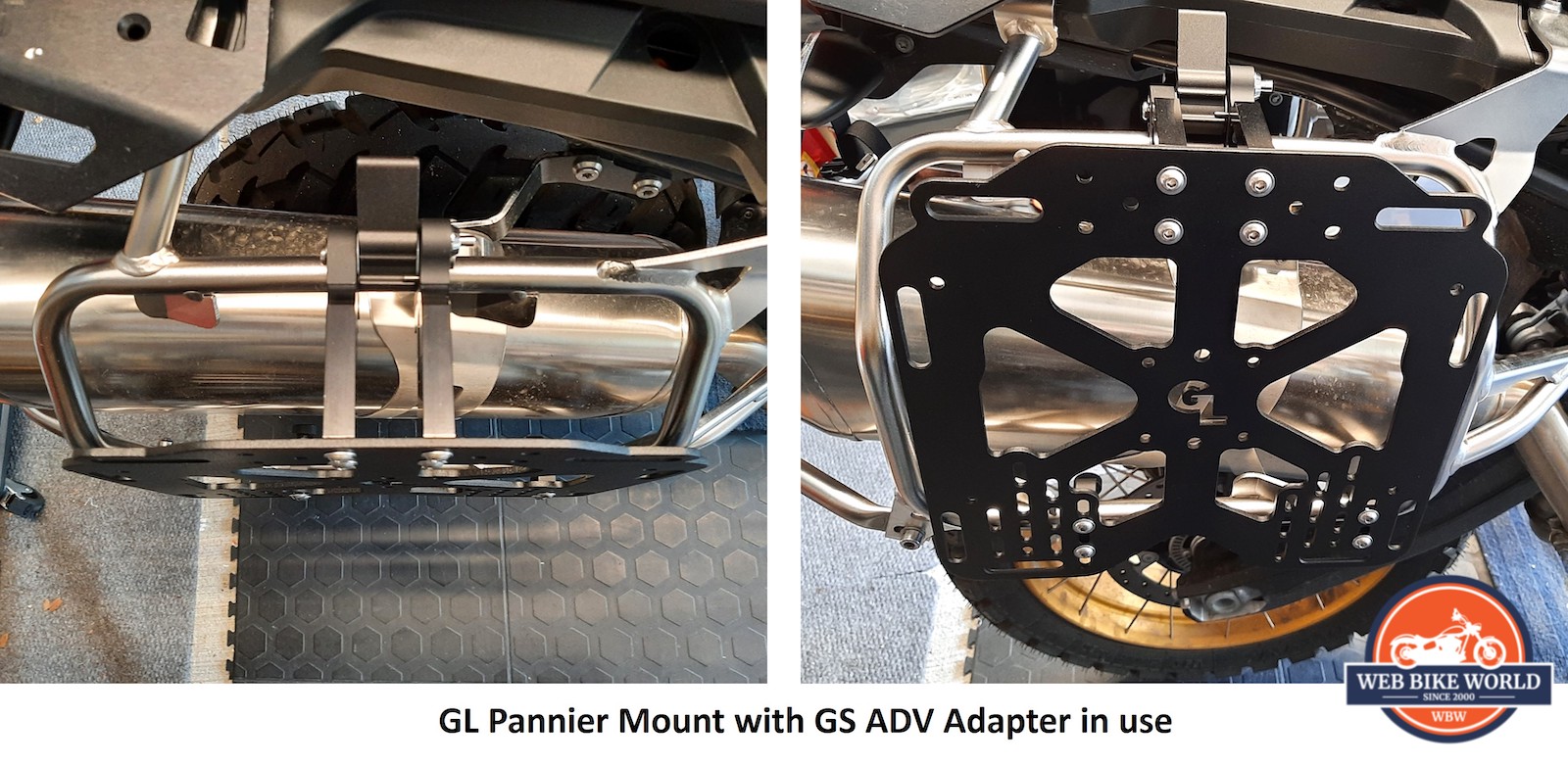 The GL MotoTrekk Panniers​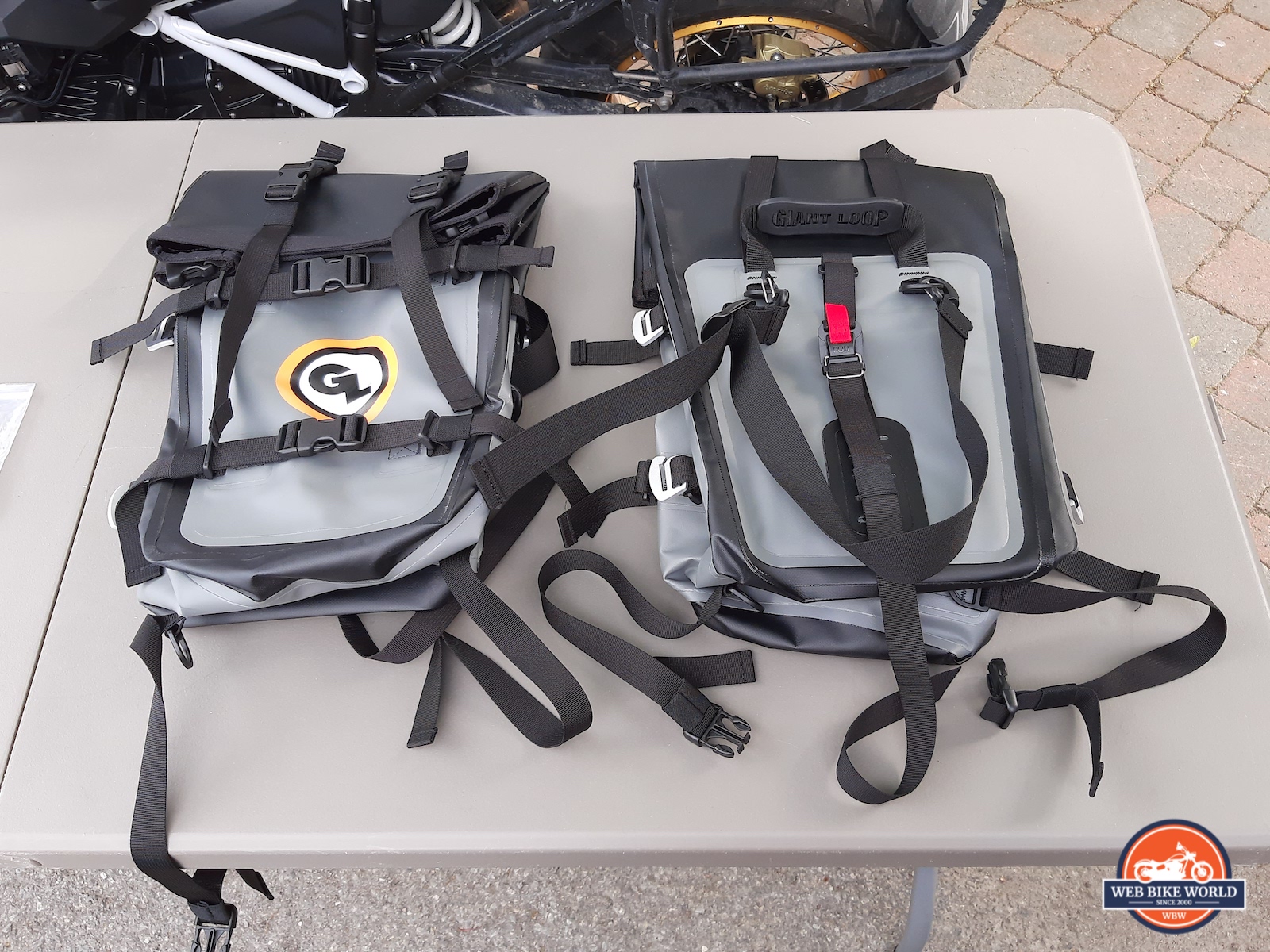 These medium-sized roll-top drybags are rated at a nominal 25L per pannier and can be fitted to virtually any motorcycle – make, model or style that is equipped with some form of side frame or side luggage racks including
dual sport
,
adventure
,
naked
,
standard
, sport touring,
scrambler
or whatever.
Formed of 500D PVC tarpaulin the shell is very tough and absolutely waterproof. Rectangular in shape and designed to be mounted (but not limited to) vertical placement, the GL MotoTrekk Panniers feature a high full-width roll top, facilitating access and for the 'extra' stuff to be squeezed in while still providing for the minimum three full rolls for complete sealing.
The integrated upper and lower corner (four-point) mounting layout uses long durable flat straps with aluminum slide-on hooks and tough plastic buckle slide fasteners; all providing mounting flexibility regardless if they are fitted directly to a side frame of some sort (good) or to the GL Pannier Mounts (best).
For mounting the panniers directly to motorcycle luggage frames or when using the GL Pannier Mounts an adjustable anchor strap on the back of the pannier can be routed behind the frames, adjusted, and secured using its magnetic quick-release clasp to keep the empty or full panniers in place on the frames while the corner mounting points are tackled.
This strap is easily released from its magnetic clasp by using its bright Red pull tab.
The rolltop features a receiver buckle on each end (side) and when the top is rolled down (three recommended for complete sealing), these pieces clip into their counterparts mounted on the end of adjustable straps stitched into the bottom sides of the panniers – these stitched points also host the lower plastic D-rings.
Another two straps with buckle connectors run across the top of each pannier and are used to provide compression of the roll-top – when these straps, along with the side/end straps are in place the pannier is fully secured and sealed. Heavy-duty elastic strap retainers are provided for all the adjustable connection straps to keep strap ends secured and provide a cleaner look.
A strong easily used comfortable carry handle with distinctive Giant Loop lettering is stitched onto the back top edge of each pannier to facilitate handling.
The long adjustable carry strap (one per pannier) with pivoting clips and shoulder pad, when used with the bottom and upper back D-rings forms a shoulder or back-pack carry solution and one or both make excellent cross-seat support if needed for the sideload.
Observation​
The top and bottom-placed D-rings are solidly mounted and if the shoulder strap layout is used to carry just the panniers it's a good solution as they would hang free on the shoulder strap or straps if both are used for a back-pack approach.
But if the norm is to keep the Panniers and Pannier Mounts as one assembly, accessing the top D-rings can take some time (unless the straps are left connected – a good workaround), and when slung over the shoulder, placement of the straps and orientation of the load can have protruding parts intruding on body parts – not optimal, even if the outer gear is still being worn.
Repositioning the top D-rings from the upper back to the upper front mounting points or adding another set of D-rings on the front mounting points for optional use would eliminate the observed issues regarding access, orientation, and load bias of the Panniers and Mounts for dismounted transport….
When empty and with the bottoms pushed out the panniers reveal their form and strength in being self-standing, even with the long rolltop neck extended, facilitating packing, accessing, and unpacking anything whether on or off the motorcycle.
GL MotoTrekk Panniers: Features & Specifications (compiled)​
Volume:
25L each side based on 3 full rolls to seal top
Weight:
less than 6lbs for the pair, actual is
Dimensions:
height tapered 12in down to 9in, 15in Tall, 7in Deep
Mounting System:
aluminum hooks and flat strapping
Includes:
2 x shoulder straps for off-load carrying, hiking, etc.
Front and back points for Possibles Pouches or other gear
500D PVC tarpaulin body (shell)
Roll-top closure with heavy-duty side release buckles and adjusters
Limited lifetime warranty
GL MotoTrekk Panniers: Installing the Kits​
Everything provided for this and the related reviews ended up mounted on both the R 1250 GS HP and the F 850 GSA for use, although the preparation of the F 850 GSA (the tanker) involved removal of its SHAD 4P kit and reinstallation of the OE GS ADV pannier frame kit.
A set of the BMW ADV pannier frames for the R 1250 GS is on hand as well for use when desired along with a set of the aluminum panniers with lots of time and distance on multiple R-series GS and GSA machines. And thanks to GS component standardization they are now usable on the F 850 GSA as well (with sturdy steel keys using a separate lock code).
With both motorcycles hosting SHAD 4P kits as shown in the
SHAD TERRA Full Product Line Review
posted earlier this summer, confirming whether the GL Pannier Mounts could be used with or adapted for the 4P frames added another discovery effort.
The results of this and related discovery efforts are detailed in the GL Pannier Mount Compatibility Section later on. But for now, let's go back to the start of the installation effort.
GL MotoTrekk Panniers: Mounts Kit Installation​
GL Pannier Mount Kit Contents:​
2 x GL Pannier Mount plates or frames with the top and bottom mounting pieces installed
A bag of hardware and small tube of medium thread locking compound
Instructions
GL Decals
GL BMW GS ADV Adapter Mount Kit Contents:​
2 x GS ADV Adapter brackets
Four M6 x 16mm screws
A simple instruction sheet.
Before installing or changing anything already fitted on to the GL Pannier Mounts, test fitting the (identical) left and right plates revealed that if the centre 'GL' logo was to be oriented for proper display then the fitted pieces would need to be moved to the other side of each piece.
The lower mounting pieces (hooks) were not set for use with the GS ADV frames either, but neither posed an issue – the right plate needed to have the GS ADV adapter mounted anyway, and all the hardware needed treatment with the thread locking compound upon assembly or reassembly as the case might be; this is a good learning experience.
And in doing this work, one needs to remember that the top quick-connect latches are spring-loaded and the mounting tabs will twist out of alignment when removed from the plates and a bit of pressure is needed to align them against the plates for reinstallation onto the individual mounts or plates, including when using the GS ADV adapter brackets.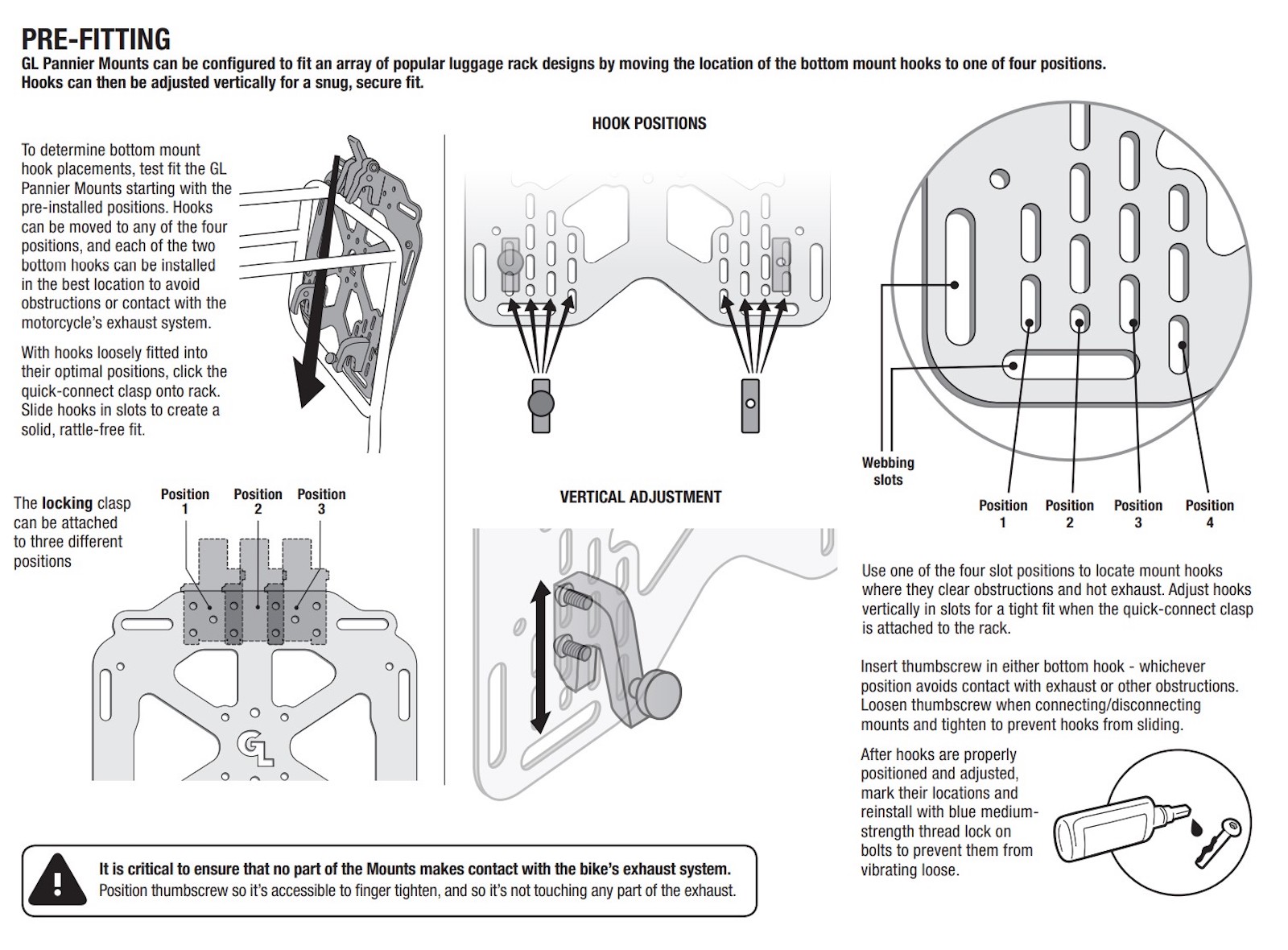 Another factor to be considered when using the GL Pannier Mounts with the BMW aluminum frames are the prominent alignment/engagement tabs on the lower tube sections – a bit of testing is needed to determine optimal placement of the mounting components on the GL Panner Mounts to address this – the Pre-Fitting diagram shown above is a good guide.
With this sorted and the overall instructions read (always) and used (often) the left plate is turned over and the top latch piece and bottom slide-over hook pieces installed using the top and bottom component layouts shown in the composite photo below.
The right plate took a little longer. The top quick connect latch piece is mounted to the GS adapter brackets first using the supplied M6 x 16mm hardware and then this assembly is mounted to the back side of the right plate using the original M6 x 12mm hardware. An L-shaped Allen key is provided to facilitate access to the mounting points.
In fitting the GL Pannier Mounts onto the BMW GS ADV frames some minor adjustments in alignment and positioning were made to ensure the top latch piece and the bottom hooks were seated and fully engaged, then the hardware is fully tightened and a couple of remove/install tests done to verify things.
It is best to work slowly and methodically. I always test-start hardware into threaded pieces before actually installing anything. (Note – unless threaded inserts are used, drilled and threaded holes on aluminum pieces can be soft and potentially damaged by steel hardware). But all was good with the precisely cut and drilled GL pieces.
But with proper pressure and alignment all the hardware is installed without issue. After some initial use, strips of thin foam insulation are added to the tube engagement surfaces as this can help minimize vibration, movement and (possible) rattling, although the GL Pannier Mounts weren't showing much sign of movement…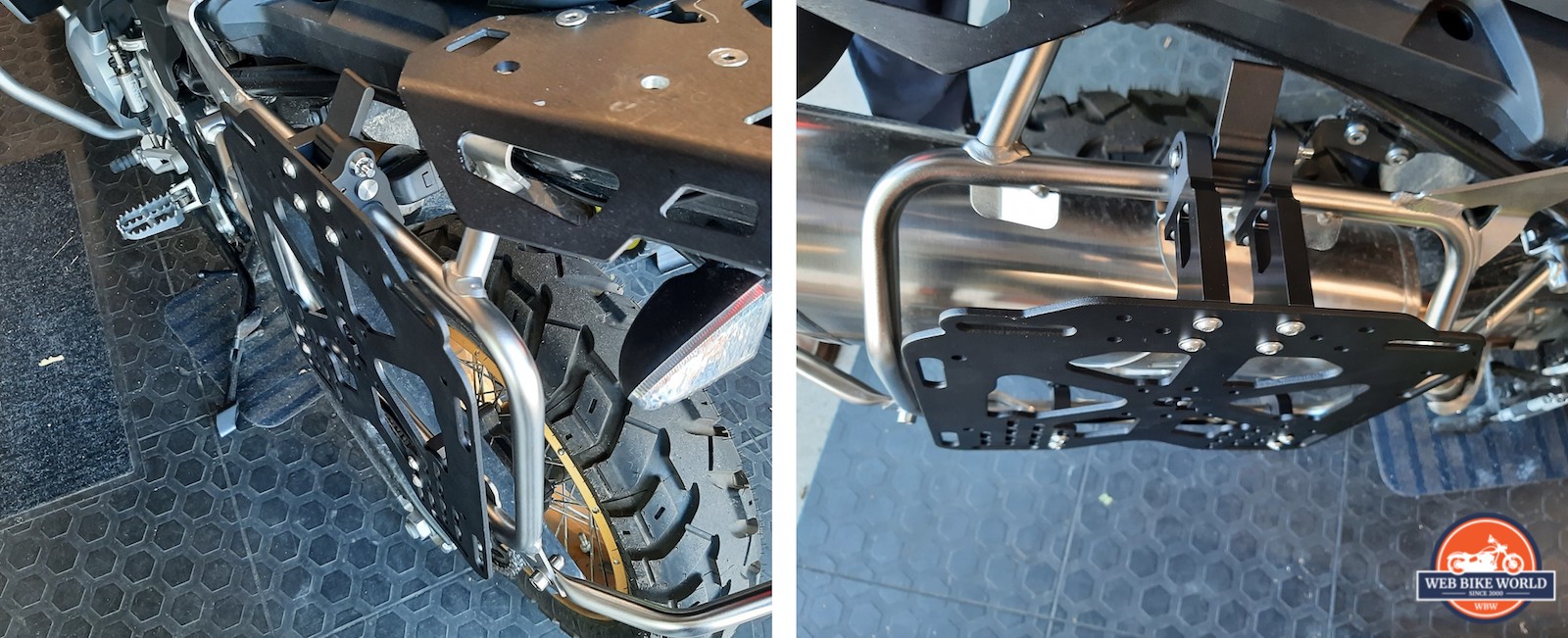 GL MotoTrekk Panniers: GL Hot Springs Heat Shield Kit Installation​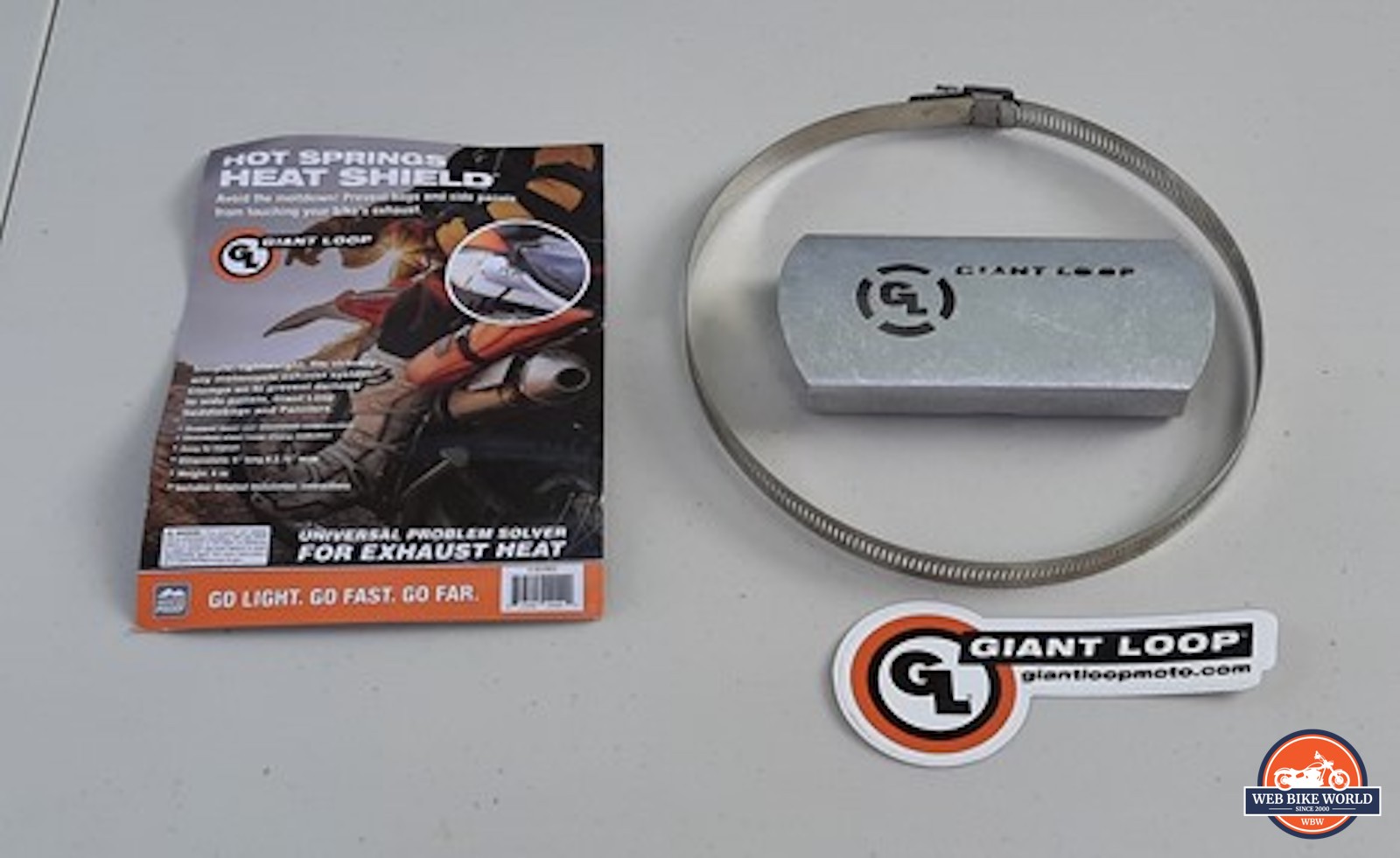 While hoping that the GL Hot Springs Heat Shield might first be used on the (new) lightweight off-road machine being sought, and even with the shopping list shortened, something new, used, or otherwise hasn't made it into the garage before this deadline – ah well. At least it is here, tested (see below), and ready to go.
Installation only takes a few minutes, with the excess (less a couple of inches for adjustment/access) cut off the clamp strap. As shown in the labeled photo below the shield looks minimalist but it works just fine and there are other larger heat shield products on the market if needed for any specific application; keep it safe.
GL MotoTrekk Panniers: Kit Installation​
The GL MotoTrekk Panniers Kit includes two identical pannier pieces with all related straps, etc, installed on the individual panniers
The Basic Options​
With the GL Pannier Mounts configured including the BMW GS ADV off-set bracket installed on the right side and the Hot Springs Heat Shield in place, it's time to see how complex a task it is to secure the MotoTrekk Panniers to either the BMW GS ADV frames directly or by mounting them to the GL Pannier Mounts; guess which one is better?
Shopping Now? We Recommend:​
webBikeWorld works closely with Revzilla and Amazon to provide our testers with quality products to review. While we have an affiliate relationship and receive a commission from items purchased, this addition comes at no additional cost to you. It is the primary way we pay for our site and reviewers.
RevZilla​

Free shipping on orders over $40
30-day no-nonsense return policy
Excellent selection of all major brands
Awesome pricing
Buy This on RevZilla
Amazon​

Free shipping (with Amazon Prime)
30-day return policy
Excellent selection
Competitive pricing
Buy This on Amazon
GL Pannier Mount & MotoTrekk Panniers: The Direct Fit Option – GS ADV Frame Fitment​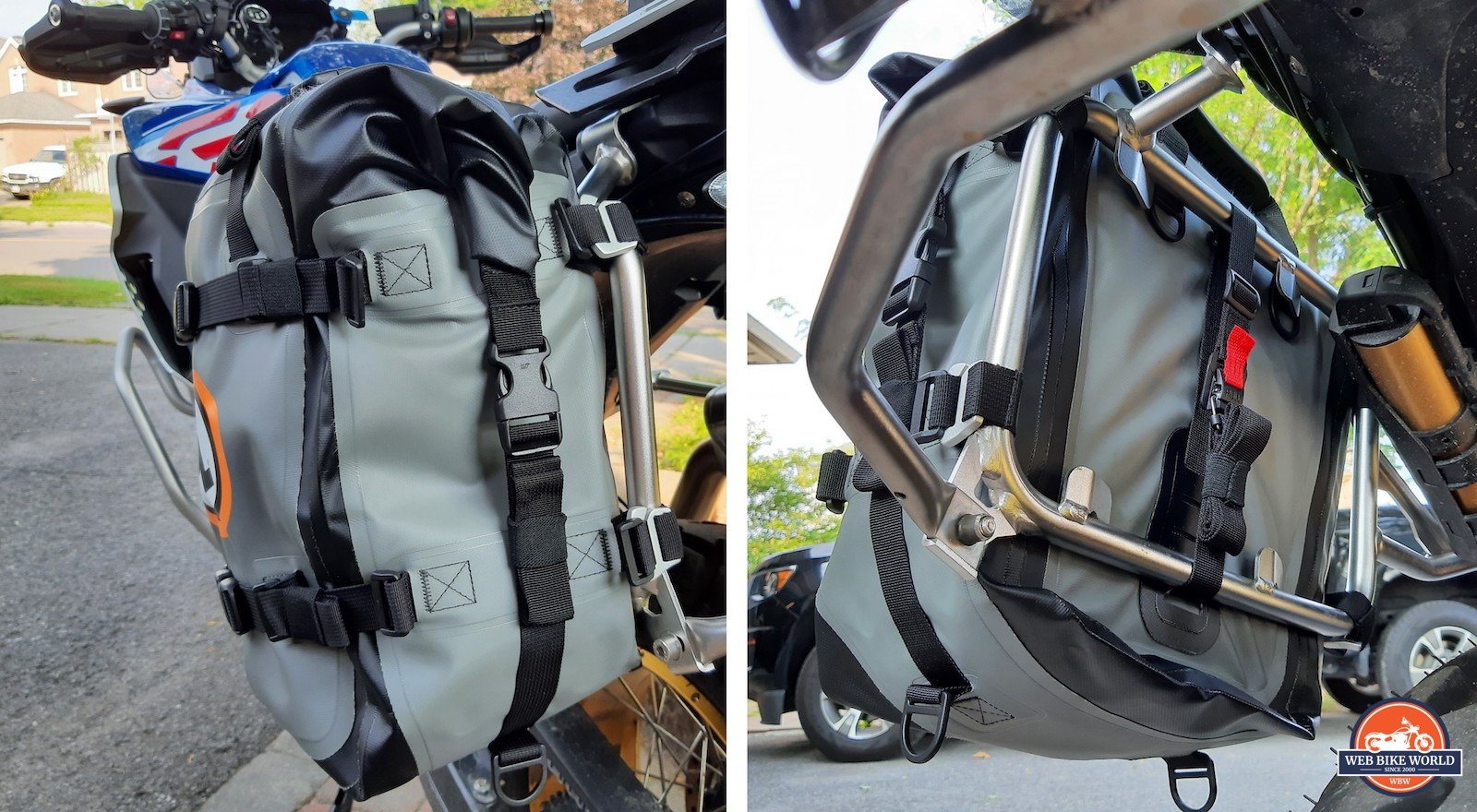 As shown in the above composite photo, the GL MotoTrekk Panniers fit directly to the BMW GS ADV frames and it is all done without much muss and little fuss.
This is where the back center magnetic clasp strap comes into its own – use this strap to hang the panniers over the frames, then disconnect or loosen off the top and bottom compression straps so that the anchor straps can be pulled out to facilitate their use around the tubing.
Loop the anchor straps around the frame tubing from the back and insert the aluminum hooks into the anchor loops to complete the four-point attachment.
Now reconnect the front straps and pull them in opposite directions to compress the straps which tighten the anchor loops fully to prevent the aluminum hooks from slipping out and to compress the bag fully for mounting security. Loop or roll excess strap and tuck it through or under the elastic retainer pieces – done.
For the right exhaust side, the GL Hot Springs Heat Shield or a similar product should be used and positioned so that there is no direct contact possible (loaded or unloaded panniers) between the exhaust system and the pannier.
As shown in the photo below, this layout provides the minimum needed distance between the MotoTrekk panniers (when directly fitted to the BMW GS ADV frames) and the exhaust system to prevent damage to the panniers while in use.
Depending on riding speeds and ambient temperatures, some heat energy is transferred to the pannier surfaces but no damage is seen.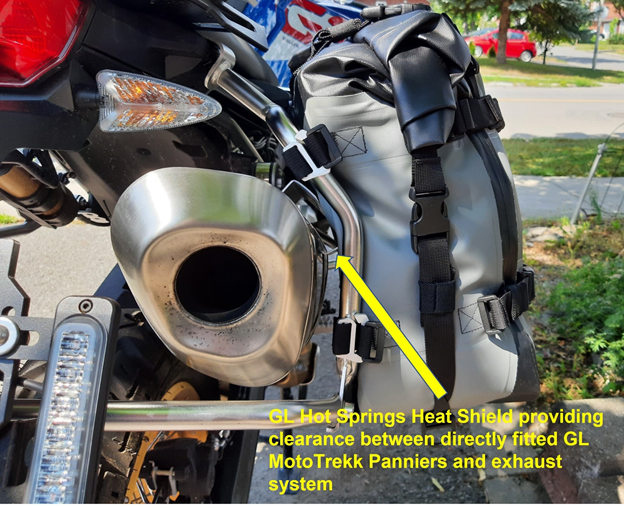 GL Pannier Mount & MotoTrekk Panniers: The Quick Fit/Release Option – GL Pannier Mount with GL MotoTrekk Panniers​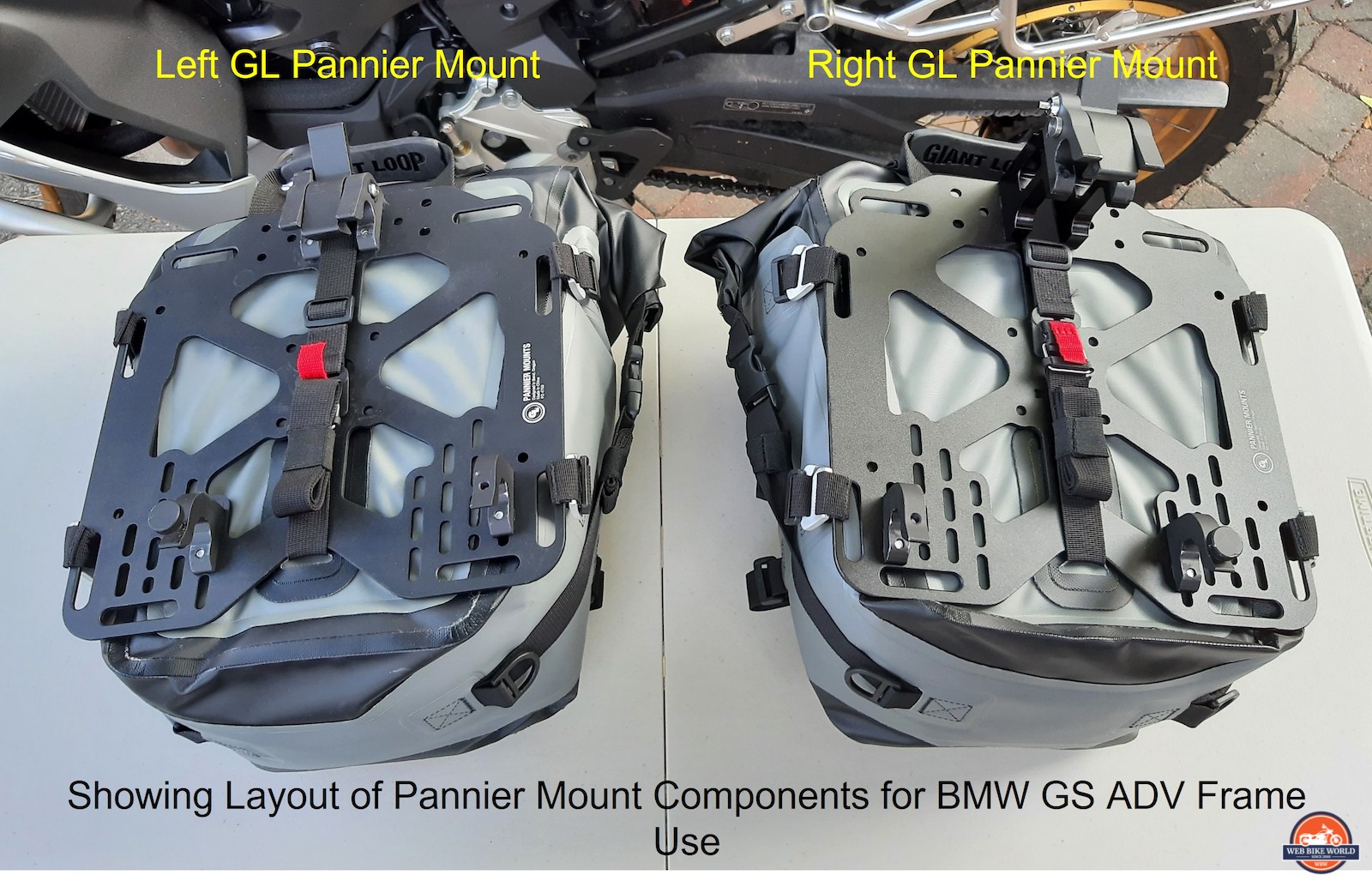 Fitting the
MotoTrekk Panniers
to the
GL Pannier Mounts
is actually easier overall than the direct frame mounting and accomplished either with the Pannier Mounts fitted onto the BMW GS ADV frames (or other compatible kits) or as done initially, putting the mounts on the workbench and taking the more leisurely approach.
After some initial discovery of the pieces, the decision is made to utilize the back center magnetic clasp strap – it provides initial alignment and security between the two components and if used with the MOLLE style insert on the back provides some height adjustability as well (see Height & Clearances below).
With the top and bottom cross straps loosened off or fasteners disconnected, pull the corner side anchor straps out a bit, pass them through the upper and lower cutouts on each corner of the plates from the back, bring them around to the front and engage the Durflex hooks through the webbing loop (not around it).
If the hooks are engaged properly the plastic accessory pass-throughs that share the loops should have free movement for use…like for mounting the
GL Possibles Pouches
– the next review…
Once all four points are done, connect the front top and bottom front compression straps. They can be tightened individually in incremental steps or together by pulling the ends of the respective straps in opposite directions – good exercise.
This serves to pull the corner anchor engagements tight to seat the panniers firmly against the Pannier Mounts (plates). Once fully tightened, loop the strap ends through the elastic retainers and roll or loop the excess back under the elastic so nothing is loose or moving around.
Always double check strap compression and tension so that a snug fit is maintained – things will loosen off over time, distance and ground being covered and, some stretching is normal if things get wet (but shrink in drying…) Remember to always keep the straps fully tightened and the panniers compressed even when empty.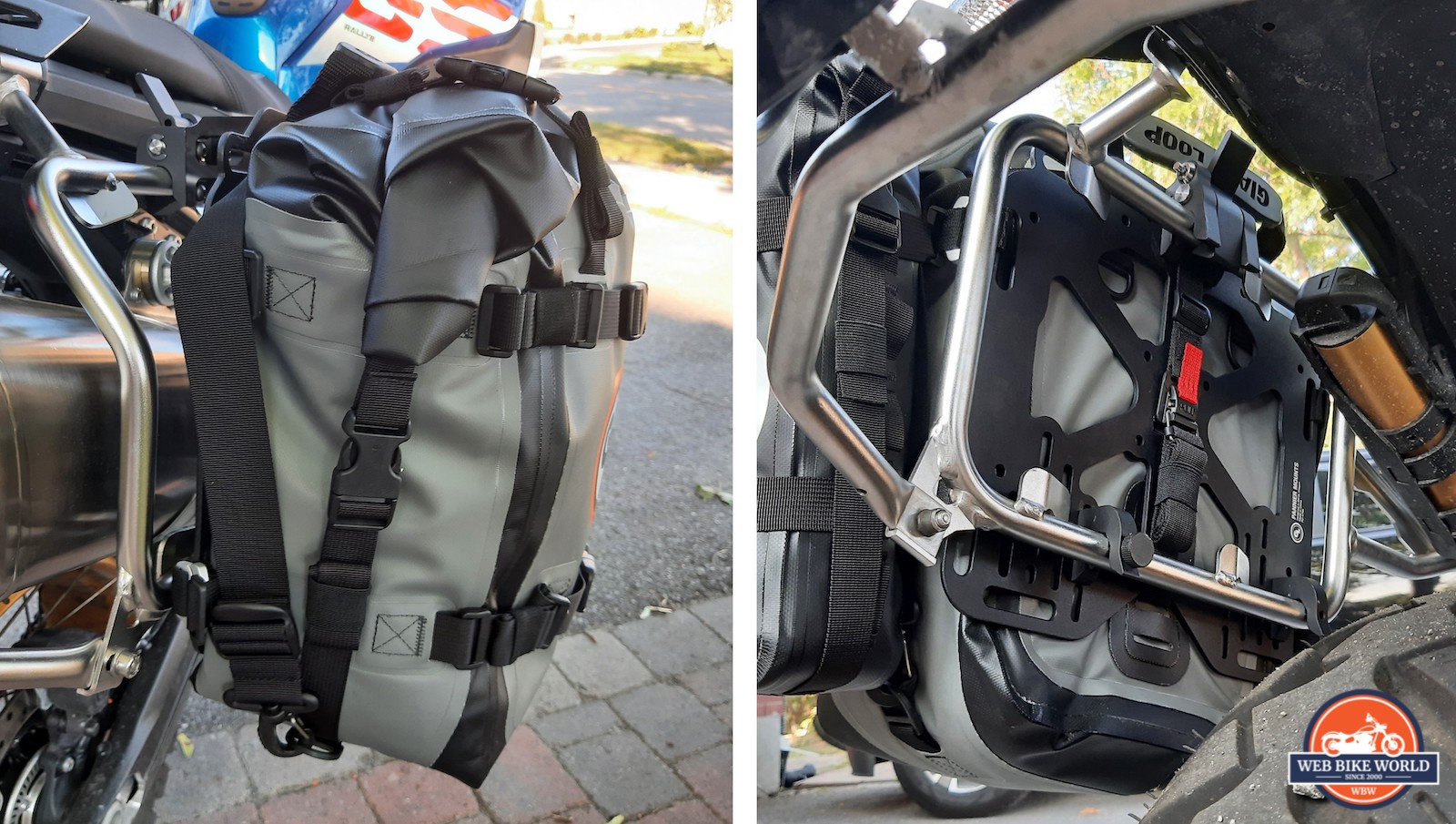 Height & Clearances​
The default positioning of the Pannier Mounts and the attached MotoTrekk Panniers is a good compromise regarding height and vertical clearances. But if more or less clearance is needed or desired between parts and/or the ground, some height adjustment is possible although it isn't as much as might be desired (see Observation below).
This can be done by adjusting the back retention strap so that it is looped through the lower pass-through slot on the back MOLLE-style insert and once it is reconnected to the magnetic clasp and pulled tight and the four corner straps secured, a height differential of one to two inches is provided.
Observation​
It would be good if the cut-outs on the top and bottom sides of each mount plate were elongated even more and/or if the MOLLE style insert on the back of the panniers was longer with more slots, allowing the two pieces to fit/sit higher on the motorcycle frames when desired or required.
The GL MotoTrekk panniers are currently pulled up as high as possible on the frames based on the current templating and pannier placement but this pulls the four side mount straps upwards and twists them – not a major issue, but it's always good to have a flat direct pull for more even compression.
The GL Pannier Mount: Compatibilities​
Giant Loop's award-winning Pannier Mounts do indeed offer great adjustability and versatility of use and they are compatible with a long list of popular tube-based side luggage rack systems.
So one of the objectives for this review was to assess (or validate) how well the Giant Loop Pannier Frame kits worked with multiple accessory tube-based luggage frame kits, or at least the ones currently here – installed or assembled on the bench to provide a skeleton for kit fitment.
SW-MOTECH Tube Frames​
An original set of SW-Motech tube-based frames that worked with the older R 1200 GS models and some later R 1200 GS LC models were assembled and the GL Pannier Mounts fitted up without issue, once best placement (left/right and up/down) is determined for the bottom engagement hooks.
Touratech​
Two sets of 18mm stainless steel tube kits are on the shelf here – one a holdover from original R 1200 GS ownership times and the second set procured for use with a later (2018) R 1200 GS LC, before the F 850 GS models became my primary rides. As expected these kits pose no issues with the GL Pannier Kit with or without the GS ADV Adapter.
BMW GS ADV Pannier Frames​
No real issues here either, especially with the GS ADV Adapter kit installed for the right side and the bottom engagement hooks located for optimal placement and security, and the easily adjustable hardware tightened up – all as described throughout this review.
SHAD 4P Side Case Mounting Kit​
As detailed in the
SHAD TERRA System
review, the 4P frames utilize beefy 20mm tubing with a powder coating finish. These kits are very strong, more so than either the SW-MOTECH or Touratech frames comparatively but, the 4P pieces are heavy and utilize a top center main mounting tab – a complicator for the GL Pannier Frame top quick connect assembly. But there is a workaround…
The Issue​
Virtually everyone, including Giant Loop, makes their pannier or side-case mounting kits for 16 to 19mm tube frames, resulting in lots of options for consumers who have or are considering accessory frame kits; but these kits are not directly usable on the SHAD 4P kits, although there seems to be a lot of interest in creating a solution.
But overall design and use of removable and fully adjustable mounts make the GL Pannier Mount kit particularly well suited regarding adaptation for use with the SHAD 4P tube frames that are also a bit smaller (height-wise) compared to other similar products.
With the original mounting pieces removed and the top quick connect piece disassembled, it was a matter of a few hours work to (carefully) grind out and mill with some reshaping, the rounded diameters of the aluminum engagement pieces so they would fully and securely engage the 20mm+ SHAD 4P tubing.
This custom work isn't pretty but it is done and the GL Pannier Mounts now fit securely to the SHAD 4P frames.
To work around the top center 4P mounting tab, the top mount (quick connect) piece of the pannier mount plate is moved from its (default) center position to either the left or right four-hole position depending on desired placement on the 4P frame (load forward or load-centred).
This adaptability effort works and still provides the ability to make some placement adjustments vis-à-vis the SHAD 4P frame – all good. It would be great to see a more widespread effort to provide solutions, with or without dimensional adapters of some sort, for larger diameter tubes or otherwise shaped pannier/side-case frames.
And Giant Loop, in the spirit of supporting this adaptation effort, supplied a second set of top and bottom mounts so the supplied GL Pannier Mount kit could be used for both the smaller diameter tube frame kits and the SHAD 4P kits. Giant Loop's support throughout this review is most appreciated.
Finally, as advertised, the GL Pannier Mount pieces are designed to accept
RotopaX
or similar styled and fitted
accessory pieces
, and fitting a single or double mount to the outside of the left and/or right mount plates is not an issue.
A one or two container layout on the left side (non-exhaust side) with a MotoTrekk pannier fitted to the right side makes a great off-road foray or weekend layout solution. Note – the RotopaX containers cannot be used on the left inner side as the top and bottom engagement infringe on the inner frame space.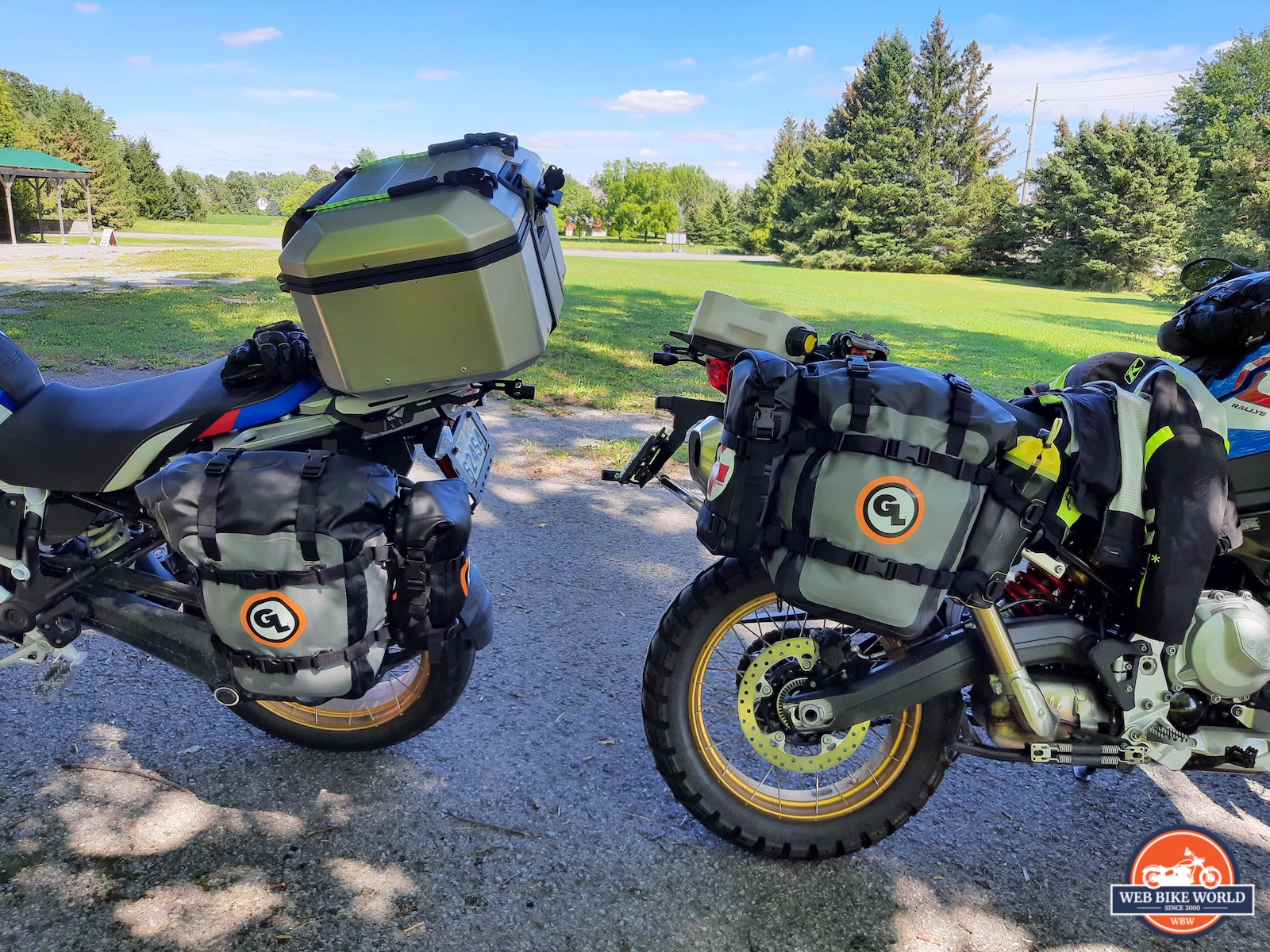 GL Pannier Mount & MotoTrekk Panniers: Rolling Function & Performance​
Life with the Giant Loop Pannier Mounts and MotoTrekk Panniers is good although so far, opportunities to use them for much more than close to home on/off-road forays and weekend travel remains limited; cooler fall weather and (perhaps) a full opening of the border may see longer distance plans be realized. If not, then planning for 2022 is well underway…
Even with what is seen as limited use of the kit, form, fit, and function of the GL Pannier Mounts and MotoTrekk Panniers cannot be minimized; the kits work as advertised, and even if other than MotoTrekk Panniers are fitted on to the GL Pannier Mounts, it's all good. Universality and adaptability are never a bad thing when it comes to identifying travel and travel luggage options.
GL Pannier Mount & MotoTrekk Panniers: Capacity and Convenience​
Getting the MotoTrekk panniers, with their stated 25L capacity per side, vice the kitchen-sink RTW panniers was a good decision; although I'm thinking having a set of the RTW panniers wouldn't be a bad thing for the future…
But in the here and now, these medium-sized containers are just right for this rider given pack and load norms with the 'great outdoors' gear assembled and carried (just in case) in a single large or perhaps two medium duffel drybags strapped across the back of the seat or the back rack.
Shorter-term week or weekend travel is more than doable in using the MotoTrekk panniers for both personal and camping gear and the basic tool rolls, with the large
SW-Motech Pro GS
tank bag or a smaller Kriega drybag fitted onto its universal tank mount pad used for the at-hand stuff.
When a wee bit of extra space is needed the long extended roll tops are more than happy to accommodate one or two, or three, extra pieces, and while a perfect three-roll securing of the panniers may not be totally doable in this situation, two rolls and compression still does the trick when needed without compromising drybag integrity.
Easy On – Easy Off​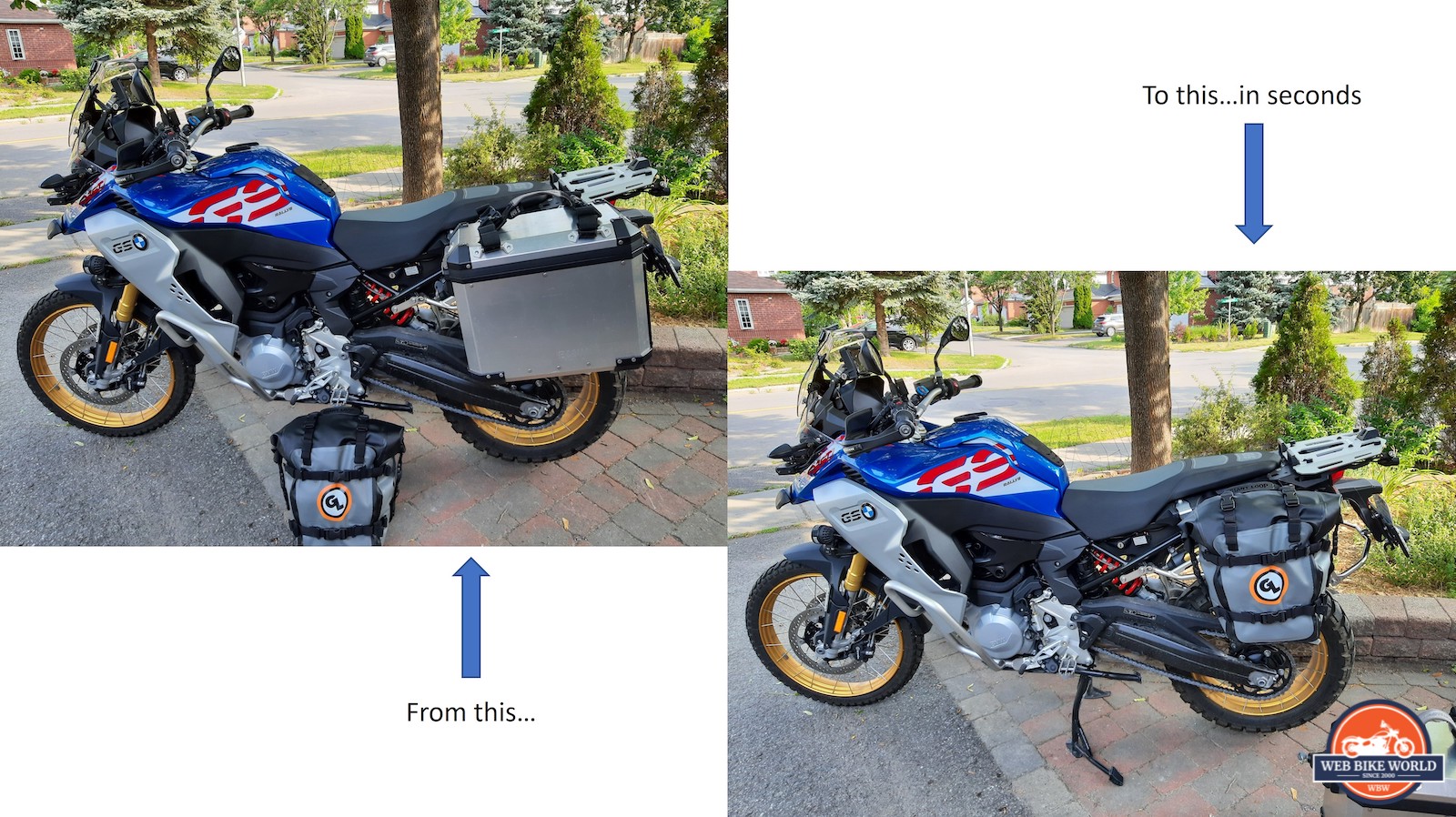 One quickly gets (totally) spoiled in using the quick connect/quick release combination; it is unique and to use any other approach with soft or semi-rigid side bags would be regressive for this rider.
Loosen off the bottom left and right thumbscrews and if the bags are locked on, insert the lock release key and rotate it slightly to release the locking pins, pivot the quick connection levers up and lift the panniers/mounts off by the spiffy Giant Loop carry handles – done. That was truly easy.
My attraction towards soft-side luggage remains strong and when I can simply unlock and lift the complete Giant Loop side loads off (pannier mounts, panniers, and any attached pieces like the Possibles Pouches) in seconds and (as is more the norm when traveling now) take everything into the roof for the night spaces in one fell swoop – it's a done deal.
Loading in the morning – carry side configurations out, lay in place, engage the quick connect lever and use the lock if desired. Done.
And, switching between the use of the BMW GS ADV aluminum panniers or the GL Pannier Mounts with MotoTrekk Panniers (and whatever) is a 20 to 30-second effort or less – convenience, versatility, and efficiency.
GL Pannier Mount & MotoTrekk Panniers: Elemental Protection & Durability​
The GL MotoTrekk Panniers are, in reality, cleverly disguised roll-top drybags! Gadzooks! What a revelation. In other words, anything put inside these pieces, with or without using smaller packing bags or stuff sacks for organization, is going to stay absolutely positively secure and dry, as long as a minimum of three rolls is made and the side and top straps tightly secured.
Torrential downpours or driving rain scenarios have been few and far between so far this season, but in closing the MotoTrekk panniers up fully – sometimes with lots of air captured inside for pressurization and other times not, prolonged immersion tests and pressure hose treatments didn't result in anything, moisture or otherwise, getting into the panniers.
And the panniers themselves are tough – shell material, stitched and reinforcement points, and all the flat straps, aluminum pieces, and adjustable buckle assemblies; built for long life, lots of use, and presumably, the odd knock or ground-proximity nap at some point in time. One sees few complaints regarding the durability of the Giant Loop gear.
Stress Testing​
So far, neither the Pannier Mounts nor the MotoTrekk Pannier has been put through much stress testing, although to say it won't happen down the road somewhere, sometime, is being foolish.
But initial use and lots of discovery activities that by themselves can be hard on gear have not resulted in anything failing or becoming difficult to use; all good so far.
Security​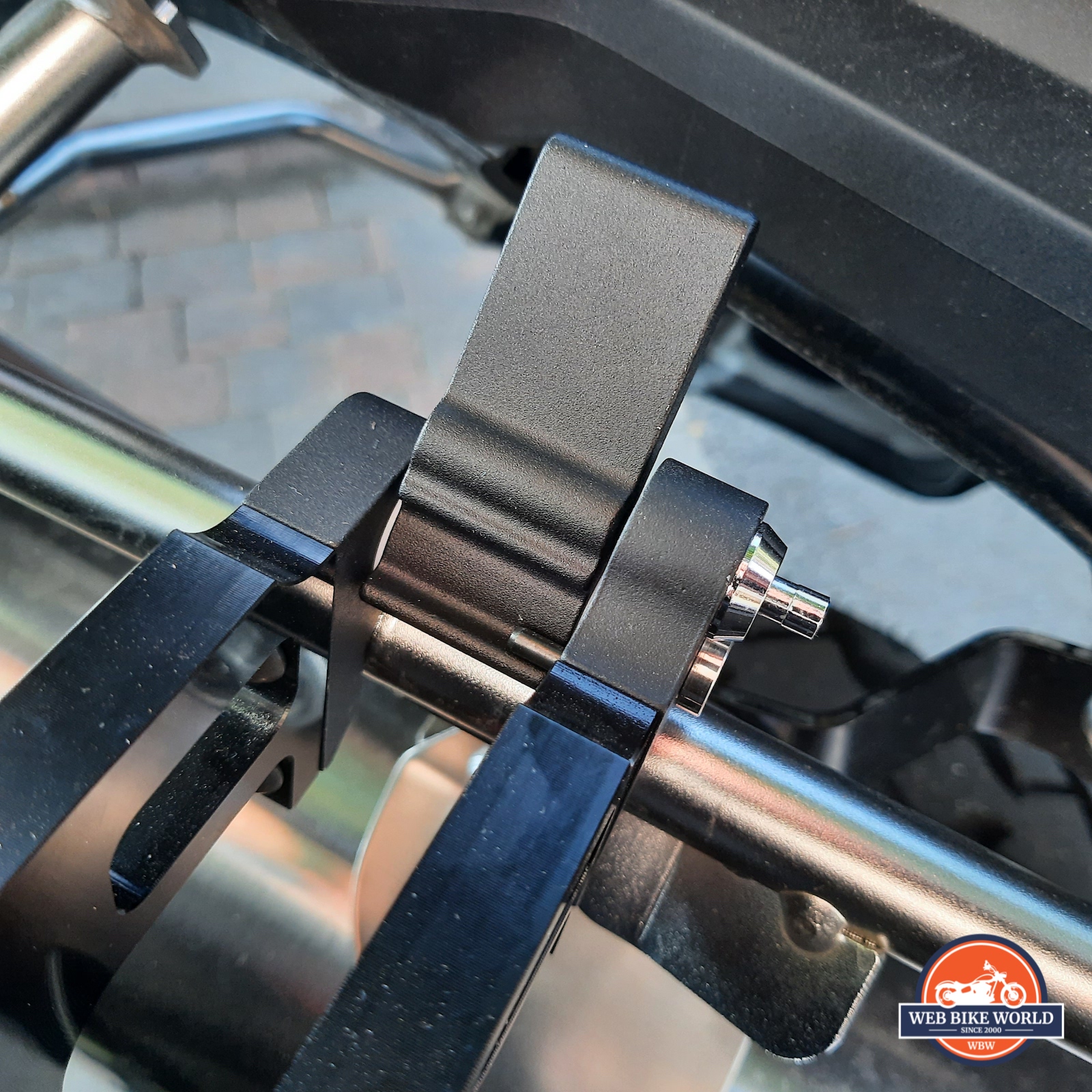 Day to day security (and stability) of the GL Pannier Mounts and MotoTrekk Panniers is great, at least for the riding and travel undertaken with them so far – nothing moves around and the combination is very stable and tight-fitting on the motorcycle side frames while remaining easy to release and remove without issue during use.
Relatedly, making something difficult to remove quickly or unobtrusively is a good initial deterrent for many 'opportunists' who prefer to borrow stuff rather than getting their own. And this is exactly why the small integrated locks on the GL Pannier Mounts are a big thing as an added feature – use them, make sure a key is taken along, but not left in the lock.
I've had lots of riders comment positively on the quick connect/release feature of the GL Pannier Mounts kit and even more icing on the cake comments are made when they realize the pieces are lockable.
Many of us carry one or two loop or end-locking security cables, especially when traveling, and we have small thin cables that are perfect for locking helmets on as well – either would work well to add an additional layer of security regarding the panniers, loaded or otherwise. And Giant Loop has QuickLoop Security Cables available – lock not included.
Concluding Notes​
Getting reacquainted with products from a provider long recognized and well respected for their products, which this series of Giant Loop products reviews serve to do is good and it further identifies and reinforces just how well motorcyclists (especially those who see themselves as motorcyclists with an 'ADV riding bent) are taken care of.
And the first products reviewed, the Giant Loop Pannier Mounts and MotoTrekk Panniers, are excellent examples of just why we are so well taken care of, and other than the observations made in this review there are only a couple of other things to comment on.
One would be that height adjustability of the combination is limited although the overall layout of the combination is (probably) optimal for most configurations; however, it would be really great if the top quick-connect piece had vertical adjustability on the mounting plate like the bottom engagement pieces do to complement the current horizontal (left/right) adjustability.
And in acknowledging that Giant Loop and other providers will or may offer up fitment or adaptation solutions for wider diameter tube frames like the SHAD 4P, there is also the hope that they will (also) take into account the current SHAD top mounting point tab – being able to move the GL top quick connect mount forward or backward is key in successfully adapting the GL kit to the SHAD 4P frames.
In harking back to a comment made earlier about the GL RTW panniers and the loading they are capable of accommodating, I have no doubts that the GL Pannier Mounts and the provided RTW mounting adapters are more than up to the task of securely accommodating these much larger pieces
Bottom Line​
The Giant Loop Pannier Mounts are extremely well made, lightweight and excellent mounts for soft or semi-rigid panniers. They have excellent adjustability and outstanding ease of use. With GL MotoTrekk Panniers fitted (or other similar products), the combination provides a great pack and carry capability with the ability to secure and carry additional MOLLE-based or strap-enabled pieces like the versatile GL Possibles Pouches or related tote gear. The possibilities are almost endless. Best of all, the GL quick connect/release and lock solution lets the combinations be removed in seconds – great for travel or to move between soft and hard luggage solutions. Versatility indeed. If in the market, these Giant Loops kits are highly recommended options for any moto-travel.
Pros​
Simple: lightweight, but very strong
The upper mount has 3-position (fore/aft) vertical adjustability
Lower engagement mounts have both vertical and horizontal adjustability
Upper quick connect engagement mount with integrated lock for basic security
Top, side, center and related templated cutouts facilitate the fitment of drybag luggage pieces
GL MotoTrekk panniers are super strong and absolutely waterproof when fully sealed
Pannier rolltops are tall for extra capacity when needed, full-width interior access
Side compression/tensioner straps keep the rolltop absolutely sealed and compressed
Upper and lower front and top compression straps maximize compression and security
GL GS ADV Adapter kit is simple, easy to install, and very effective
GL Hot Springs Heat Shield kit is equally simple, easy to install, and while small, very effective
Limited lifetime warranty
Cons​
Upper back D-rings can be hard to access, additional front D-rings would provide flexibility
Height adjustability limited – additional height adjustment solutions (mounts or panniers) would be good
Current kit mounts do not (yet) support 20mm+ tubing.
wBW Specs :​
Manufacturer: Giant Loop
Price (when tested):

MotoTrekk Panniers – $369.00 USD
GL Pannier Mounts – $269.00 USD base kit ($319.00 USD with the BMW GS ADV Adapter)

Made In: US
Warranty: Limited lifetime warranty
Review Period: June to September 2021
Review Submission Date: 6 September 2021
Links / Where To Buy​
Shopping Now? We Recommend:​
webBikeWorld works closely with Revzilla and Amazon to provide our testers with quality products to review. While we have an affiliate relationship and receive a commission from items purchased, this addition comes at no additional cost to you. It is the primary way we pay for our site and reviewers.
RevZilla​

Free shipping on orders over $40
30-day no-nonsense return policy
Excellent selection of all major brands
Awesome pricing
Buy This on RevZilla
Amazon​

Free shipping (with Amazon Prime)
30-day return policy
Excellent selection
Competitive pricing
Buy This on Amazon
GL Pannier Mount & MotoTrekk Panniers: Photo Gallery​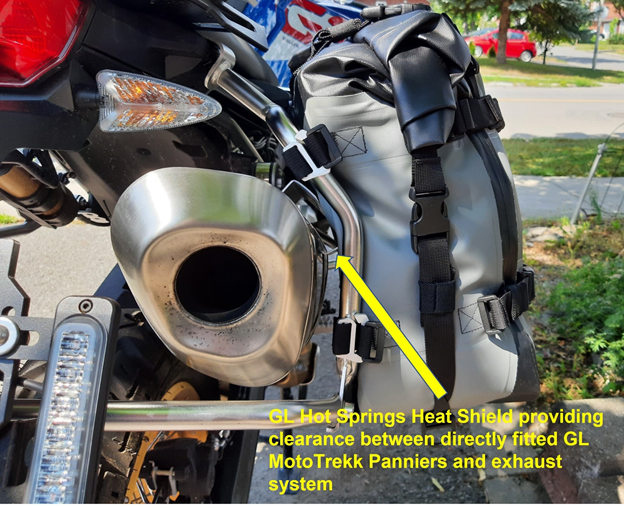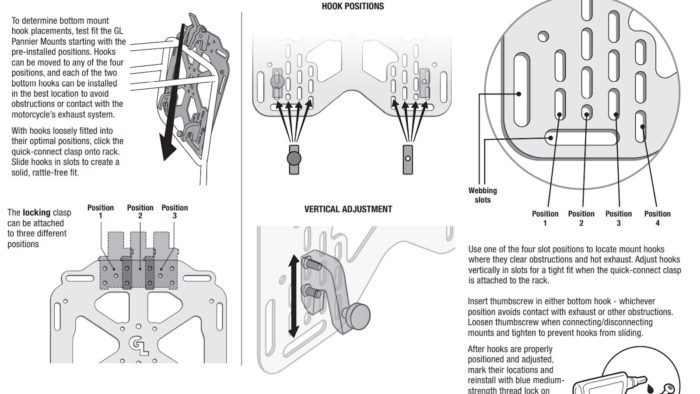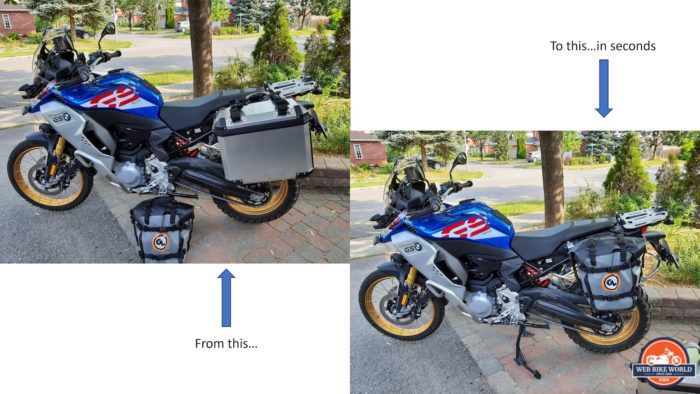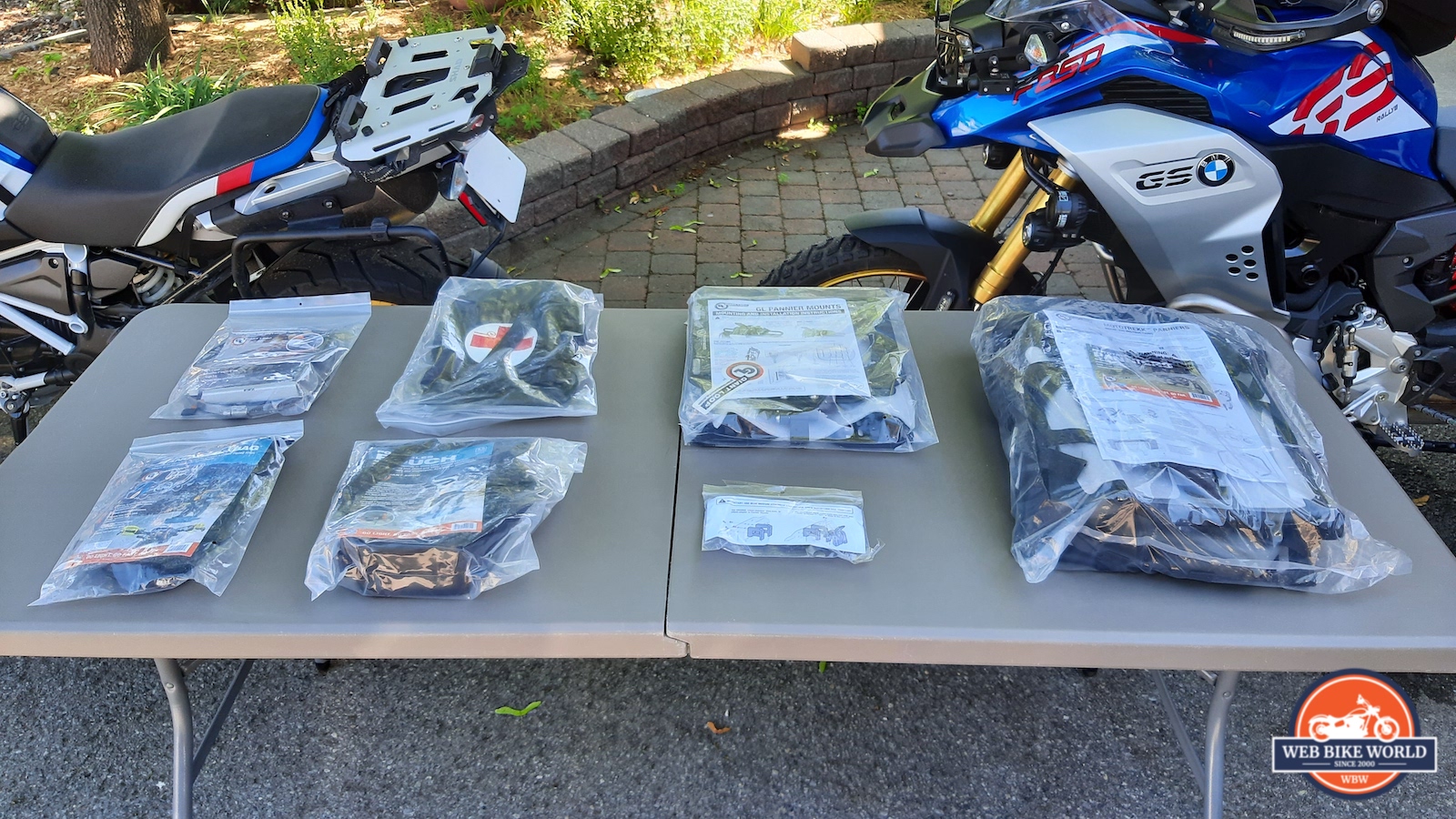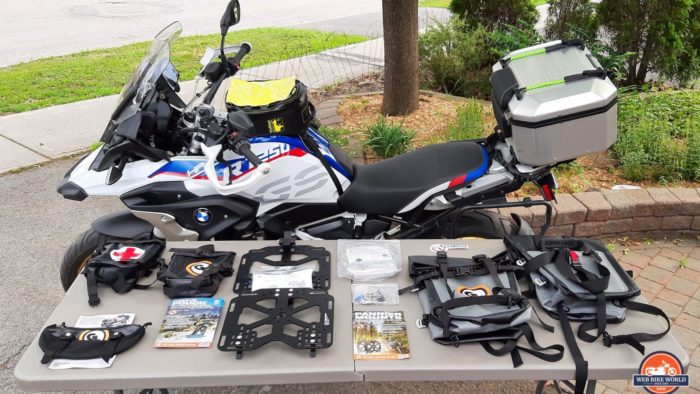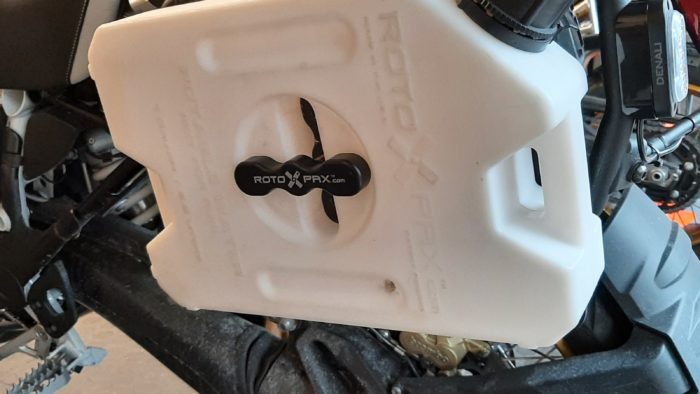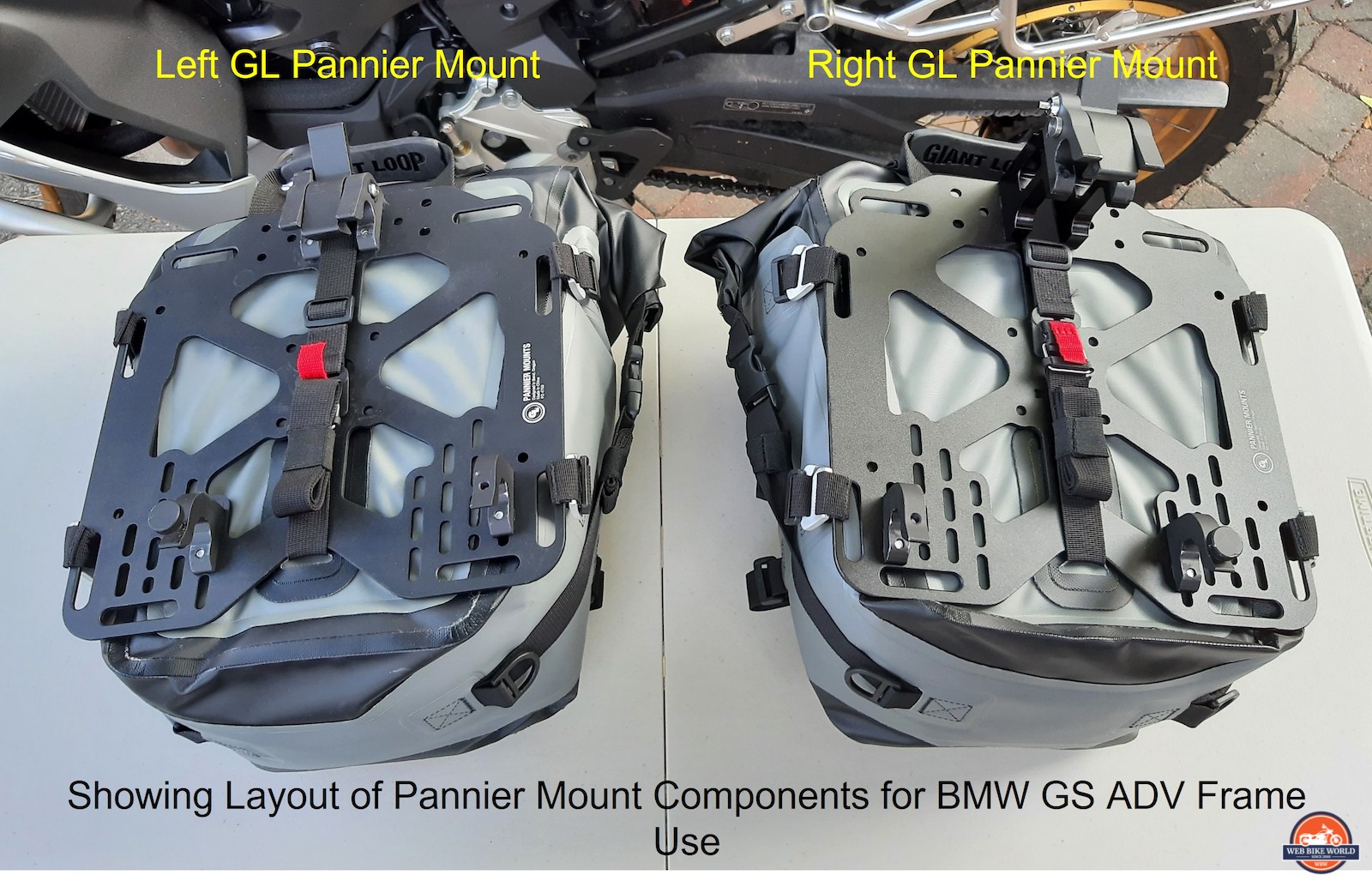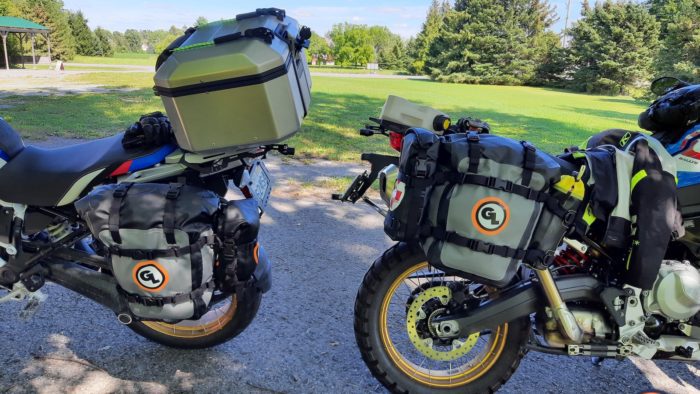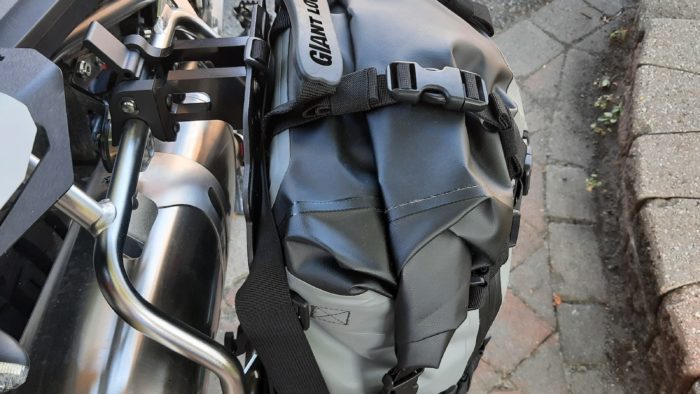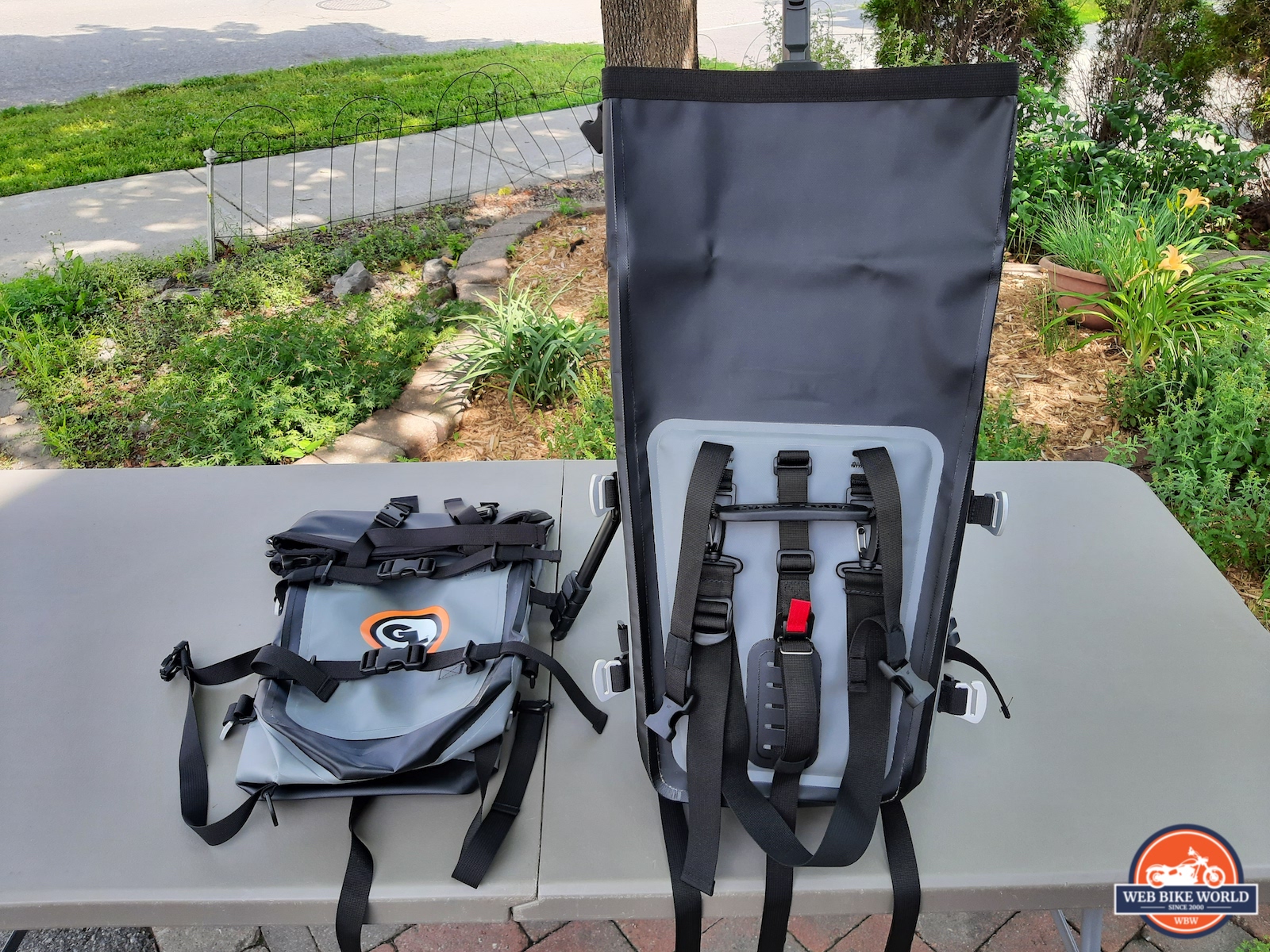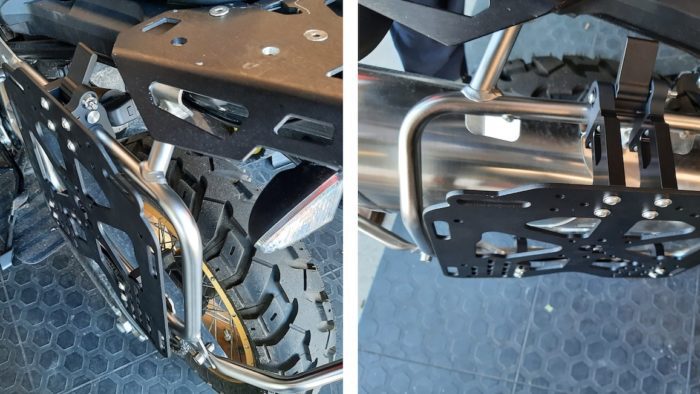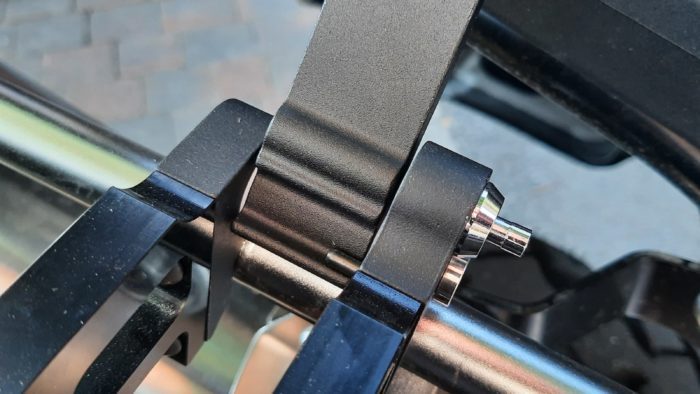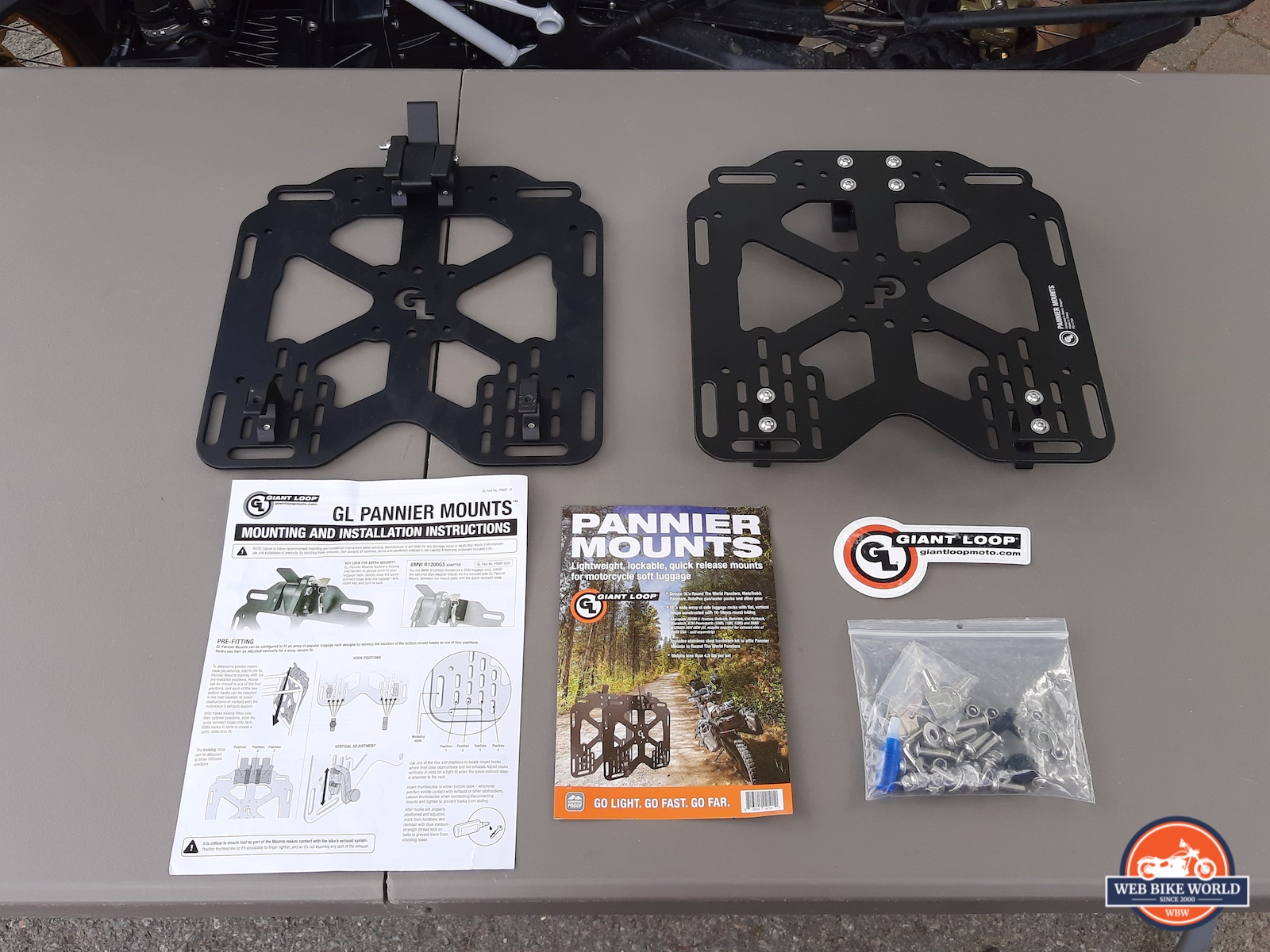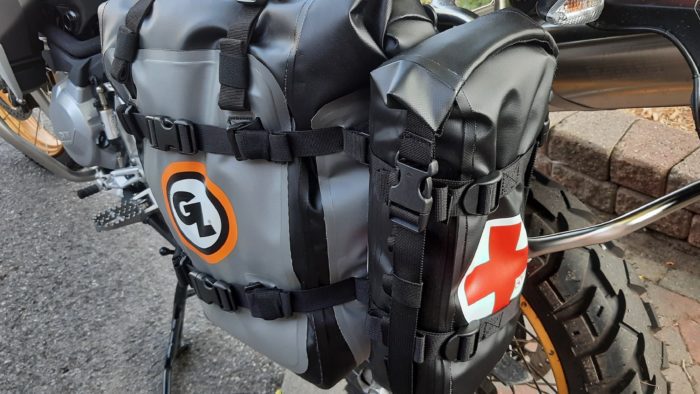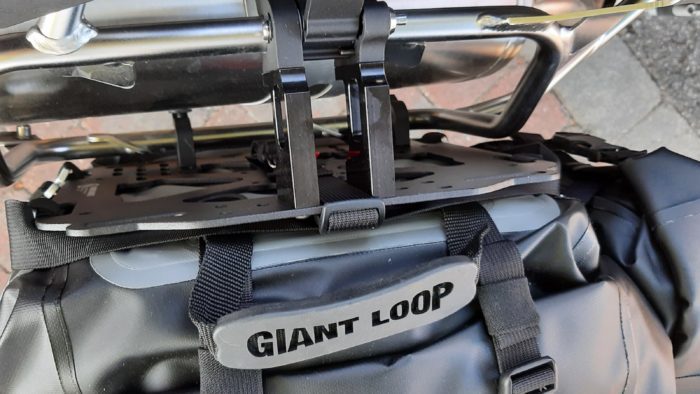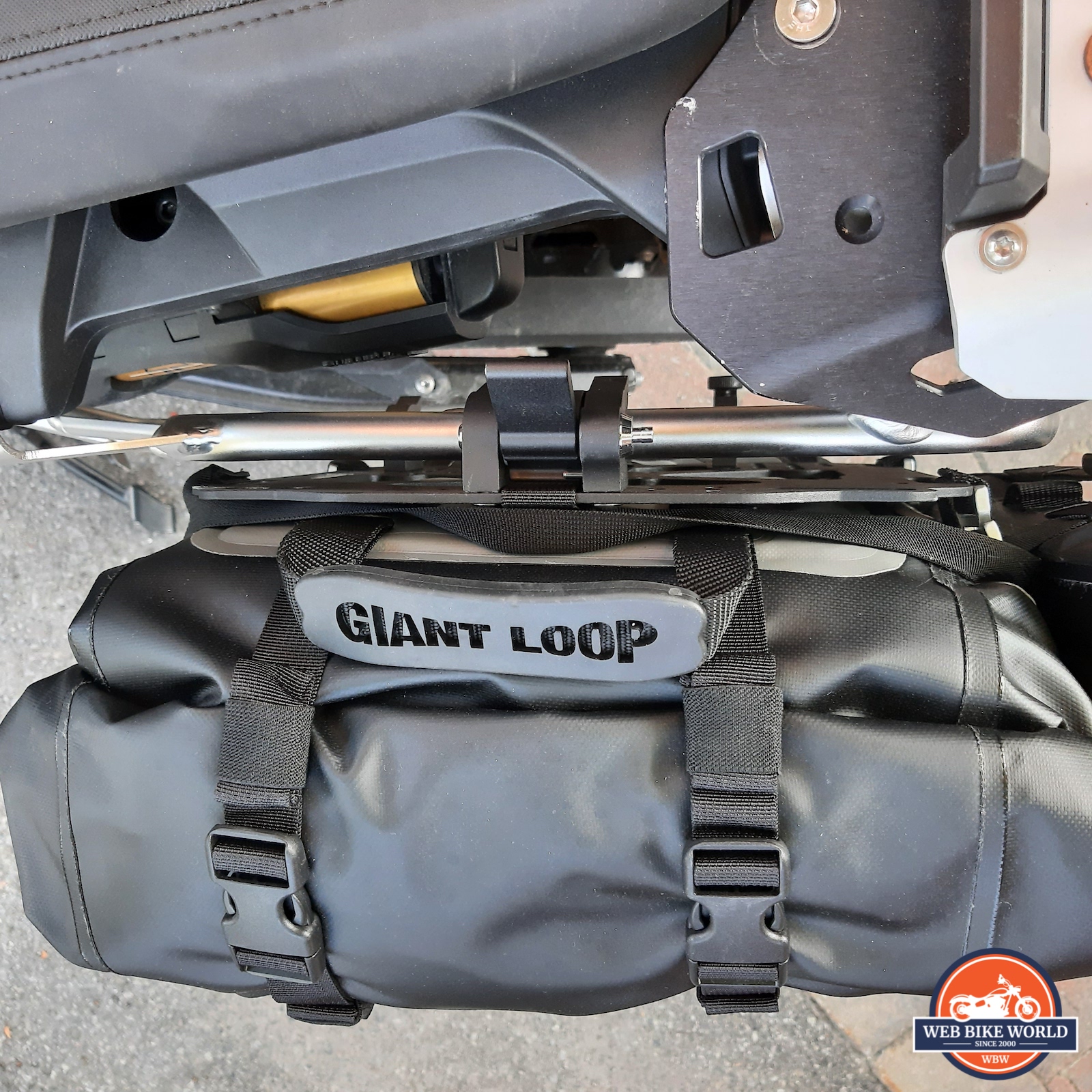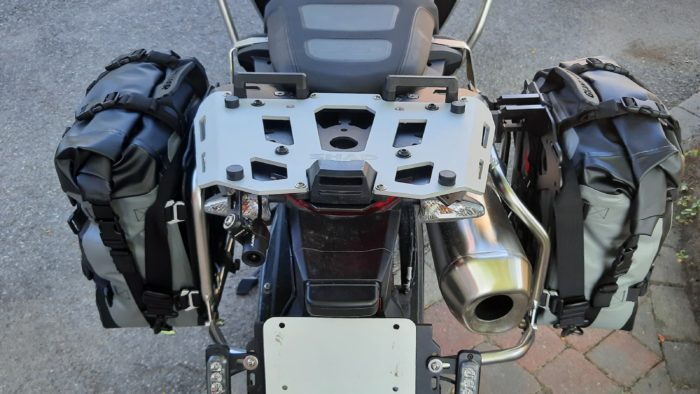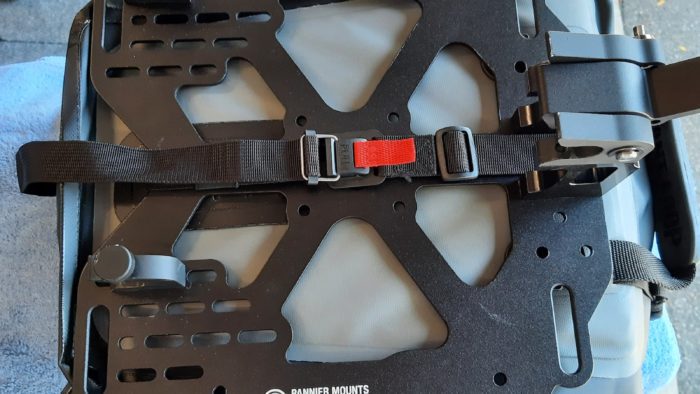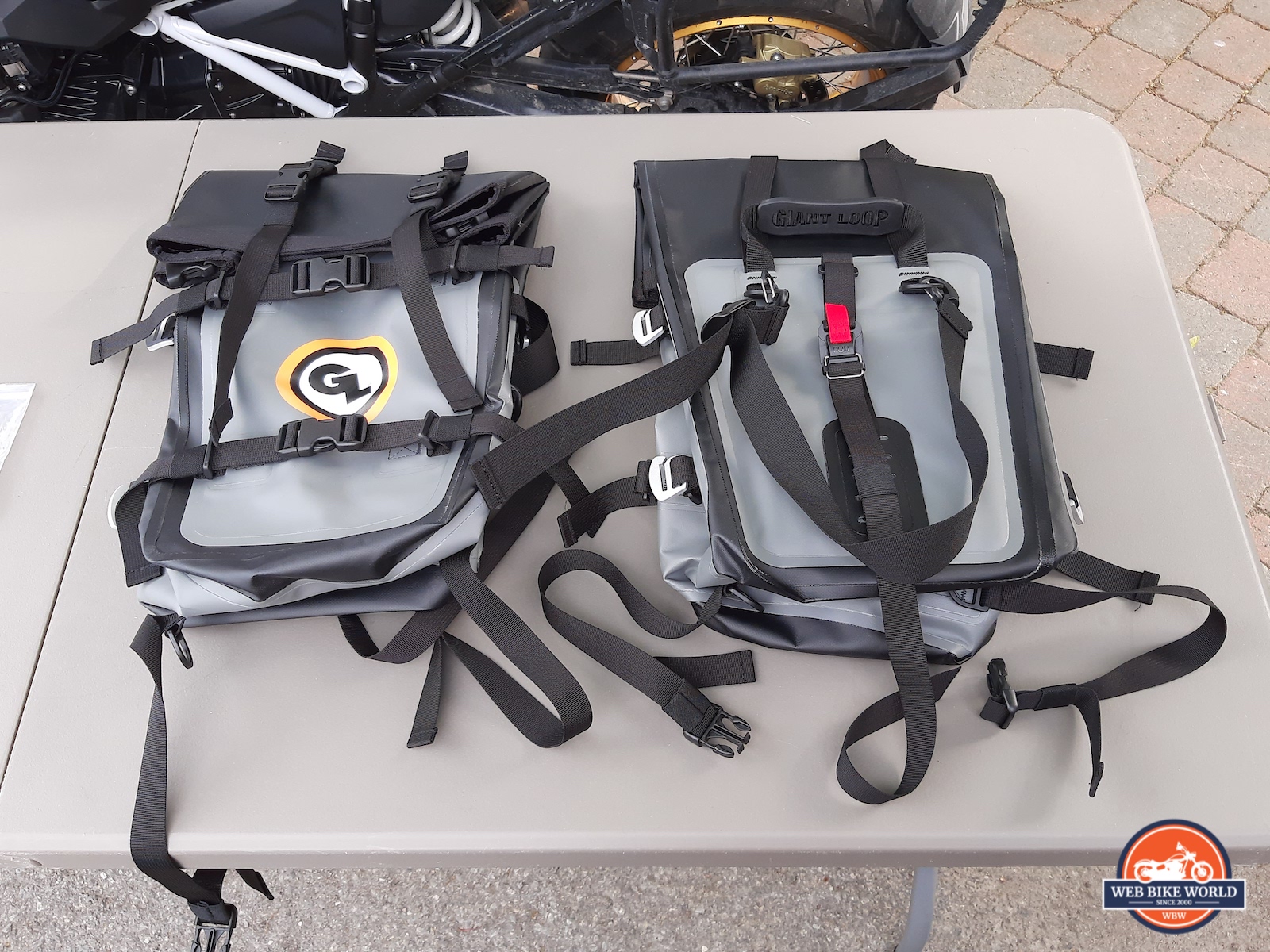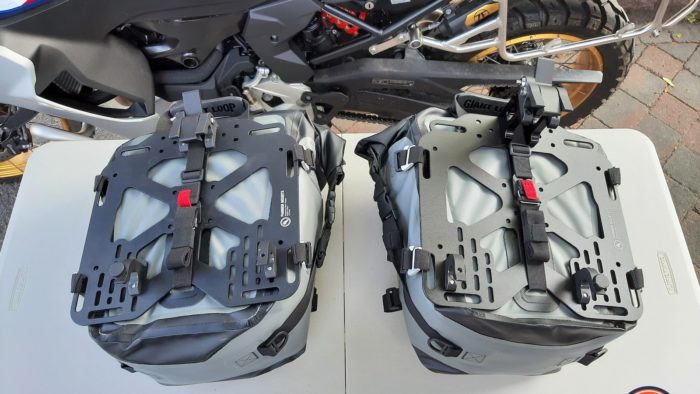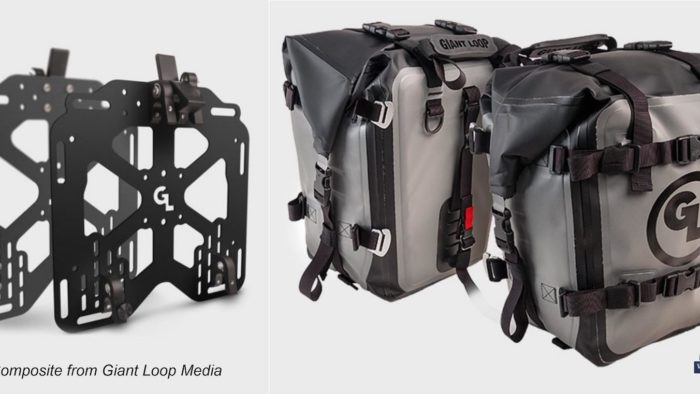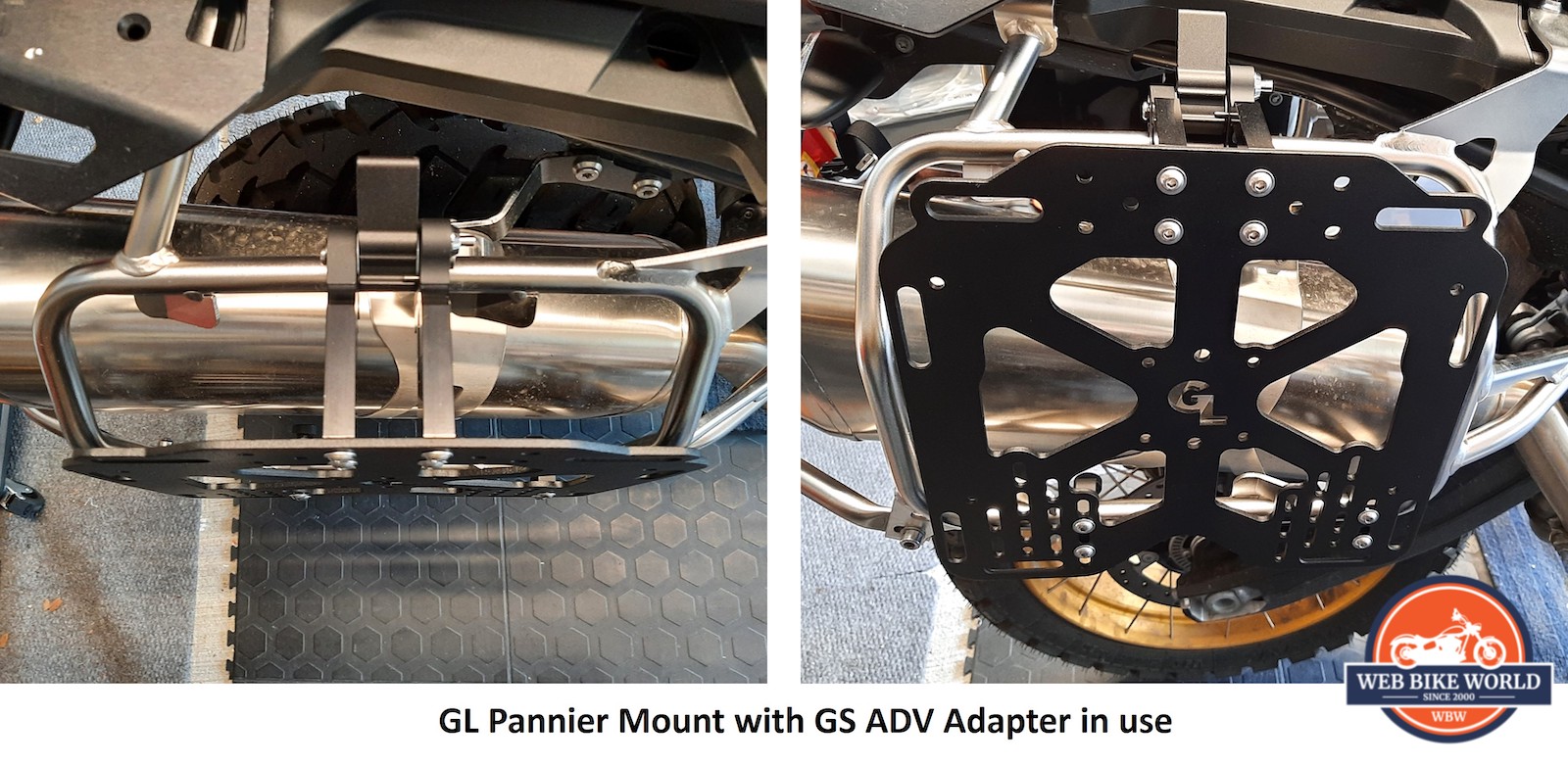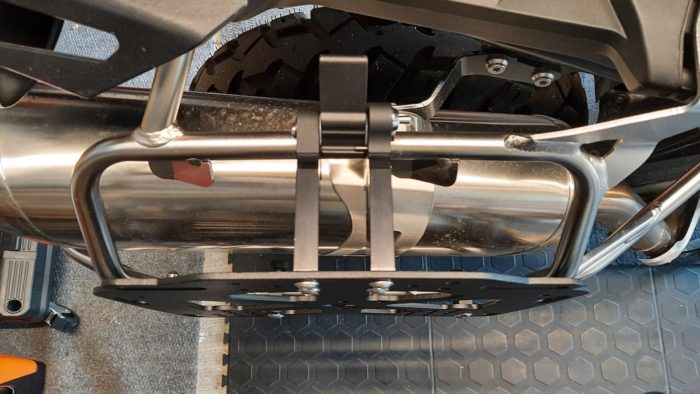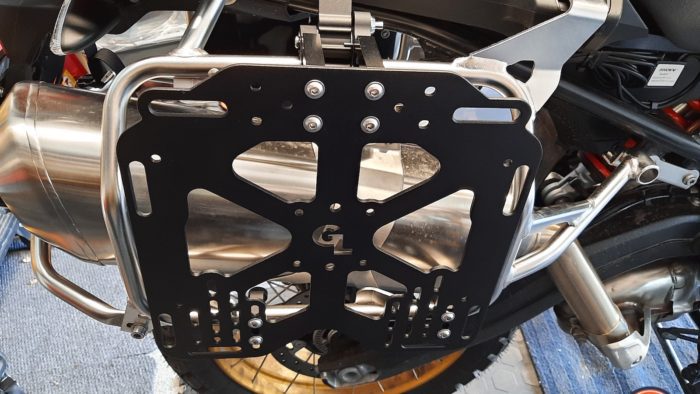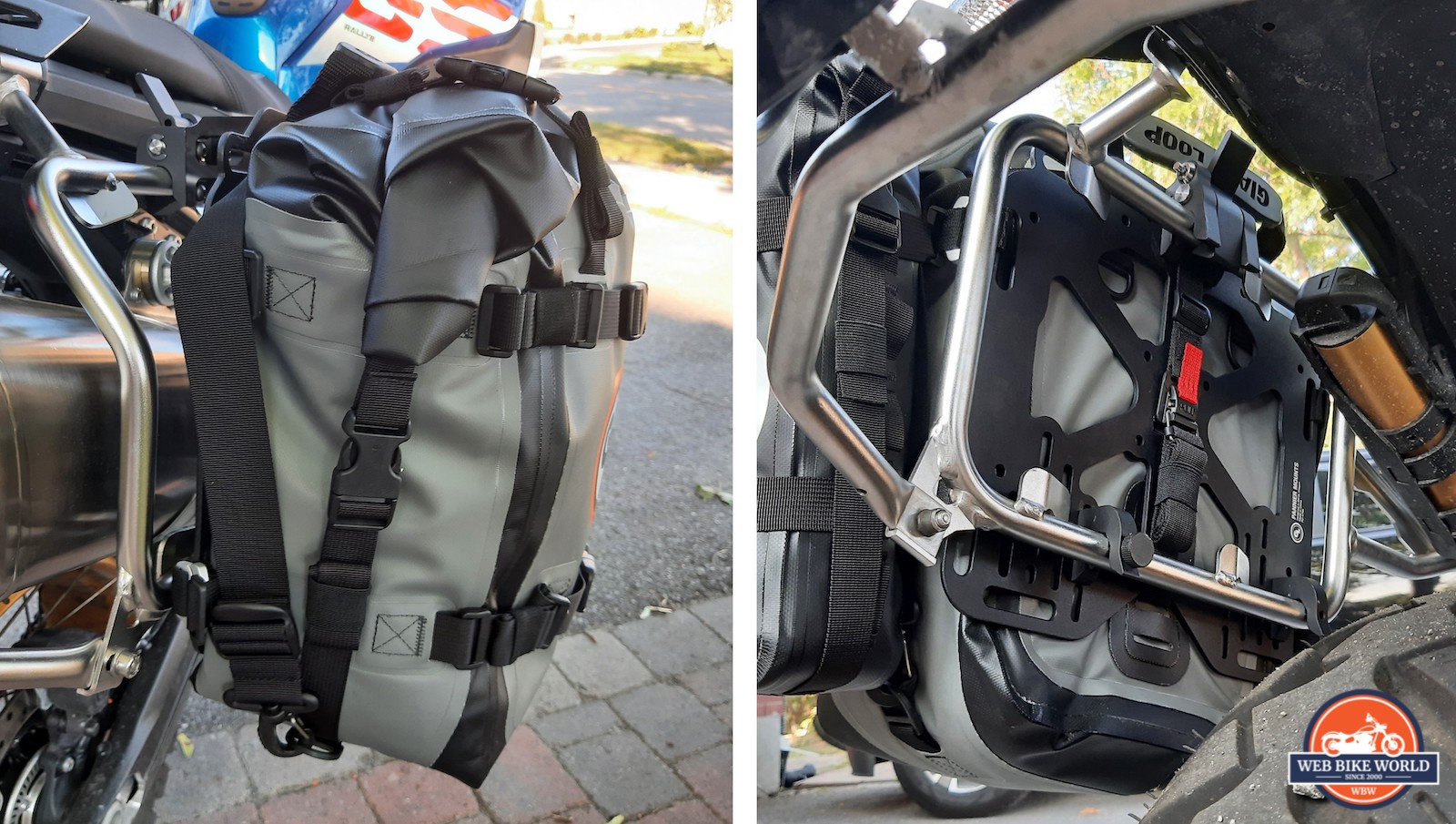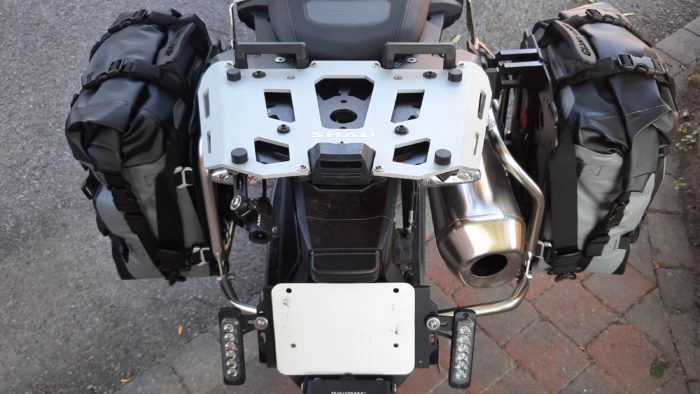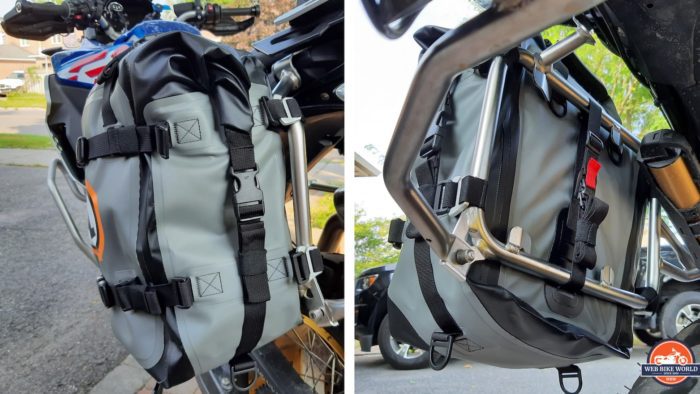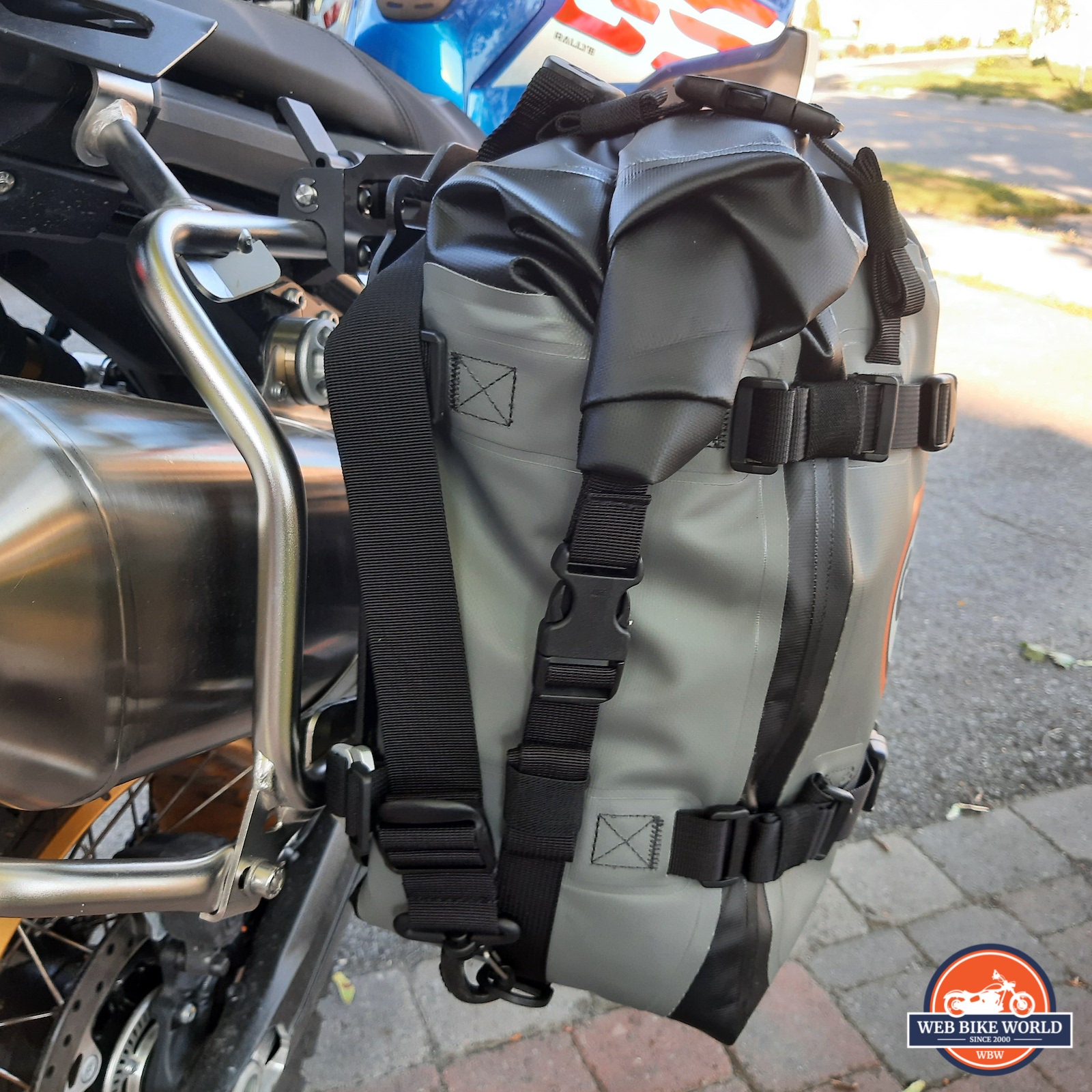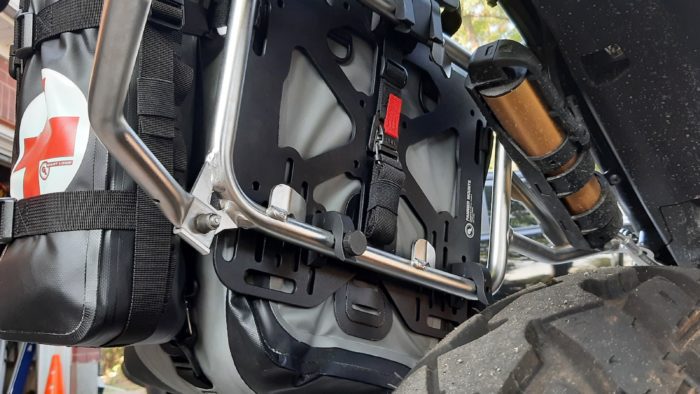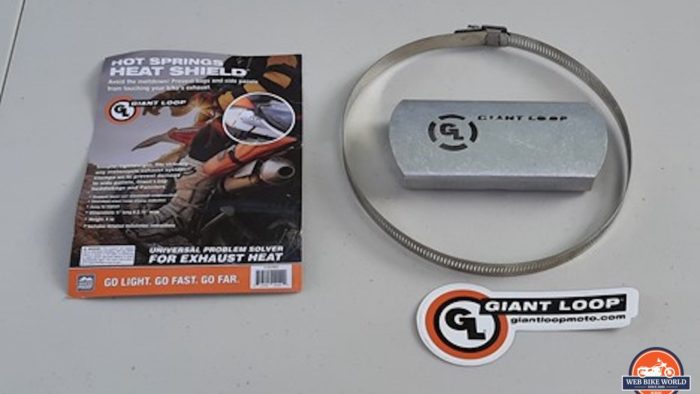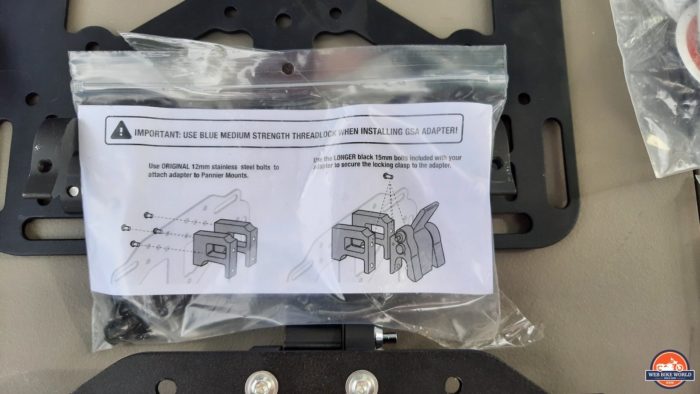 The post
[REVIEW] Giant Loop Pannier Mount & MotoTrekk Panniers
appeared first on
webBikeWorld
.
Continue reading...