Joined

Apr 15, 2022
Messages

167
Reaction score

188
Points

43
Location
I use two products from the
Texas Cool Vest
company which make riding in the hot weather much more bearable. I've used these for years and they have lasted perfectly, no issues, and continue to serve. I highly recommend these products for anyone who rides in the heat.
The most useful is the Texas Cool Vest. It uses "phase change material" which freezes quickly in ice water (or fridge or freezer, not as quickly) and is at 65 degrees F, which makes it comfortable on your body, unlike 32 degrees ice packs which would be unbearable. The large cool packs insert into pockets on the inside of the vest, two front and two back and the whole package fits easily under your riding jacket. It's only slightly bulky, but not too much, as long as your jacket isn't already too tight. The interesting thing is you really benefit from a closed material jacket like textile or leather because it holds the cold inside, whereas a summer mesh jacket would just let the cool air escape. Mine works best with my Tourmaster adventure jacket, for example. The packs last for a couple of hours before they are simply liquid again but toss into ice water and they're solid again in about 15 minutes. I'll often ride to lunch somewhere and ask the restaurant to put them in the freezer; by the time we leave they are solid again. That might sound a little weird but I've never had anyone say no. I commuted for years in Houston heat and the TCV was a game changer. They also market the TCV to military, police, security…anyone with a need to conquer heat on the job. They're well worth the $150 investment for the standard (cheapest) model. You can buy additional cool packs and have some ready to go when the first set is ready to be recharged.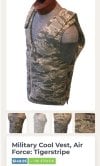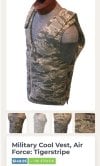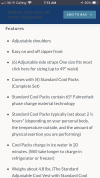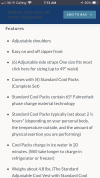 For warm but not inferno-like temps, they have an inexpensive product called "Cool Neck Band." For just $20 you get the same phase change material 65 degree F cooling that ties around your neck. It works well and lasts about the same. It takes a little getting used to because it's a bit like wearing a neck brace. It's smaller than that, of course, but since it's frozen solid, you definitely know it's there. The cool pack is separated into three sections to allow for it to go around your neck. I wasn't sold on it at first because it was a new sensation and mildly restrictive because it's, you know, another thing on you, taking the space between the bottom of your helmet and your jacket. But after a few times using it, I found it to be not really that restrictive and definitely worth having on for the coolness it provides. I love it even if my description might make you think "umm, no." For me: totally worth it. We just did a ride yesterday to lunch and I popped it into a medium to-go cup with ice water and it was ready to go in 10 minutes while we finished lunch. Once you get used to it you won't want to be without it.