Joined

Nov 11, 2011
Messages

3,895
Reaction score

92
Points

48
Location
Table of Contents
Austrian brand KTM has put together an impressive line-up for 2021. 2020 was a trying year for most manufacturers, with trade shows cancelled, grand unveilings put on hold, and release schedules thrown out of the window. Fortunately, KTM is on the ball, with an updated website and a comprehensive list of what we can expect for 2021.
There are a few brand new models, plenty of updates, and one or two surprises that we're still waiting on. With new Euro5 rules coming into play, a lot of KTMs models will need some tinkering in the engine department, with the likes of the 790 transitioning into a new 890 configuration in some markets.
So, without further ado, here's the story so far. No doubt there will be a little more shuffling as the months fall off the calendar and models that were expected in late 2020 make an appearance further into the new year, but here's what to expect from KTM in 2021.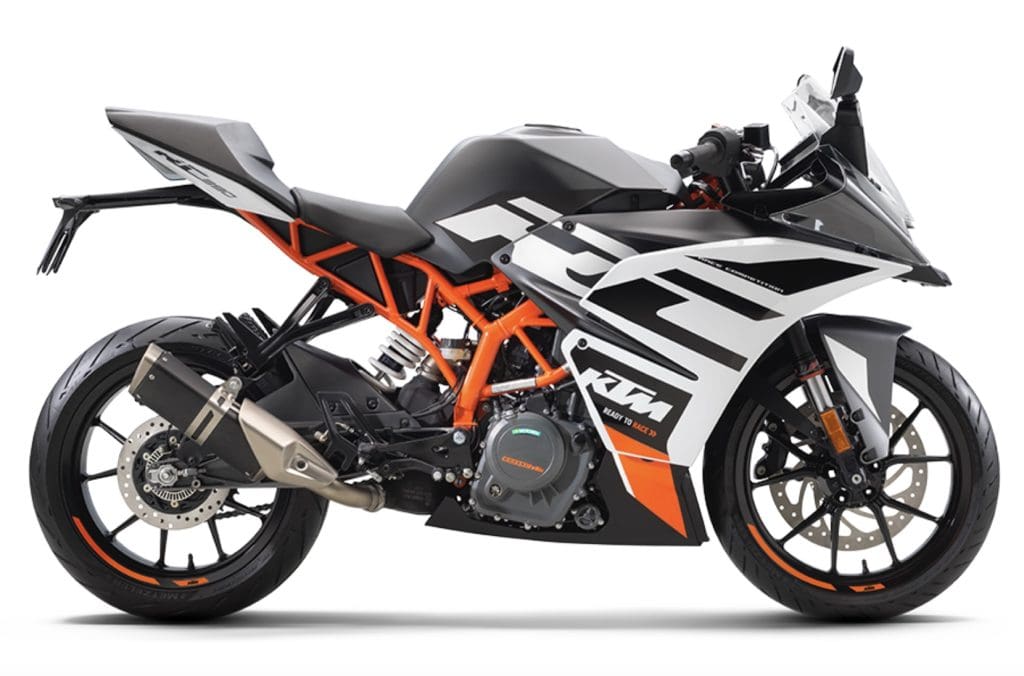 The KTM RC 390 is available once again in 2021, but it's very much the same as it was last year. It hasn't received any updates, but that's no bad thing. For years, the KTM RC 390 has been known as a sharp and sophisticated entry-level sports machine that delivers moderate power in a fully-faired and fully-realized sport bike package.
Underneath those angular fairings, the 2021 RC 390 features a 373cc liquid-cooled single-cylinder engine—the very same unit that powers the 390 Duke and 390 Adventure. The engine produces a modest 41 horsepower and 26 lb-ft of torque. Though there's nothing new for 2021, the RC 390 is still one of the sharpest small-capacity motorcycles on the market. For those looking for a thrill-inducing ride with a smaller displacement and a lower price tag, this is a worthy choice.
2021 KTM 1290 Super Duke R​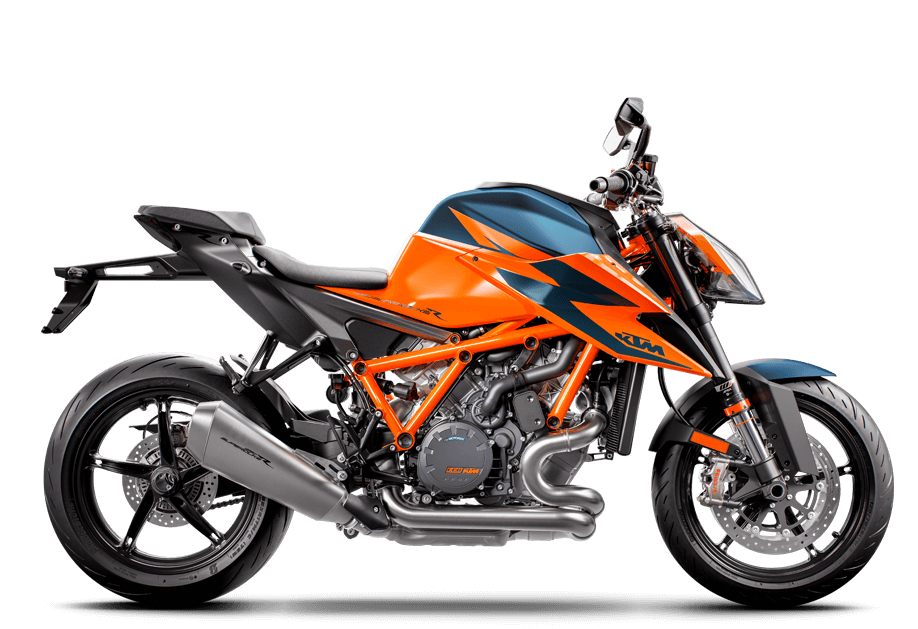 KTM's naked range remains largely unchanged for 2021, with most of the models carrying over from 2020 with no updates to speak of. Though a higher-spec sport touring 1290 Super Duke is on the way (
the 1290 Super Duke GT
) there's no word on when it will arrive in North America. So, for now, we'll just have to make do with KTM's class-leading naked: the 1290 Super Duke R.
Armed with a recently updated 75-degree 1,301cc liquid-cooled LC8 V-twin engine, and a lightweight chassis that was all-new last year, the 1290 Super Duke R is a lean, mean, and powerful motorcycle that offers high-performance, easy handling, and plenty of top-spec riding aids. Chief among those include multiple ride modes, an optional track mode, advanced traction control, Supermoto ABS, cruise control, adaptive lighting, and more. It's a high-performance motorcycle that blows most of the competition out of the water.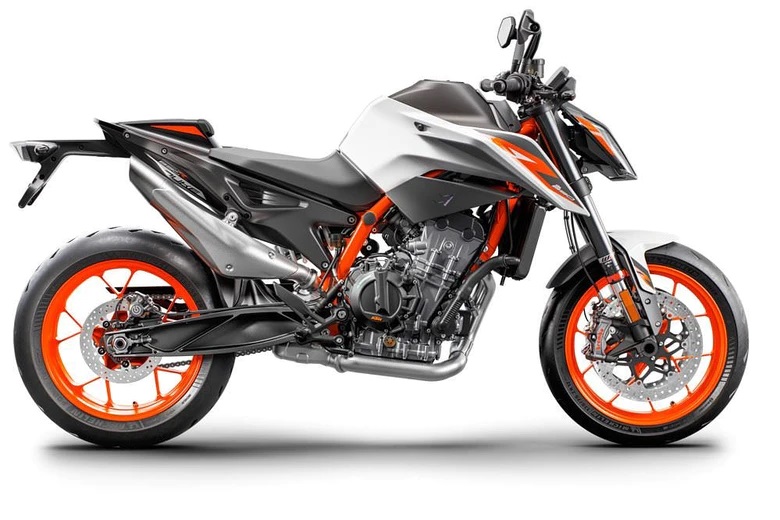 The 2021 KTM 890 Duke R is expected but it hasn't formally appeared on the lists yet. It has been seen, it has been previewed, and the website even has a dedicated URL with all the details (that currently redirects to an error message) but the important details about the 890 Duke R are still eluding us. It was first teased as a late-in-2020-as-a-2021-model but late 2020 has rolled by and we've been left 890-less. No doubt Covid had a hand in the postponement.
While we're waiting on a concrete release date, we can tell you that the 890 Duke R is a refinement of the highly successful 790 Duke. The engine has been enlarged to a displacement of 889cc, with talk of a power output of 119 hp with 73 lb-ft of peak torque. Newer and plusher WP Apex suspension will also be included, along with a host of other top-shelf parts. We'll tell you more about the release date when we know it. Just know this: it is coming. It's just a matter of when.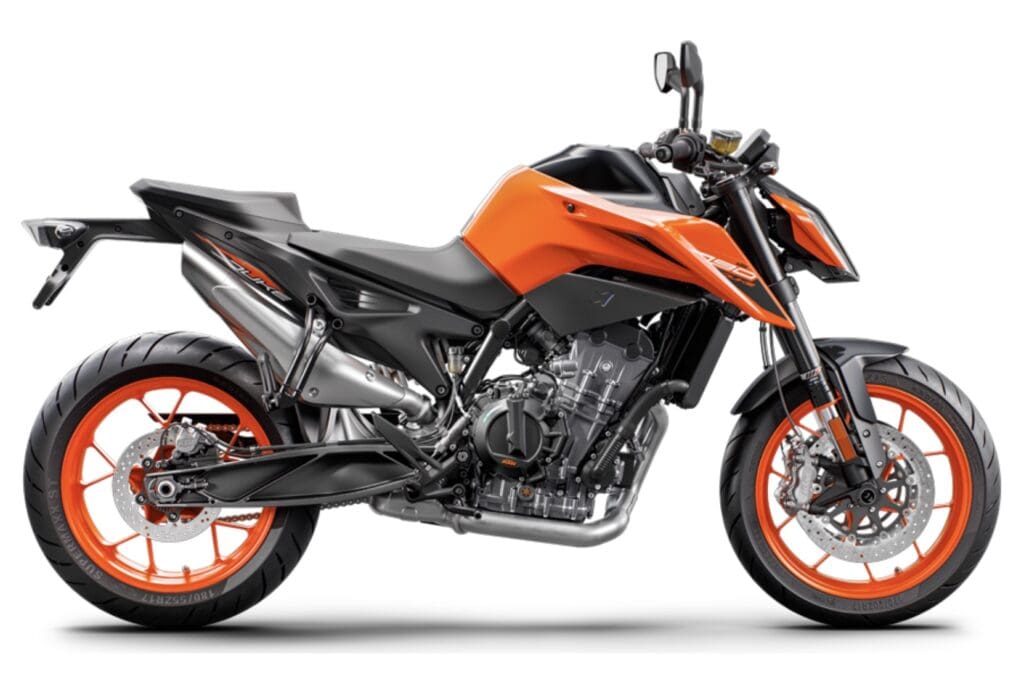 While we eagerly await the arrival of the above mentioned 890 Duke R, we can still marvel at the 790 Duke. It's still going to be available through 2021, though it will be identical to the 2020 model. Dubbed "The Scalpel," the KTM 790 Duke is a naked bike that marries the agility of a single-cylinder motorcycle with the punch and power of a twin, wrapped in a lightweight and compact chassis that has been designed for precision riding. It's not about big power and huge outputs. It's about fast corners and accurate riding. And that's why so many riders have come to love it.
The engine is a 799cc parallel-twin LC8 unit that delivers more than enough power for serious riding. If you think 799cc isn't enough, then you should ask yourself why KTM included a dedicated track riding mode on this beast. It's fast, and comes loaded with high-grade tech to keep you in check, such as selectable riding modes, cornering ABS, traction control, motor slip regulation, and even a Quikshifter+! It's great, but the 790 is going to be replaced by the above-mentioned 890 shortly—so if you're eager for a ride on The Scalpel, you'd better get one quick.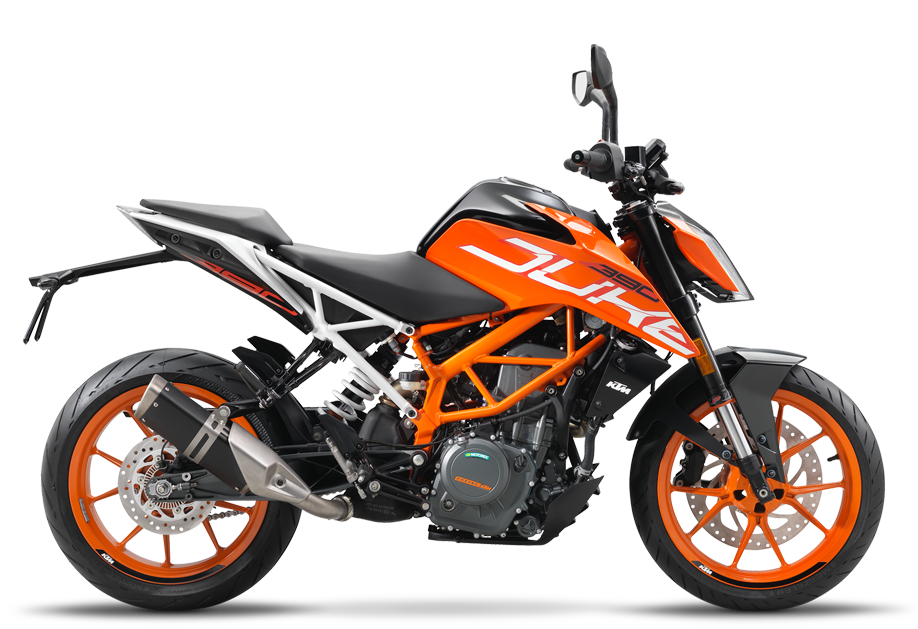 Nothing new for 2021 here, like many of the street-focused models from KTM. Still, the 390 Duke will be available throughout 2021, doing what most 390-sized KTMs do: they bring the ethos of the larger models to a different audience by offering a similar ride experience but in a smaller sized package. The 390 Duke is a good package with high-quality components and an exciting ride experience. If you're looking for a solid entry-level KTM with a versatile nature, this is the one for you.
The model features the same 390 engine that's found in other KTM small displacement bikes. It's a 373cc liquid-cooled single-cylinder engine with a power output of 44 horsepower that's mated to a six-speed manual transmission and has an anti-hopping clutch on it. ABS comes as standard, along with a Supermoto riding mode. It's a great beginner bike!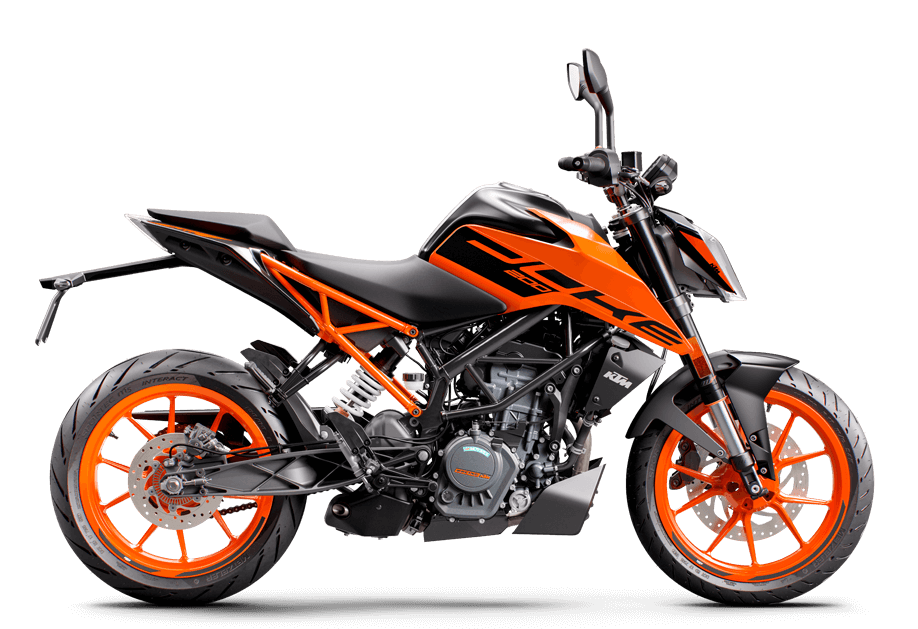 Despite what many people think, the 390 isn't the smallest Duke available in North America. The smaller 200 Duke is also available, and an excellent choice for riders who want all of the fun of riding a KTM road bike but don't want an engine with a large displacement. It would be easy to call it a 390 Duke-lite, but that's not the case. It's very much a model in its own right, with its own temperament and attitude.
Ideal for urban commuting, the KTM 200 Duke uses a small but potent engine to provide capable thrills and impressive performance at a very attractive price point. The bike's 200cc single-cylinder four-stroke engine produces a modest 26 horsepower, delivering easy acceleration for everyday rideability. It's got WP suspension and ABS, but little else: it's a no-frills ride for easy and accessible fun.
2021 KTM 1290 Super Adventure R​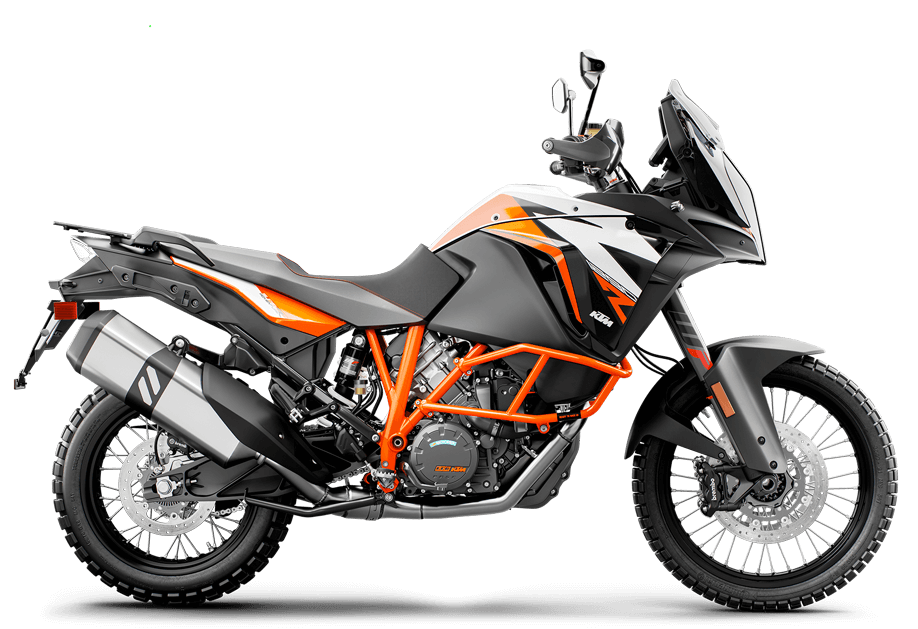 KTM's flagship adventure motorcycle the 1290 Super Adventure R is available for 2021. It remains unchanged from 2020, and this tough-as-nails adventure machine continues to be a class-leading model. It's a go-anywhere do-anything motorcycle that can handle whatever terrain and conditions nature can throw at it. Unlike the Super Adventure S, the R-branded model leans towards real off-road adventure rather than asphalt mile-munching.
The KTM Super Adventure R draws power from a 1,301cc liquid-cooled V-twin engine. The bike also features a six-speed manual transmission, a lightweight tubular steel frame, advanced WP XPLOR suspension, ABS, cornering ABS, traction control, dedicated off-road riding modes, and off-road traction control, and a whole host of other premium goodies, and you've got a motorcycle that you can cross continents on. In comfort, and in style.
2021 KTM 1290 Super Adventure S​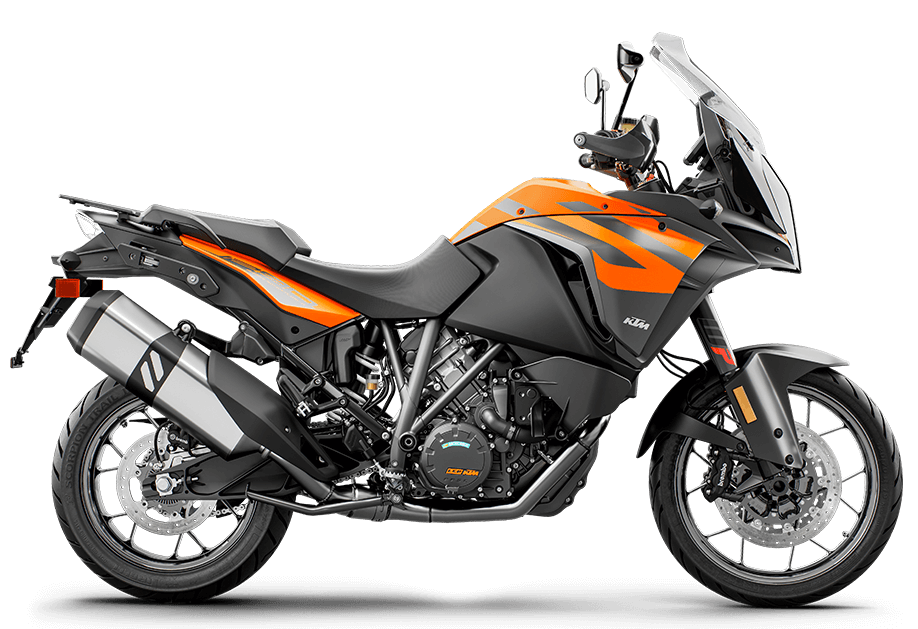 In short: same as above, but with a more road-focused bias! That's right, the KTM 1290 Super Adventure S is back for 2021 but with no changes from the 2020 model. The S-model is certainly geared towards on-road riding, but it can handle lighter trails and loose roads fairly well too. However, it really comes into its own when it's leaning into a corner on a sealed mountain road.
In terms of specification, the Super Adventure S shares the same drivetrain as the Super Adventure R. Both models use the same 1,301cc liquid-cooled V-twin engine and six-speed manual transmission. Much of the other equipment is the same, too. However, the Super Adventure S enjoys semi-active WP suspension, cruise control, road-focused tires, and a number of other touring-ready practicalities. If you're looking for premium road touring capabilities and a side-order of trail-riding prowess, the KTM 1290 Super Adventure S is what you need.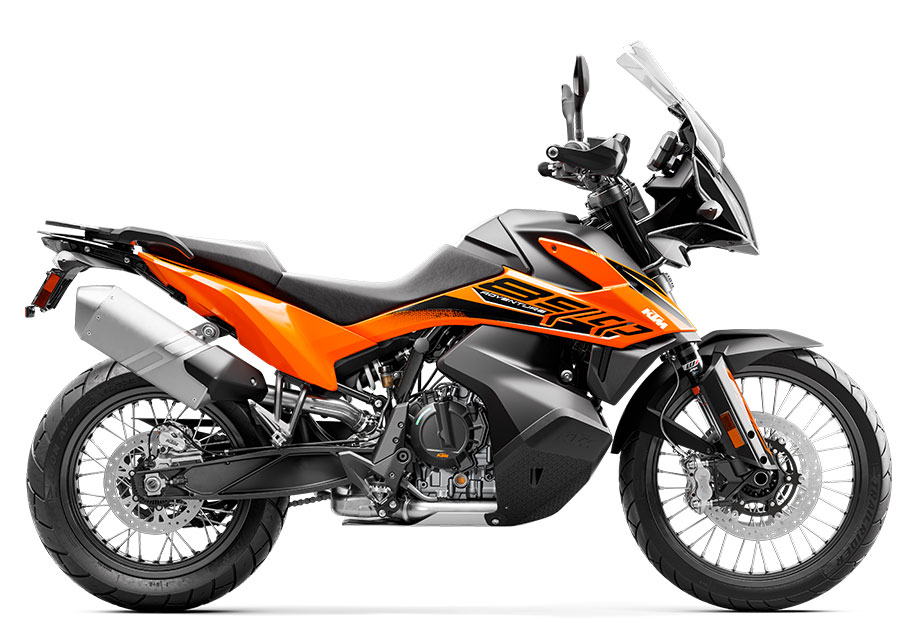 New Euro5 regulations have forced KTM to make a number of changes to many models in its line-up. The 890 Adventure is one of those models. Now featuring a larger engine with revised internals, improved chassis geometry, and plenty of upgrades to the electronics, the new and improved KTM 890 Adventure is a capable and sporty adventure tourer. It's an innovative machine that raises the bar for the middle-weight adventure segment.
The all-new 890 Adventure is powered by an 889cc two-cylinder, four-stroke, parallel-twin engine that produces 105 horsepower and 73.8 lb-ft of torque. Updated ABS and traction control, improved shifting, and a reinforced clutch, make the 890 Adventure a force to be reckoned with, both on and off-road.
2021 KTM 890 Adventure R​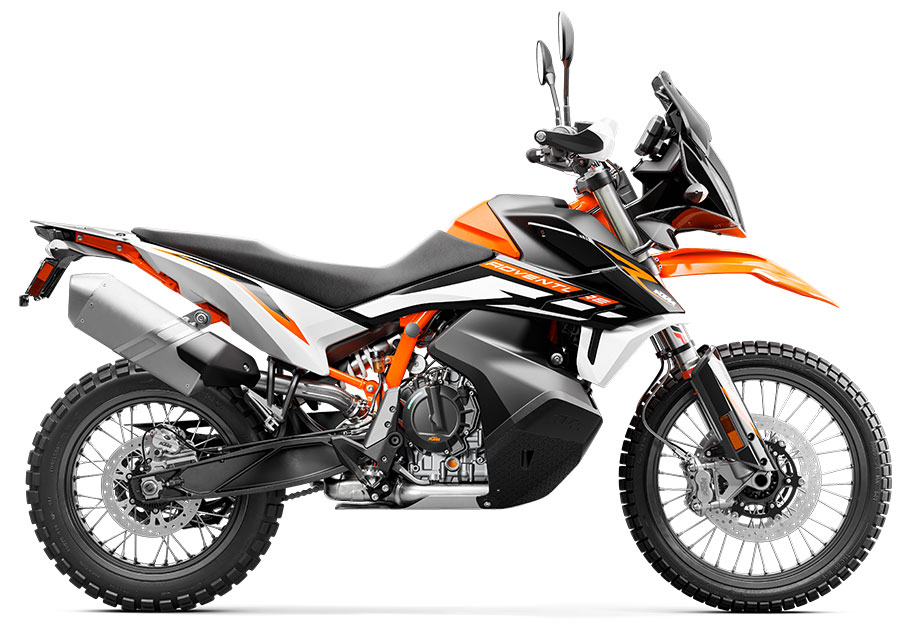 The 2021 KTM Adventure R isn't replacing the existing 790 Adventure series. At least not yet, anyway. The larger displacement model has been created to bridge the gap between middle-weight and heavy-weight adventure riding. And conform to new Euro5 regs. To do that, the parallel-twin engine now boasts 889 cubic centimeters of displacement, along with 105 horsepower and 73.8 lb-ft of torque.
Now, what makes the "R" designated model different from the standard 890 Adventure? Well, not a lot. However, the extra expense buys you more than just an "R". You get upgraded suspension, with WP XPLOR forks and a WP XACT rear shock replacing the standard WP APEX units found on the more economically-priced 890 Adventure.
Aside from that, the 890 Adventure R still boasts the same sophisticated electronics package, including cornering ABS, next-gen traction control, off-road ABS, and off-road and rally ride modes. In short: it's a KTM 890 Adventure, but with better suspension…and if you're serious about adventure riding, the upgraded suspension could be a deal maker.
2021 KTM 890 Adventure R Rally​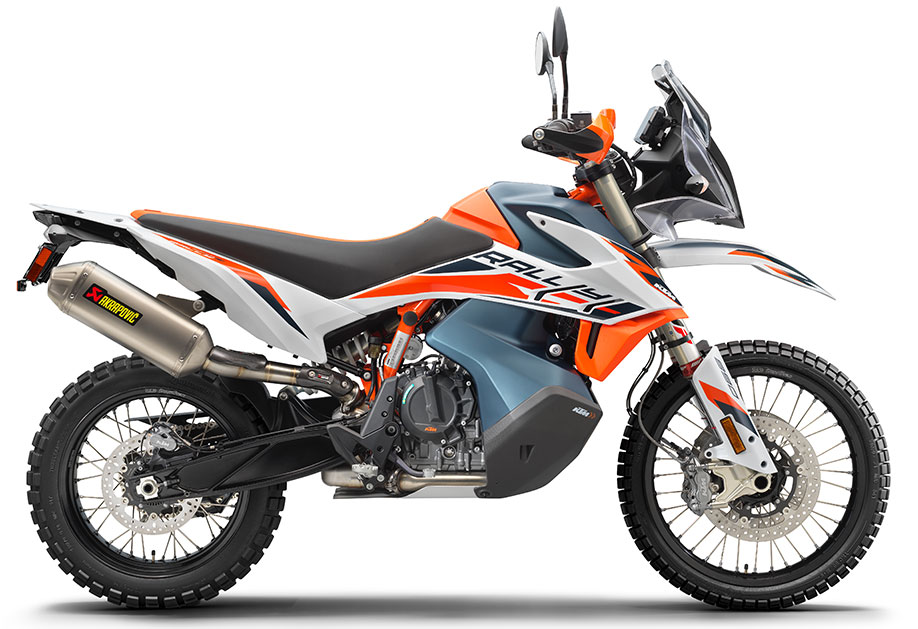 The 2021 KTM 890 Adventure R Rally is the top of the range model in the 890 line-up. Like the other models in the range, the Rally version draws power from the new Euro5 compliant 889cc two-cylinder, four-stroke, parallel-twin engine. The output ratings are the same 105 horsepower and 73.8 lb-ft of torque. The engine specs are the same, but the level of extras on the Rally model is something else altogether.
The highlights include the addition of WP XPLOR PRO suspension, an Akrapovic exhaust system (that weighs 35% less than the stock unit), a racing seat, narrower rims, a Quickshifter+ as standard equipment, and more. Other nice features include carbon fiber details, Rally footrests, a clear screen, winglets, and a unique livery. If you're interested, you'd better act fast, because the 2021 KTM 890 Adventure R Rally is limited to just 700 units worldwide!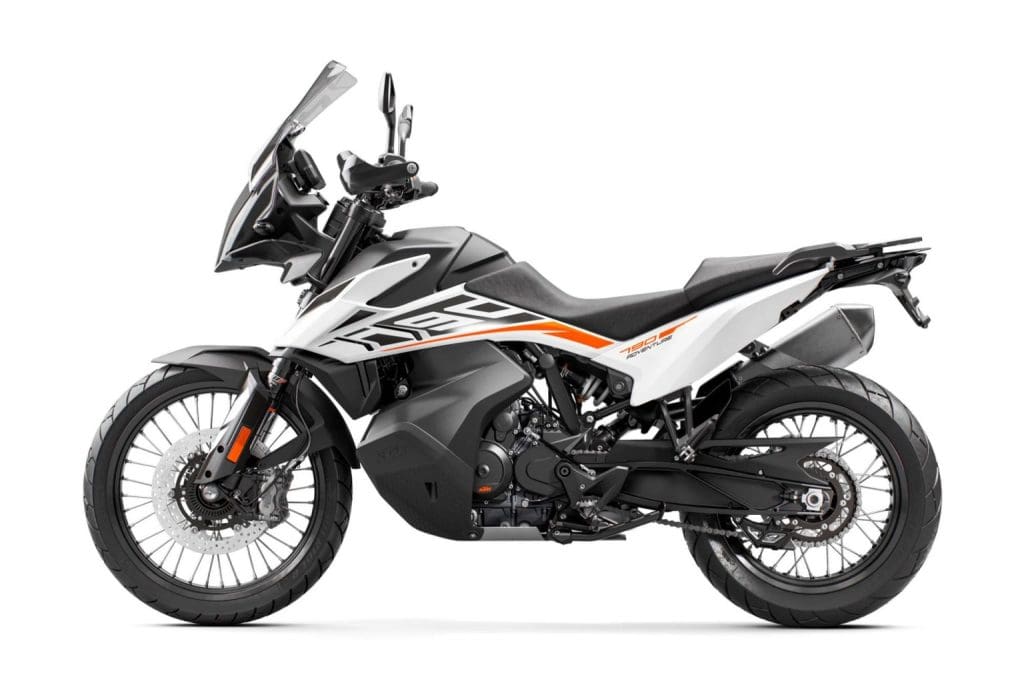 As we mentioned above, the 790 Adventure isn't going anywhere yet. The 790 models are still alive and kicking for 2021, and while the year has changed, the specs of the 790 Adventure have not. Though it will still be available in dealerships, it's very much the 2020 model that we all fell in love with last year: a capable middle-weight adventure motorcycle with a road-leaning bias.
Drawing power from a 799cc liquid-cooled parallel-twin engine, and enhanced with cornering ABS, advanced traction control, off-road ABS, dedicated off-road and rally riding modes, and full MY RIDE connectivity, this middle-weight adventure machine is a practical, capable, and fun choice.
2021 KTM 790 Adventure R​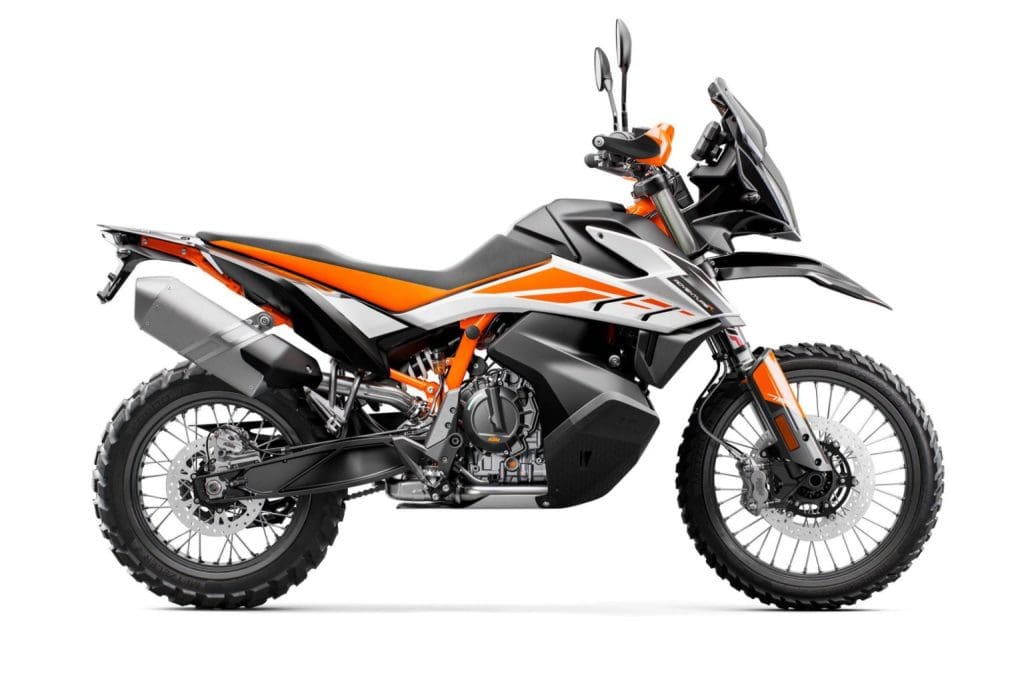 The more off-road focused 790 Adventure model is the 790 Adventure R. Similar to the model mentioned above, there is no specific 2021 model, and last year's model will carry over for 2021. Naturally, it's powered by the same 799cc liquid-cooled parallel-twin engine as the other 790 Adventures. However, there are some key differences.
Chief among these include the addition of more advanced suspension. Instead of the standard Adventure's WP APEX front and rear suspension, the R-model features WP XPLOR USD front forks and an XPLOR PDS rear shock. Another significant difference is the seat. The Adventure R features a one-piece seat for more confident off-road riding. These are just some of the many upgrades available on the 790 Adventure R.
2021 KTM 790 Adventure R Rally​
The top-of-the-range model in the 790 Adventure line-up is the Adventure R Rally. Again, these are a carry-over from 2020. Last year, they were part of a limited production run. Only 500 were said to be built, but it seems they didn't sell them all as they are still very much available in 2021, if KTM's website and media portal are to be believed. If they say it's still for sale, then it must be, so KTM enthusiasts can have another chance at owning a limited-edition model.
While it's almost entirely identical to the Adventure R, with the same 799cc liquid-cooled parallel-twin engine, riding aids, and chassis, the addition of top-class suspension is what gives the Rally model the edge. The suspension has been upgraded one step further, with WP XPLOR PRO front suspension, and an XPLOR PRO rear shock. The result is a suspension set-up that's as close to factory as you can get. There are other upgrades, but it's the suspension that really sets the Adventure R Rally above the rest.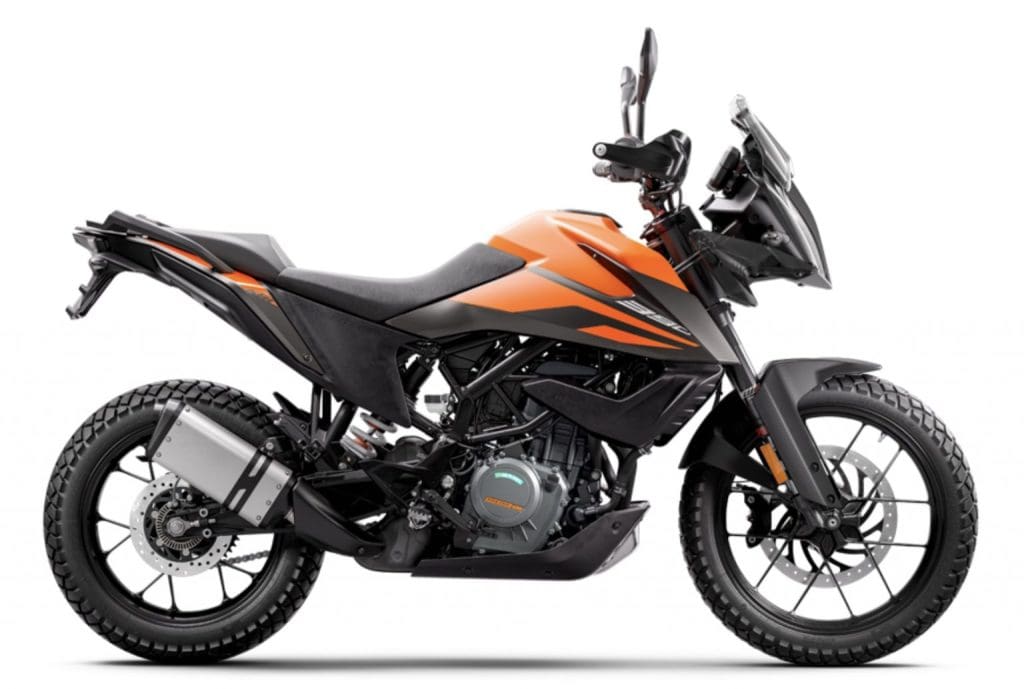 The KTM 390 Adventure debuted in 2020 and is on sale once again throughout 2021. It's not a new model for the new year, but since it's so new we weren't expecting to see anything in the way of updates anyway. This small-capacity adventure machine is a capable, practical, and affordable ride that will leave new riders and experienced hands feeling impressed. Despite being small in displacement, the 390 Adventure is big in features and boasts comprehensive equipment and high-end components.
The 390 Adventure draws power from a compact and lightweight 373cc single-cylinder engine. ABS, EMS, and an anti-hopping clutch as just some of the many interesting features that this travel-enduro machine has to offer. Ideal for new riders, commuters, and for those looking for a versatile motorcycle, the Adventure 390 is a lightweight bike with heavyweight ambitions.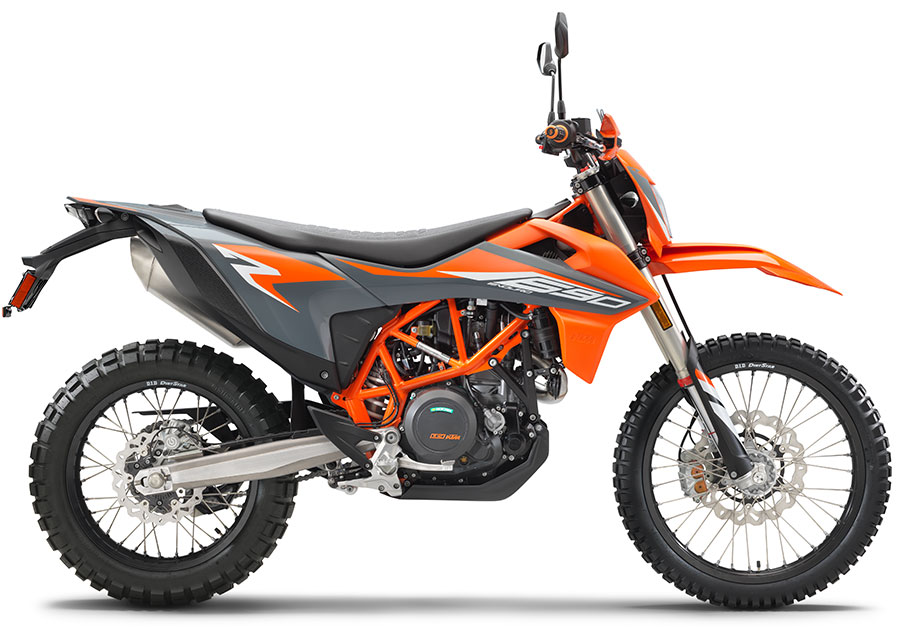 The KTM 690 Enduro R is a genuine 2021 model. Like its predecessors, the 690 Enduro R takes KTM's expertise from the enduro and motocross segments and fuses it with the brand's practical adventure know-how. The result is a capable dual-sport motorcycle that delivers excellent on-road capability and very impressive off-road riding too. In short: it's a big dirt bike that you can comfortably ride on the roads too.
The heart of the KTM 690 Enduro R is a 692.7cc single-cylinder liquid-cooled LC4 engine. It delivers punchy power when and where you need it, and it's also enhanced with a number of exciting riding aids to really maximize your ride experience. These include a comprehensive engine management system (EMS), two ride modes (Street and Off-road), two-channel ABS, traction control, and more. And of course, for 2021 the KTM 690 Enduro R also receives the latest WP XPLOR suspension too.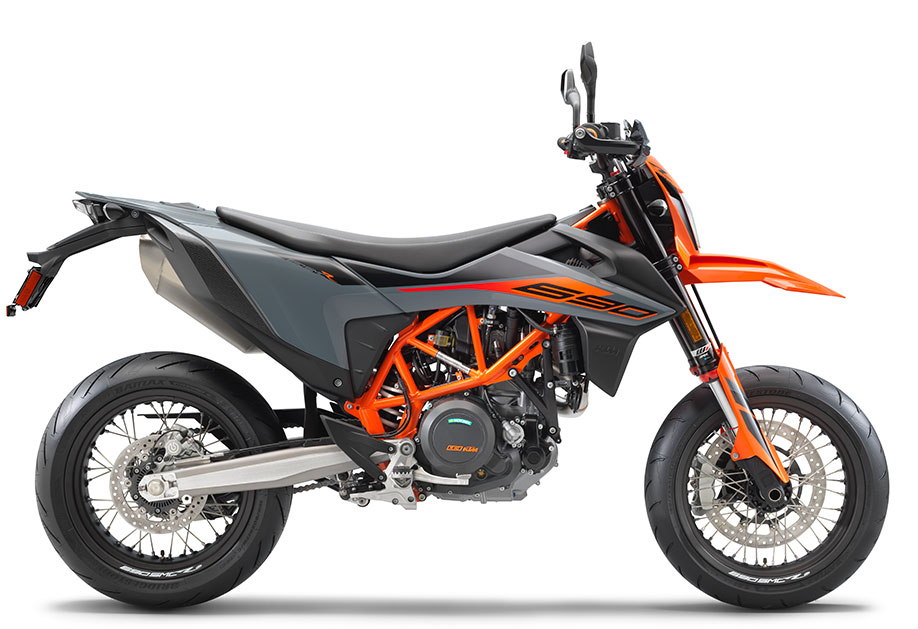 If you're looking for the ultimate Supermoto, then the 2021 KTM 690 SMC R is what you need. Updated for 2021, the 690 SMC R is an advanced Supermoto that can slide around mountain roads and racetracks with ease, and cause all kinds of trouble on city streets too. It's a model that takes the off-road ergonomics off the above mentioned 690 Enduro R but channels that boisterous nature into a road-going drifting machine instead.
It uses the same engine, a 692.7cc single-cylinder liquid-cooled LC4 unit, and produces the same power. However, the difference is the addition of fully-adjustable WP APEX suspension, different engine modes, road-focused tires and brakes, and road-specific riding modes. These include Street and Supermoto riding modes, cornering ABS, Supermoto ABS, and a Quickshifter+. All of that tech is tucked into a lightweight and nimble frame designed for precision motorcycle riding. In our opinion, it's the best stock Supermoto machine you can buy.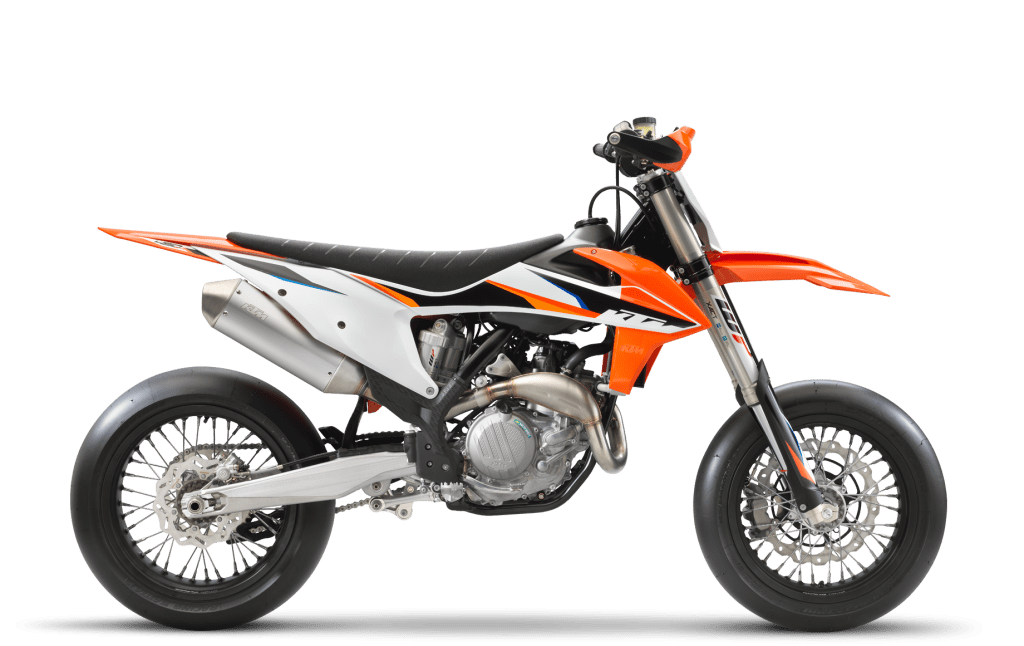 The highly anticipated 450 SMR returns to the KTM line-up for 2021. Taking inspiration directly from KTM's championship-winning 450 SX-F machine, the all-new 450 SMR fuses together KTM's off-road prowess with its READY TO RACE enthusiasm. The result is a lightweight and nimble Supermoto model that provides effective power, uses advanced technology, and delivers competitive, class-leading performance.
We could talk about the engine all day since it's full of top-quality components such as a lightweight aluminum cylinder and piston, compact cylinder head, a carefully calculated crankshaft, and advanced management system, but this is meant to be a brief summary. In short: it draws power from a 449.9cc liquid-cooled single-cylinder unit, with a Suter clutch, and uses Brembo components and next-gen WP XACT suspension. Throw in a selection of premium components, and you've got one of the most advanced Supermoto models in the segment.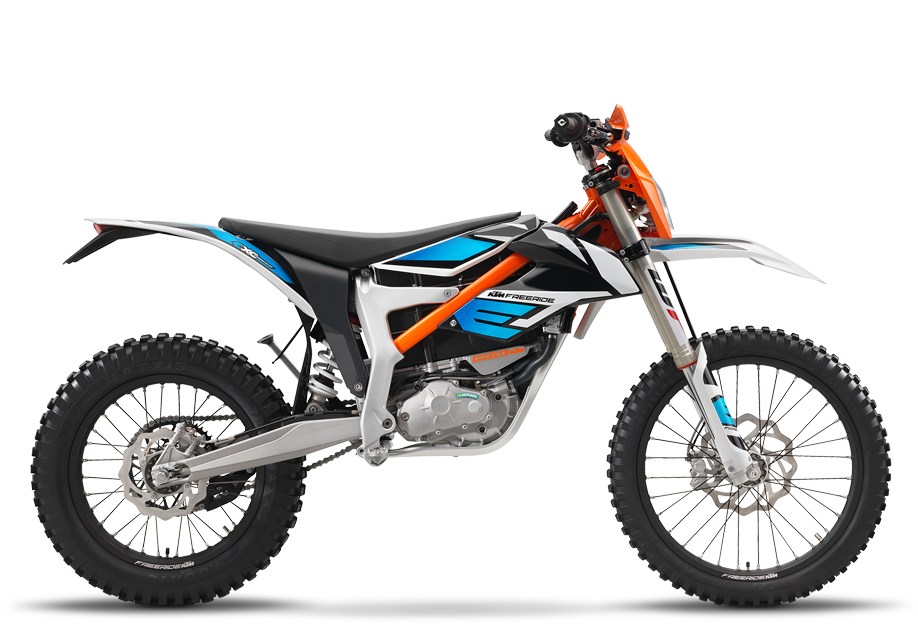 The all-electric KTM Freeride EX-C gets an update for 2021. Unlike the rest of the off-road bikes in the KTM range, the Freeride is the only electric model that's designed for real off-road riding. The latest generation of KTM's flagship electric dirt bike features a powerful 18 kW brushless synchronous motor, a quick-change 3.9 kWh KTM PowerPack, with plenty of power to tackle the most demanding of trails, with an impressive range capability that won't leave you stranded out on the trail.
The Freeride EX-C boasts an impressive electric drivetrain, but it also uses nothing but the best parts and components. Aside from those off-road-focused spoked 21"/18" anodized aluminum rims, the Freeride EX-C also boasts advanced WP XPLOR suspension and all-new FORMULA brakes.
2021 KTM Freeride SX-E 5​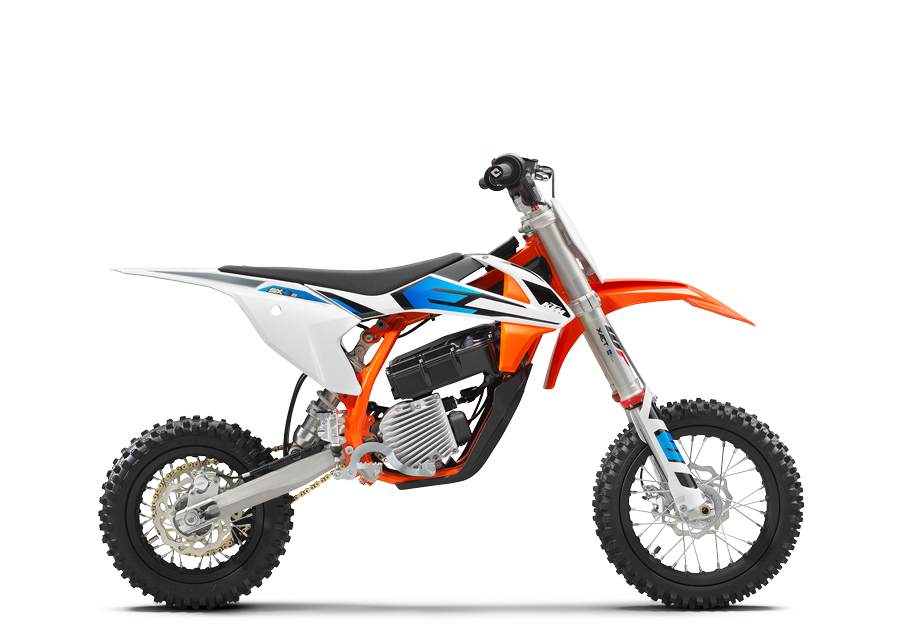 We were in two minds whether to list this one since it's aimed squarely at junior riders. However, simply dismissing it as a toy is a disservice. If it's a toy, then it's an expensive one and one that packs more of a punch than any toy we've ever owned. This is a high-end mini-crosser for truly talented junior riders who need competition performance in a smaller, pollution-free package.
This compact motorcycle uses a small but potent 48 V BLDC motor that offers a viable alternative to a conventional 50cc internal combustion engine. The engine is complemented with six selectable riding modes, a power cut-off lanyard, and an impressive battery. Other top-notch features include WP suspension, disc brakes, and an adjustable seat height. If you're looking at inspiring a future motocross champion, this is the bike for you.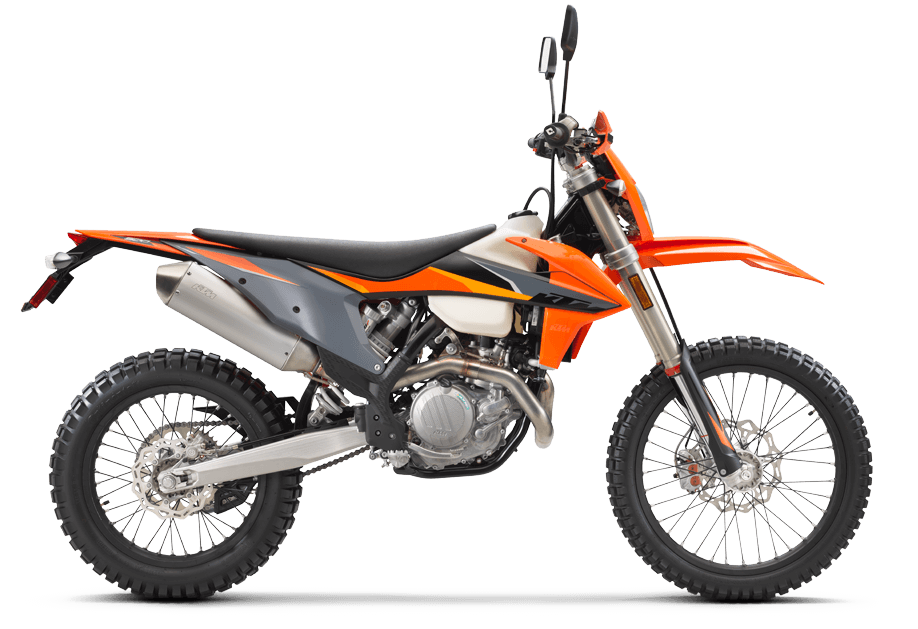 The KTM 500 EXC-F gets an update for 2021, with the legendary enduro model receiving a number of interesting upgrades. Dubbed as the "most powerful dual-sport on the market" the latest 500 EXC-F offers the right combination of punchy power, responsive rideability, and nimble handling—everything you want from a modern enduro machine.
The 2021 KTM 500 EXC-F uses a compact but powerful 510cc SOHC single-cylinder engine, which provides an impressive overall power-to-weight ratio thanks to the 500 EXC-F's all-new chassis. The lightweight 25CrMo4 steel central-tube frame works in partnership with WP XPLOR suspension, Brembo brakes, and GIANT CNC-machine rims to provide an agile ride experience. And of course, there are plenty of KTM-branded power parts available to help you tailor your ride to your needs.
For 2021, the KTM 500 EXC-F will also be available in a limited Six Days edition, with a unique Six Days livery, and a shopping list of top-of-the-range components too.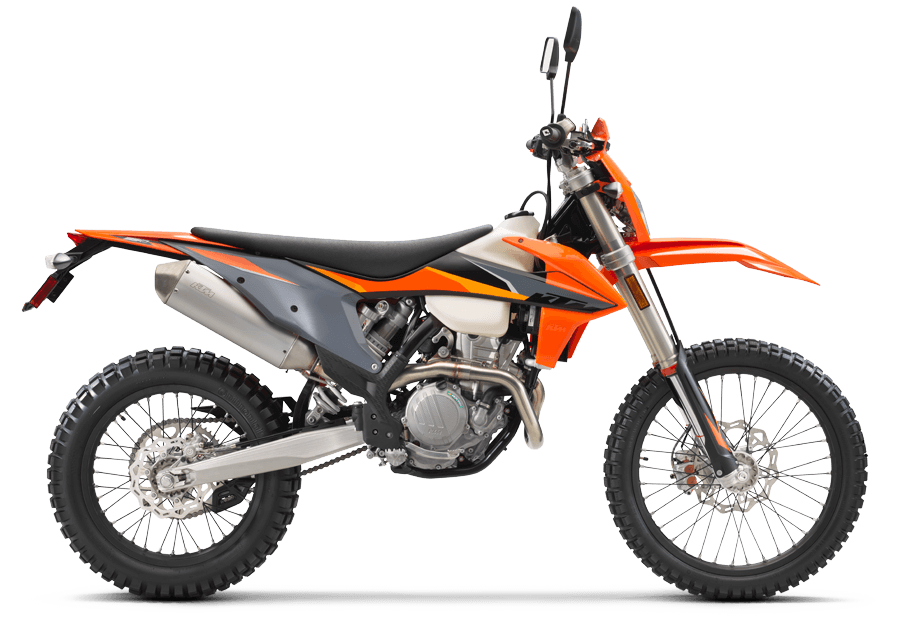 Ever since it arrived on the scene in 2012, the 350 EXC-F has been an enduro sensation. For 2021, the 350 EXC-F's legacy continues. Thanks to a selection of impressive upgrades, the 2021 KTM 350 EXC-F is the best model so far, offering class-leading performance, and incredible handling and agility.
The secret to the 350 EXC-F's success is KTM's remarkable ability to create an engine that delivers power that's more in line with larger displacement units, in a chassis that handles like a lightweight 250. The actual engine is a 349.7cc single-cylinder four-stroke unit, with a Keihin engine management system, mate to a reliable 6-speed gearbox. For those looking for the perfect balance of nimble handling and impressive power and torque, the 350 EXC-F is what you need.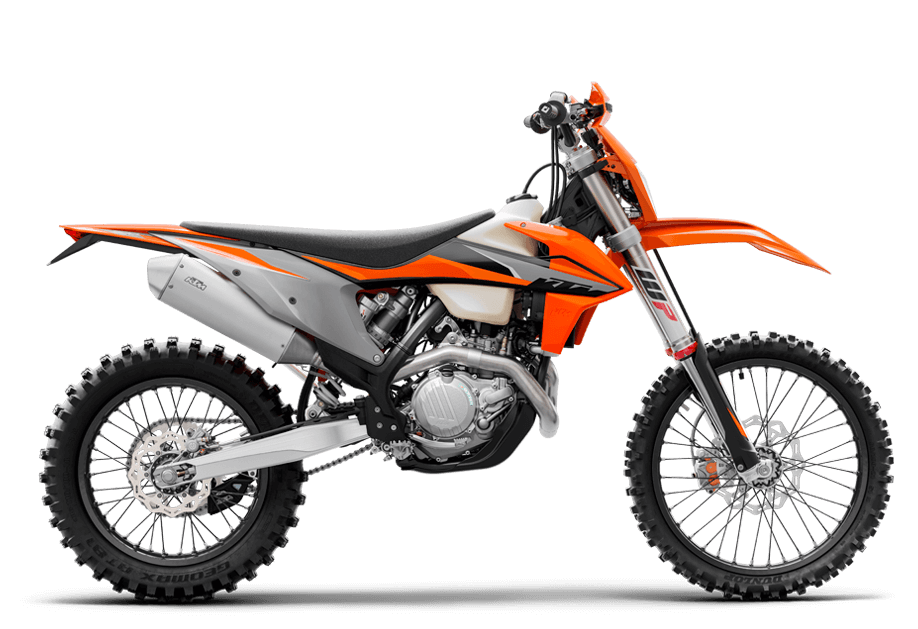 Often considered as the most powerful (and quite possible most advanced) off-road bike available, the KTM 500 XCF-W is a serious enduro machine. While it looks like the 500 EXC-F, and it does share a lot of the same DNA as it, it's not the same bike at all. For 2021, the KTM 500 XCF-W boasts a new frame and a number of other nice upgrades that set it apart from the other model.
The engine, however, is the same. The 510cc SOHC single-cylinder motor produces huge power, but in the new lightweight chromoly steel frame, it feels unreal. For a 500, the XCF-W behaves like a much smaller motorcycle, making it ideal for heavy-duty off-roading. While there are many features that elevate the 500 XCF-W over the 500 EXC-F, it's the addition of traction control and handlebar-mounted rider aid switches that really split the difference between the two.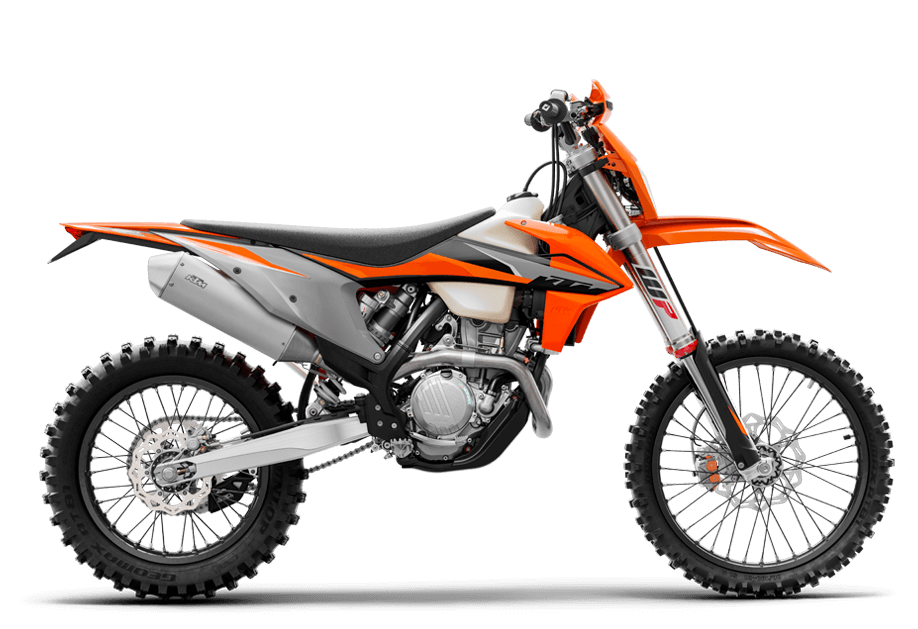 The 2021 KTM 350 XCF-W is a compact dirt bike with class-leading ambitions. Despite the engine's smaller displacement, it packs a serious punch that could see it go toe-to-toe with bigger models. The secret to the bike's success is its impressive power-to-weight ratio, thanks to a lightweight frame, and potent 349.7cc single-cylinder motor.
For 2021, the 250 XCF-W has a number of interesting updates. All XCF-W models get a new lightweight chromoly frame bringing the overall weight of the bike right down. Other new features include a new exhaust, new header pipes, a new airbox, and a number of other tweaks. The result is a lighter rolling chassis that's complemented nicely with the engine's impressive power output. For those looking for a smart enduro bike that can tackle the toughest of terrains, this one ticks all the right boxes.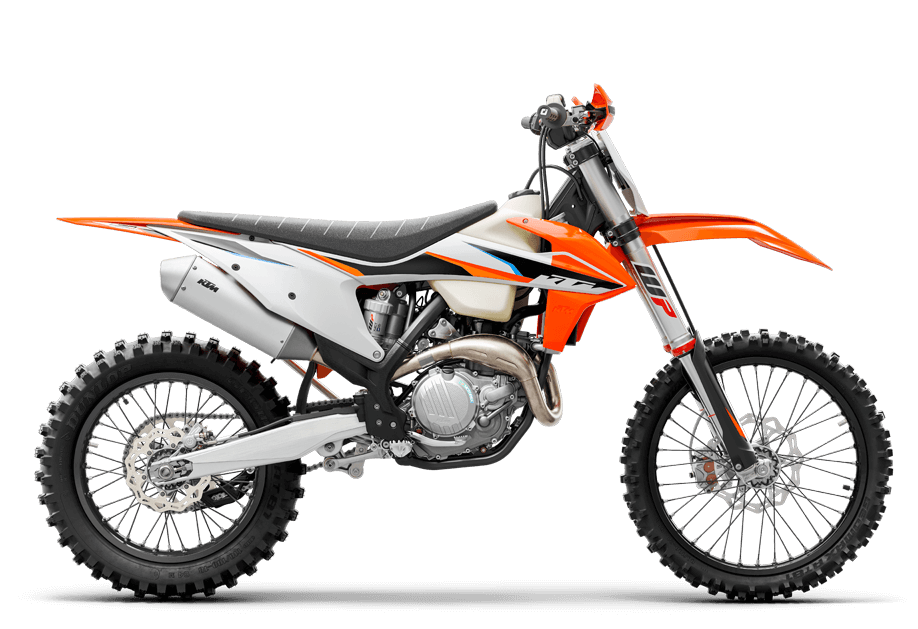 The last models in KTM's four-stroke enduro range are the XC-F models. At the top of the range, we've got the KTM 450 XC-F: a bike that's essentially a motocross motorcycle but with a few added extras that make it more suitable for different terrain and longer trails. It's tough and durable, a blast to ride, and a truly versatile all 'rounder. But don't be fooled by that versatility. The 450 XC-F shares a serious amount of DNA with the competition-spec and championship-winning 450 SX-F, so it's no slouch.
The heart of the 2021 KTM 450 XC-F is a newly tweaked fuel-injected four-stroke 449.9cc single-cylinder engine. It's a powerful engine that has lost none of its potency after being re-jigged to comply with the new Euro5 regulations. In fact, the engine is now lighter and more competitive than before, giving the 2021 KTM 450 XC-F an impressive power-to-weight ratio.
Equipped with traction control, handlebar-mounted map selections, and WP XACT suspension, the 2021 model is the most advanced to date.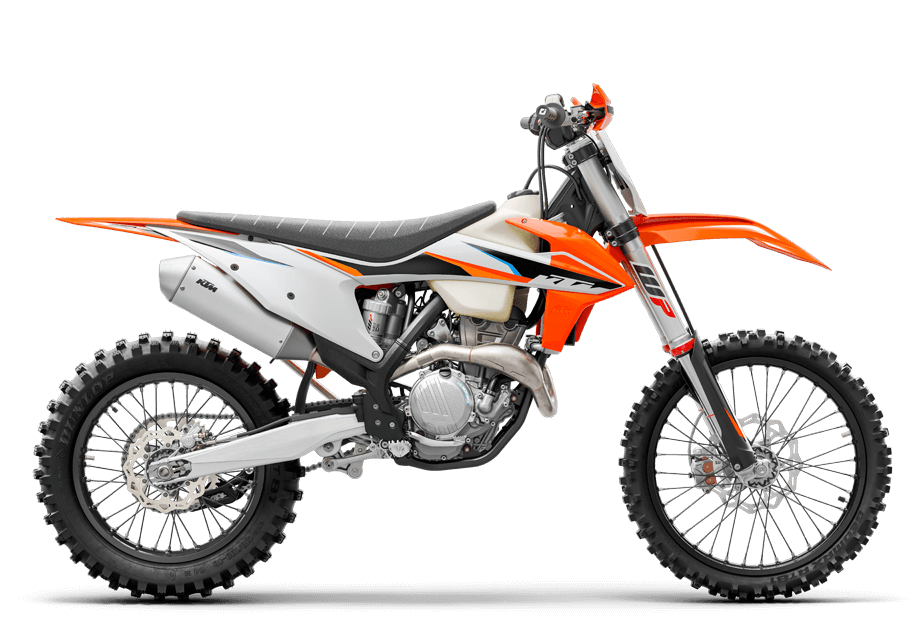 KTM's mid-sized XC-F model is back for 2021. The 2021 KTM 350 XC-F takes its inspiration directly from the competition-spec 350 SX-F but with a more enduro-focused chassis and ride experience. The result is the 350 XC-F: a state-of-the-art enduro machine with an aggressive temperament and advanced technology, but in an accessible package that riders of any skill level and experience can get a thrill out of.
Thanks to the latest Euro5 regulations, many KTM dirt bikes have had to endure engine revisions for 2021, and the 350 XC-F is one of them. The bike's single-cylinder, four-stroke 349.7cc engine has been revised and now produces impressive power but in a slightly lighter package.
For 2021, the 350 XC-F is also available in a special edition Kailub Russell variation. Built in recognition of Kailub Russell's racing achievements, the special edition features a number of high-spec components, including an upgraded WP suspension system, FMF slip-on exhaust, race brakes, Hinson clutch cover, Selle Dalla Valle seat, and much, much more.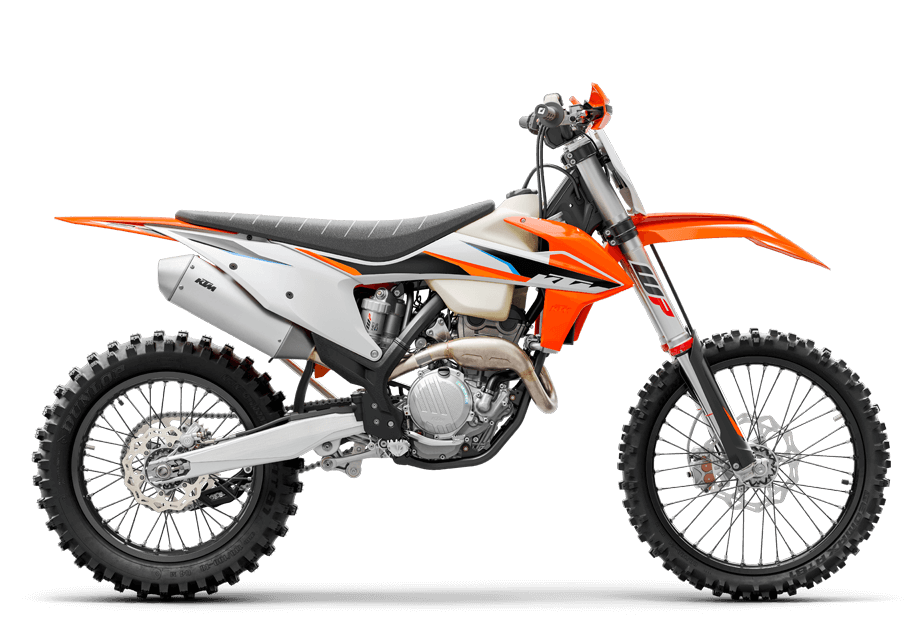 The smallest member of the XC-F family is the KTM 250 XC-F. For many riders, the 250 is more than enough. It's small in displacement but big in power, and some would even go as far as to argue that the 250 XC-F is the perfect off-road racing machine. It's fast, nimble, lightweight, and packed full of modern technology—making it the ideal choice for thrill-seeking dirt riders.
The heart of the 2021 KTM 250 XC-F is a compact 249.9cc single-cylinder four-stroke engine with a state-of-the-art engine management system. KTM claims that it's the strongest 250cc four-stroke motor in the segment, and we're inclined to agree. Pair it with a race-bred chassis set-up, and treat it with traction control, and you've got nothing less than a formidable off-road weapon. Proof that good things come in small packages.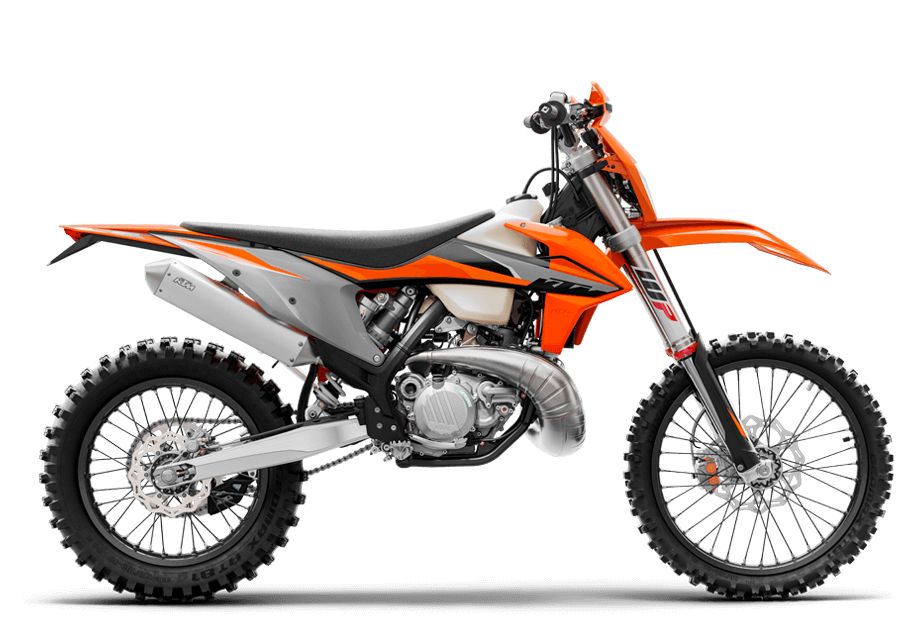 KTM's biggest two-stroke enduro is back for 2021 with plenty of tasty upgrades. The 300 XC-W TPI is one of the most impressive enduro motorcycles on the market, featuring an advanced 293.2cc single-cylinder engine with Transfer Port Injection technology. It's powerful, you name it, it can climb it. We're not exaggerating when we say this thing is very powerful.
The new 2021 KTM 300 XC-W TPI model has a number of exciting upgrades for the new year. The most significant of these is the model's all-new lightweight chromoly steel frame. Thanks to new manufacturing techniques, the new frame offers better handling, stability, and rider feedback. New aluminum components, a lighter subframe, and revised chassis geometry are also included in the mix to make for a more impressive ride experience.
For 2021, the KTM 300 XC-W TPI is also available in a limited edition ERZBERGRODEO trim after the famous Austrian Ezberg Rodeo. It's an uprated 300 XC-W with every top-notch part from the KTM Power Parts catalog installed.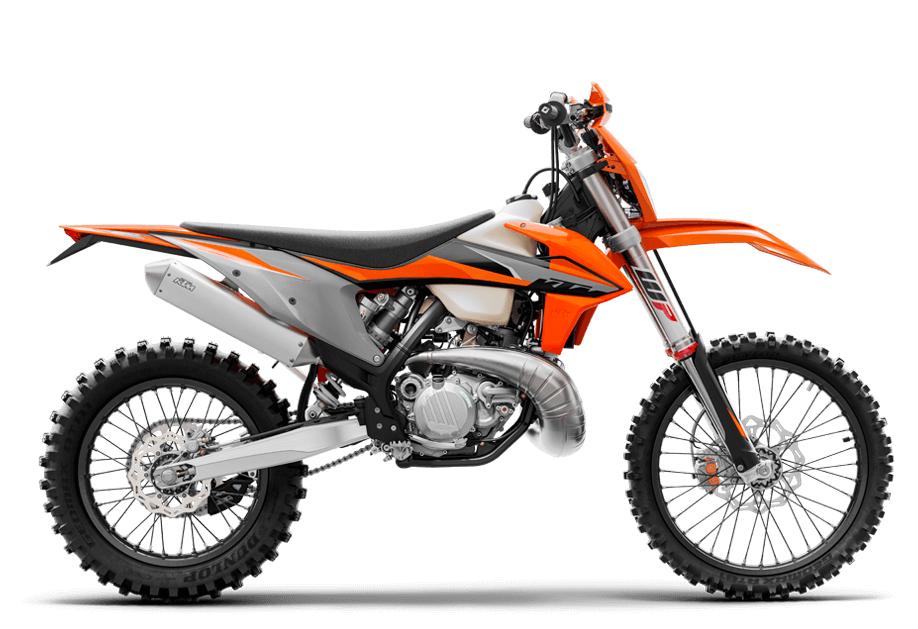 The 2021 KTM 250 XC-W TPI is an ideal choice for the more discerning enduro rider who prefers a different balance of sheer power and rideability. Equipped with KTM's Transfer Port Injection technology, the 250 XC-W TPI can claim to be one of the most advanced two-stroke motorcycles in the business. Drawing power from a compact 249cc single-cylinder two-stroke engine, riders can enjoy big power in a lightweight and nimble chassis.
Like all other XC-W models in the 2021 KTM line-up, the 250 XC-W TPI also enjoys a new frame as part of its 2021 update. Made from chromoly steel, the new frame also boasts aluminum head stays, redesigned frame guards, a super light subframe, and a one-piece aluminum swingarm. Other notable features of the rolling chassis include WP XPLOR suspension, high-tech Brembo brakes with wave discs, an all-important electric starter, and the latest Dunlop Geomax AT81 tires as standard.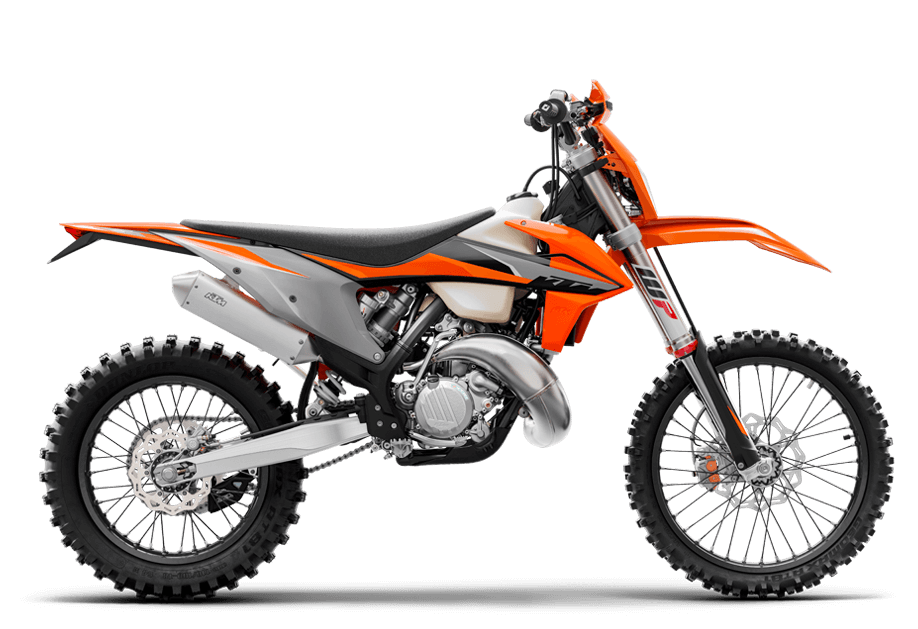 The 2021 KTM 150 XC-W TPI is the smallest model in the XC-W TPI range, but don't let the smaller displacement fool you. It's an incredibly capable off-roading machine, with nimble handling, in a lightweight package. Using KTM's clever Transfer Port Injection technology, the 150 XC-W TPI's 143cc single-cylinder two-stroke engine produces efficient and clean power, with power delivered directly when and where you need it.
For 2021, the KTM 150 XC-W TPI features the same upgrades found on the rest of the range. It boasts an all-new chromoly steel frame with revised geometry and components for a lightweight and nimble ride experience. Other cool features included GIANT CNC-machined rims, WP XPLOR suspension, Brembo brakes, and an all-new airbox that maximizes the engine's TPI technology for improved throttle response.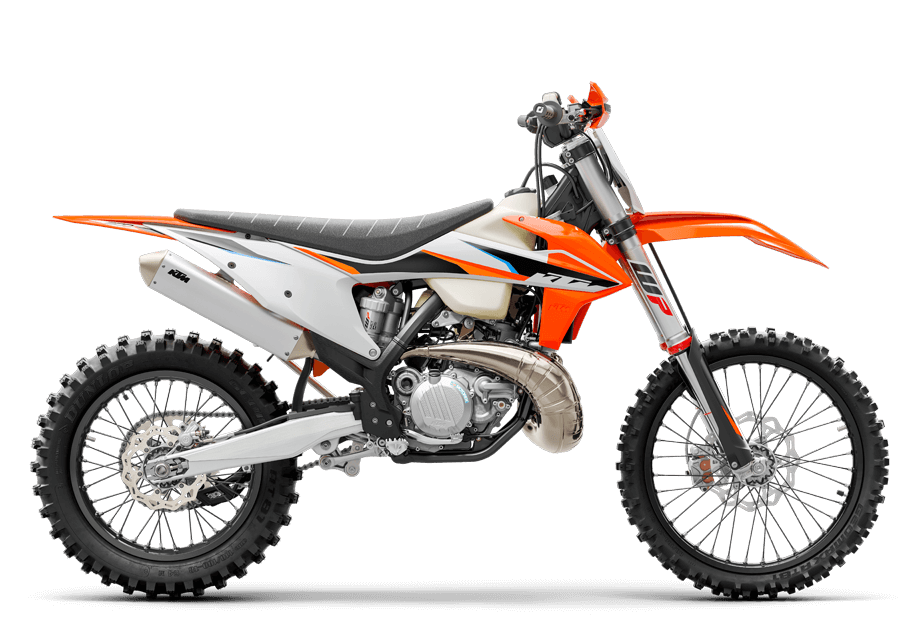 Before we get started, what's the difference between the XC and XC-W variants? In short: the XC models don't use PDS rear suspension and use linkages, it features harder suspension for more motocross-inspired riding, and has a different gearing ratio that favors a semi-close ratio compared with the W-models full ratio gearbox.
With that in mind, it's easy to see how the XC model, though still an enduro motorcycle, leans heavily towards the MX side of the stable. Using KTM's impressive 293.2cc single-cylinder engine with an updated Transfer Port Injection technology, the 300 XC is one of the most capable cross country racers on the market. For 2021, it gets even better with a new air pressure sensor, exhaust system, WP suspension package, and new graphics. If you're looking for serious power and fantastic handling, this is the model for you.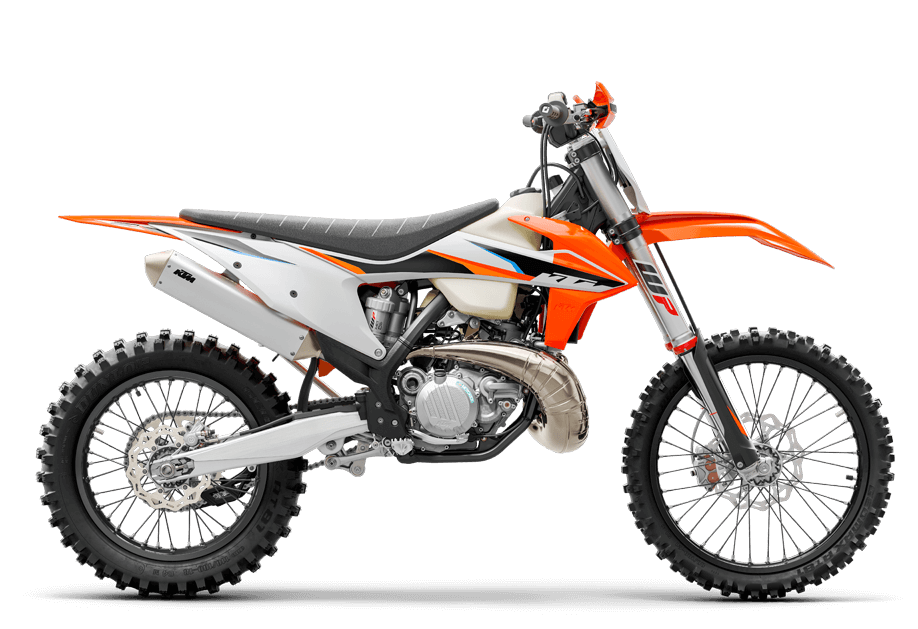 The 2021 KTM 250 XC TPI shares a serious amount of its DNA with the legendary KTM 250 SX, but with some more enduro focused sensibilities. Like the W-branded 250 XC-W TPI, the XC model draws power from a compact 249cc single-cylinder two-stroke engine that produces impressive two-stroke power without any premixing or jetting, thanks to KTM's TPI technology.
There aren't many updates for 2021, but the new models receive updated WP suspension, a new ambient air pressure sensor, and a new exhaust system, among others. Talking of suspension, as mentioned above, the XC models differ from the XC-W models because they use linkage suspension, harder front forks, and a semi-close ratio gearbox. The result is a lightweight and agile motorcycle that feels more like a motocrosser in enduro clothing.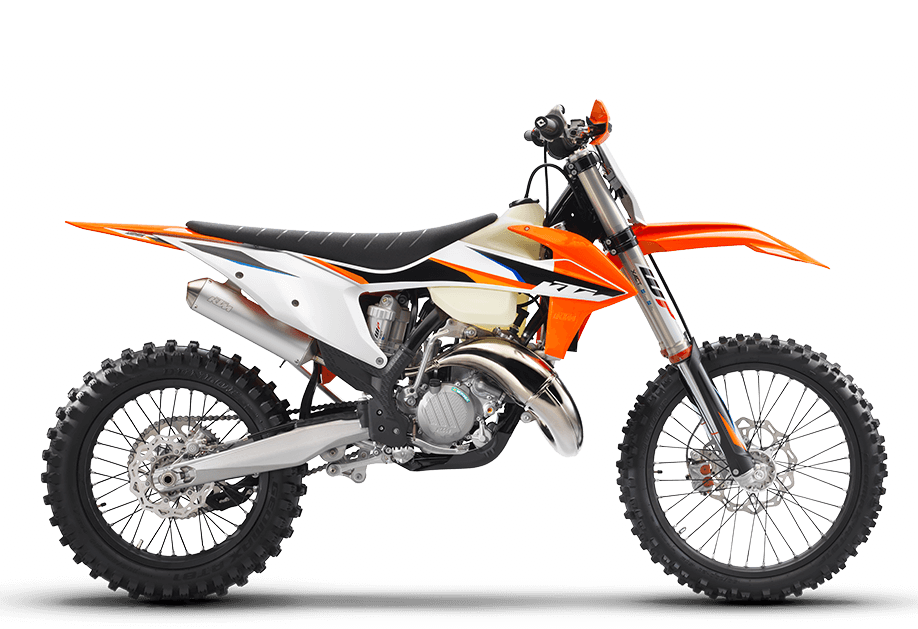 The smallest model in the KTM XC range is also the newest! The KTM125 XC is an all-new model for 2021, and a welcome addition to the fleet. Ideal for junior and aspiring off-road riders, the 125 XC offers plenty of power in a lightweight and agile frame, making for the perfect entry-level experience. It's a no-frills machine though, and it does lack some of the premium features found in the models listed above. Still, it's got everything you need.
The 125 XC uses a compact 124.8cc single-cylinder engine mated to a six-speed transmission. It also features both an electric starter and a kick starter too. Other nice additions include WP XACT USD front suspension and a WP XACT rear shock, along with Brembo brakes and NEKEN handlebar. And of course, KTM offers a full range of Power Parts to tailor your ride to meet your needs.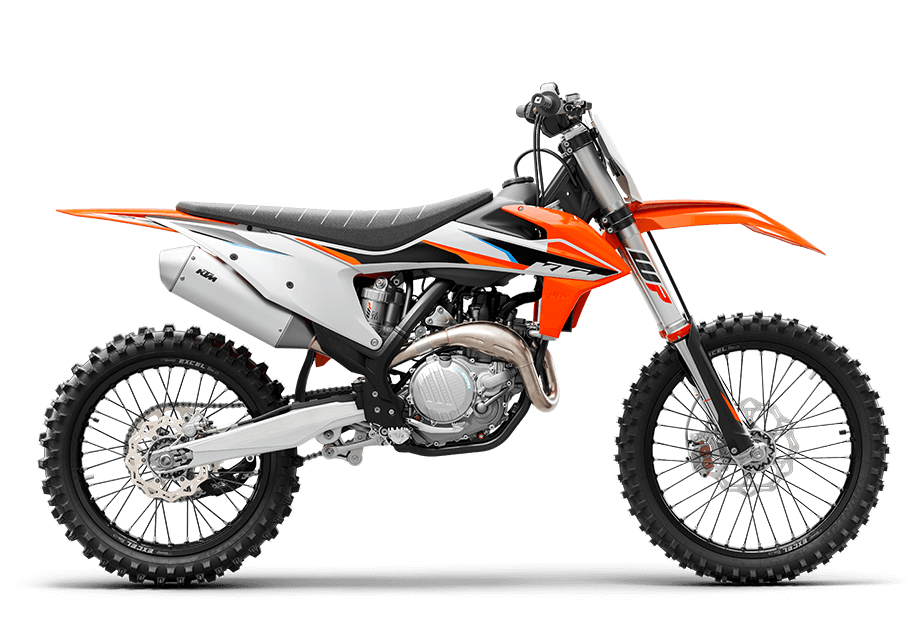 KTM's class-leading, championship-winning, heavyweight four-stroke motocrosser is back for 2021 with a number of exciting new updates. Built around a hydroformed chromium molybdenum steel frame, with advanced WP XACT suspension and Brembo brakes, the 450 SX-F is a light and nimble machine with precision handling and plenty of power.
The 450 SX-F owes its success to KTM's race-proven engine. The 449.9cc single-cylinder four-stroke engine is a powerful unit that produces an unrivaled 63 horsepower. When combined with KTM's advanced electronics suite, including traction control and launch control, the result is one of the fastest motocross bikes available.
For 2021, KTM also offers a 450 SX-F Factory Edition. This special version comes complete with KTM proprietary Connectivity Unit, along with a host of other racing upgrades, including a holeshot device, composite parts, and an Akrapovic slip-on silencer.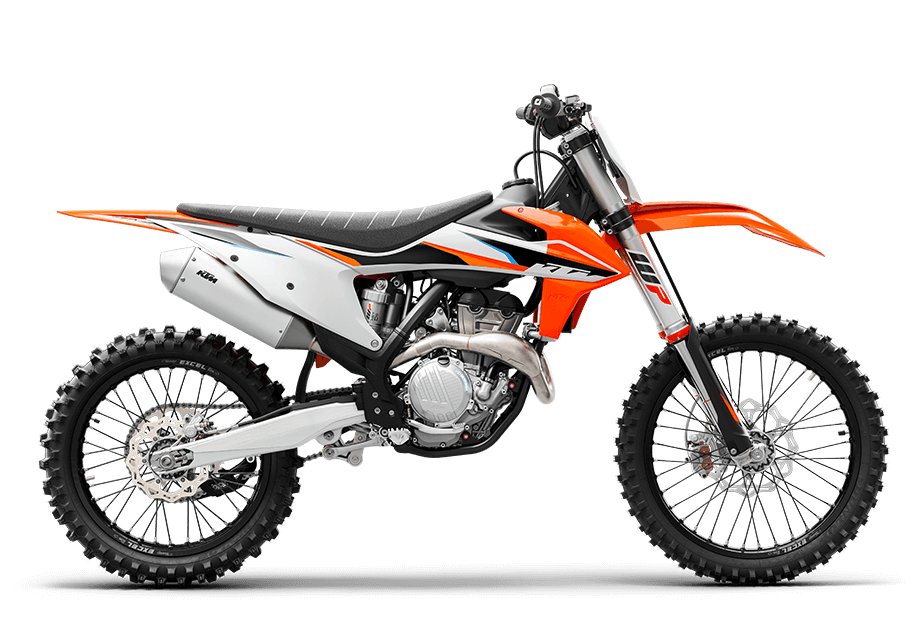 KTM's mid-sized four-stroke motocross machine, the 350 SX-F is available for 2021. This mid-sized MX bike is a competition-ready machine with all the bells and whistles, including traction control, launch control, top-shelf components, and a powerful 349.7cc single-cylinder four-stroke engine. It's a solid and capable engine, but weighs a mere 58.6 lbs! It's the engine that allows the 350 SX-F to produce big power but in a small and nimble chassis.
Aside from new graphics, the main updates to the 350 SX-F concern the suspension. For 2021, the model receives the latest WP XACT suspension at the front, with new pistons and improved damping, and a new WP XACT rear shock with a new compression adjuster. These adjustments will improve the 350 SX-F's already razor-sharp handling, making it a formidable MX machine.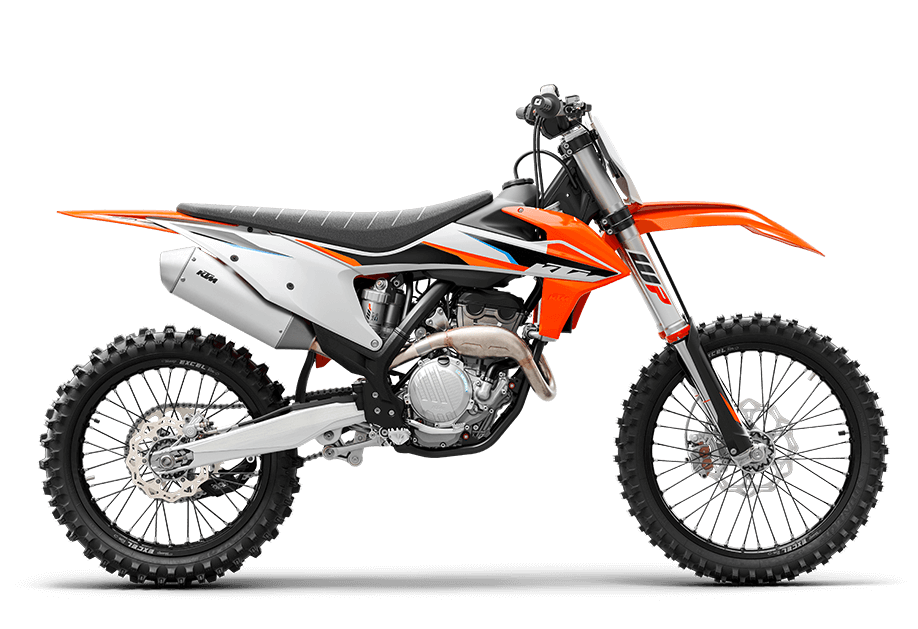 The KTM 250 SX-F is the smallest four-stroke motocrosser available in the 2021 KTM line-up. Designed to offer a race-ready experience for riders who want a lightweight ride with real power, and serious agility, the KTM 250 SX-F is a real powerhouse. Ideal for both amateur and professional riders, the 250 SX-F offers something for everyone.
The lightweight frame and chassis surround a compact but potent 249.9cc single-cylinder engine that weighs a tiny 57.1 lbs. Unlike many other small-capacity dirt bikes on the market, KTM has treated this little 250 with a number of exciting features, including traction control, launch control, and an impressive shopping list of premium parts. There's no denying that this motorcycle has all the right credentials for championship-winning performance.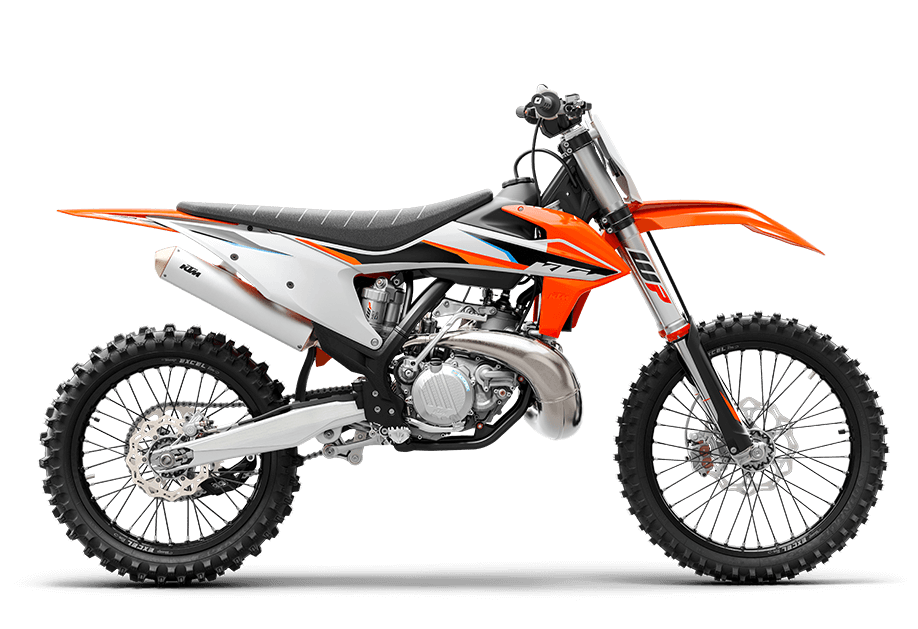 Though we love KTM's four-stroke engines, when it comes to serious motocross action only a two-stroke will do. KTM's SX line is world-famous, and the top-of-the-line flagship machine is the 250 SX. It's available as a 2021 model, offering class-leading power and control, with a high-performance 249cc two-stroke engine, and a state-of-the-art rolling chassis.
The engine features a number of exciting components, such as a revised counter-balance shaft to reduce vibration, a twin-valve controlled power valve, and a hydraulically operated DDS clutch. All in, it's the most competitive two-stroke in the class. It's a race-proven bike with incredible performance that the vast majority of riders will never make the most of. Harsh but true. But this is a real championship-winning machine—with an instantly recognizable sound and feel.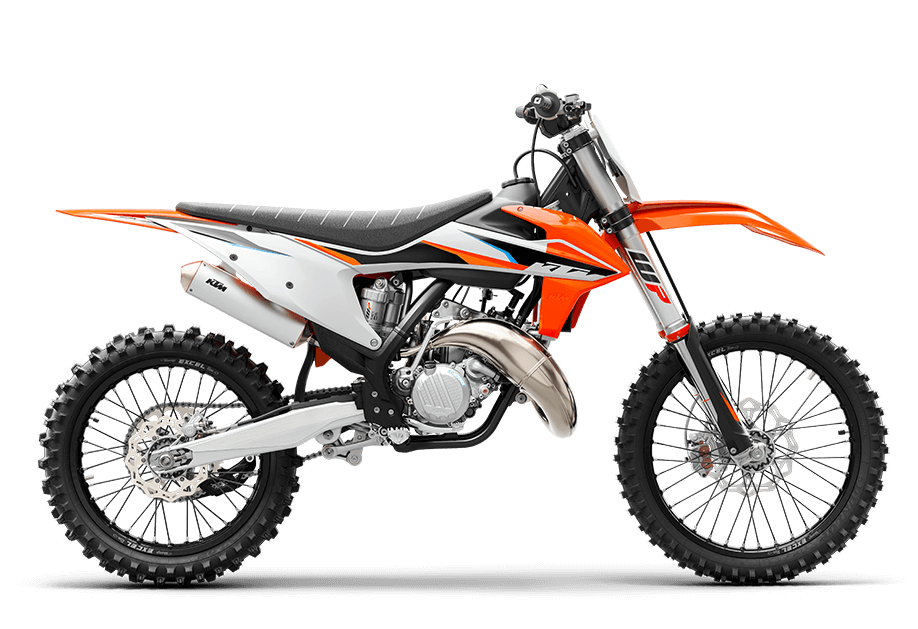 If you're looking for a powerful two-stroke MX machine that can rival the likes of a 250 four-stroke, then the 150 SX is a sensible choice. It offers an excellent mix of agility and power, with class-leading torque and horsepower in a lightweight and dynamic chassis.
It shares almost all of its DNA with the smaller 125 SX model mentioned below, but with a little more power for riders who need more oomph. Since it's designed for competition, there aren't many riding aids to write home about. It's got six-gears, a kick-starter, WP XACT suspension, and Brembo brakes. But that's all you need when you're thrashing through the mud.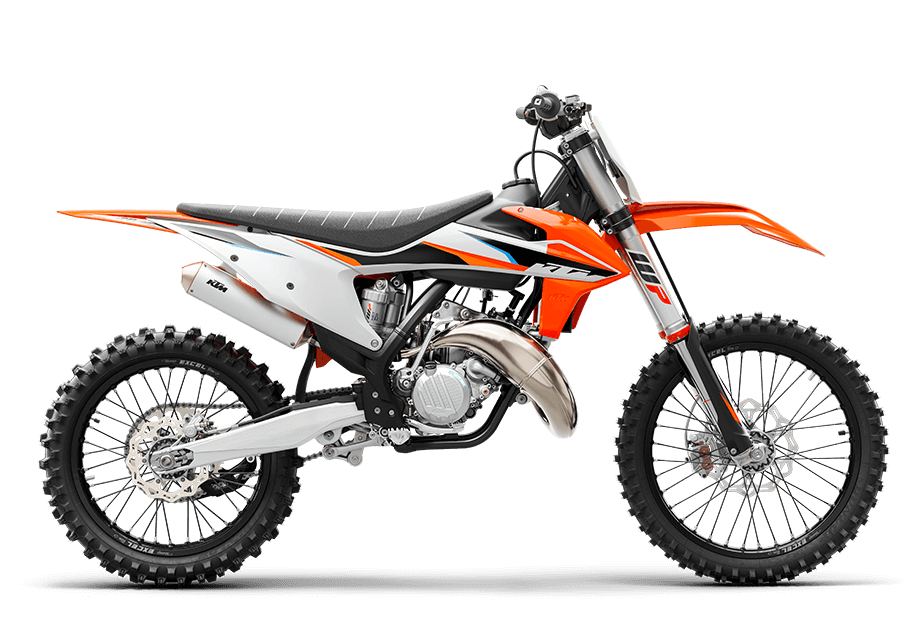 The above-mentioned 150 SX is a great choice, however, many riders might find the 125 SX to be a better investment. With a few updates for 2021, the smaller model offers a very similar ride experience to the 150. It's identical in almost every way apart from the smaller displacement. So, what makes it a better choice?
Well, since it's a race bike, you'll probably find more competitions in the 125 segment than in the 150, just by the weight of numbers. But that's not the main reason: the small and compact 125cc two-stroke engine can easily be upgraded to a 150cc unit thanks to the addition of a few KTM Power Parts. Only the cylinder head and piston need swapping, with no need to replace the crankshaft. With that in mind, the 125 SX could be better value for money.
2021 KTM 85 SX 19/16 & 17/14​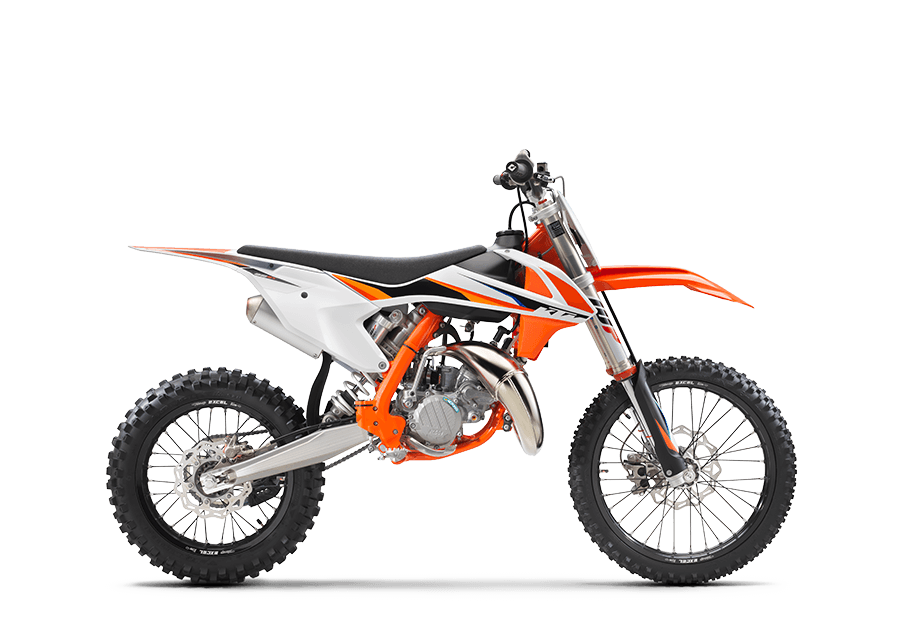 The 2021 KTM 85 SX comes in two different flavors: the 19/16 and the 17/14. These lightweight MX models are aimed at junior riders who are making the transition from pocket dirt bikes to the big models. Because of this, KTM treats the 85 SX models with the same architecture as the full-sized SX models, and with a very capable 85cc single-cylinder two-stroke engine.
Both models are identical, except for a few differences: the rim sizes. As you can probably guess by the names, the 85 SX 19/16 has larger wheels than the 85 SX 17/14, which gives it a higher seat height and more ground clearance. The slight difference may not seem like much to a fully-grown adult, but for a junior rider, it can make a world of difference. That's why KTM offers two versions, to help train tomorrow's champions.
Geared towards riders aged between 8 and 12 years old, the 2021 KTM 65 SX is a fully-fledged race machine that comes equipped with the latest KTM technology with the same architecture and features as its bigger brothers. The kickstart-only 64.9cc two-stroke engine is mated to a six-speed transmission and offers plenty of torque and power.
While the engine is a capable unit, this little MX machine also features some other top-shelf parts, including a lightweight chromoly frame, WP XACT suspension, and MAXXIS tires as standard. The only real problem with this bike is evaluating whether your kid is worth spending $5k on. It's a lot of money to drop, so you need to guarantee that they become a champion. You need a return on that investment.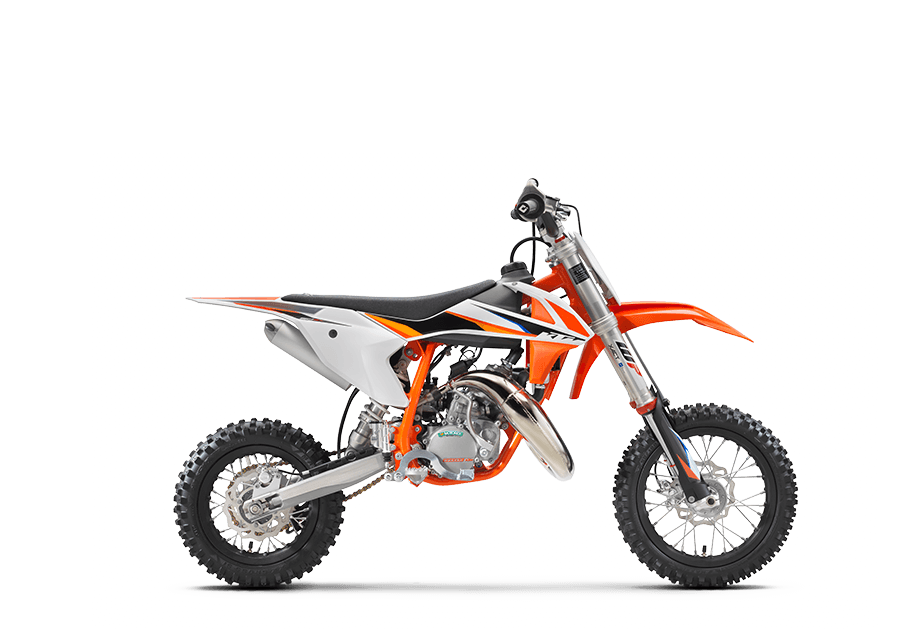 The smallest model in the entire KTM is the 2021 KTM 50 SX. This little MX bike is aimed at young riders that are aged between 4 and 10 years old. Don't let its size fool you: it comes equipped with many of the same components that KTM's bigger, championship-winning machines use. This one boasts a 49cc engine, a hassle-free automatic clutch, and smooth power delivery that can be restrained with an additional restrictor kit if necessary.
For 2021, the 50 SX is available in three flavors: the above-mentioned standard model, the smaller KTM SX Mini, and the hardcore 50 SX Factory Edition. The Mini model is aimed at younger riders and features a smaller frame with lower ground clearance. The Factory Edition model, however, is aimed at pro-kids. This is because it comes equipped with a serious amount of good stuff, including an FMF exhaust, CNC components, a new clutch configuration, Dunlop Geomax MX 53 tires, and more!
The post
The 2021 KTM Lineup + Our Take On Each Model
appeared first on
webBikeWorld
.
Continue reading...