Motorcycle Superstore (
Motorcycle Gear, Parts and Accessories - Motorcycle Superstore
) was bought by J&P Cycles so they have huge online sale. I bought Dyne (by Gerbing) heated pants and vest liners for 65% off. Both for a bit over $110.
Gerbing 12V Heated Pant Liner - RevZilla
Gerbing 12V Heated Vest Liner - Cycle Gear
My first heated gear ever.
This morning I was testing the gear. And I'm happy. REALLY happy!
True, it wasn't so cold outside, around 55°F. But I felt really warm. No, it wasn't "I wasn't cold", it was "I was warm".
I was most of the time on 5 of 10. I tested on 9 once, both the pants and the vest and I was hot. Although, for people they never wear heated gear before (like myself until this morning
) you should know couple things: first, it wasn't warm all over the vest/pants/body. Take a look at this link
https://lib.store.yahoo.net/lib/yhst-11545572856523/Gyde-Heated-Jackets-Info.jpg
. So, the heat on the back will cover only one (small?) area on the upper back. And you can feel the temp difference between upper and lower back. If the upper is nice and warm, the lower back is "ok". Sounds bad but don't forget: you are not cold!
The same with my pants: while the my knees were nice and warm, my inner thighs where not. It would not (probably) make me a trouble on a longer ride or lower temp, but I would like to have couple strings/wires on the thighs too.
There wasn't 2XL size so I bought 3XL. I thought they go under the jacket and pants, they are thin liners so it it shouldn't be a problem. And it is not. Before I jump into pants I have feeling I'm wearing open parachute. My old TourMaster jacket is 2XL but it's a bit tight because my belly is 6XL. So, when cold it doesn't help much. So I bought TM 3XL - and it's nice and comfy... But in this case you need jacket to press the heated vest liner to your body to feel the warmth. If it's not next to your body you almost don't feel anything. So, while riding 35-40 mph on a street I felt the heater on my back but nothing on the front. I thought it's broken. Then, when sped up to 65-70 mph front was pressed to my chest (because of the wind, of course) and I felt the heater. But now I had a "bubble" on my back, between my body and the jacket, and didn't feel a thing. So, it's gonna be perfect with my old tight jacket ;-) I had my fleece jacket with me (in case something goes wrong), put it on, it pressed the liner to my body and it was almost perfect.
The vest has collar (there are vests without collar too), and it's heated too. Nice! Although, that caused some "disagreement" with my helmet. But not big deal.
My biggest "complain" was - it's vest, not jacket, so my arms were colder than the rest of my torso. As I said earlier, I wasn't cold, but next time I'll definitely buy a liner with heated arms.
And, the last "element": the controller. I got
Gebring bluetooth temp controller
for $25 - I think it's good deal
Since most of us already use their phone for GPS, music, hone calls... I think regulating the temp by phone is really convenient. You can see the temp level (0-10). Cons: If your phone runs out of juice, or you, God forbid, drop you phone in a puddle you just were crossing - you screwed. I think you can bypass the controller and hook up you gear directly to the outlet - but wasn't sure what will happen. And, of course, you have to have gloves you can use with your phone - it's common thee days, right?
So... I'm happy I bought it. I'm even MORE happy I bought it really cheap. I was happy and warm while riding. So I'm not going to be afraid of my next "traditional" January 2nd ride (current record is 14°F in 2015 - wasn't so much fun at all
)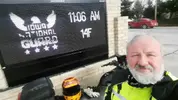 If I missed something, if you have any question, please ask.
Last edited: