Joined

Nov 11, 2011
Messages

7,092
Reaction score

209
Points

63
Location
RSD Hemlock Leather Jacket Review Summary
Review Summary
The RSD Hemlock jacket is a premium leather riding jacket, elevated for practical, everyday use. This is not a touring or off-road jacket; think urban escapes to your favorite upscale restaurant. The premium cowhide leather outer is both reassuringly robust and has a luxurious feel. A water-resistant treatment will fend off light to moderate rain. RSD nearly pulled off the near-impossible feat of a fully waterproof leather jacket here because the Hemlock boasts sealed seams and waterproof cuff and sleeve zippers. The only weak points that allow rain in are the main zipper and the collar, which take their cues from your favorite college letter jacket with its knit finish. Very comfy, but not a good wet weather option.
DESIGN
BUILD QUALITY
SIZING AND FIT
PROTECTION
VALUE FOR MONEY
Pros
Very nice blend of heritage and modern in a simple, well-cut leather riding jacket
Nearly waterproof – the collar and main zipper are weak points
Build quality is, as you would expect from RSD, very high
Protection is less than I would like, but consistent with industry practices – no back protector. Shoulder and elbow protection is SAS-TEC flex Level 1
Jacket as a whole is rated AA certified under CE EN 17092:2020
Cons
Expensive – at this price point there are several strong competitors
Ventilation is virtually nonexistent
Zips at cuffs are quite short – no gauntlet glove wearing here
No thermal liner – not a con for me, but others may want this
4.2
RSD Hemlock Leather Jacket Image Gallery
































Buy Now
RevZilla
Roland Sands
Review Summary​
Build quality is very high with waterproof features, YKK zippers, quilt stitching, and full grain leather.
Fit is what RSD refer to as "classic". I found the jacket fits true to size. The softness and suppleness of the leather aids in making the jacket comfortable from the get-go.
Protection is not as good as I would like at this price point, but pretty typical for the industry. No back protector ships with the jacket, and the shoulder and elbow protectors are level 1. The jacket is CE EN 17092:2020 – AA certified.
Ventilation is non-existent, so this is a primarily a Spring and Fall jacket, and depending on whether you run hot or cold, you can maybe push it into the early summer. The Hemlock is not a hot weather jacket, but for the Spring and Fall it works well.
The price is steep, though not at the absolute apex of leather motorcycle jackets.
Roland Sands Combines Style and Function​
It's hard not to like Roland Sands. A former racer who transitioned effortlessly into designing and building some of the most coveted custom bikes on the planet, Roland Sands offers the rest of us a taste of his unique style – and commitment to quality and innovation – through his
Roland Sands Design (RSD) company
.
The RSD style is perhaps best described as a combination of sports-bike and chopper influences, and this carries over into the apparel side of the business. There is a swagger to anything bearing the RSD logo, but importantly it is not "all show and no go"; there is a high level of technical specification to the gear and this is especially true of the company's leather and waxed cotton jackets.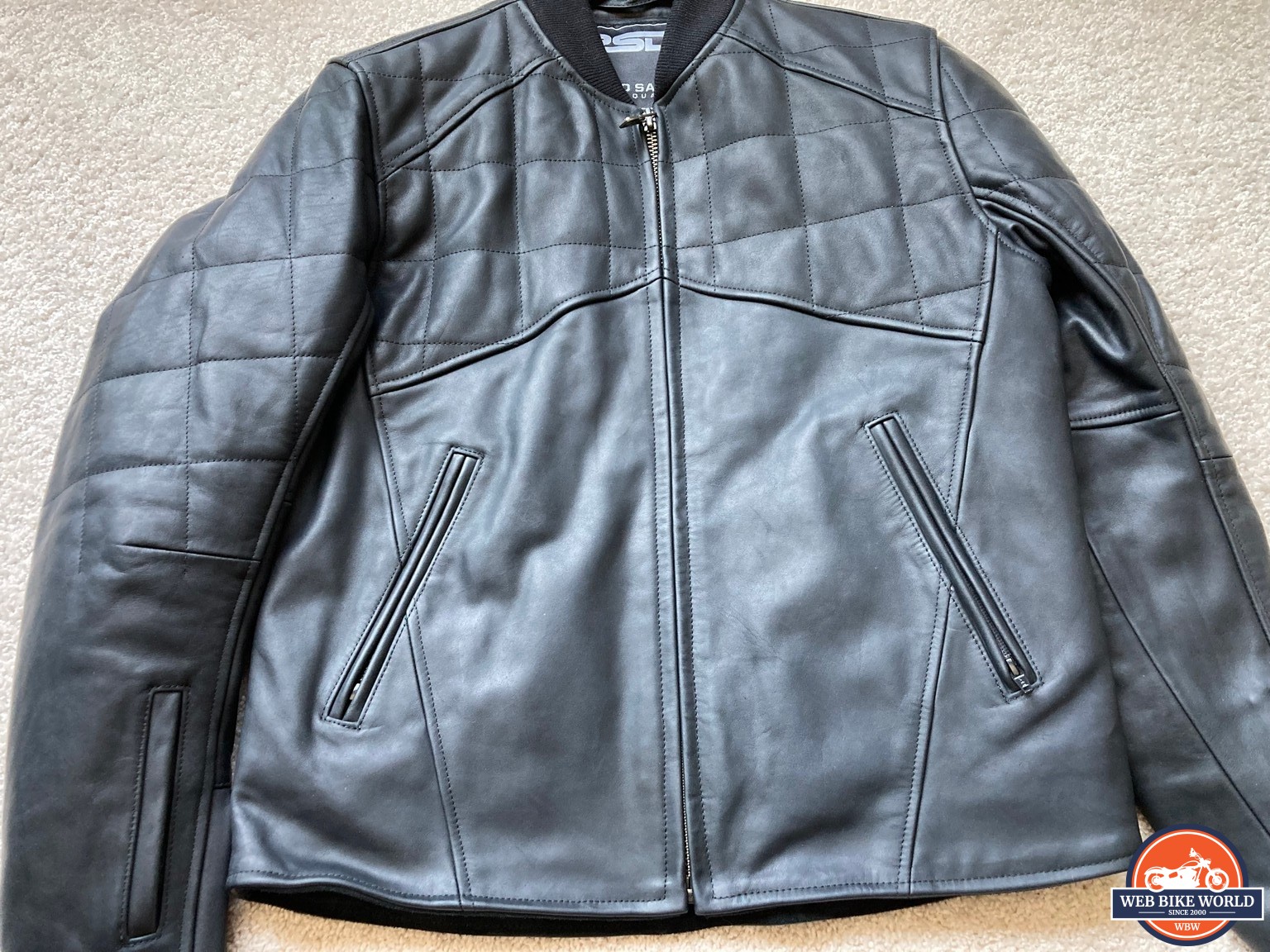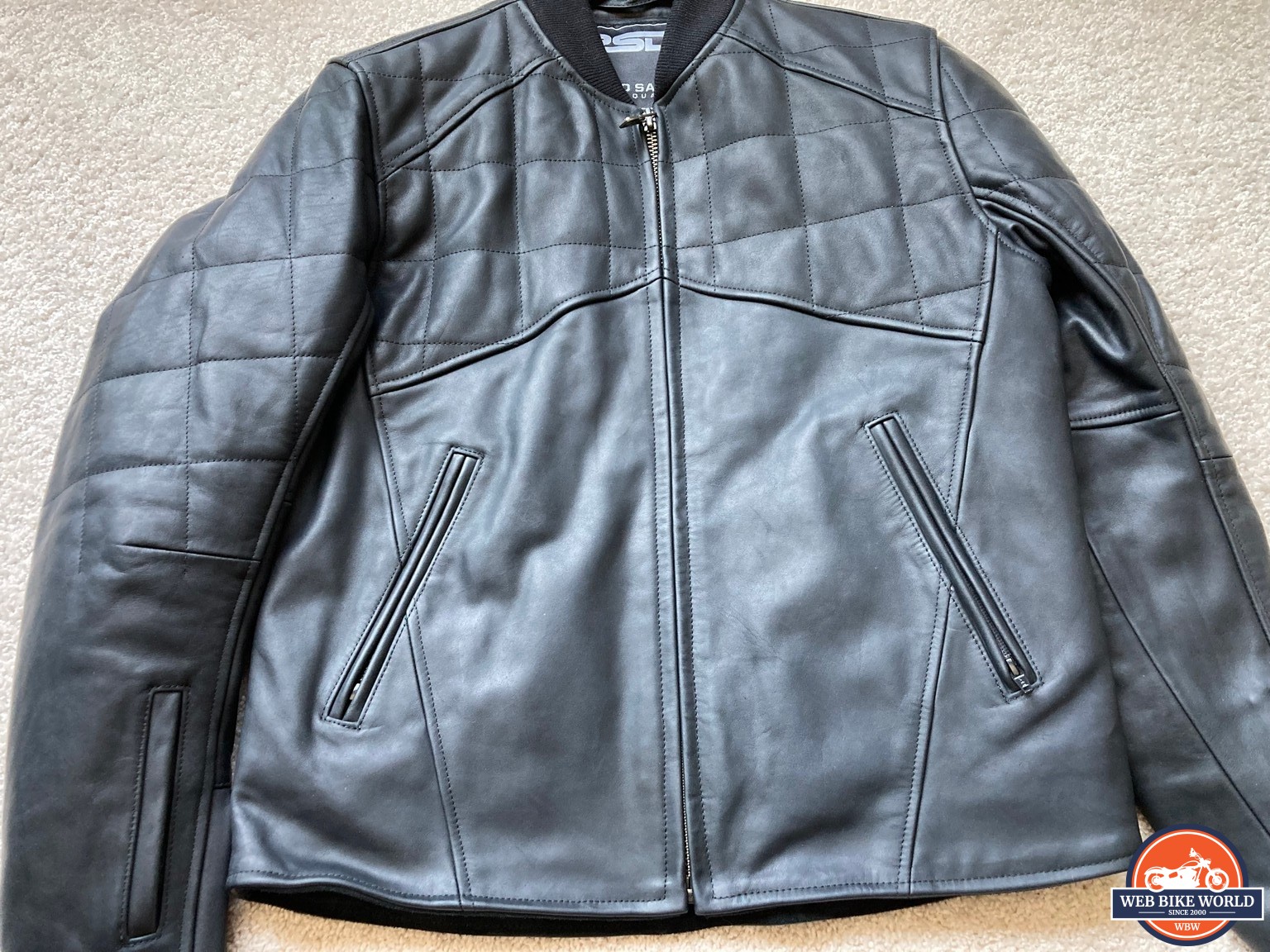 There's no denying that the RSD Hemlock is both elegant and cool
The "Clash" and "Ronin" are genuinely iconic examples of the former, while the "Truman" beautifully reflects the latter (and for what it's worth, the "Johnny" was a fantastic blend of both).
Put simply, Roland Sands is cool.
My preferred riding is
long-haul touring
, but I still spend much of my riding time commuting to work, running errands or ripping out for a coffee and burger. It is here that a leather jacket can pay huge dividends and justify a spot in the gear closet. Leather is undeniably cool, it gets better with age, its anti-abrasion capabilities are still top-shelf, and for close-in rides it doesn't need to offer the same technical or waterproof specifications as my touring jackets.
When the chance to review a new leather jacket from Roland Sands Design emerged, I jumped at the chance. On the bike credibility? Check. Off the bike functionality? Check. Cool factor? Double-check.
As noted above, Roland Sands is cool.
Fit and Comfort​
Right out of the box the RSD Hemlock exudes both quality and cool. The jacket is robust, without the straightjacket sensation that a new
motorcycle leather jacket
often conveys. You don't feel "poured" into the jacket; it's snug initially, but quickly conforms to your body shape and is comfortable within a few rides.
You notice the 1.1-1.3 mm thickness of the leather here, but not in a bad way; it's reassuringly "heavy" and the softness of the main chassis, while not buttery right away, it pretty close. Initially, and this shows through in the photos here, the arms of the jacket can seem a touch long, but once on the bike you're grateful for that little bit of extra length – when reaching for the bars everything falls exactly where you'd want it to.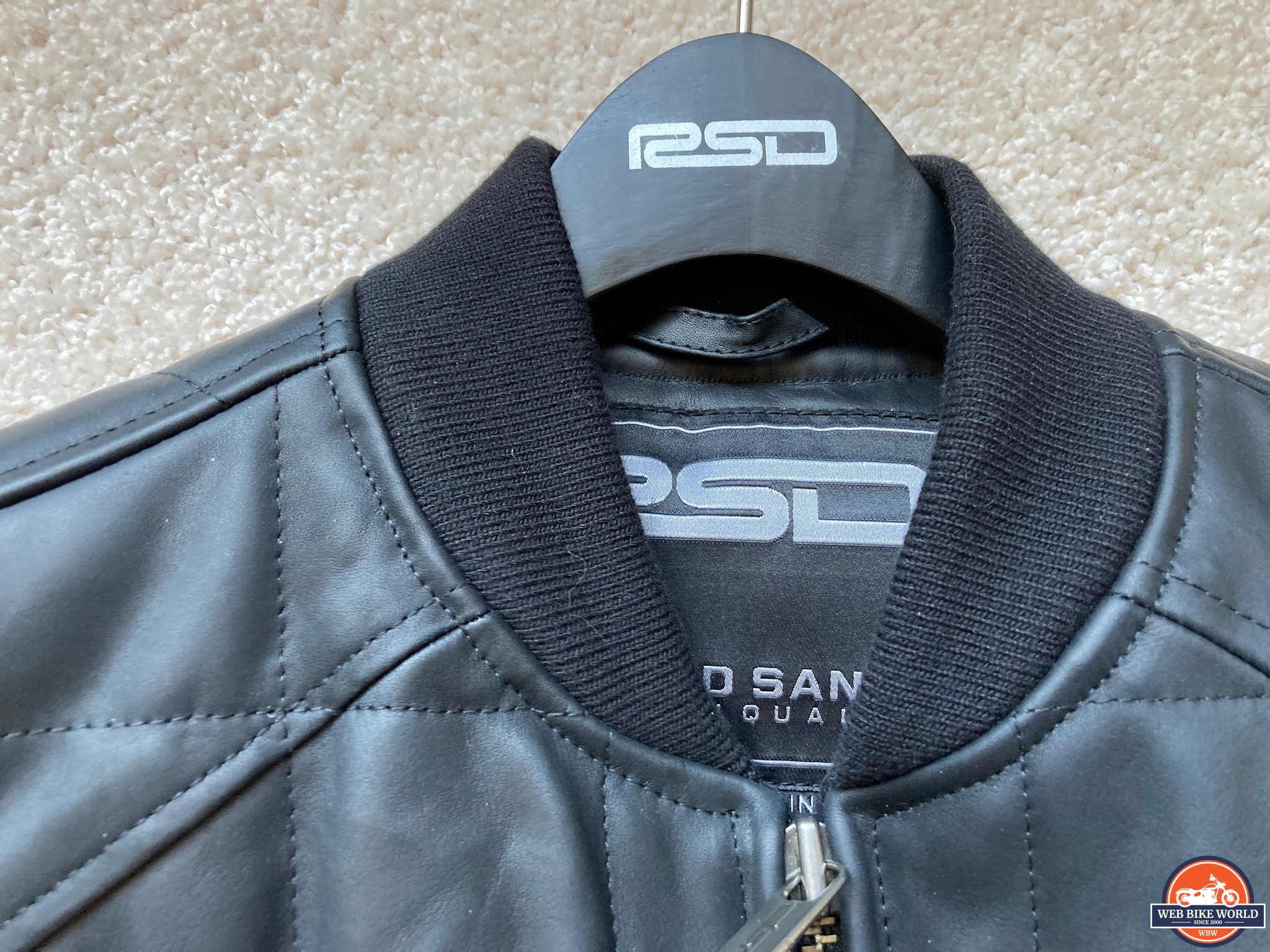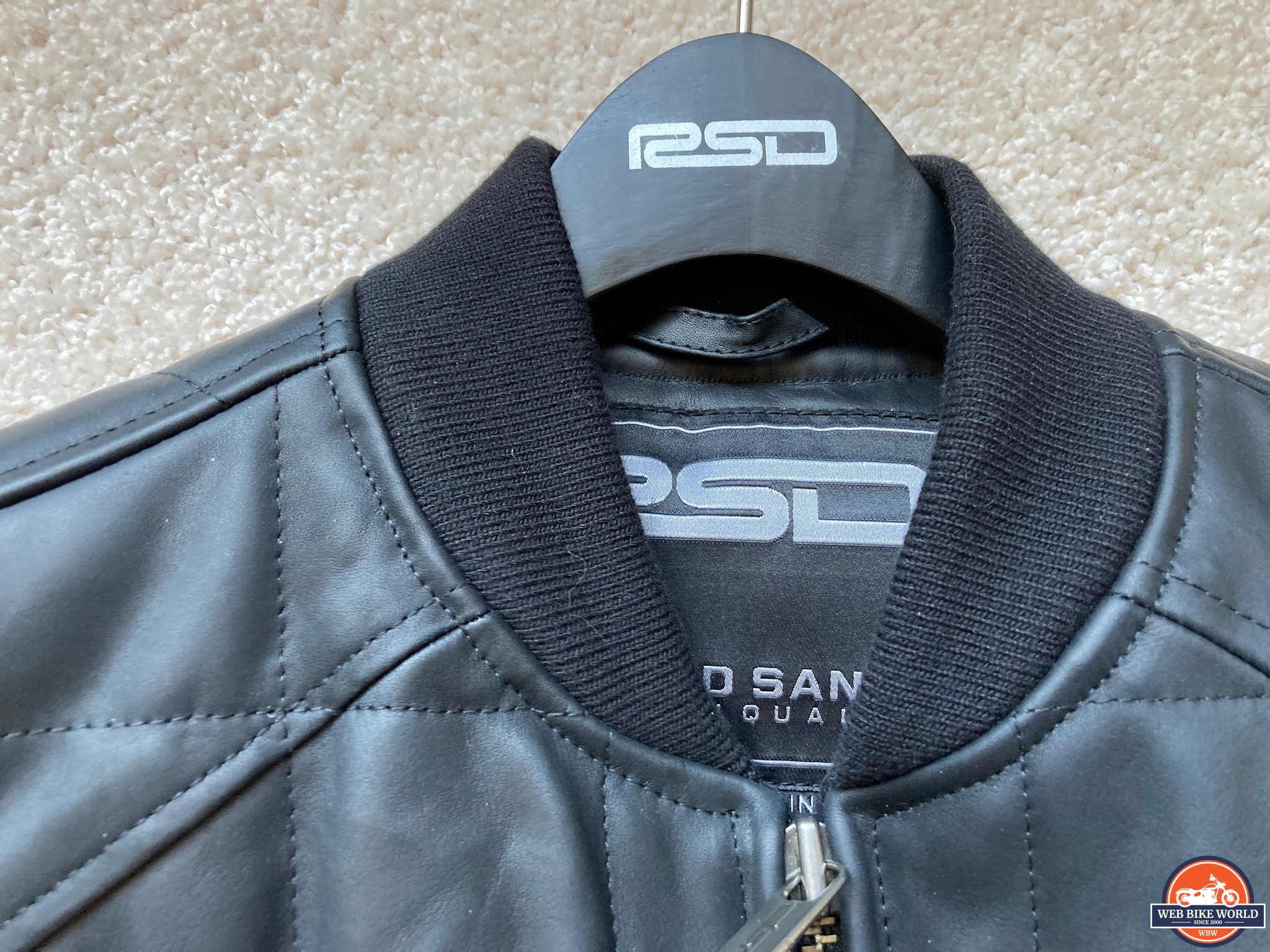 The collar on the RSD Hemlock is uber-comfy but not a good wet weather choice
The Hemlock is marketed as an elevated version of the typical or "classic" leather riding jacket. Part of the RSD "Premium" collection, the Hemlock is constructed using a high-end, water-resistant treated leather that is soft to the touch. The underlying criteria for the jacket are spelled out in the advertising copy from RSD:
This limited collection blends high end materials with sophisticated performance and safety technology. Each piece pulls elements from the pursuit of fun on two wheels and our own internal drive to shred in style. The collection aspires to meet the needs of the discerning rider who wants the best in riding gear
From a fit and comfort perspective, I think the Hemlock delivers. The fit is on point with what I've come to know of other RSD jackets. I'm 5'10" and a lean, athletic 155 pounds and typically wear a medium (or Euro size 48) in RSD jackets and that holds true here. Leather jackets are, of course, a very personal thing and if you have any aspirations of wearing a sweater or mid-layer underneath the Hemlock I would consider sizing up; the fit is true to size, but definitely on the "fitted" end of the spectrum.
Heritage detailing on the shoulders and across the top of the back is coupled with a soft, lustrous lining – something common to most RSD leather jackets. Perhaps most important, the jacket has a fit and feel – a vibe – that recalls Steve McQueen. Okay, that last comment might be a bit of a stretch, but you get the idea; when you reach for a leather jacket, you're going for a cool image first and foremost and the Hemlock nails this.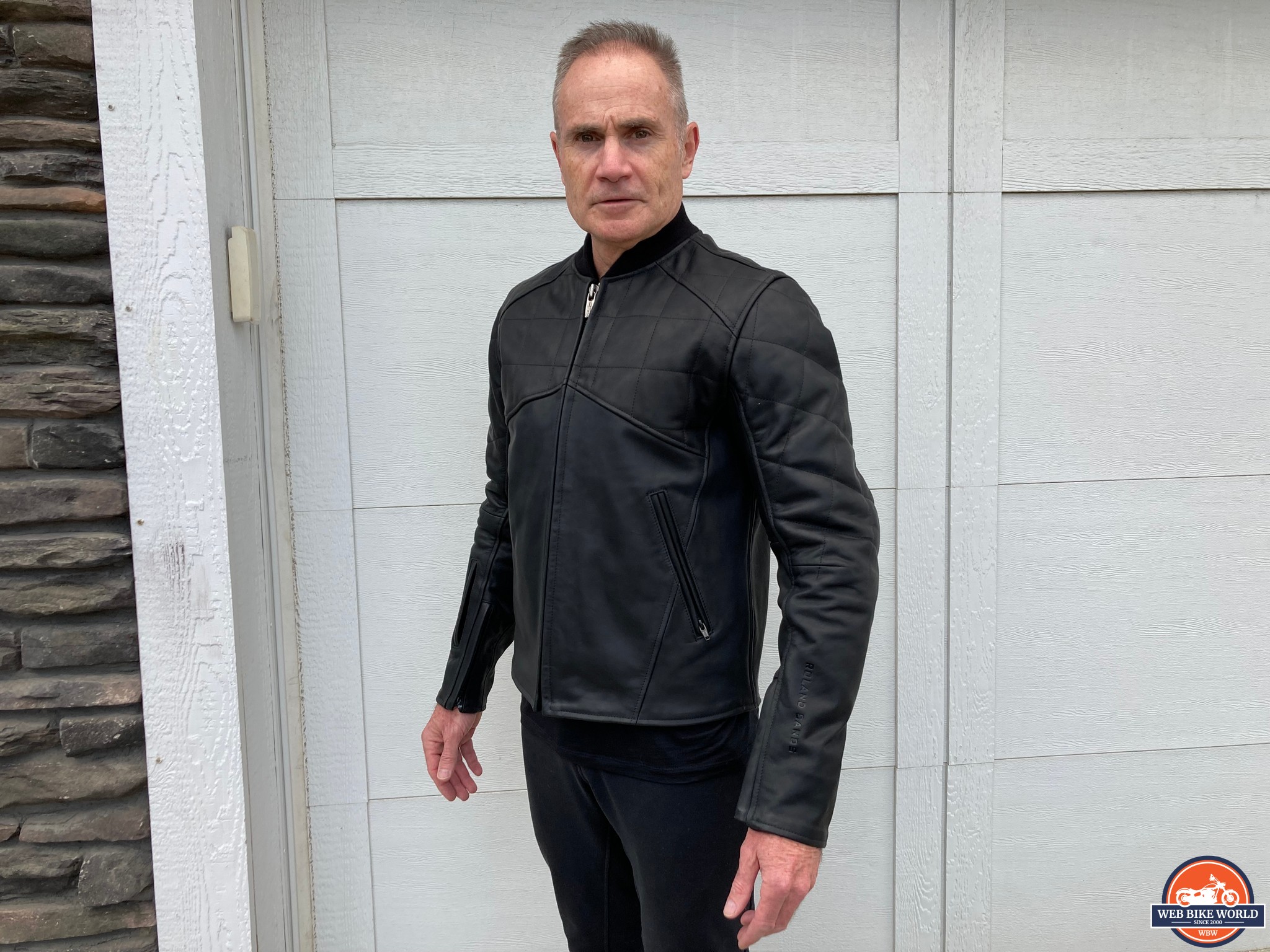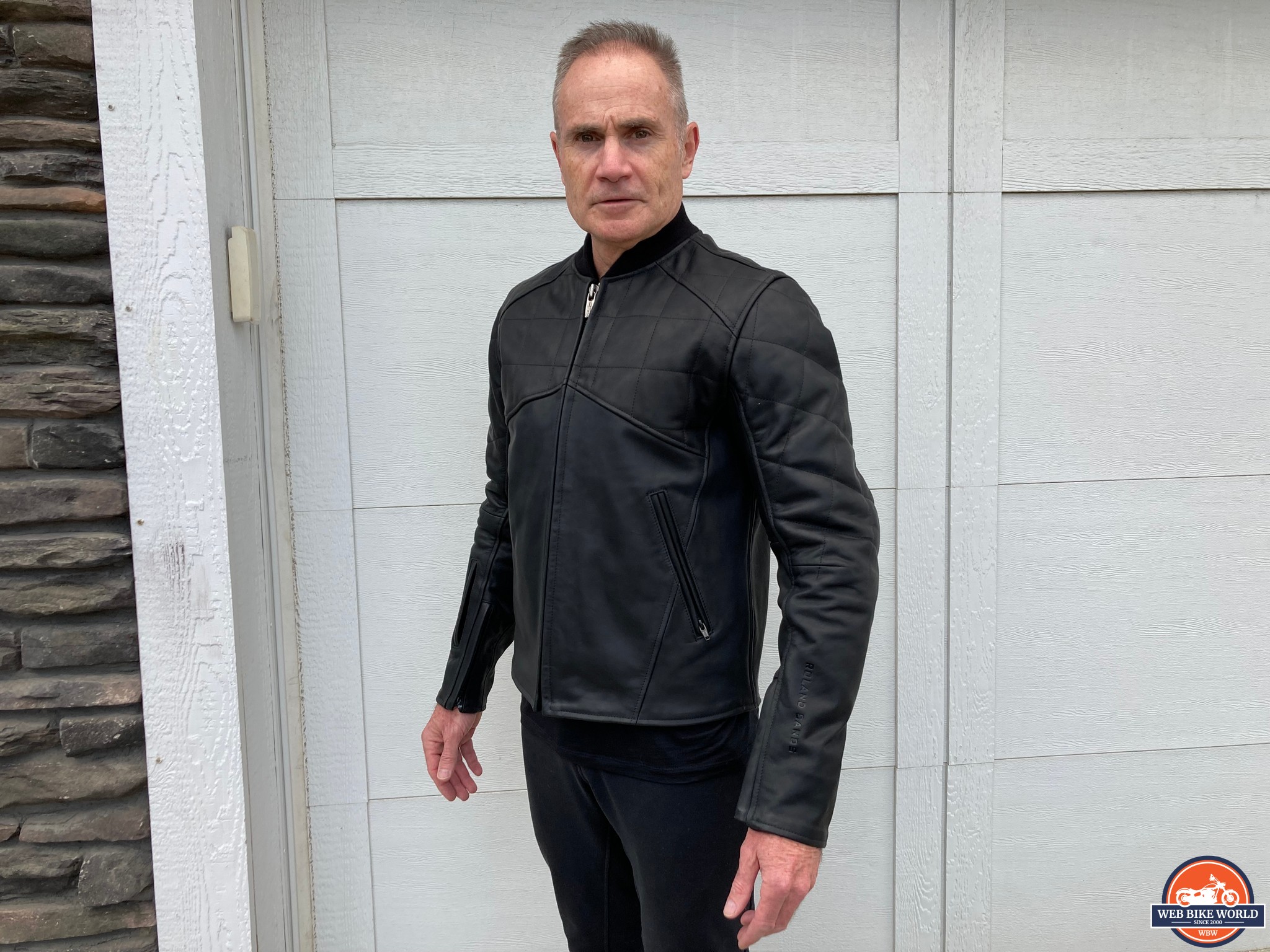 We can all be – or dream of being – the "king of cool" wearing the RSD Hemlock
The jacket features a lustrous interior lining – something common to most RSD leather jackets. This makes it that much more comfortable to wear over a t-shirt or light base layer. There is no thermal lining, which some may see as a problem.
For me, however, this is a plus; I typically hate most thermal liners because they are of poor quality and completely throw the sizing of the jacket off when the liner is removed. So, RSD have done the right thing here and ditched the liner and focused on making the interior of the jacket clean and luxurious.
One nice touch in this regard is the sueded edge that runs around the perimeter of the jacket lining. The interior also features two large mesh pockets as well as a Napolean pocket with a YKK Aquaguard closure (more on pockets and zippers below).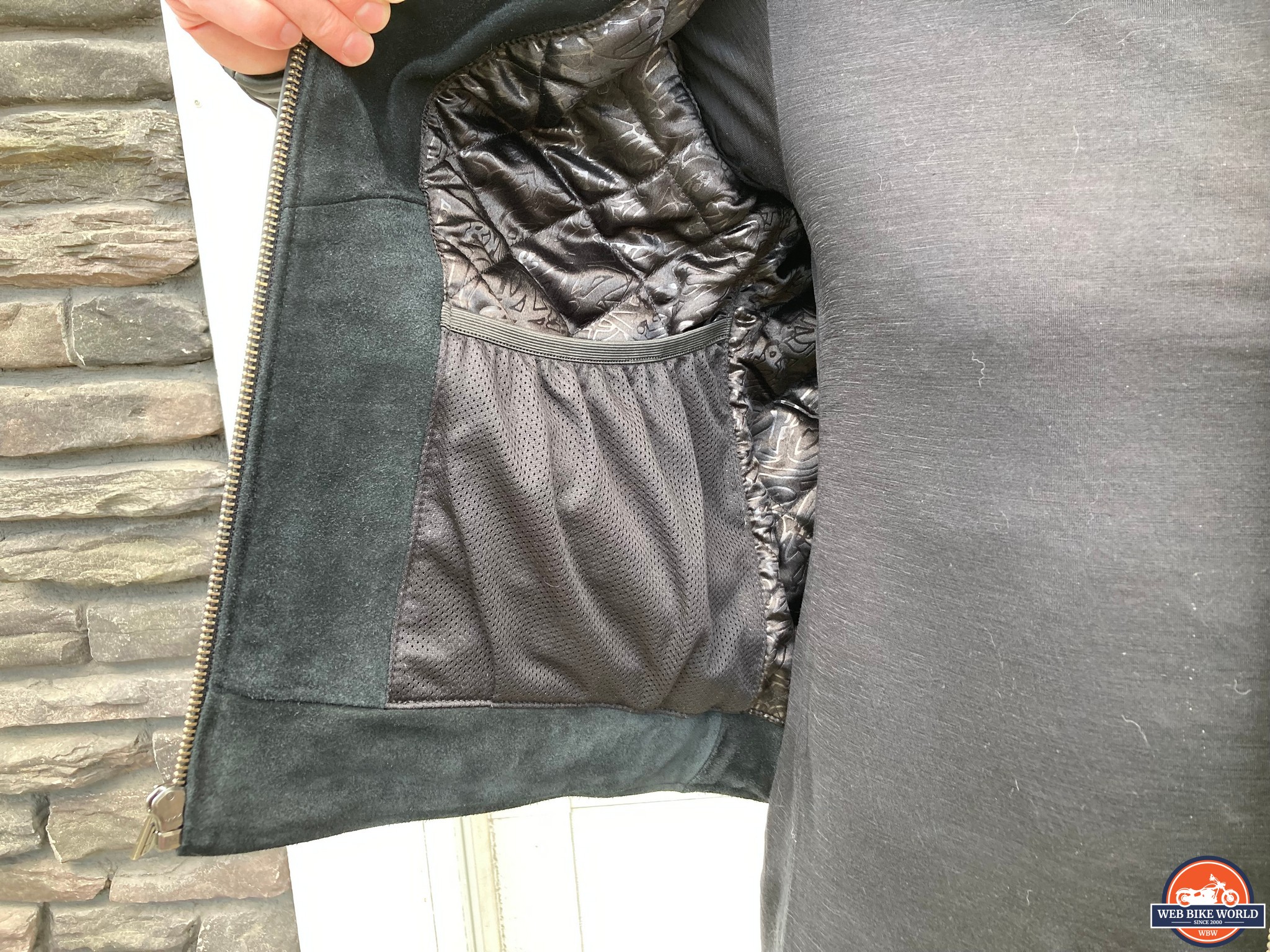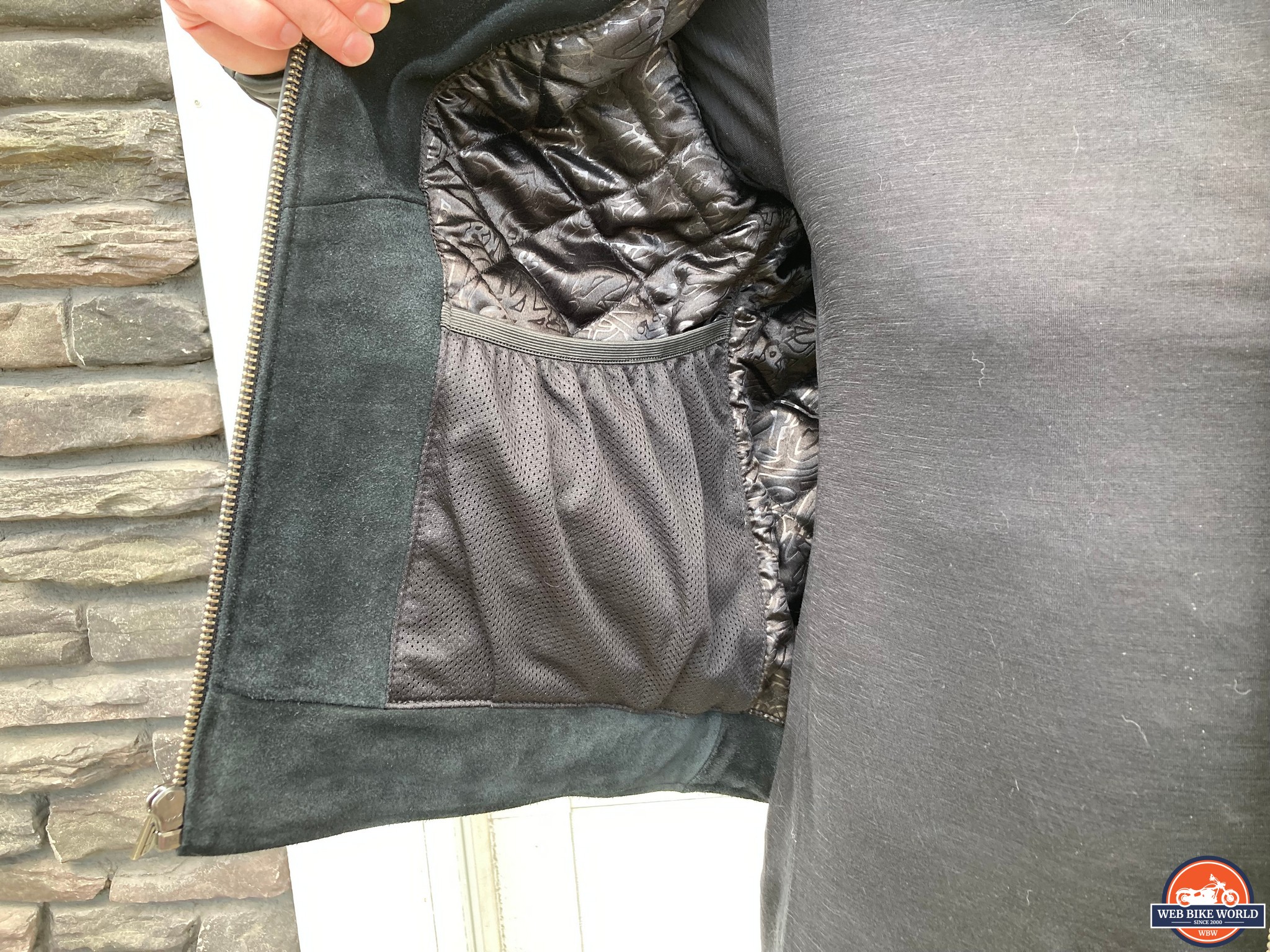 The lining of the RSD Hemlock is clean and simple, with distinctive RSD flourishes such as the heat-stamped lining, the large mesh pockets, and the beautiful suede detailing
As noted above, the leather used on the RSD Hemlock has been treated for water resistance. This, coupled with the sealed seams and waterproof zips on the pockets and cuffs will keep you relatively dry if you're caught out in the rain – at least for 30 minutes or so.
The main zipper and the collar are not waterproof so be advised. Ultimately, the RSD Hemlock, like virtually any leather jacket, is not intended to be wet weather gear. It's a very comfortable and fashion-forward piece that just happens to be AA certified as motorcycle gear. Nice!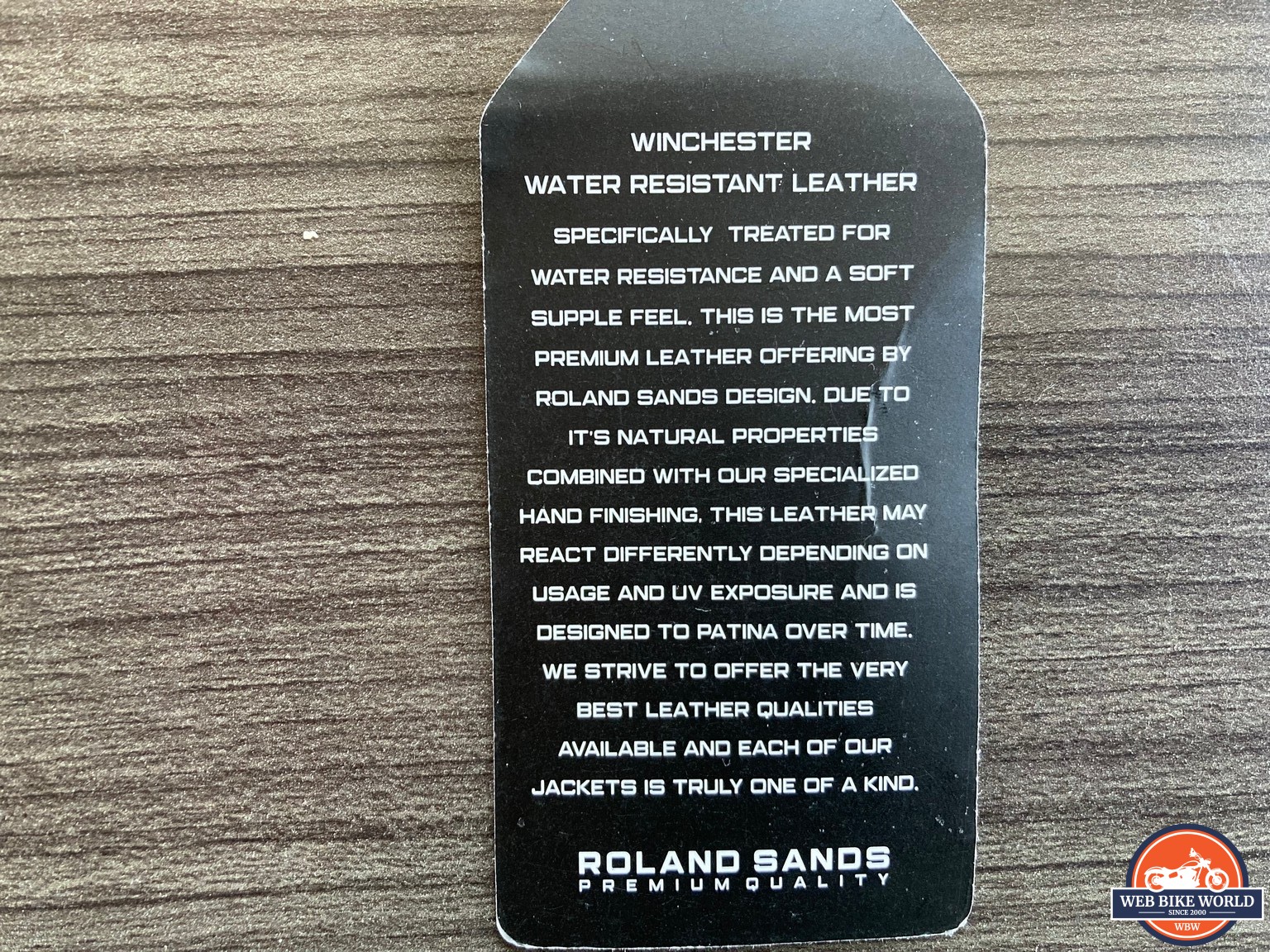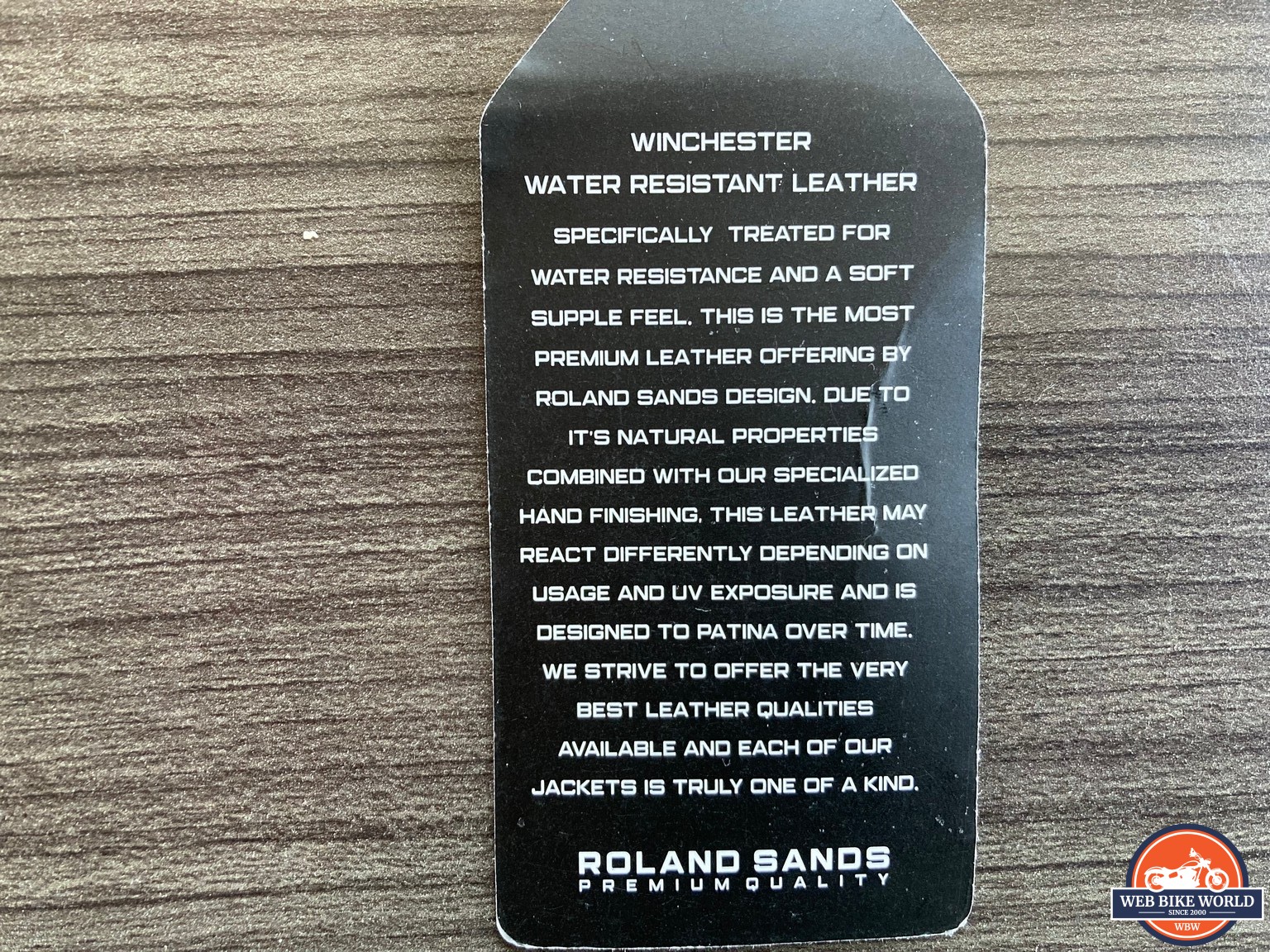 The RSD Hemlock is built from Winchester water resistant leather – the most premium leather used by RSD
If I have a nitpick here – and when you're paying north of $700 for a leather jacket you can be excused for wanting everything done just right – it's the lack of adjustment tabs or accordion stretch panels anywhere. I'm sure this is a nod to the "non-technical" nature of jacket, but a couple of adjusters at the waist would be nice.
As well, the cuff zips are maybe an inch too short for my liking. You have to work a bit to fit even a short-cuff glove inside the sleeve. Finally, there is virtually no drop to the back of the jacket. Not a deal breaker for me, but if you're leaned forward on the bike there is the potential for a gap between the bottom of the jacket and your waistline.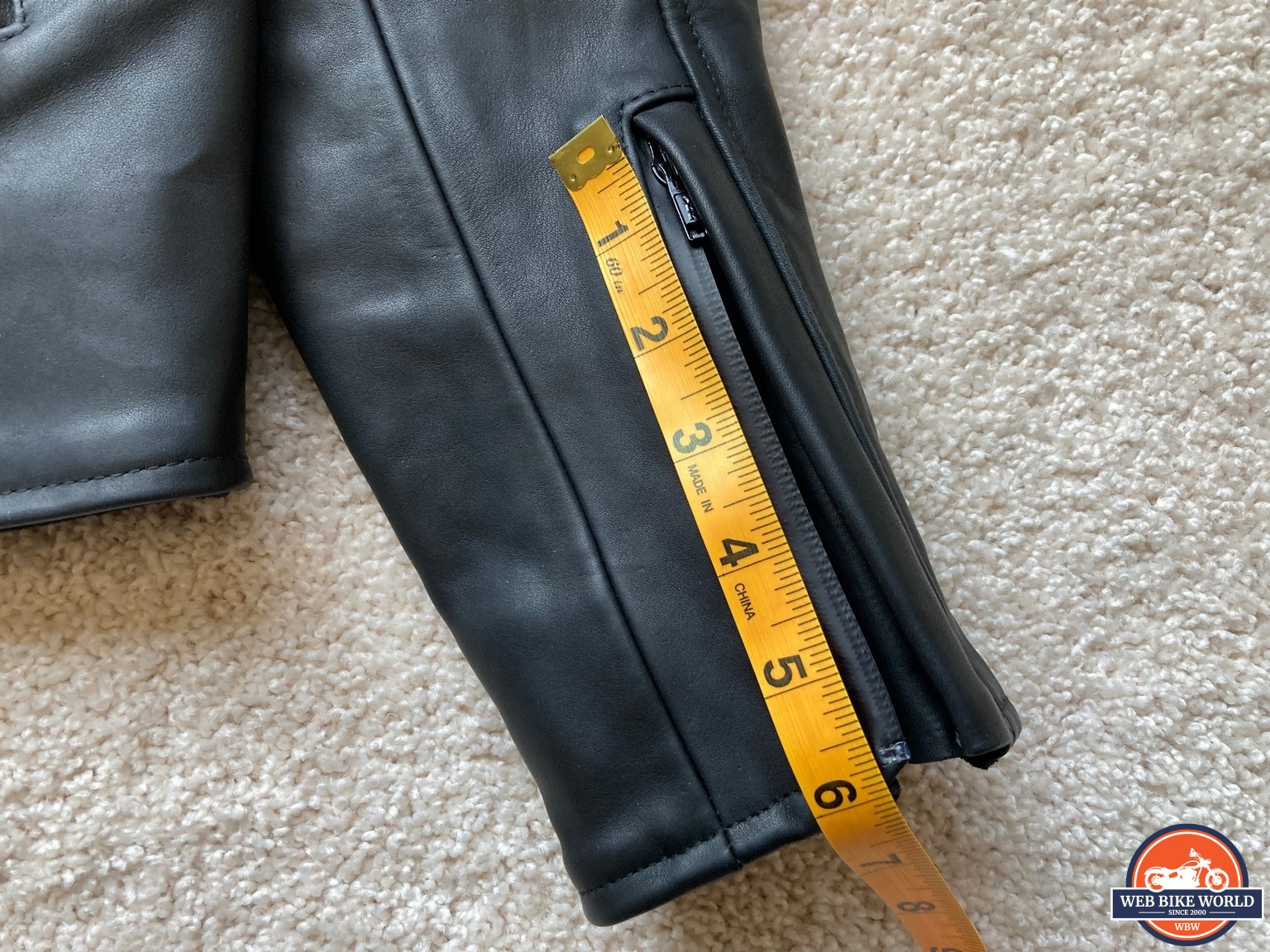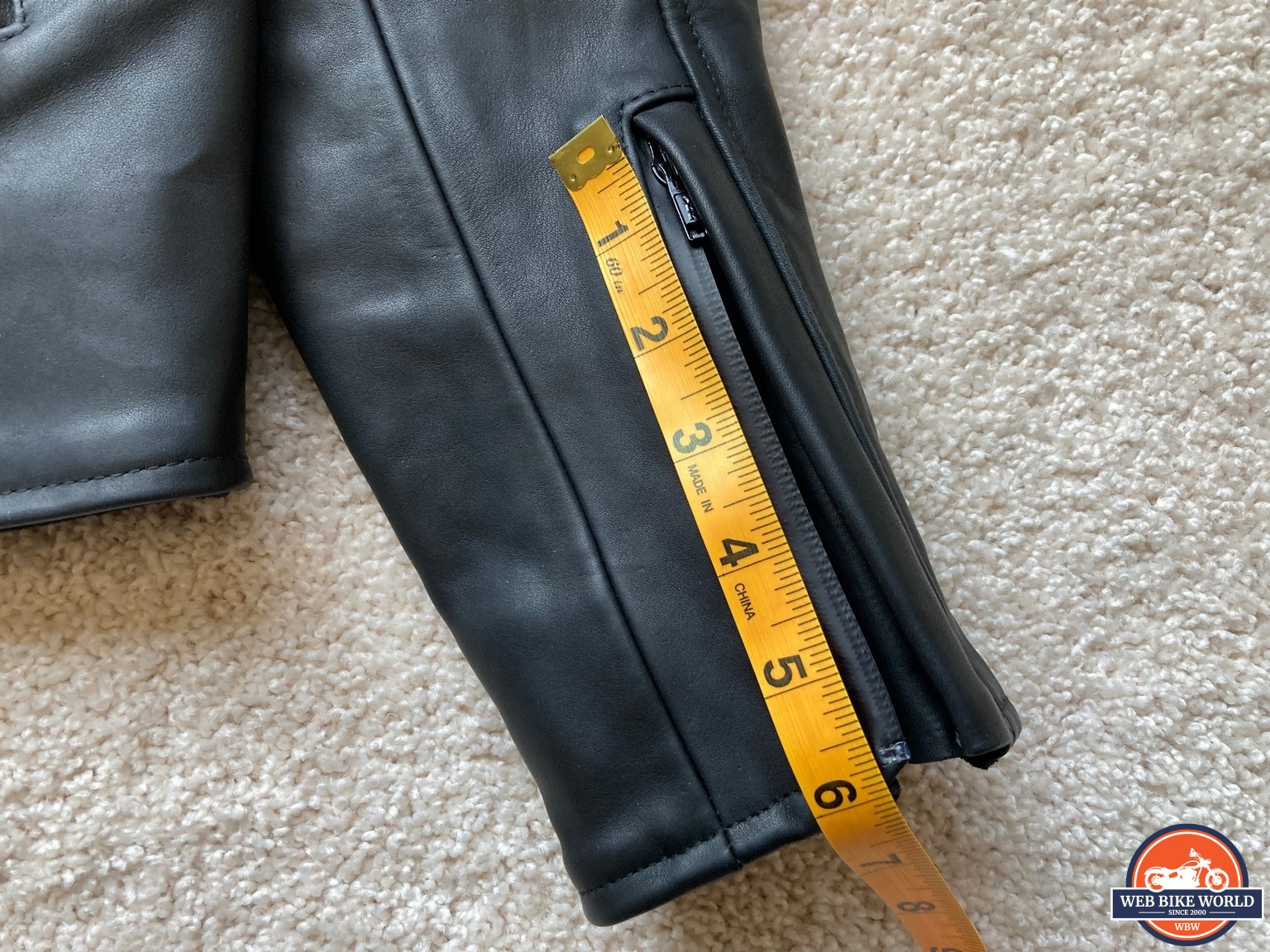 The cuff zips on the RSD Hemlock are 6 inches long. Not bad, and they are waterproof to boot, but I would like just a bit more room to fit a glove under the sleeve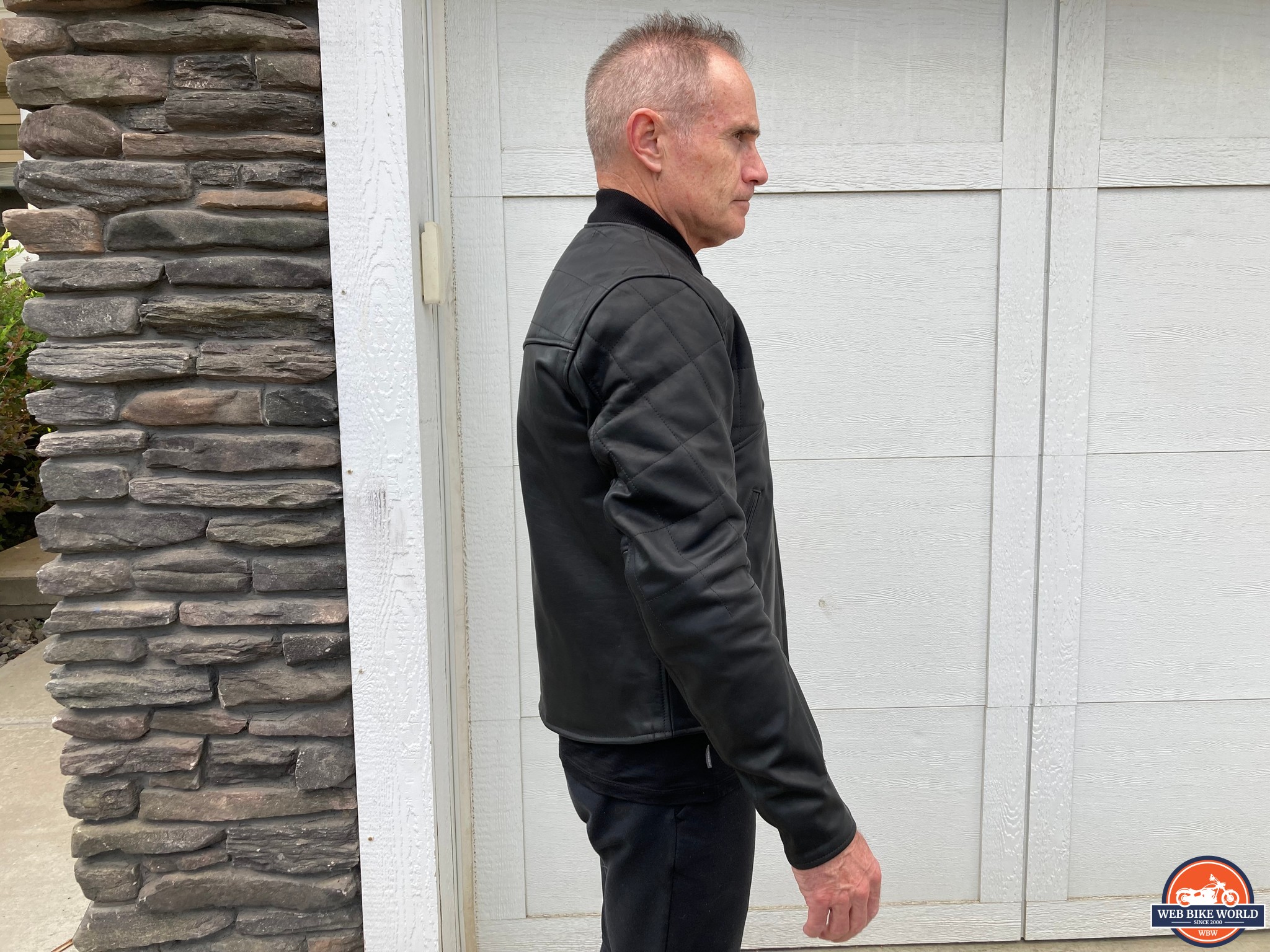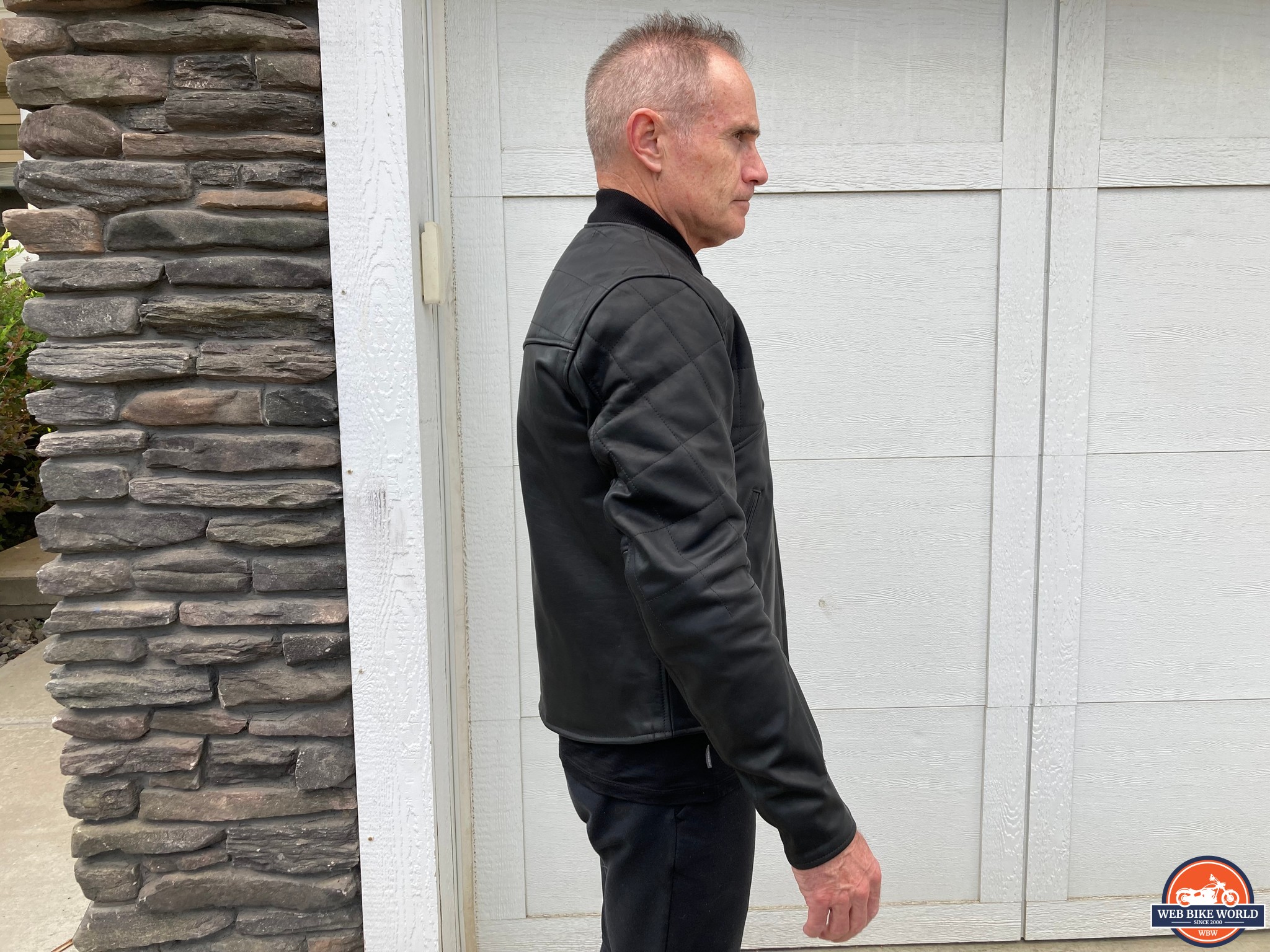 There is no drop to the back of the RSD Hemlock so when leaned forward on the bike there is the potential for a gap between the hem of the jacket and waist of your pants
Protection​
Overall, the RSD Hemlock is AA rated under the EN 17092 Standard. This is the second-highest level of protection (AAA is typically reserved for one or two-piece leather race suits).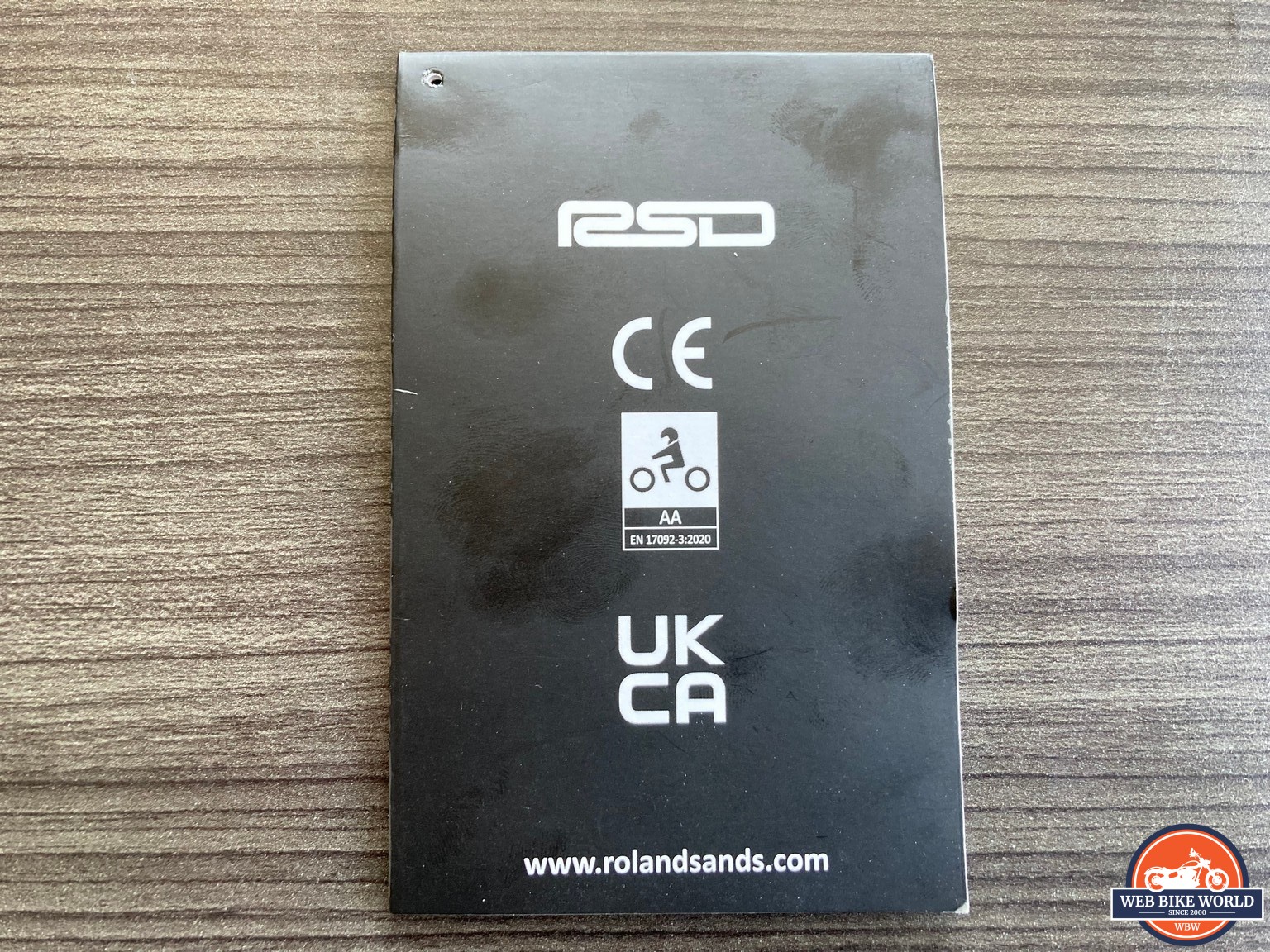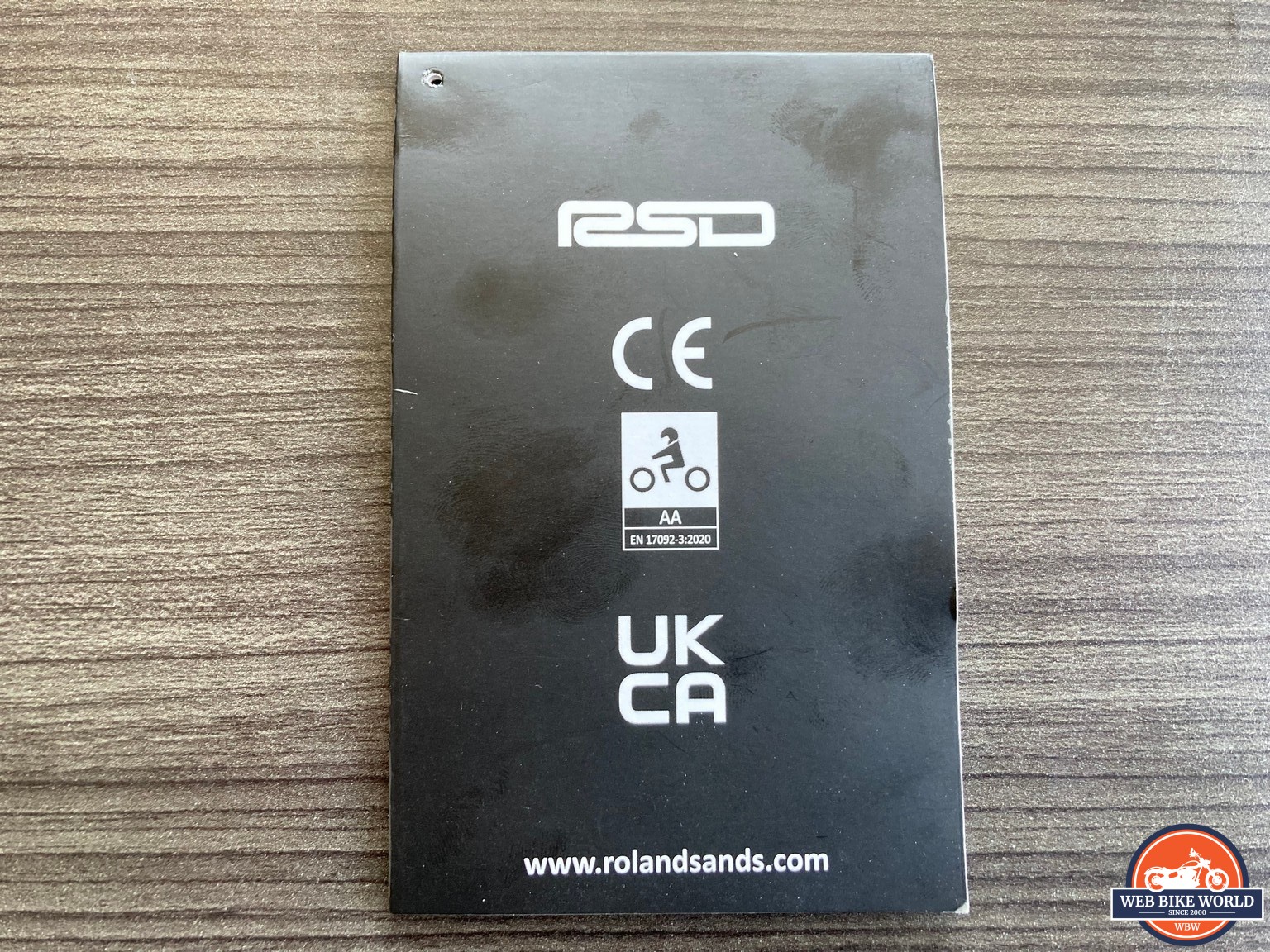 The RSD Hemlock is AA rated under EN 17092
Leather was historically the material of choice for motorcycle clothing and while textiles have come a long way in terms of their protective and comfort capabilities, leather is still supremely abrasion resistant and offers good protection in the event of a crash. This protection is further enhanced when armor is added to the mix. The RSD Hemlock comes fitted with removable SAS-TEC flex Level 1 elbow and shoulder armor.
This is well-known and respected armor that offers inconspicuous impact protection. In the photos here, you can hardly notice the armor, and that makes the jacket one that you actually want to wear. In my testing of the Hemlock, I found the SAS-TEC armor to be supremely comfortable – on a par with D30 Ghost Armor while offering comparable levels of protection.
Despite its price, the RSD Hemlock does not come fitted with a back protector. This is hardly unique to RSD; it is increasingly rare for manufacturers to supply back protection, even on a premium-level jacket. Still, I would like to have seen this included at the price. I don't condone riding without protection, but I also know that many buyers of this jacket will likely do just that. There is an armor-ready back pocket so I would encourage buyers to make the quick safety upgrade.
Ventilation​
Ventilation on the RSD Hemlock is in some respects its most significant weakness. It is virtually non-existent. So, this is not a hot weather or humid weather jacket. Think Spring, Fall and perhaps early summer but absolutely not the hottest days, even with just a t-shirt on underneath. The two front pockets could be opened, and the cuff zips could likewise be opened, but these are half-measures at best to get air flowing into and through the jacket.
It can be argued that ventilation zips would ruin the line and look of the jacket and there is some validity here. The Hemlock is beautiful precisely because of its clean lines. Still, some perforations along the side of the jacket or simply under the arms and perhaps at the back would aid considerably in making this a more versatile offering.
In my mind, the RSD Hemlock is the quintessential urban jacket. This fact allows me to temper what might otherwise appear to be a criticism of the ventilation scheme (or lack thereof). As an urban jacket, the ride is typically quite short, so you're not going to overheat, especially if you're wearing the Hemlock in Spring or Fall.
Moreover, the look of the jacket off the bike is every bit as important as on. Viewed in this light, if the Hemlock is used for relatively short, quick rides around town the lack of ventilation isn't a big deal. Just don't think you can throw this on and log a 500-mile day in warm temperatures.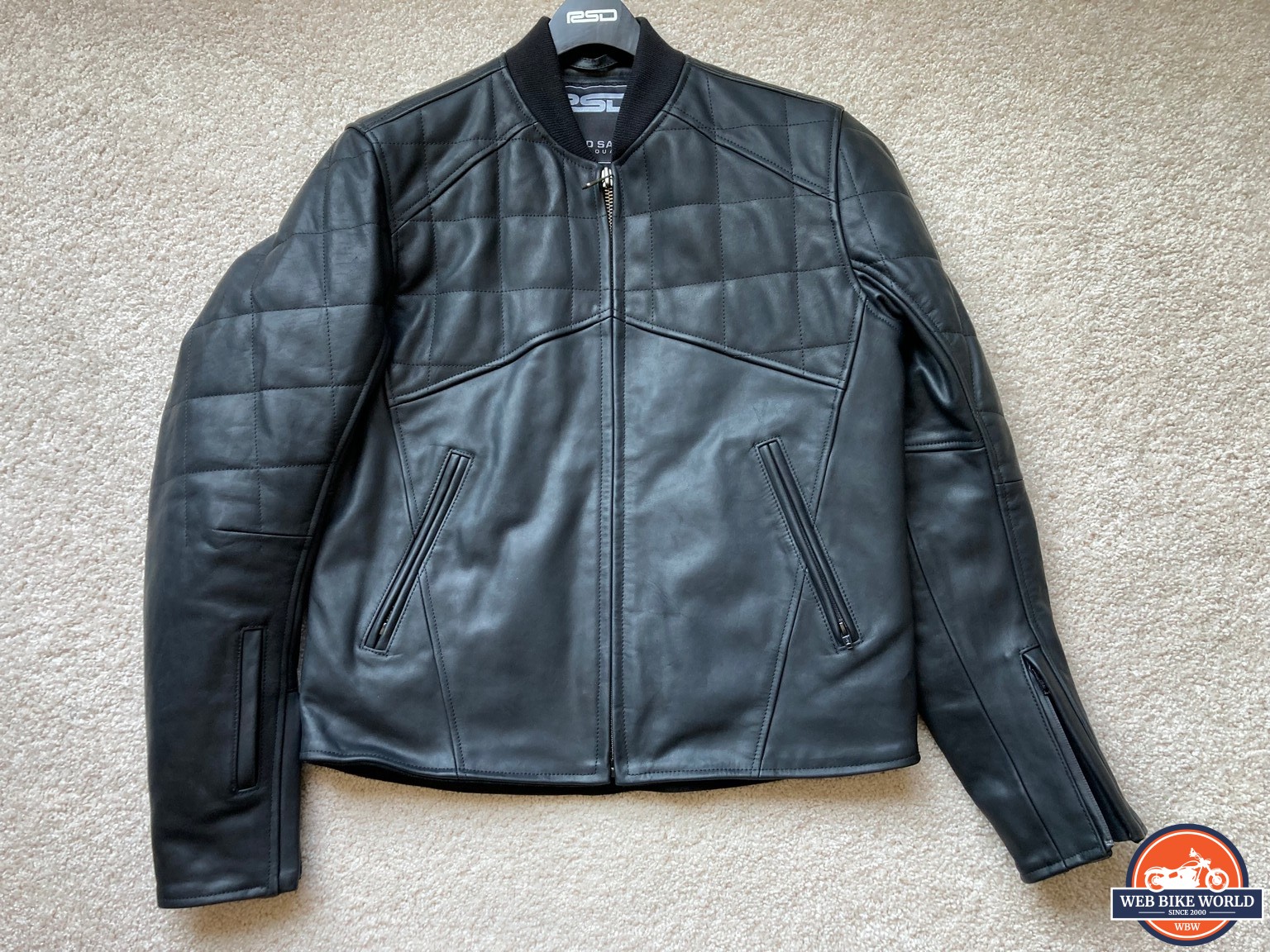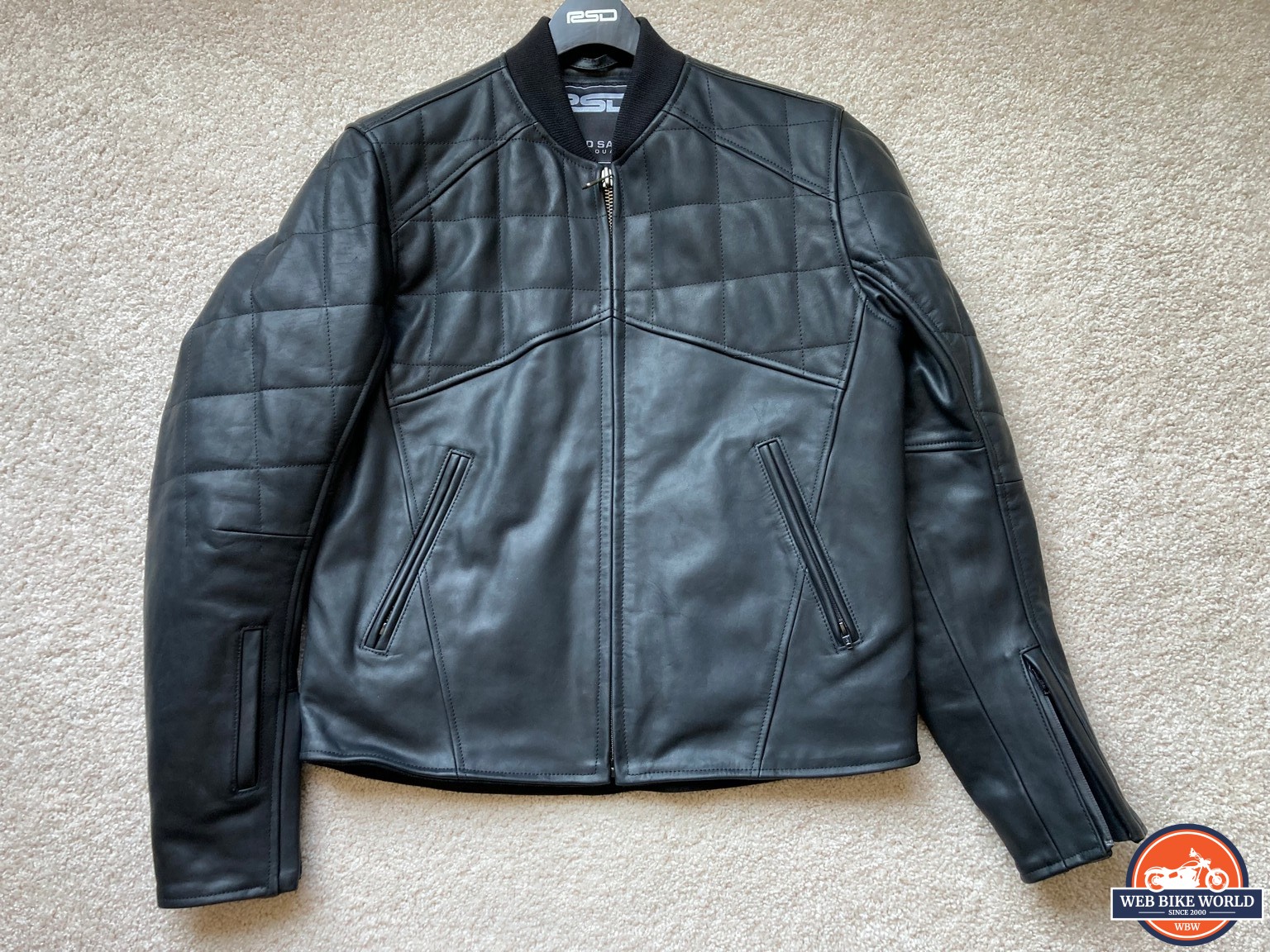 The lines of the RSD Hemlock are beautiful – just don't ask about the ventilation
Zippers and Pockets​
As befits a jacket targeted at sophisticated urban riders, the RSD Hemlock has struck a fine balance with zippers and pockets. There is no clutter or excess and only the best materials are used. All zippers are YKK, and all except the main closure zip are waterproof.
There are two angled pockets on the front of the jacket, as well as an internal Napolean pocket, and two mesh pockets perfect for storing gloves when off the bike. Personally, I think this is smart play by RSD; this is a jacket that doesn't need to masquerade as adventure or travel wear.
It's more suit jacket or blazer than that, albeit with moto DNA. I typically don't carry a lot of stuff in my jacket pockets anyway as I find it less comfortable and I also don't want to be stabbed by something if I crash.
So, for me the two slanted exterior pockets are perfect, but others might find them a little small. They will carry a "regular-sized" iPhone or Android, or a wallet and keys.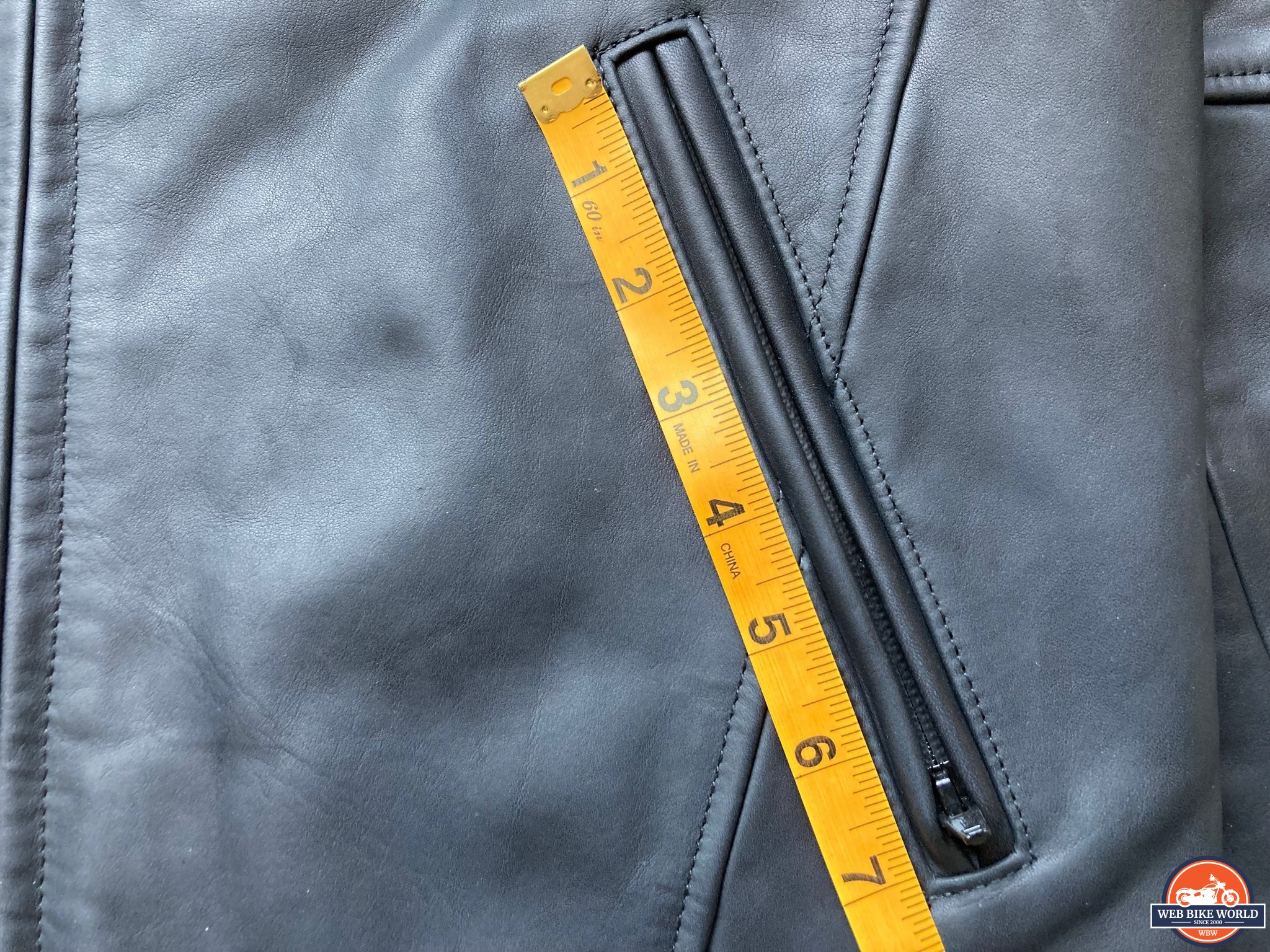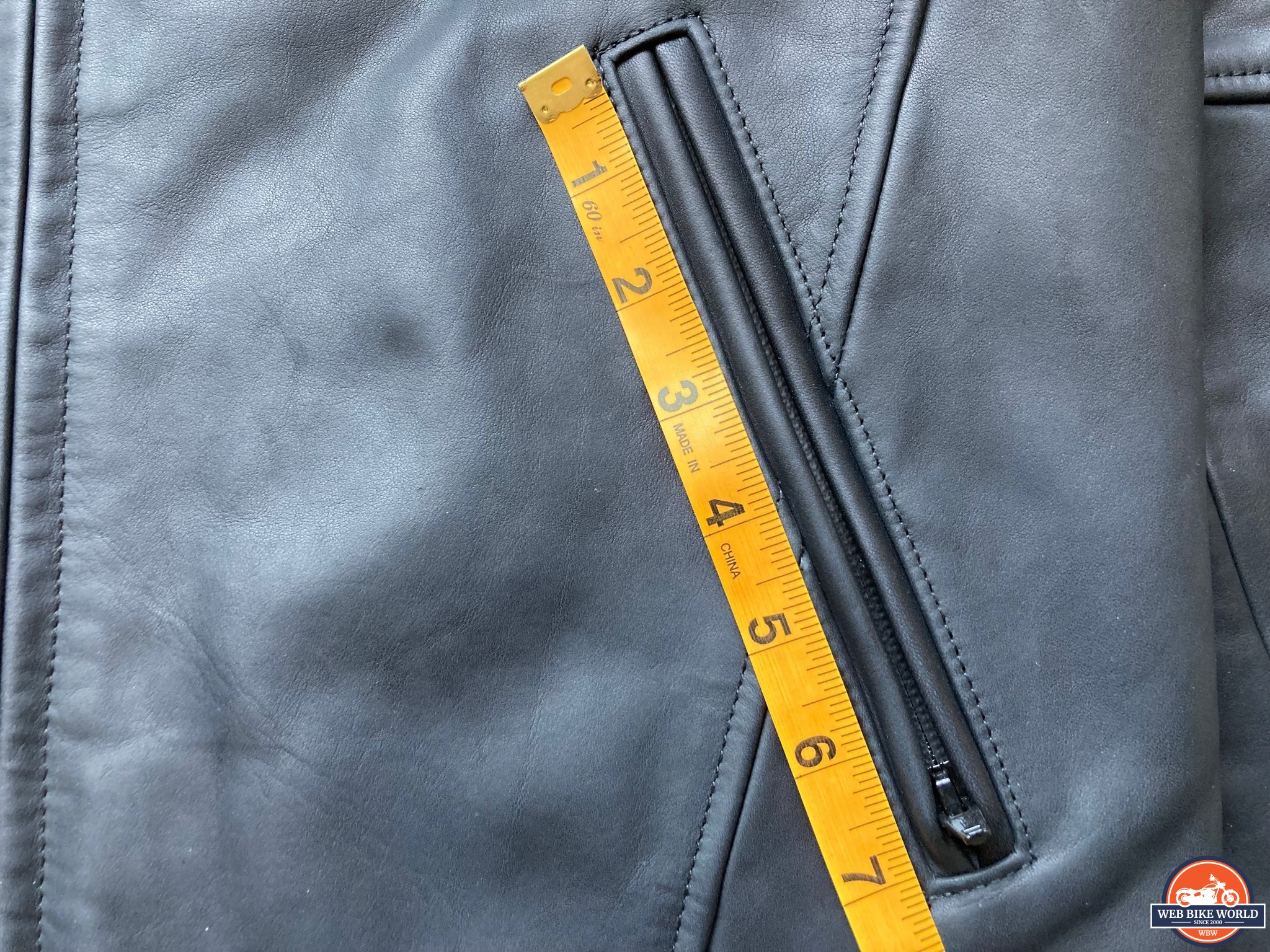 The two angled pockets on the front of the jacket feature 7-inch waterproof zips
One pocket that is super handy is located on the lower right sleeve – perfect for a credit or bank card, driver's license, or change.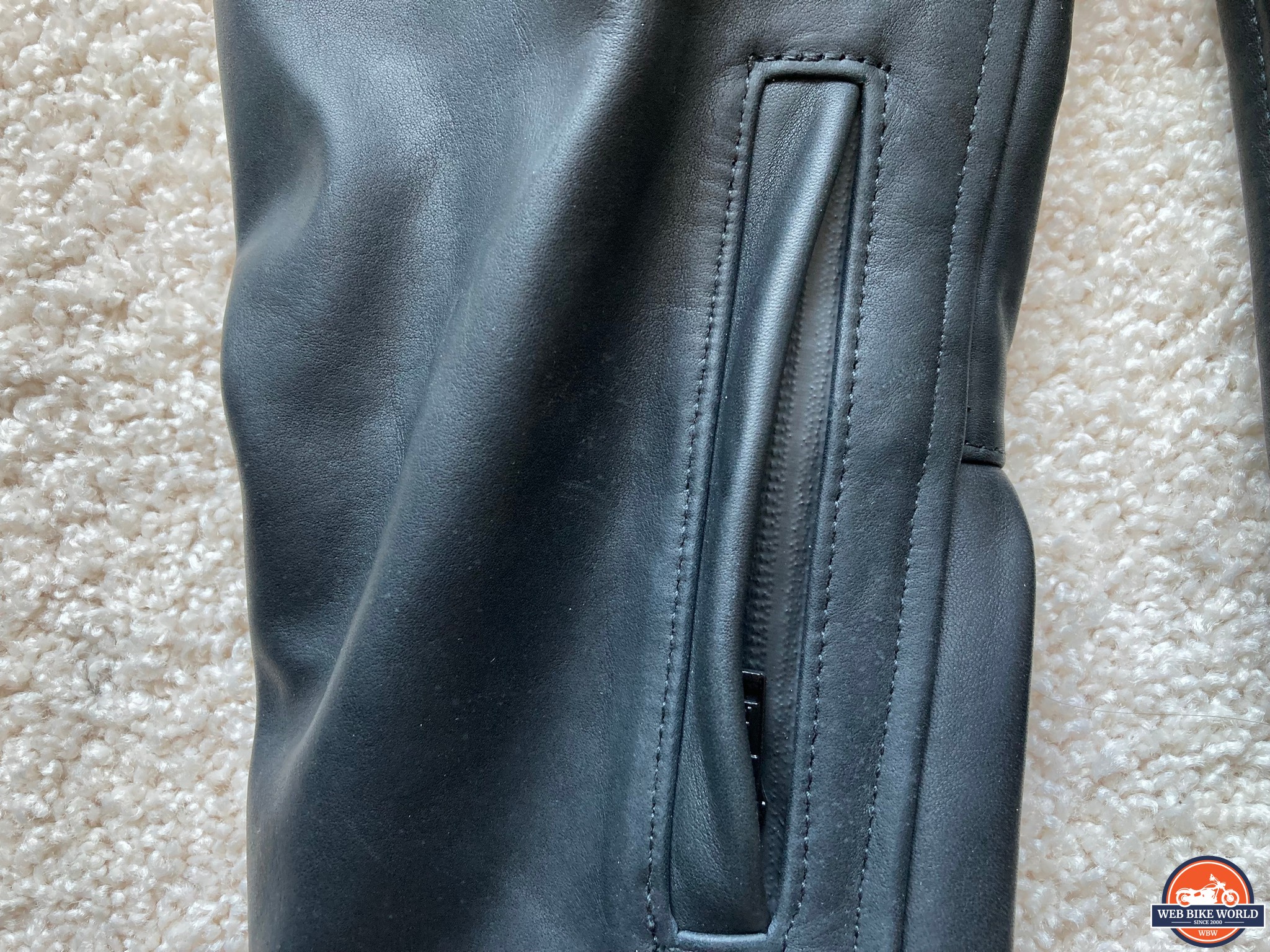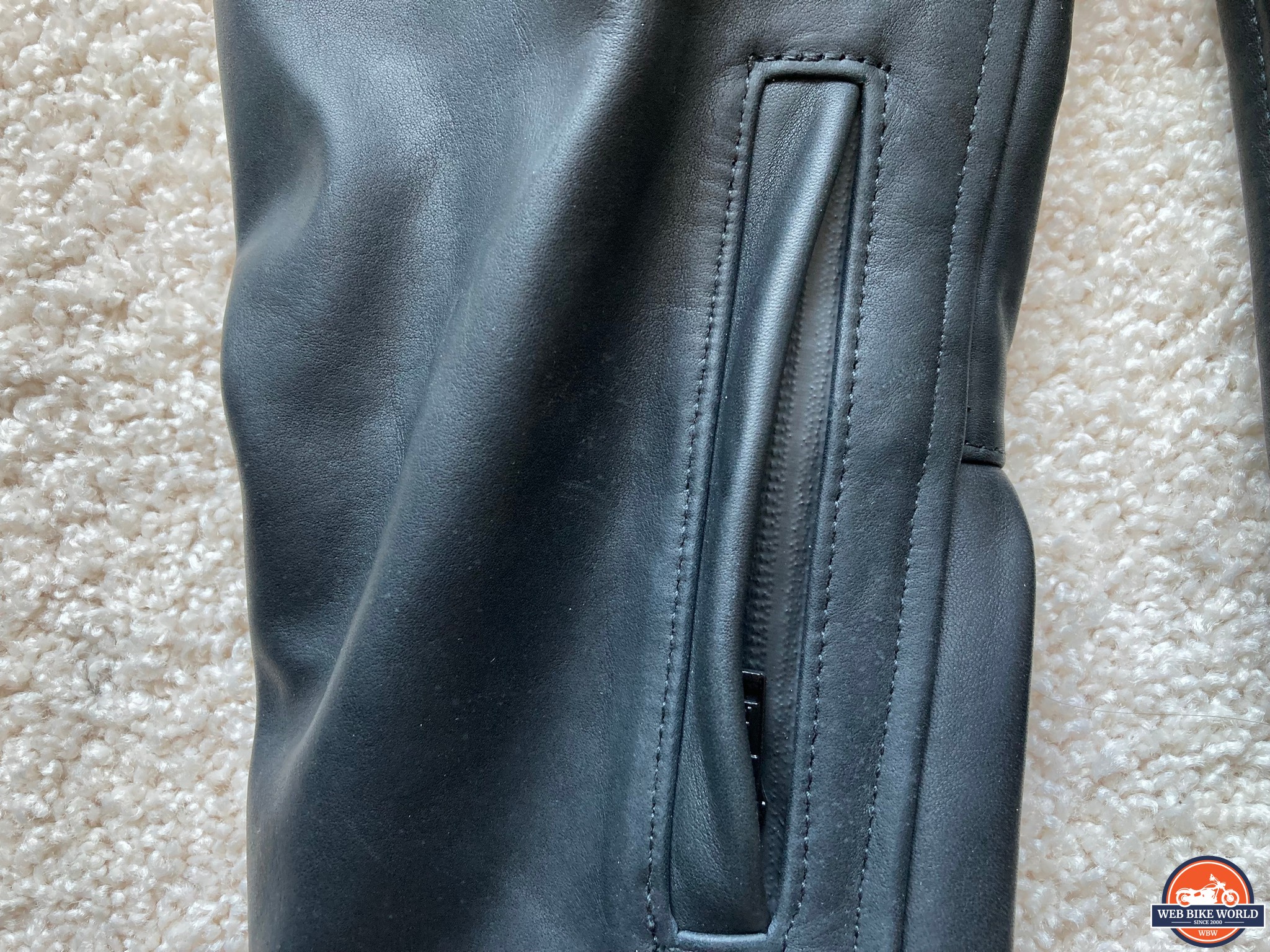 A small zippered pocket on the right front sleeve is most welcome
All of the zippers roll very smoothly and I don't anticipate any issues with durability. The pull tab on the main front jacket zipper is burly and easily used with gloves on – a nice touch.
The pull tab on the main entry zipper is nice and burly – easy to work with gloves
Visibility​
Visibility on the RSD Hemlock is, as with ventilation, non-existent. This is a black leather jacket and in keeping with the minimalist design ethos the exterior has not been doctored with reflective panels or stripes.
This is pretty typical of leather jackets generally, so I don't want to call out RSD for missing something everybody else has figured out. For what its worth, I've had absolutely no worries about wearing the jacket at night or in poor light.
RSD Hemlock In the Real World​
The RSD Hemlock is probably the most beautiful jacket in my gear closet. It has blend of retro and modern that works well for me and while I do tend to reserve it for "special purpose" use, every time I throw it on it brings a smile to my face. It also gets better and better with every ride, and is the rare motorcycle jacket that effortlessly be worn with or without the low-profile SAS-TEC armor off the bike.
This is what RSD excels at; crafting pieces that bridge multiple worlds. There are more technical leather jackets out there, and there are some that wear better off the bike than on it, but the Hemlock does a very good job at both.
Value for Money​
Value for money is always a subjective, or personal point. The RSD Hemlock jacket is not inexpensive. Does it have the "wow" factor of the brand's iconic "Clash" jacket that is more or less at the same price point? In truth, probably not, but I'm inclined to believe that the Hemlock is aimed at a different rider.
Let's face it, the
rocker-style of the "Clash"
is not for everyone. The Hemlock is more refined; you could wear this on a moto-inspired date night, and just as easily wear it to the office the next day. Your style quotient on both counts would go up.
The combination of retro and modern in the Hemlock, the use of Winchester water resistant leather, and the embossed Roland Sands brand on the left sleeve all convey a certain attitude and confidence. There are more expensive leather jackets from Schott or Belstaff, for instance, but the RSD "look" is something unmistakable.
The French brand, Helston's maybe comes the closest in terms of a direct comparison at a similar price point, but again, there really isn't anything exactly like the Hemlock out there. Does this make it worth the money? Every rider will ultimately have to come to his own conclusion.
For myself, I already own a leather jacket from Holy Freedom (the "Quattro") that my fiancé bought me, as well as the hybrid leather-textile Valve H2O from REV'IT!, so I don't have quite the same need as others who are actively in the market for a leather jacket. If I were shopping, however, the Hemlock would absolutely be on my shortlist.
Final Thoughts​
The RSD Hemlock leather jacket is not cheap, but the build quality is excellent and there is something intangible about it that you have to experience first-hand to truly appreciate it (and justify the price).
While it ships without a back protector it still offers solid protection, especially for its intended use of lower speed urban riding. The patterned stitching across the top of the back and the shoulders is tastefully done and the jacket as a whole oozes "cool".
Buy Now
RevZilla
Roland Sands
Pros
Excellent build quality and materials
Lovely mix of retro and modern
Nearly waterproof – a rare thing for a leather jacket
Solid protection
Cons
Expensive
Ventilation is non-existent
wBW Specs
Manufacturer: RSD
Price (When tested): $750 USD
Made In: India (designed in California)
Size Tested: Medium
Review Date: May – June 2023
Important Links / Where to Buy
The post
RSD Hemlock Leather Jacket Hands-On Review
appeared first on
webBikeWorld
.
Continue reading...