Joined

Nov 11, 2011
Messages

7,091
Reaction score

209
Points

63
Location
Sena OutForce Smart Helmet Review Summary
Review Summary
New for 2022 the Sena OutForce is a DOT-rated product for the NA (US) market that is aka the ECE-rated OutRide that comes with slight changes for other market areas. The OutForce is a sleek smoothly shaped full-face helmet with a well-formed aerodynamic shell and precisely fitted components, including a solid retractable sun visor and built-in Bluetooth (BT) system that provides a four-way BT intercom and multiple device pairing. This competitively priced 'smart helmet' with its looks, protection, comfort, and integrated comms reveals Sena's continued positive evolution of its helmet line.
Design, Innovation & Build
Fit & Comfort
Airflow & Ventilation
Noise Management
Value for Money
Pros
Sleek styling, aerodynamic form, and flawless finish
Comfortable intermediate oval fit
Very good exterior and interior noise management
Basic but very functional integrated BT 5.0 system
Easy value-added firmware updates for BT system
Great value for a turn-key helmet with integrated comms
Cons
Face shield has a little bit of play
Quick Release Face Shield mechanism can be cranky
Integrated BT system speakers or hardware are not easily upgradeable
Excess strap length and fussy retainer snap
3.9
Average, With Drawbacks
Sena OutForce Smart Helmet Image Gallery






























Buy Now
RevZilla
Amazon
Sena
Sena's current helmet offerings are marketed under the Sena "Smart Helmet" segment. Many of the original products had multiple electronic-based features like Intelligent Noise Control (active/passive), integrated multi-feature BT and HD camera systems; sometimes packaged into one helmet.
At the time, Sena did seem to be leading the pack regarding the introduction and evolution of the smart helmet. Fortunately, I and other wBW reviewers had the opportunities to complete reviews on most of these products over the years, as well as other newer to market products that could also be seen as 'smart' to varying degrees.
In moving through 2022, there is indeed a growing number of players with a growing number of products (one being the
Forcite MK1S Smart Helmet
), with others on or being brought to market or under active development. These are what I would more (subjectively) classify as 'smart' or smarter helmets—although those descriptors are readily debatable as well.
So, what's my point here? Well, in acknowledging the evolving multi-sensor technology connected or connectable baselines and situational awareness factors, I'm thinking that the current Sena helmet offerings are more reflective of an 'integrated' helmet product rather than a 'smart' helmet product.
This is not a negative point in any way, far from it, but simply an assessment of where the integrated and/or smart helmet market is at and going—one only needs to look at the number of related 'integrated' helmet reviews being done.
Having been fortunate enough to review most of the original 'Smart Helmet' lineup and given where technology and integration efforts were headed at the time, it was my fervent hope that Sena would indeed make the plunge; alas, it has not yet come to pass. But I for one have not given up hope; there is a lot of technology-based staging going on currently.
But back to the subject at hand: the Sena OutForce Smart Helmet with its full-face form factor and integrated BT 5.0 based system.
This OutForce helmet was provided by Sena. All diagrams used in this posting are courtesy Sena and are from the OutForce User Guide.
About SENA​
Some streamlining of the Sena 'Smart Helmet' line over the past couple of years is evident but the line also continues to be evolved; most evident when viewing the newest 2022 Sena Quantum Series that includes the full-face Stryker and modular Impulse helmets with Mesh and BT Intercom technology; updated
50R and 50S systems
; and the 50C with its integrated 4K camera and Mesh and BT Intercom.
Both the Stryker and Impulse helmets feature a unique integrated LED Taillight and both helmets are DOT or ECE-rated (by market). And all of the Sena Quantum Series products feature SOUND BY Harman Kardon.
As mentioned above, the Sena helmet line listing is shorter with the open face and higher-end
full face helmets
with integrated video dropped from the US/NA market listings, although earlier releases still show on the international site. The wBW table below lists the current US offerings—with the newest
bolded
.
| | | | |
| --- | --- | --- | --- |
| Helmet Style | Model | BT Version | Features |
| Full Face | Stryker Quantum Series | BT 5.0 | MESH 2.0 & BT Intercom, LED Taillight |
| | OutForce (aka Outride) | BT 5.0 | BT (4-way) |
| | MOMENTUM EVO | BT 4.1 | BT & MESH 2.0 Intercom |
| Modular | IMPULSE Quantum Series | BT 5.0 | MESH 2.0 (Unlimited) & BT (4-way) |
| | OUTRUSH-R | BT 5.0 | MESH 2.0 & BT Intercom, LED Taillight |
| | OUTRUSH | BT 3.0 | BT (2-way) Intercom |
** INC = Intelligent Noise Control (Passive & Active Modes) Helmets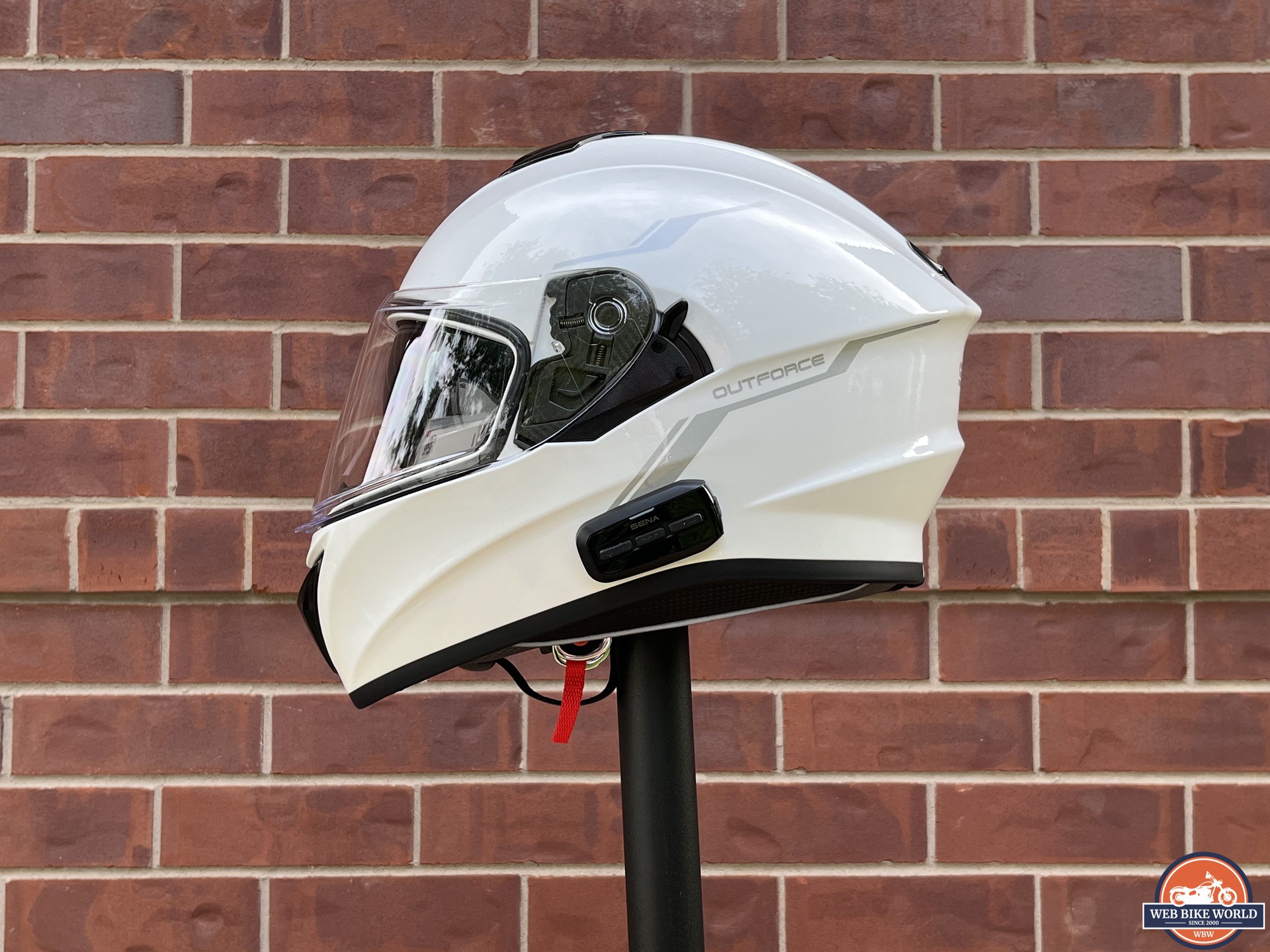 Sena OutForce Smart Helmet Design, Innovation, & Build​
The Sena OutForce full face helmet features a sleek design with aerodynamic shaping and contouring for best air flow to and around the helmet. The outer shell is single layer polycarbonate ABS while the inner layer is multi-density EPS.
The single layer ABS shell is a lightweight strong solution and has a clear-coat satin-touch finish that further enhances its look. All the styling layouts and lettering is minimal, somewhat reflective and protected under the clear finish.
While the OutForce might not visually reflect a lot of innovation per se, everything about and everything used on the helmet is first rate, especially the various insert assemblies—all well shaped, well finished and extremely well fitted.
Some of the more basic build approach is reflected in that the OutForce does not have quick removal/emergency use cheek pads—something that should be standard on all helmets and, it uses what many see as the traditional double D-ring helmet strap, another oft-debated safety and security feature.
There is absolutely nothing cheap looking, feeling, or unfinished on this helmet; quite the contrary, which is another big plus when viewed for the first time. With this attention to detail Sena continues to up the ante regarding its helmet line with the OutForce.
The OutForce features a wide eye port, the well fitted clear face shield is distortion-free, scratch and UV resistant as is the removable and retractable sun visor.
Ventilation consists of two intake ports—chin and top of helmet (both with open/closed slider controls), airflow channels in the EPS layer and breathable mesh liner fittings supplying air through the helmet and two exhaust ports residing under a low-profile cover on the back.
Colorways​
As with other Sena helmets, the offerings are basic—Gloss White and Matte Black. Understanding the changing or evolutionary nature of the product line, it would still be nice if some multi-coloured designs were provided—for a premium or not.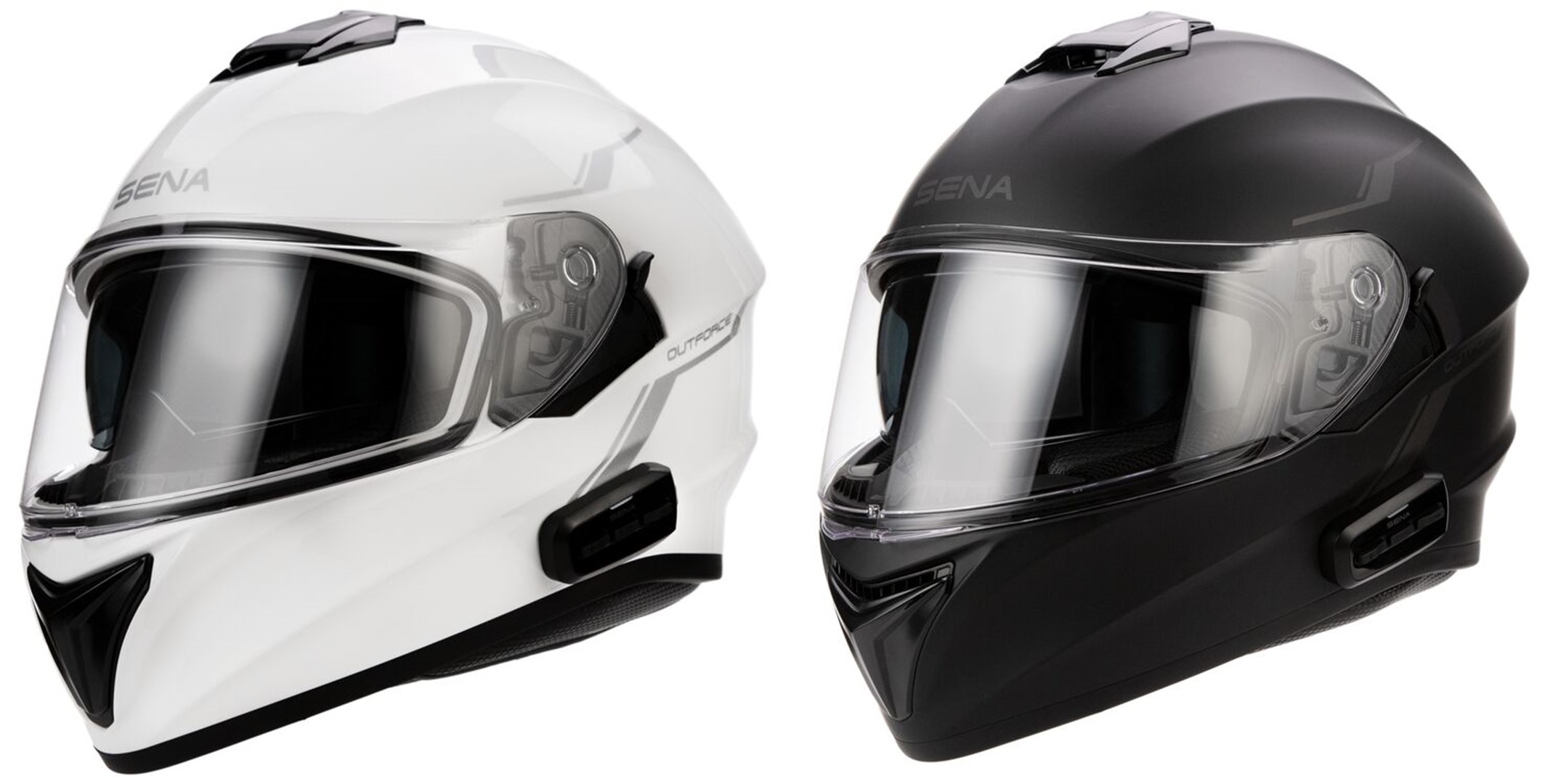 Sena OutForce Smart Helmet Key Features​
Sleek helmet styling
Intermediate Oval Fit
Precisely fitted shell components and interior fittings
Integrated breath guard with face shield closure snap
Large chin and top intakes and rear exhaust port
Wide easy to use 5-step face shield with quick release system
Retractable sun visor with easy to access Up/Down lever
US-Market DOT rated
Micro-ratchet quick-release chin strap
Available in sizes S – XXL in Matte Black or Glossy White
Integrated BT 5.0 system
HD speakers and sensitive microphone with advanced noise control
4-way BT intercom, working distance up to 900m (0.6mi)
Multiple device support with audio multitasking
Left side BT control housing has three distinctive easy to use controls
Sena Utility App supports Smart Intercom Pairing and wireless system management
Listed weight is: 1,600gr (50oz); Measured weight is: xxx
Warranty: Electronics = 2 years; Helmet Integrity = 5 years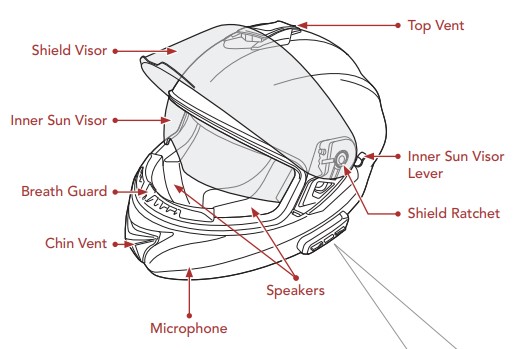 Sena OutForce Smart Helmet Fit & Comfort​
The Sena OutForce is an Intermediate Oval Fit helmet, with the following Sena OutForce sizing charge supplying fitment guidance; the chart is based on industry standards.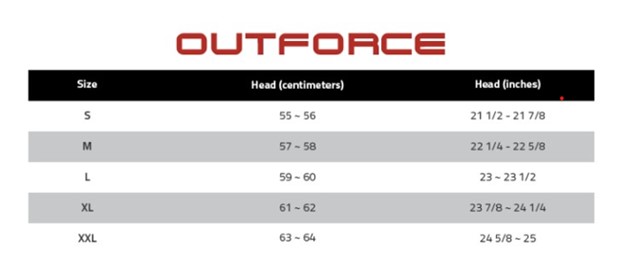 For the most part, an intermediate oval shaping and 59-60cm sizing is what I look for, and outside of the original
Sena Momentum EVO
that had a Long-Oval shaping and was a bit snug in areas, all the Sena Smart Helmet products with their Intermediate-Oval shaping have been good fits on this noggin.
But I have still been (very) pleasantly surprised as to how well the Sena OutForce fits and feels or wears with day-in, day-out use—it is the most comfortable full-face helmet in the current personal inventory and has been literally since day one.
Internal Liner Fit & Comfort​
There is a bit of slippage in the head section of the internal liner if the helmet is adjusted while on the head—it's not much and does not result in any distortion or uneven pressure of contact surfaces.
This minor layout issue seems related to the lightweight mesh layering used with the headliner section, but given its overall comfort and effectiveness in cooling, this issue is more than tolerable and should be easily addressable as a production correction.
Only one other tiny issue ever arose regarding fitment—the tips of the ears sometimes engage or catch slightly on the layering between the headliner and the side speaker cover flaps (and it is a case of "sometimes"; wiggling or settling the helmet slightly has this resolved.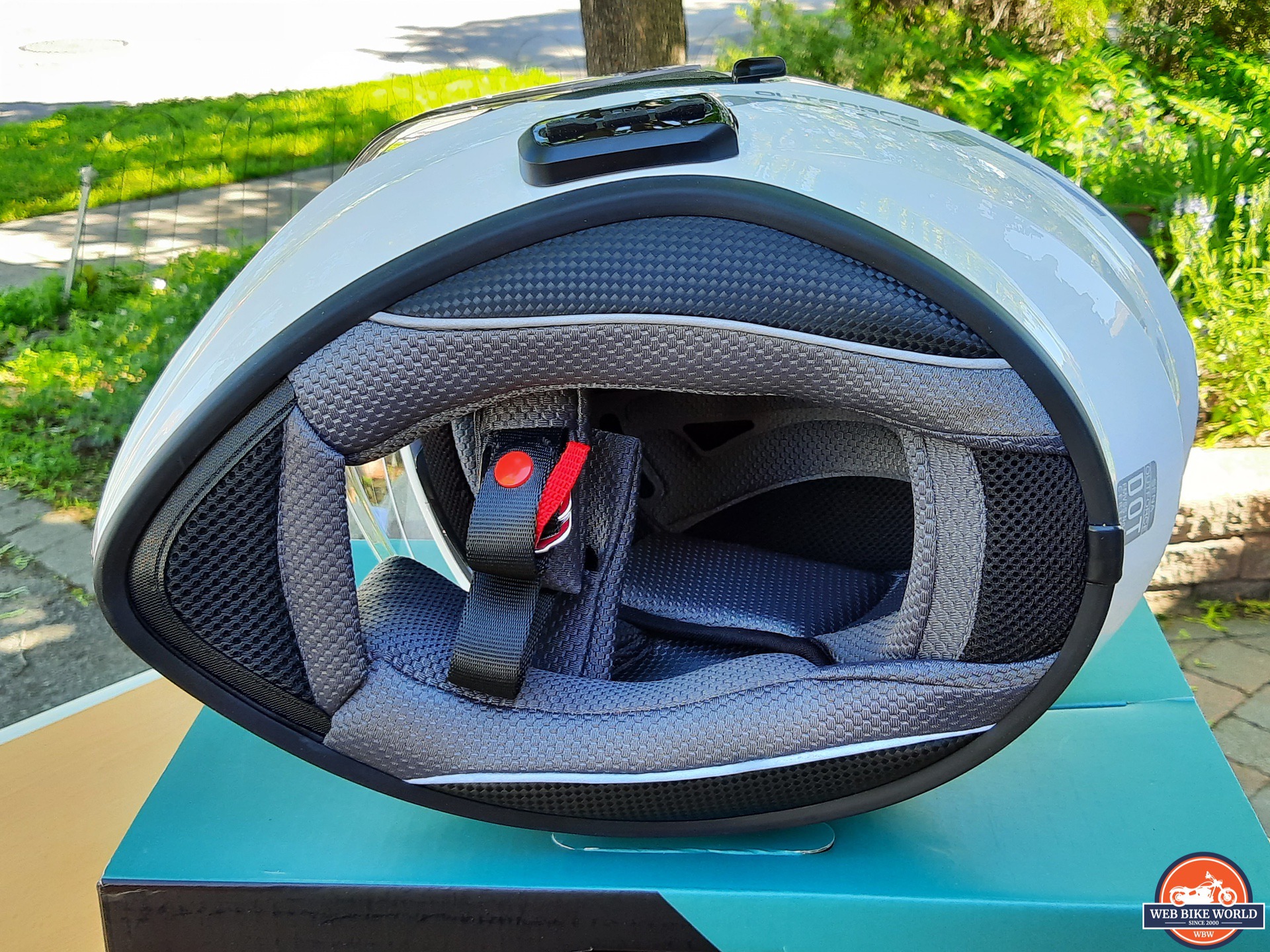 Internal Liner Build Quality​
The Sena OutForce interior is not as plush overall as the liner on the Sena Impulse for example, but feature for feature, the OutForce is more comfortable, although both interiors are first rate overall and on par with most mid-to-upper-tier helmets.
Comparatively, the interior components of the OutForce are much improved compared to the original
OutRush
and
OutRush-R
helmets; the OutForce reveals positive changes resulting in improvements regarding form, fit, and quality.
The interior liner is made up of three easily removed pieces—the left and right cheek pads precisely and securely fitted with inserts, snaps, and hook-n-loop sections while the third piece, the lightweight and somewhat unique headliner is well fitted, using front and rear insert tabs and more hook-n-loop sections to keep it in place.
The cheek pads are well-shaped and comfortable, conforming nicely to the cheeks without undue pressure or resistance when putting the helmet on, being worn or during removal.
While the helmet can be slipped straight on, I find a slight forward head tilt or backwards tilt of the helmet when putting it on or taking it off makes the process even easier—once the glasses are removed, of course—and this usually also mitigates the minor tip of ear catching identified earlier.
Speaking of the headliner, it is indeed unique or at least to me as it uses a light but strong see-through cushioning mesh section on the top and ends, with the foam comfort sections fitted to it. It is all very well cut, assembled, and fitted, and very effective regarding helmet circulation and cooling; this is good.
Eyeglass Facilitation:
unlike other full-face helmets that widely tout this feature but don't deliver, the Sena OutForce does, with well-placed temple channels that work well for lightweight, medium, or heavy framed eyewear; my eyeglasses can be fitted or removed with one hand for the most part.
There is a fourth piece, which being the shaped insert-fitted chin-bar shield or chin skirt that is also removable when more direct airflow is wanted up into the helmet although its flow-thru mesh construct seems to work well as temperatures rise. How well it might work to block or filter colder air remains to be seen.
As noted, all four pieces are easily removed for cleaning or replacement (if needed) and reinstallation—just make sure the hard edging pieces are properly inserted and seated, the snaps fitted, and the hook-n-loop pieces engaged to their counterparts on the helmet.
The only observation I've made about the liner's layout, removal, and replacement is that a left-side mini-connector sits out between the side and rear EPS liner sections, although it's not felt at all once the liner pieces are replaced. All the other BT system wiring and connections are secured out of the way or out of sight, so this might just be a build and QC issue.

Sena OutForce Smart Helmet Headset Support​
By virtue of its design and marketing intent, the Sena OutForce has excellent support for a
motorcycle intercom system
(that being the widely used three-button Bluetooth-based module fitted securely to the left side of the outer shell).
A boom microphone projects out from under the cheek pad on the left inner side while a pair of HD speakers precisely placed in their EPS recesses sit under thin cushioned layering that is part of the removable cheek pads. A detailed look at this integrated Bluetooth system can be found later in this article.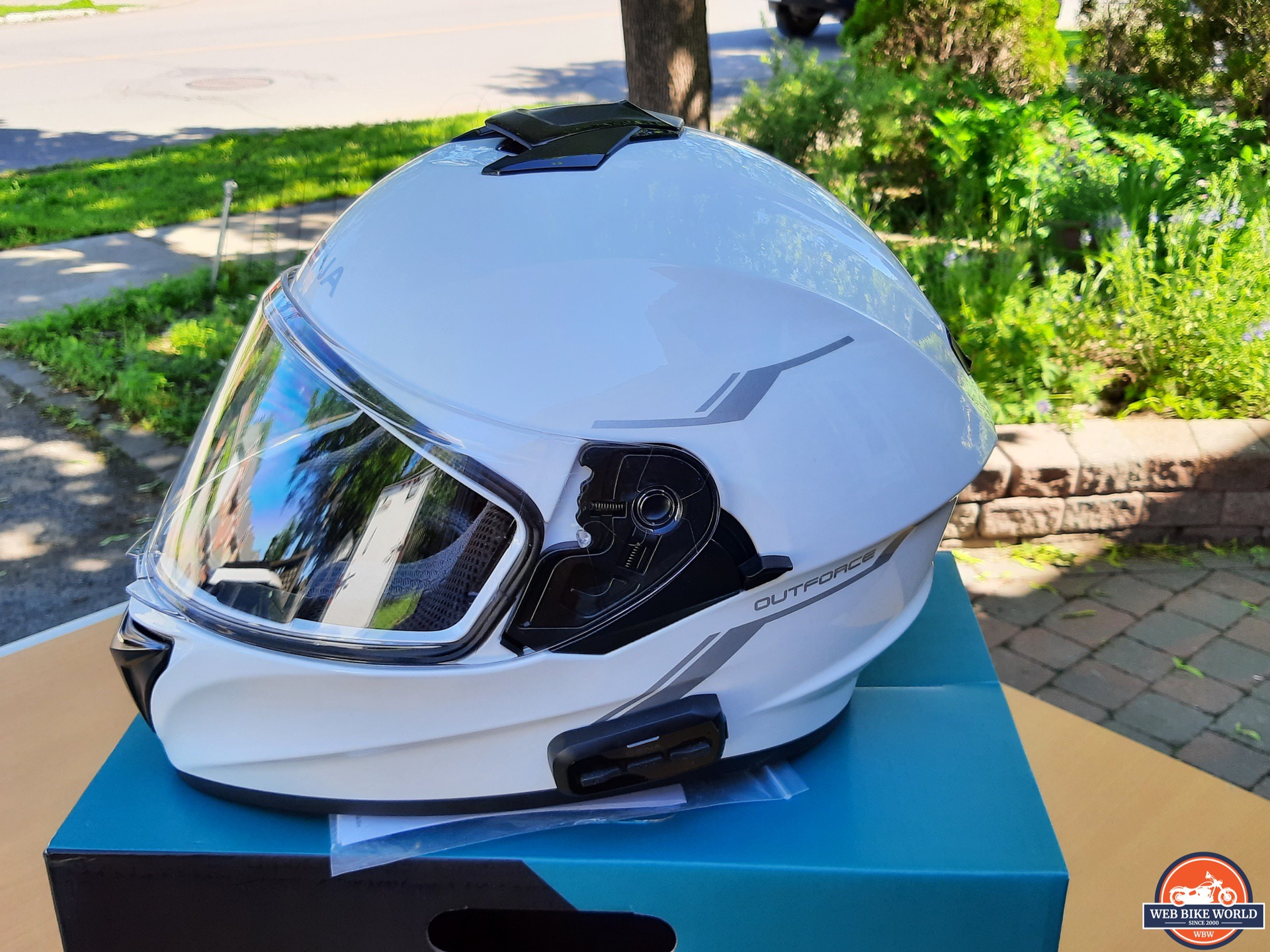 Sena OutForce Smart Helmet Eye Port, Face Shield, & Sun Visor​
Eye port size and shaping on the OutForce helmet is very good, providing unobstructed horizontal and vertical fields of view; I have excellent peripheral vision and the size, fit and finish of the eye port does not intrude whatsoever at any angle—all good for comfort and fields of view so essential for continuing situational awareness.
Face Shield:
the distortion-free, scratch and UV resistant clear face shield is strong, fits securely to the eye port and is easy to use thanks to the left and right of centre tabs on the lower edge of the shield.
There are five usable settings: closed and sealed; defog/low speed with enough airflow for face ventilation and defogging; halfway; three-quarters (good for lower speeds); and fully open.
The 50% or half-open visor position provides very good circulation with some upper face protection but as expected the face shield will close (rather than be forced up) on its own as speed and air pressure builds. In the higher setting, depending on the cockpit environment the shield may stay open at speed or be pushed closed by air pressure.
All the settings are positive with very little vibration felt at the half and three-quarter settings, although there is 2-3mm of play at these settings. Tighter tolerances would help here and provide more stability between the various settings. I suspect that longer term use could induce more play—this is a design/production issue that could easily be addressed.
Once fully closed, the face shield provides full sealing with no moisture egress and very good noise mitigation. When fully open, the shield is stable even at speed with significant air pressure against it.
The stiff plastic nose (breath guard) insert isn't removable per se as it is part of the larger chin guard overlay that features a centre port for direct air intake flow on the inside. The shape and fit of this piece is very good, and it works well regarding direct and indirect air flow, whether the face shield is closed or partially open.
Incoming air, either directly from the outside around face shield or indirectly via the (open) chin intake is directed upwards through the slotted directional vents on the front top edge of the guard resulting in very good airflow for the shield and eyewear and to provide fresh air circulation to the face and eyes—a big comfort issue.
The Quick Release feature is sometimes not really 'quick release', possibly due to more use being needed and as some obvious flexing of the plastic surfaces and guide engagement points between the base plates and the shield surfaces occurs.
But when it works smoothly, it is indeed a fast way to remove and install the face shield. Open the face shield fully, pull down and forward on the side finger pulls to release or re-engage the shield and lift it away or fit it into place—eh voila. Silicone lubricant works wonders.
Buy Now
RevZilla
Amazon
Sena
Sun Visor​
The Sun Visor is activated by a small lever fitted into the lower section of the left face shield mount assembly. It works well—the lever is down when the sun visor is retracted and a short push up on the lever has the sun visor pushed down for sun/glare protection.
Curiously enough however, the ECE-rated OutRide has its sun visor operated by a slider control positioned below the left side face shield base plate. I know this placement would be easier to find and use vis-à-vis the higher mounted lever used on the DOT-rated OutForce. From function and safety aspects the OutRide slider approach gets a thumbs-up over the OutForce lever.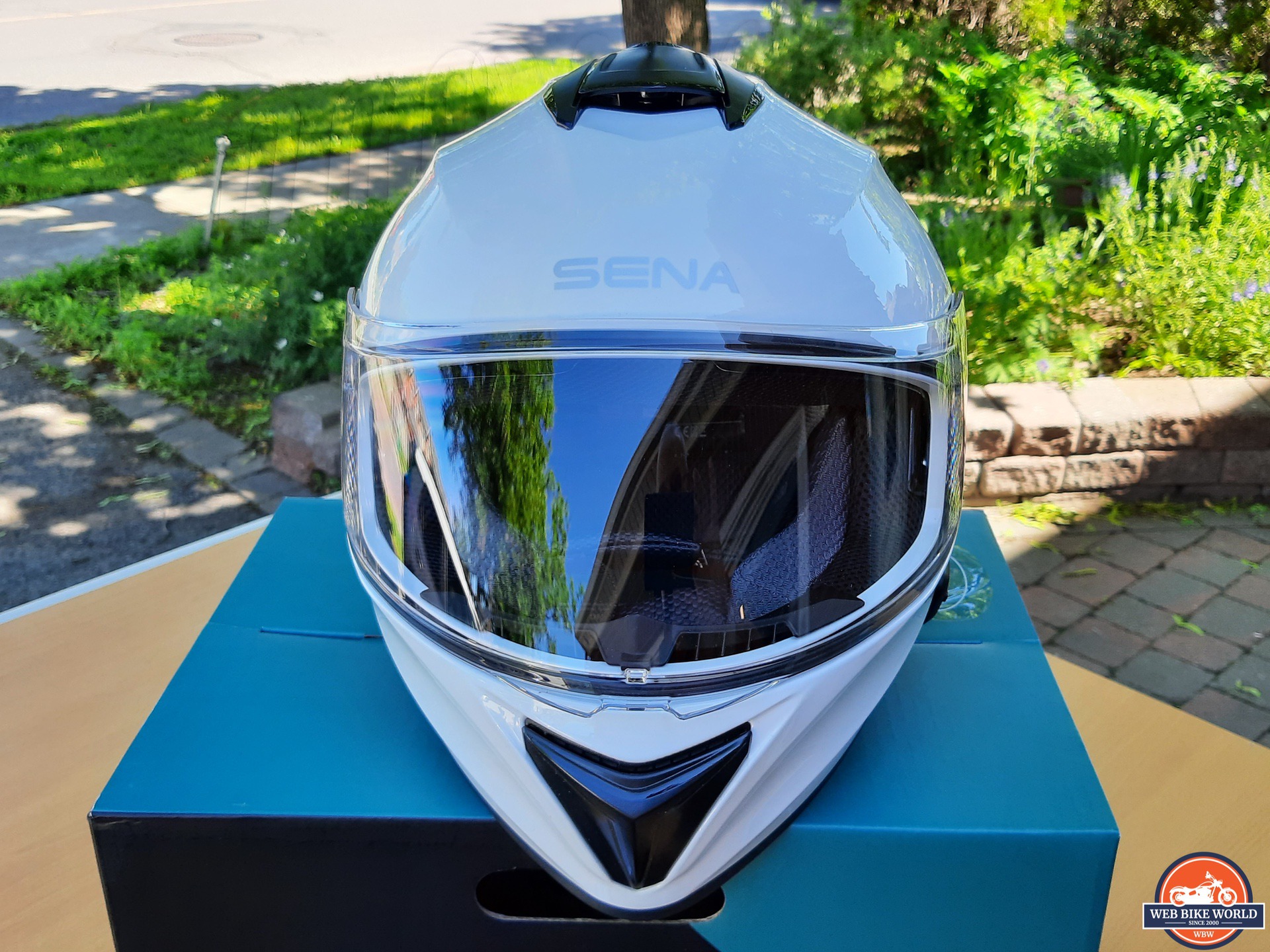 Sena OutForce Smart Helmet Ventilation​
The Sena OutForce helmet is a well-fitting protective piece of gear that has been comfortable since day one and continued use hasn't diminished its comfort; full day rides are not an issue with this helmet thanks in large part to its fit and continued comfort, of which its effective ventilation strategy is a big contributor.
Visually, the intakes, flow-through and exhaust components are all very low-profile and minimalist but prove effective as a system solution. The chin intake is opened by pushing down on the distinctively shaped outer slider piece; pushing it up closes the vent. The intake slot is only about 6mm high, but it flows a significant amount of air when open.
When the chin intake is open, the centred hole on the inner side supplies an (almost) direct flow through to the chin and mouth area while the upper slots on the nose guard piece direct the fresh air up over the inside of the face shield and around the face.
Admittedly, the air flow into and through the helmet is not as forceful as found on many other helmets, but what does flow is well directed and felt, particularly when the ambient air temperature is less than the helmet environment (a rare occurrence these days). When closed, the chin intake is sealed by the well-shaped well-fitted slider piece.
The top intake is another low-profile piece and quiet in operation while allowing a discernable flow of air into and through the helmet, thanks to the shaped port in the EPS liner, the shallow channels in the EPS liner, the free-flowing mesh layer of the headliner and the breathable layering on the cheek pads.
Another low profile insert hides the two exhaust vents and while this piece does not supply a flow-thru spoiler effect for aerodynamic streamlining that can help pull the air out of the helmet the passive exhaust ports do their job.
Bottom line here; a minimal looking ventilation layout that works far better than first envisioned, even in our current 25 to 35 °C (77 to 95 °F) temps plus humidex conditions now prevalent.
This OutForce feature is easily as good as the feature on the OutRush-R and almost on par with the Sena Impulse modular that uses a similar intake but a slightly different exhaust approach. In considering other brands, the OutForce ventilation feature is on par with that found on a new HJC i70 full face obtained as a host for the Sena 50C.

Sena OutForce Smart Helmet Noise Management​
Between its aerodynamic shaping, tight fitting components and a good seal from the lower neck-roll and check-pad areas including the fitted chin skirt, the Sena OutForce is a relatively quiet helmet; not as good as the Sena Impulse but a bit better than the HJC i70.
With the chin skirt in place, there are few variances in air pressure along the bottom and the overall neck seal—felt but not obtrusive minimizes the impact of lower frequencies (booming) while also minimizing random noise; all in all, a good to (very) good environment, even in noisy cockpits.
Turning the head or sticking it out (further) into the air stream does not bring about any whistling or sudden air pressure hits which serves to prove that overall helmet shaping, and noise management measures work well.
As always, the use of will-fitted earplugs is always recommended, especially when riding for extended periods of time, even if one feels they have a 'quiet' cockpit or helmet environment.
Sena OutForce Smart Helmet Safety​
Like all Sena helmet offerings, the OutForce is designed and built to high standards. For the US-based market, the helmet is DOT rated, with its comparative sibling for other markets being the Outride that is ECE-rated (22.05 likely).
Ongoing comfort and thus safety is provided with its basic but effective ventilation system with its distinctively shaped chin intake (Up = closed/Down = open) and low-profile top intake (Forward = closed, Back = open), flow-through channeling and breathable mesh sections and a low-profile rear exhaust port.
Its retractable sun visor with positive Up and Down steps uses a small easy to access and use lever integrated into the back of the left face shield mechanism housing—discrete, easy to use, and highly functional.
Sadly, the face shields are not Pinlock ® ready, although a (dark) smoke shield is shown under the OutForce accessory listings.
As a prescription eyeglass wearer, the issues of air flow, temperature, and moisture in and around a face shield are well understood. For continued visibility and rider safety having a Pinlock equipped or Pinlock capable face shield is or can be critical. There is no real reason for Sena not supplying a Pinlock-ready face shield for every helmet they market.
A quick release micro-ratchet chin strap is used on the Impulse, and while I was raised in a double D-ring environment, my experiences now lead me towards this quick release solution.
Whether riding alone or with others and if the helmet or helmets are equipped with an external or integrated comms and are paired to a smart phone or device, another dimension of situational awareness and thus safety is added.
Sena OutForce Smart Helmet Weight & Balance​
Per its specifications, weight of the Sena OutForce is listed at 1600gr (50oz) plus/minus 50g or 2oz for the medium sized unit.
The real-world calibrated Pelouze scales here assessed this OutForce in Large at 1664gr or 58.69oz (3.66lbs); this result is not unexpected given that the plus/minus listing is for the medium sized unit. Relatedly, it's not known if the OutForce uses different shell sizes as many manufacturers do, which would or could account for some weight differentials.
Regardless, at around 3.62lbs, the newer OutForce in large weighs less than either the earlier medium or large Outrush R helmets.
As expected for most full-face helmets given design and component layout, the OutForce is well balanced front to back and there is no perceived or felt bias when the helmet is worn. Neck and shoulder strain—a very subjective thing, is not an issue with this helmet, even when it is worn all day.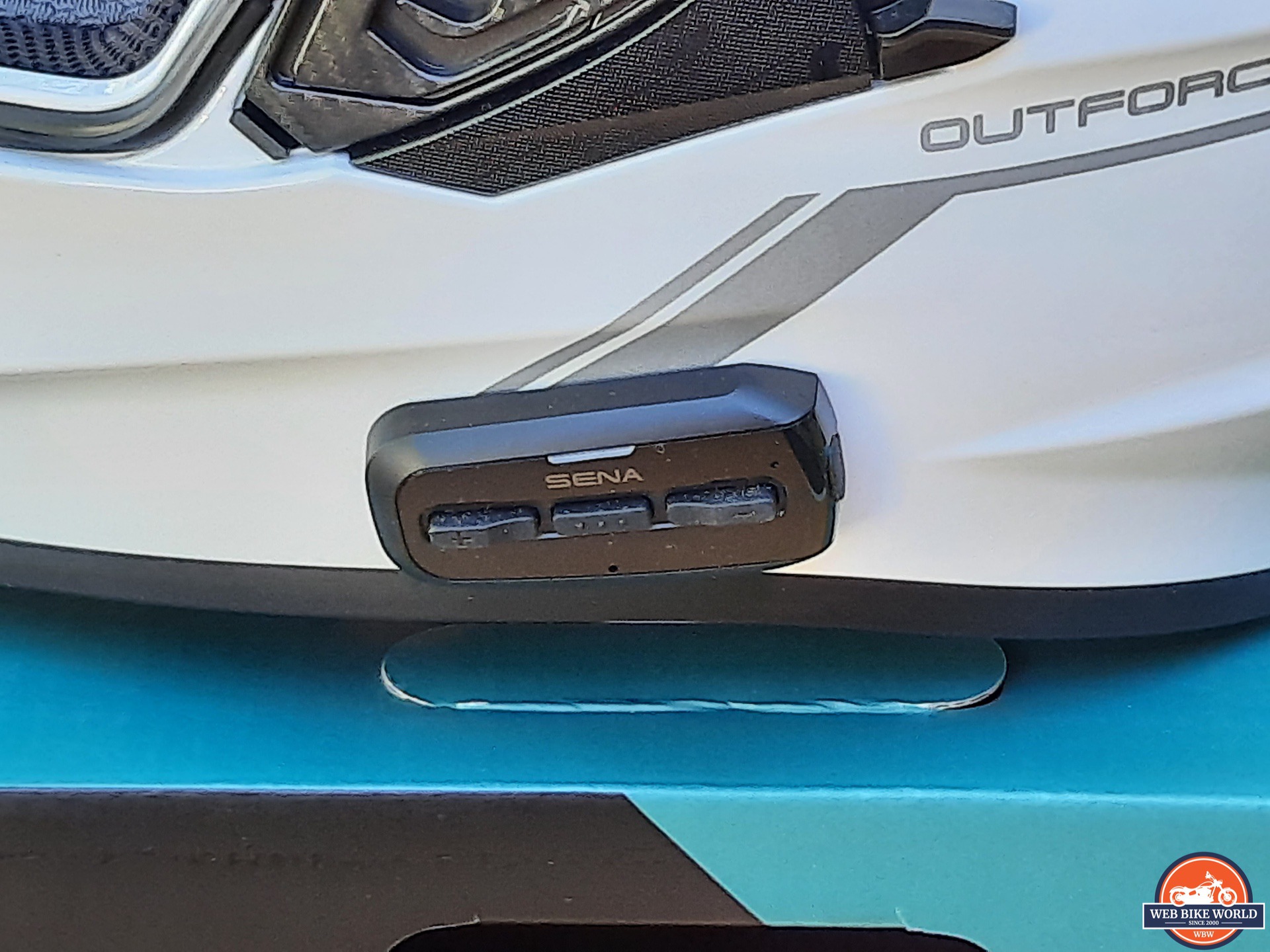 Sena OutForce Smart Helmet Integrated Bluetooth System​
OutForce, like so many of Sena's helmet offerings, features a basic integrated Bluetooth (BT) intercom providing multi-device connectivity and communications with other riders via a 4-way intercom capability, including other brand systems using the Universal Pairing feature.
This system, with four-user support, supplies the ability to work in a dedicated BT link mode within a 2.0km or 1.6mi range or interconnect to other Sena BT and Mesh enabled users to ease or 'bridge' users into a dynamic mixed Mesh-Bluetooth comms environment.
Initial charging needs to be done before the BT system is used—connect the provided USB-C to USB-A cable to a compatible 5V USB outlet—PC, notebook or via AC/DC USB charger. The LED is Red, while charging and Blue when the system is charged.
Power On and Off:
to turn the system ON, press the Plus and Centre buttons for one second, to turn it OFF, repeat this step.
Battery Level:
can be determined when turning the system ON. After the first long and one short Blue flash from the LED, either four (charged), three (mid) or two (low) Red flashes will be shown. When the battery is low during use, the 'Low Battery' announcement is heard. Note—the OutForce system cannot be used during charging.
Volume Control:
press the Plus button to increase or press the Minus button to decrease volume. Each audio source can be set for the desired audio level as well.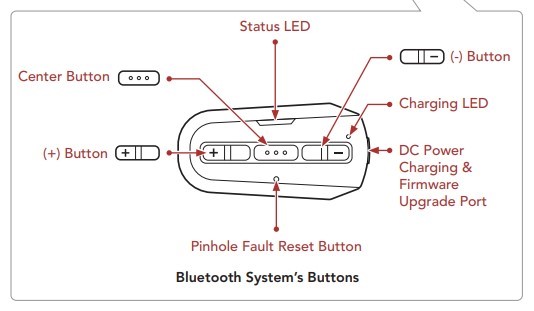 Initial Phone Pairing:
as with virtually all newer Bluetooth systems, Sena provides multiple ways to pair a primary device:
When you initially turn ON the BT system or after rebooting from a Factory Reset by pressing and holding the Centre and Plus buttons for one second, starting the familiar Blue/Red flashing pairing sequence, the 'Phone Pairing' announcement is heard
When the system is turned OFF – press and hold the Centre and Plus buttons for five seconds to directly activate pairing mode; and
When the system is already ON, press and hold the Centre Button for ten seconds to activate pairing mode
Note—when pairing with a device that has a screen/menu, select "OUTFORCE" in the list of detected devices. If a PIN is needed, enter '0000'.
Other Devices:
to pair a second phone or other support devices, press and hold the Centre Button for 15 seconds, once the 'Configuration Menu' announcement is heard, tap the Plus button once—'Second Mobile Phone Pairing' is heard. For a standalone GPS device activate and wait for the 'Configuration Menu' then double tap the Plus button for 'GPS Pairing'.
Advanced Selective Pairing:
Sena's Selective Pairing provides the means to further perfect device connectivity by pairing specific devices for specific audio services with the BT headset, e.g., Hands-Free Profile (phone/telephony) or A2DP (music streaming).
To use this feature, enter the Configuration Menu and when 'Configuration Menu' is heard, tap the Plus button three (3) times—the 'Phone Selective Pairing' announcement is heard, now finish pairing the specific device at this time. To pair a device for specific A2DP use from the Configuration Menu, tap the Plus button four (4) times, and finish the pairing routine.
Phone Use:
To answer a call, tap the Centre button once, to end or reject a call, hold the Centre button for two seconds. To make a call with voice, press the Centre button for three seconds (from stand-by mode) to activate (any) digital assistant on the phone.
Speed dialing is supported if numbers have been entered (assigned) via the Sena Device Manager or the Sena Utility App. If so, press and hold the Centre Button for three seconds to enter the 'Speed Dial' menu and navigate through the announced options with the Plus or Minus buttons.
Music Streaming:
full AVRCP (Audio/Video Remote Control) is available by using the Centre (1s hold for play/pause), Plus (1x tap for volume Up/Down and 1s hold for next track) and Minus (1s hold for previous track) controls.
Music Sharing:
sharing with one BT paired user is done by pressing hold the Centre button for one second during an intercom session; it only takes a couple of seconds for the shared streaming to start; both parties can control the music playback (track forward or track back). Note—audio switching and output limitations are all described in Section 6.2 of the User Guide.
BT Intercom​
Intercom Pairing:
one of, or the quickest way to pair with another compatible system is to use the Sena Smart Intercom Pairing or SIP feature. This QR-code based process provides effortless pairing between you and up to three other users by launching the Sena Utility App, clicking on the Smart Intercom Pairing Menu, and following the steps.
Of course, the tried-and-true input approaches (button sequence) or using the module invoked Configuration Menu work as well—all detailed in the downloadable User's Guide.
Universal Intercom:
as with other Sena and brand devices, the Universal Intercom feature is enabled through use of the BT Hands-Free Profile (HFP) on both devices. There isn't any magic or special adaptation required normally, but this feature does (or can) impact the concurrent use of other paired devices, e.g. a second mobile phone.
BT System Management Tools​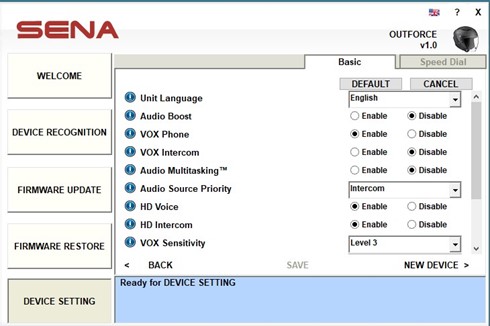 Sena Device Manager:
as shown above, the Device Manager has tenure but supports virtually every Sena system marketed or produced, including third party forms and integrated systems. It does require a compatible PC along with a USB connection, but it is a fail-safe means for updating firmware, selecting device settings, and assigning numbers to Speed Dial.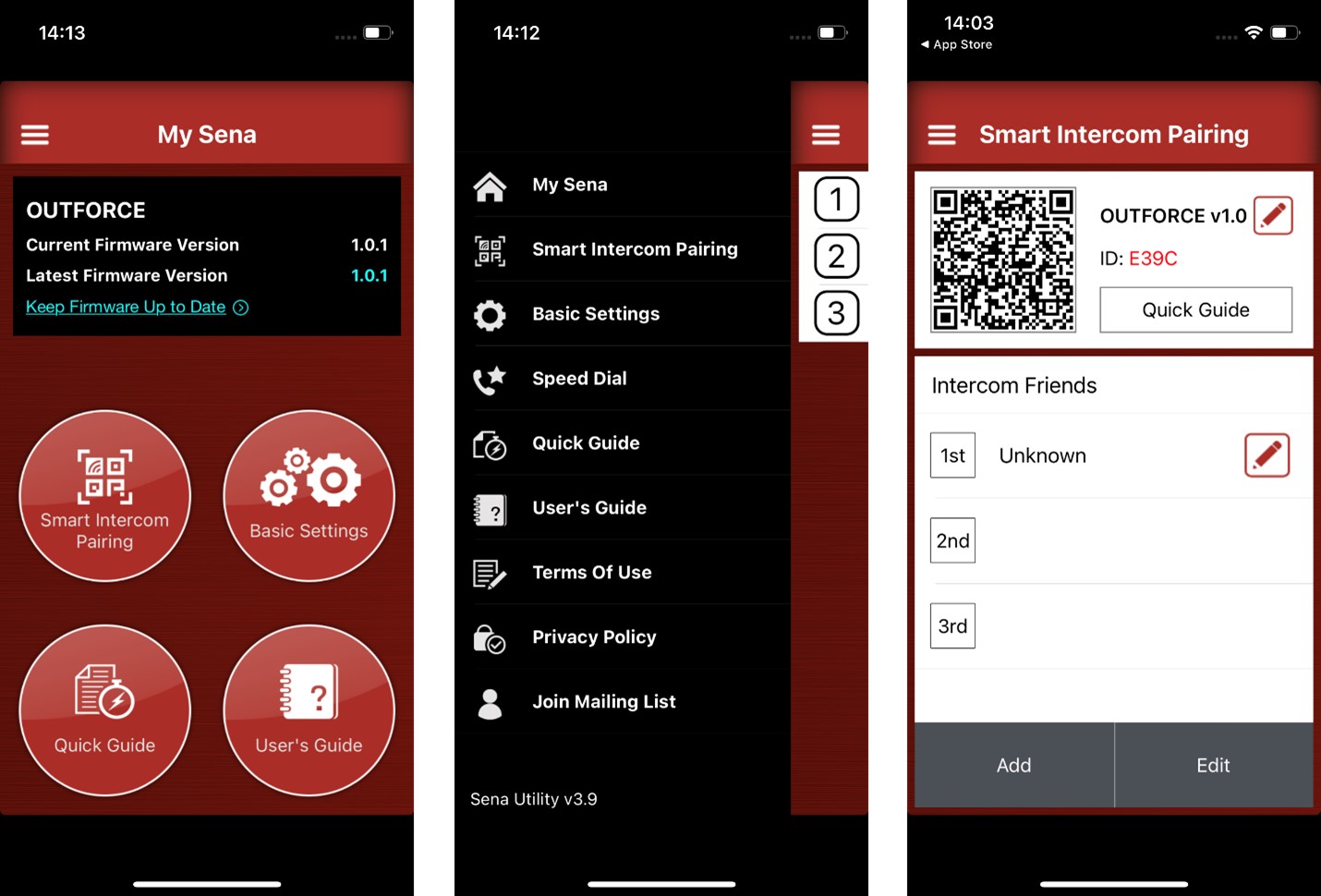 Sena Utility App:
one of Sena's many mobile apps introduced over the years, this one is seemingly the multi-platform 'utility' version that should minimize confusion over which Sena App to use for a specific system or family of systems…
It provides the user with access to the basic settings, downloadable Quick Start and full User Guides for handy device reference connected or otherwise and of course, the Smart Intercom Pairing or SIP feature described earlier.
When connected to the outside world, the App offers up reminders when either an App or system firmware update is available, although said firmware update (still) needs to be done using the wired Sena Device Manager or (perhaps) one of the older Sena WiFi charging/update devices—a test awaiting to be done…
If you want to use everything possible from your headset investment, then knowing what the system can do along with installing and understanding firmware updates is the way to go.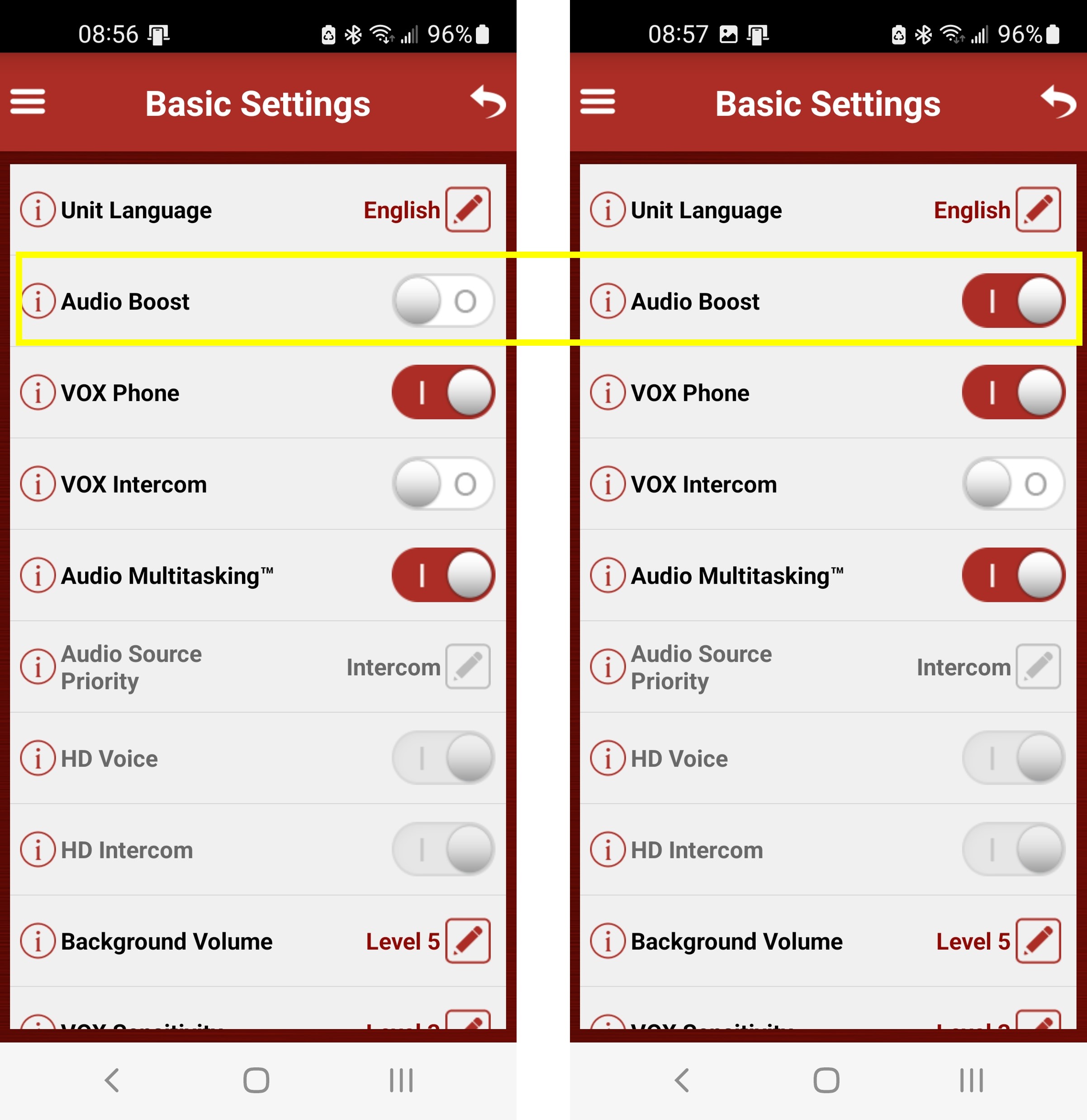 BT System Audio & Audio Multitasking​
While not being able to directly figure out the specific variant of speaker used in the OutForce, there is no doubt that the pieces provide good to very good audio across a wide tonal range although they cannot provide the same outstanding audio performance, including volume output, experienced from top-end systems.
But even when considering the performance capabilities of the
Sena Quantum Series
Impulse Modular Helmet and 50C Camera/BT/MESH system (both under ongoing reviews) that feature SOUND BY Harman Kardon audio components, the audio capabilities of the OutForce are well matched to the other features and performance of this helmet.
And don't forget, as speed (and noise) builds, there are few helmets on the market that will continue to provide across-the-range audio output without noticeable degradation, although most systems, including that found on the OutForce, will continue to provide clear intercom or phone speech.
One setting that can help, found under the Sena Utility App Basic Settings is the 'Audio Boost' control; when enabled the user hears headset audio at a (louder) maximum volume level. This feature basically results in a significant boost to voice audio but at the expense of lower frequency response (for music listening).
The BT system integrated into the OutForce helmet is basic in nature but its firmware, especially the audio multitasking capabilities outlined in the table below supplies a very useful slice of the extensive common look and common feel Sena firmware that is or is among the best available.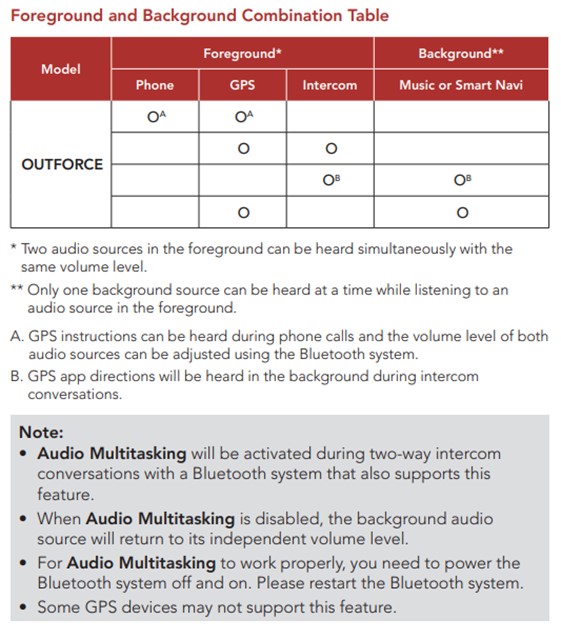 BT System Battery Life​
Sena claims up to 12 hours of 'talk time' for the system, although that isn't defined as phone or intercom talk time and may or may not take into consideration other use, like music streaming or music sharing.
Practically, the talk time listed is realistic when the system is on and there is steady intercom activity, with a full day or two to three half-days of riding accommodation before the battery warning is heard or visually communicated during start-up. And even with continuing intercom and music streaming a full day of use is more than practical.
Charging is quick via the end USB-C port (keep it sealed) and even when well depleted, the battery charges up in 1.5 to 2.0 hours. My only lament of course is that the system cannot be charged while in use – a feature treasured on those systems that can be thus used…
Closing Thoughts on the Sena OutForce Smart Helmet​
The OutForce full face helmet with its integrated BT system is another great offering from Sena and like other helmets in the Sena Smart Helmet line, it's easy to use and (very) comfortable—all day use doesn't bring about any discomfort, even in our hot summer temperatures and humidity. This bodes well for its continued use.
Overall noise management is also good, thanks to the design, shaping and precise fit of insert pieces, a well-sealing face shield when closed completely, the front chin skirt and well shaped but non-obtrusive neck roll layout.
When open the face shield has a bit of excess play and it can wiggle or rattle a bit, especially when raised beyond the slow speed/defog setting, but this issue is typically only seen (and heard) in a disruptive cockpit environment that is also being affected by side wind. Frontally, it is fine.
Comms package-wise, its basic, but full functional, with the BT intercom working out to and beyond 900m or 0.55mi over unobstructed ground and for the most part, audio switching is fast and seamless, and its audio overlay feature provides very good foreground/background layering.
Audio output is good, although volume-wise isn't as good as expected; but don't forget that using the Audio Boost toggle on the App provides better intercom audio as the mid to higher frequencies are accentuated for clarity and output.
But as with virtually any headset, tonal quality and volume related output is always degraded as speed and noise builds. For most of the riding done during this review, that included off-road, secondary trolling and highway runs, comms and audio output performance, in appreciating the factors, was just fine.
Presuming that a good helmet is a constant when riding—whether its part of the ATGATT (nothing less for this rider) or other gear scenarios that include a helmet, gloves and boots, a well-fitting helmet that stays comfortable over the long haul through varying environmental conditions is a good critical thing.
And on that note, a well-fitting helmet equipped with a communications system and paired to a personal smart device is (or can be) key to the overall safety environment and
very
relevant regarding situational awareness; being connected in some form is just smart; only a few motorcycles come equipped with impact or emergency-response capabilities.
Bottom Line:
for around 269.00 USD, the Sena OutForce Smart Helmet with its integrated BT system is a surprisingly good full-face helmet with integrated comms (think turn-key solution) that is also very well priced.
Buy Now
RevZilla
Amazon
Sena
wBW Specs: Sena OutForce Helmet​
Manufacturer: SENA
Price (When Tested): 269.00 USD
Made In: China (YOHE labelled)
Sizes: S, M, L, XL and XXL
Review Date: August 2022
Important Links / Where to Buy​
The post
Sena OutForce Smart Helmet Review
appeared first on
webBikeWorld
.
Continue reading...