Joined

Nov 11, 2011
Messages

7,092
Reaction score

209
Points

63
Location
Spidi's XPD Moto-1 Leather Shoes Review Summary
Review Summary
The XPD Moto-1 Leather Shoes are riding shoes that look better in person than they do in pictures, made out of suede leather with a very breathable internal lining. The OrthoLite insole makes the Moto-1's an absolute pleasure to wear both on and off the bike. Protective components are pretty standard for riding shoes with the exception of an ankle insert on the lateral side only. The women's sizing was very inconsistent but the men's fit fine.
Build Design & Quality
Comfort
Protection
Sizing
Pros
Stylish high-top design that looks brilliant in white
Extremely comfortable with an Ortholite insole that retains its shape
Large tongue hides a pocket for your laces
Very breathable with a perforated lining
CE EN 13634:2017 Certified Level 1
Cons
Sizing may not match what's labeled on the box/shoe
Polyurethane protection on the lateral side only
Michelin rubber soles can become slippery when wet
Suede leather is not as abrasion resistant as genuine leather
3.9
Spidi's XPD Moto-1 Leather Shoes Image Gallery


















































Buy Now
RevZilla
Review Summary​
If you're looking for the main takeaways from this review, here is my summary on the XPD Moto-1 Leather Shoes by Spidi:
The XPD Moto-1's retail for $179.90 USD .
The shoes sport a high-top design and a large tongue with a pocket to hide your laces
Overall design is minimalistic with various color schemes available
The Moto-1's are extremely comfortable to wear
The feel of the Moto-1's is almost indistinguishable from regular streetwear shoes
Suede leather is easy to clean but when doing so be wary that the shoes are not waterproof
The XPD Moto-1's have a reinforced toe, heel, and sole for protection
Ankle insert for protection on the lateral side only
The size shoe you receive may be inconsistent with the sewn-in label
Spidi XPD Moto-1 Leather Shoes​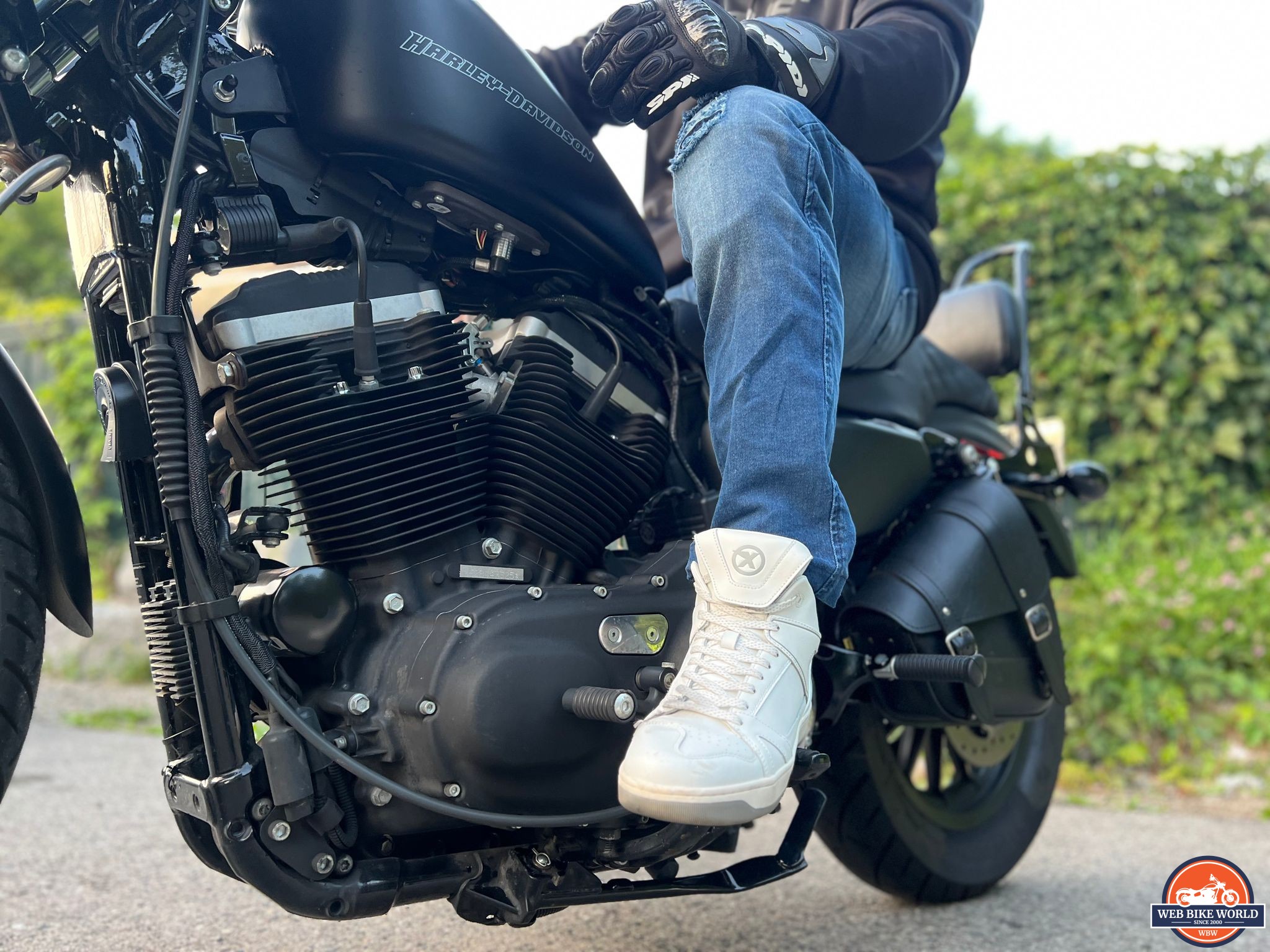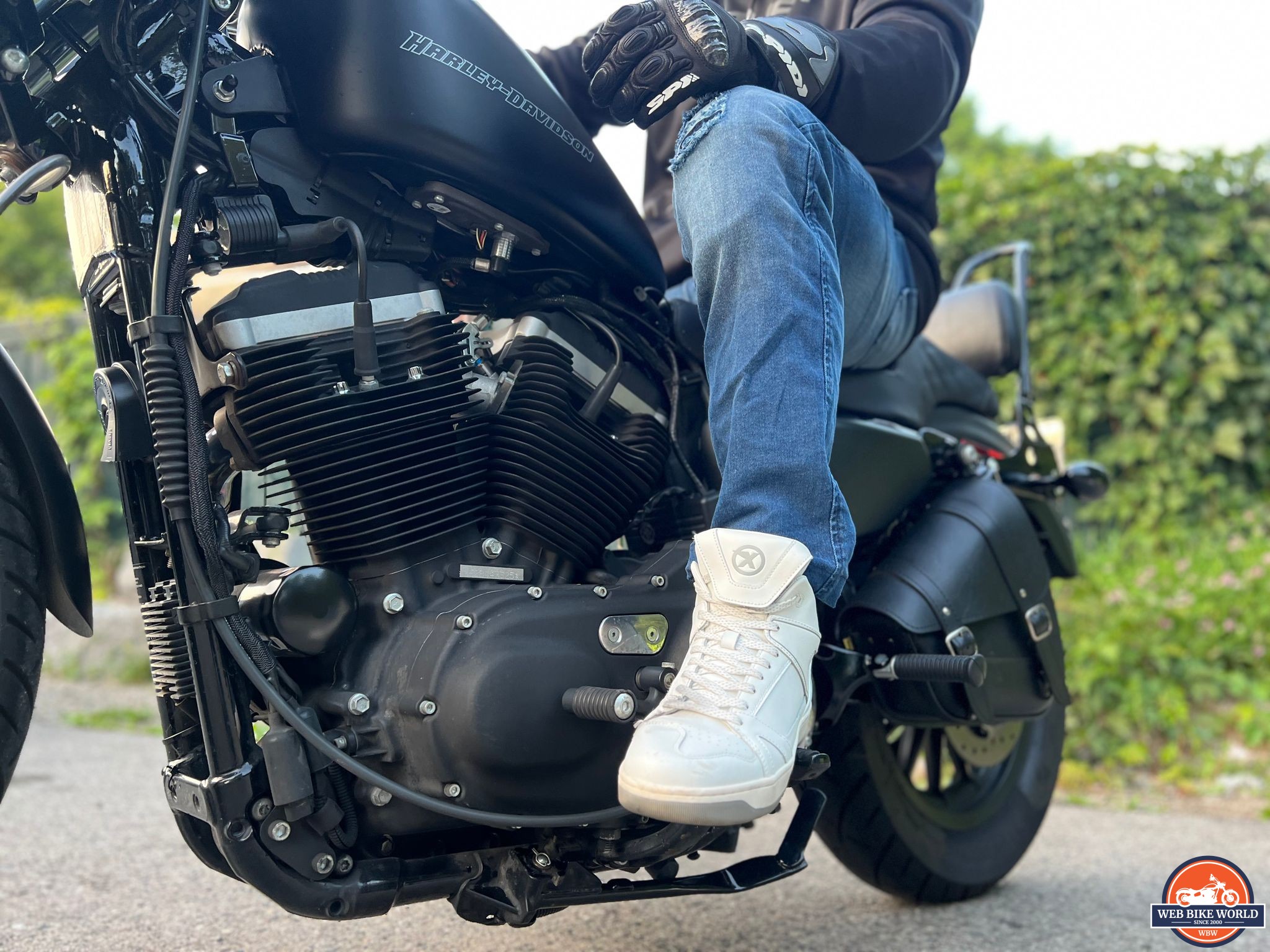 Take a look in my closet and you'll find numerous pairs of all-white sneakers. Adidas, Nike, and even Vessi; I've got a little bit of variety to choose from. While the brands differ, they've all got one thing in common – they're all white.
I am not a
sneakerhead
by any means. If they're comfortable and white, I buy them. Ashley is often on my case about switching things up and adding in some color. Queue my typical response;
"But why? White goes with everything."
In the world of motorcycle boots and shoes white simply does not exist so I'm not left with much choice. I either wear streetwear and leave my feet unprotected or choose from the dark color tones that dominate the market. Or at least, that's how the story
used
to go…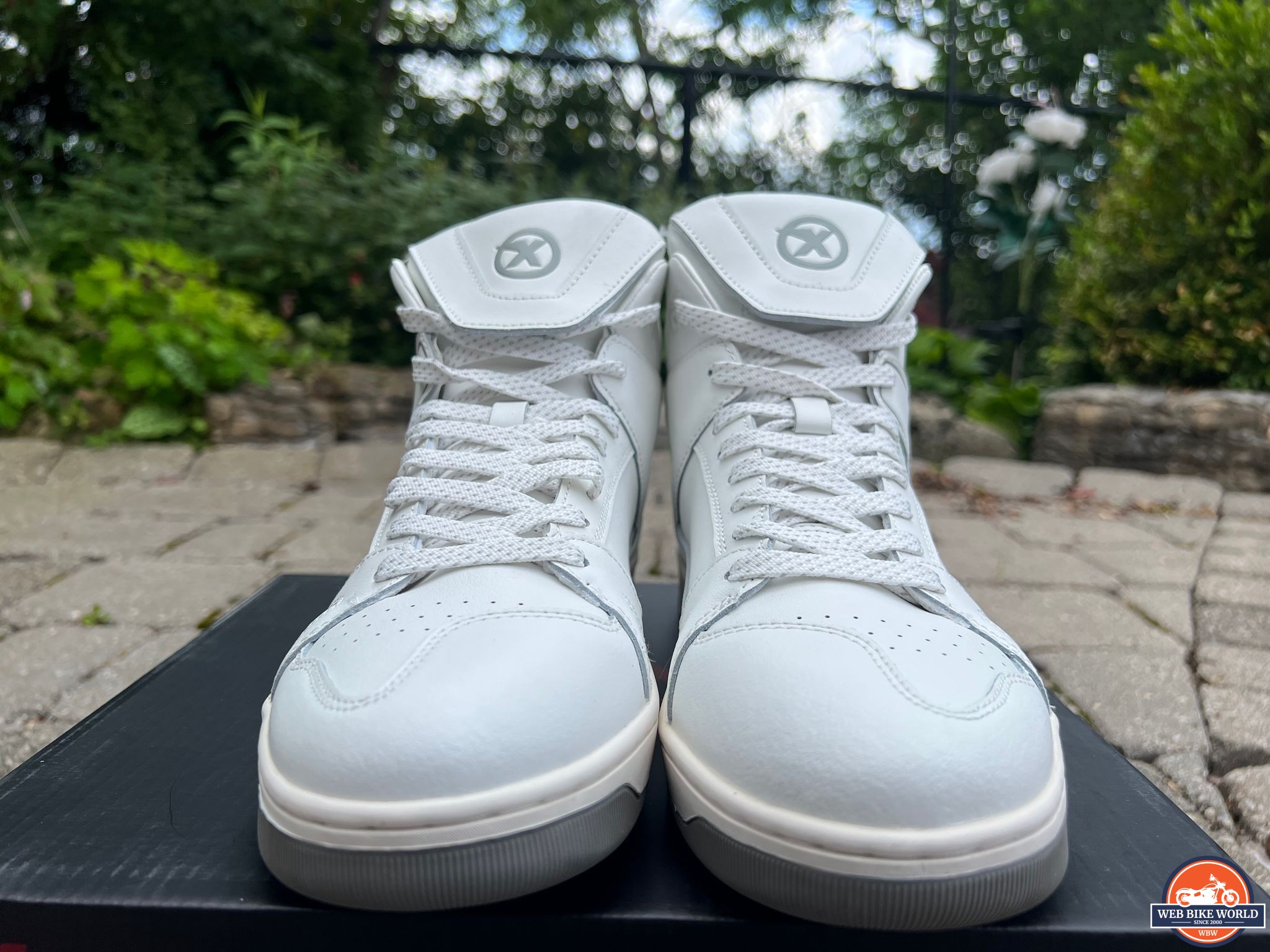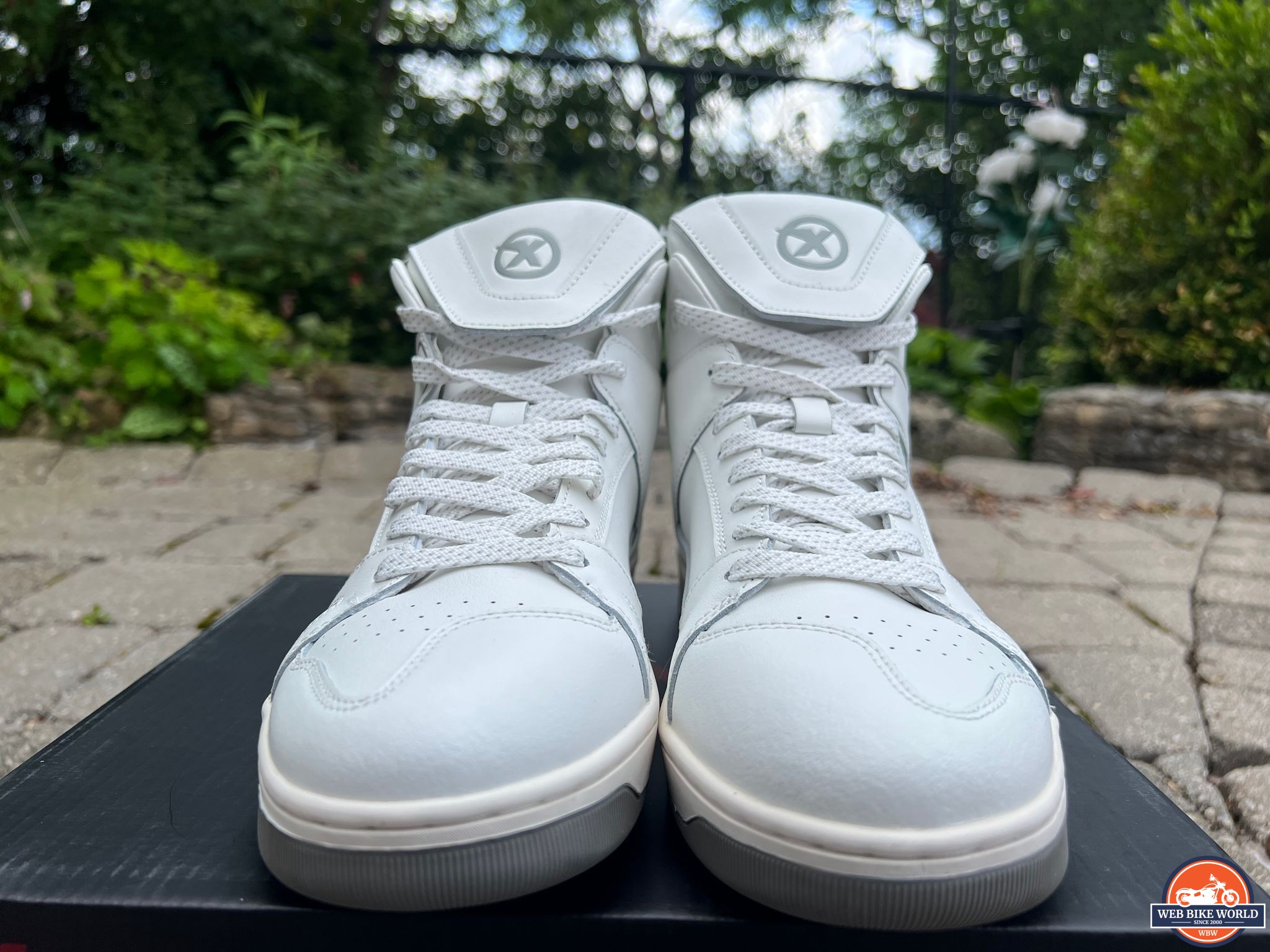 XPD Moto-1's​
I had been wearing my
TCX Street 3 Air's
for quite some time and was in the market for a new pair of riding shoes. As I'm sure you all know by now, I am always on the lookout for riding gear that can pass as streetwear.
One fateful night as I scrolled through RevZilla I came face to face with Spidi's XPD-Moto-1 Leather shoes. The all-white leather immediately caught my attention and I began firing emails off left and right as these shoes were
exactly
what I was looking for. Short boots are my style, but they aren't for everybody.
Each style of boots
has its own unique set of pros and cons.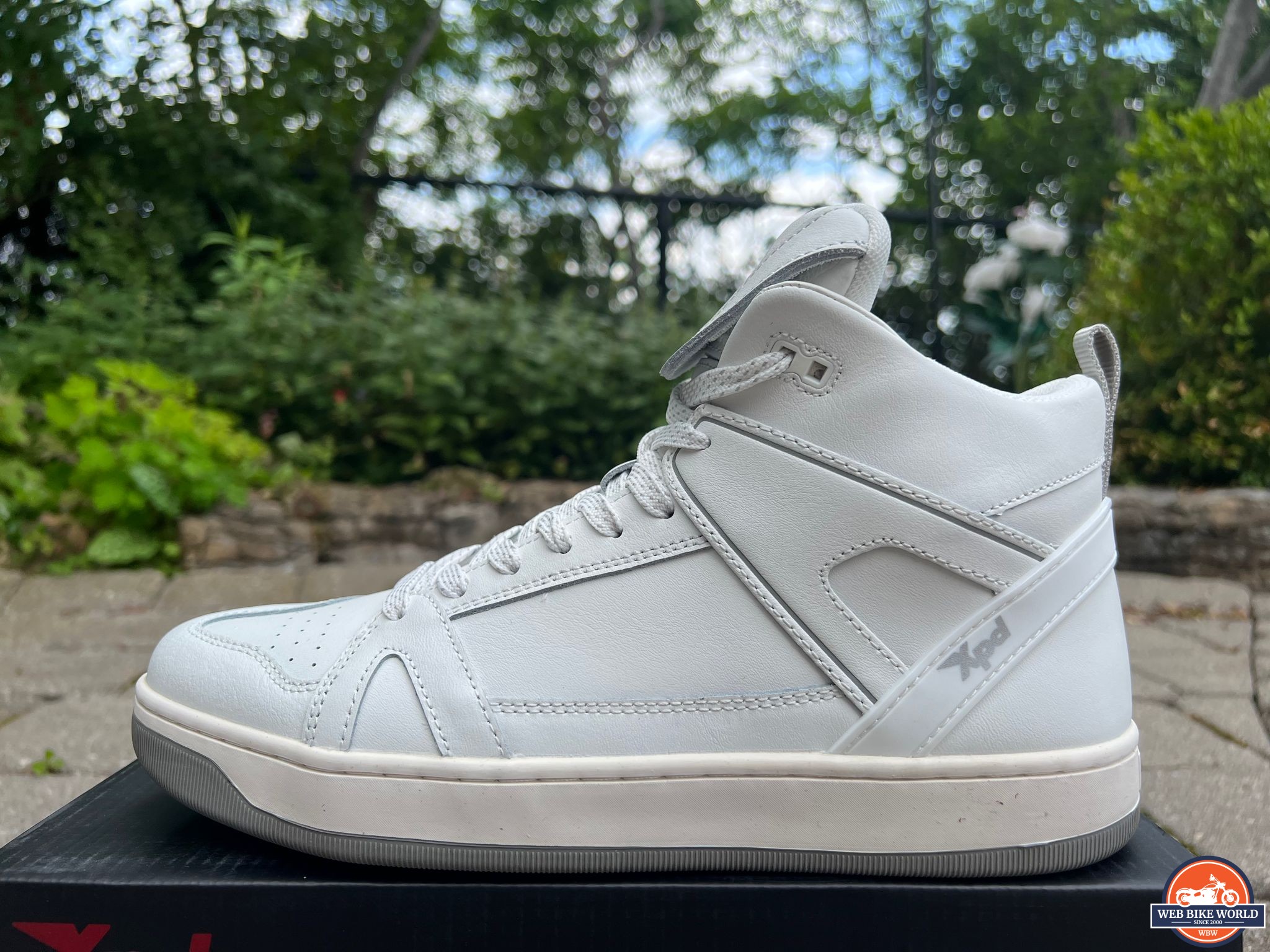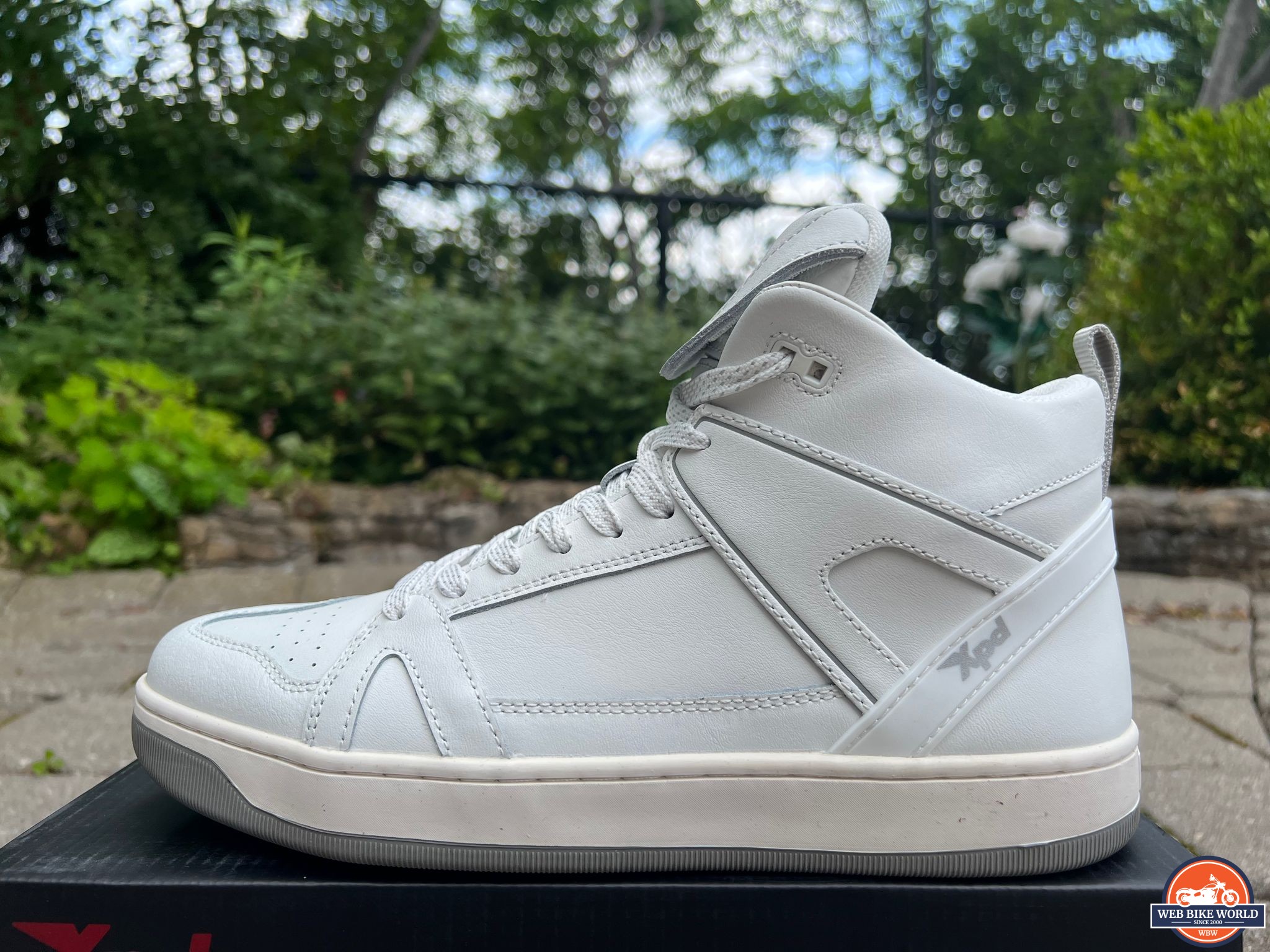 It wasn't long until we were in contact with Mark McPerry, the sales manager for Spidi. He hooked me up with a pair of XPD Moto-1's and I've put them through the ringer the last couple of weeks to bring you my honest review.
Be sure to check back with us frequently as Spidi sent us some other gear to sample as well! I've got a
full lineup of reviews
coming your way for both men and women.
First Impressions​
Out of the box, you can't tell these shoes apart from streetwear. I sent a picture to a couple of buddies and their initial impression was the same as mine; the shoes look great. You could pass the Moto-1's off as a pair of high-tops you picked off the shelf from Footlocker.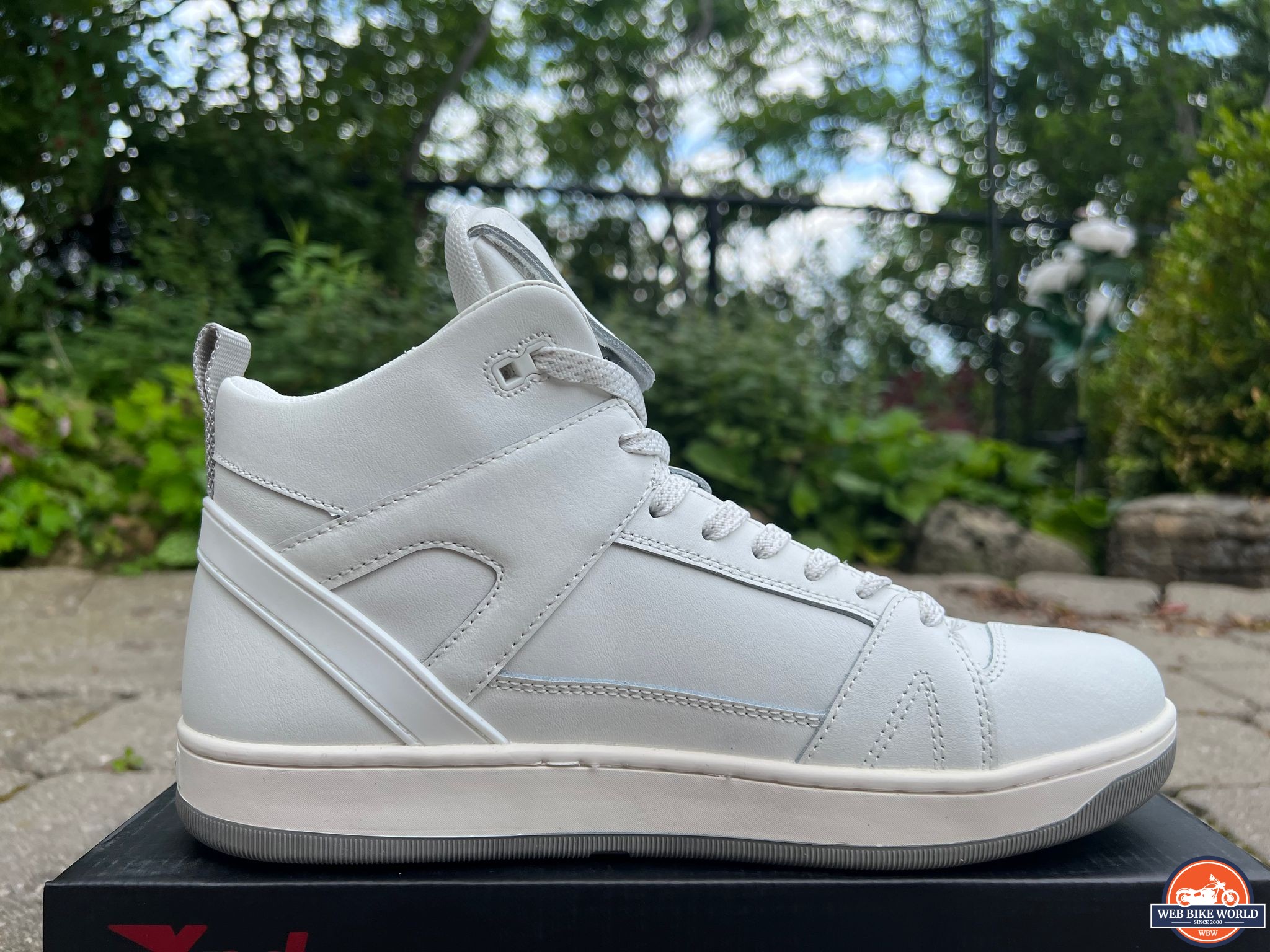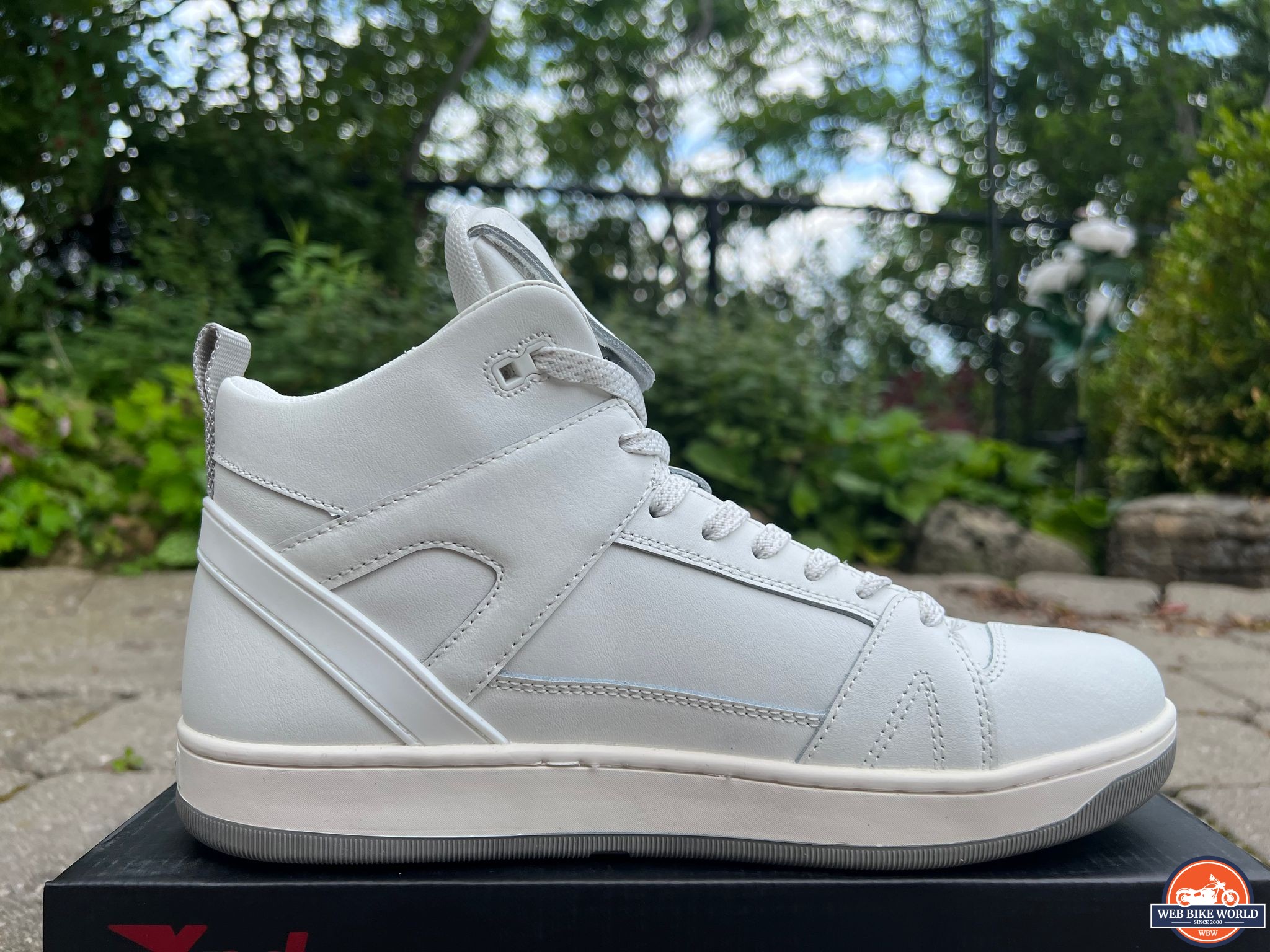 Aside from the looks, the shoes felt great, and I mean
really
great. They were tight where they needed to be, but also soft and supportive in areas you'd expect. All in all, the shoes felt well-made and comfortable to wear.
High Top Design​
The XPD Moto-1's are a suede leather shoe that has been designed to mimic everyday high-top shoes. They are available in a wide variety of colors, including;
White
Black
Black/White/Red
Grey/Black/Blue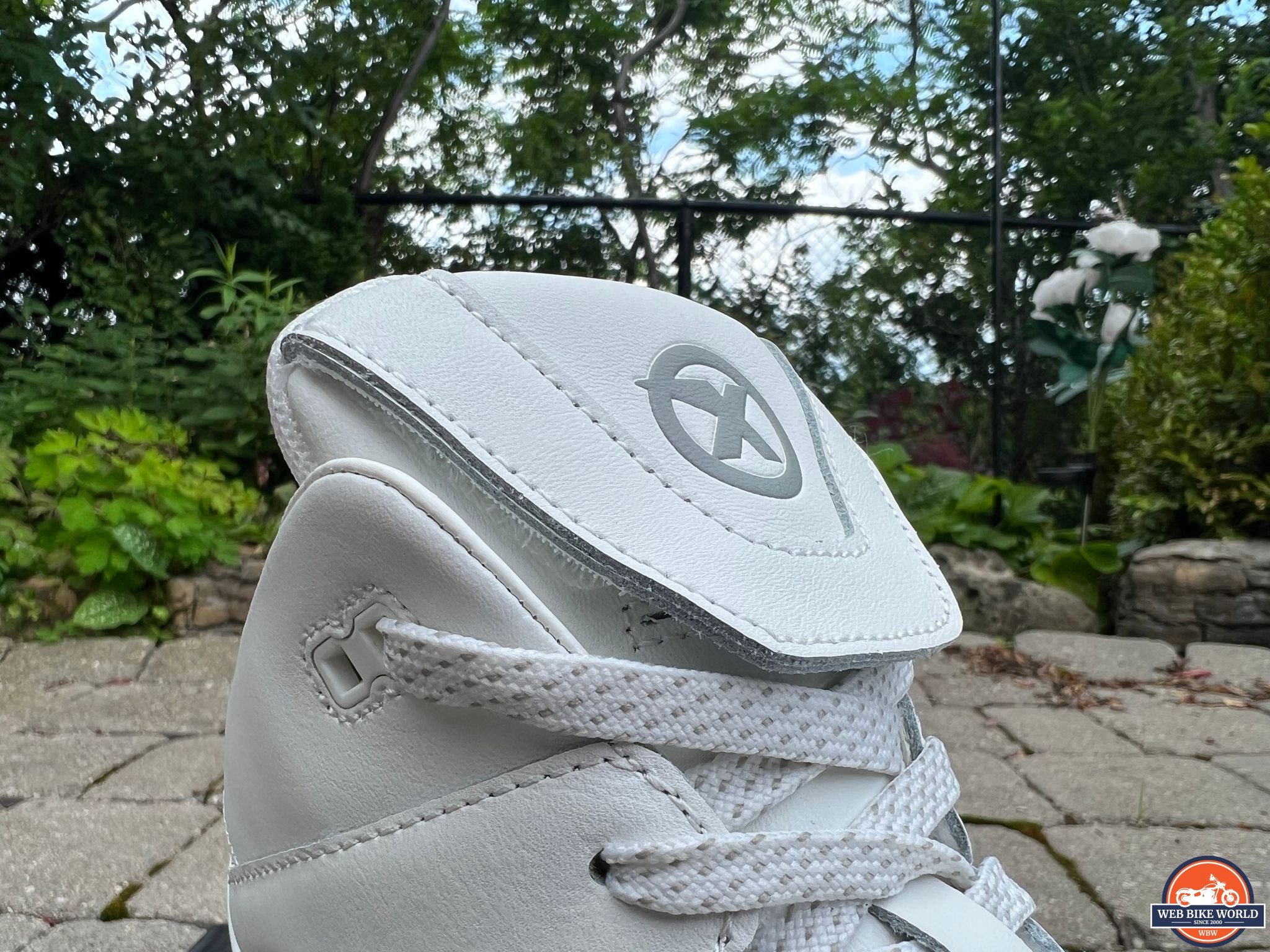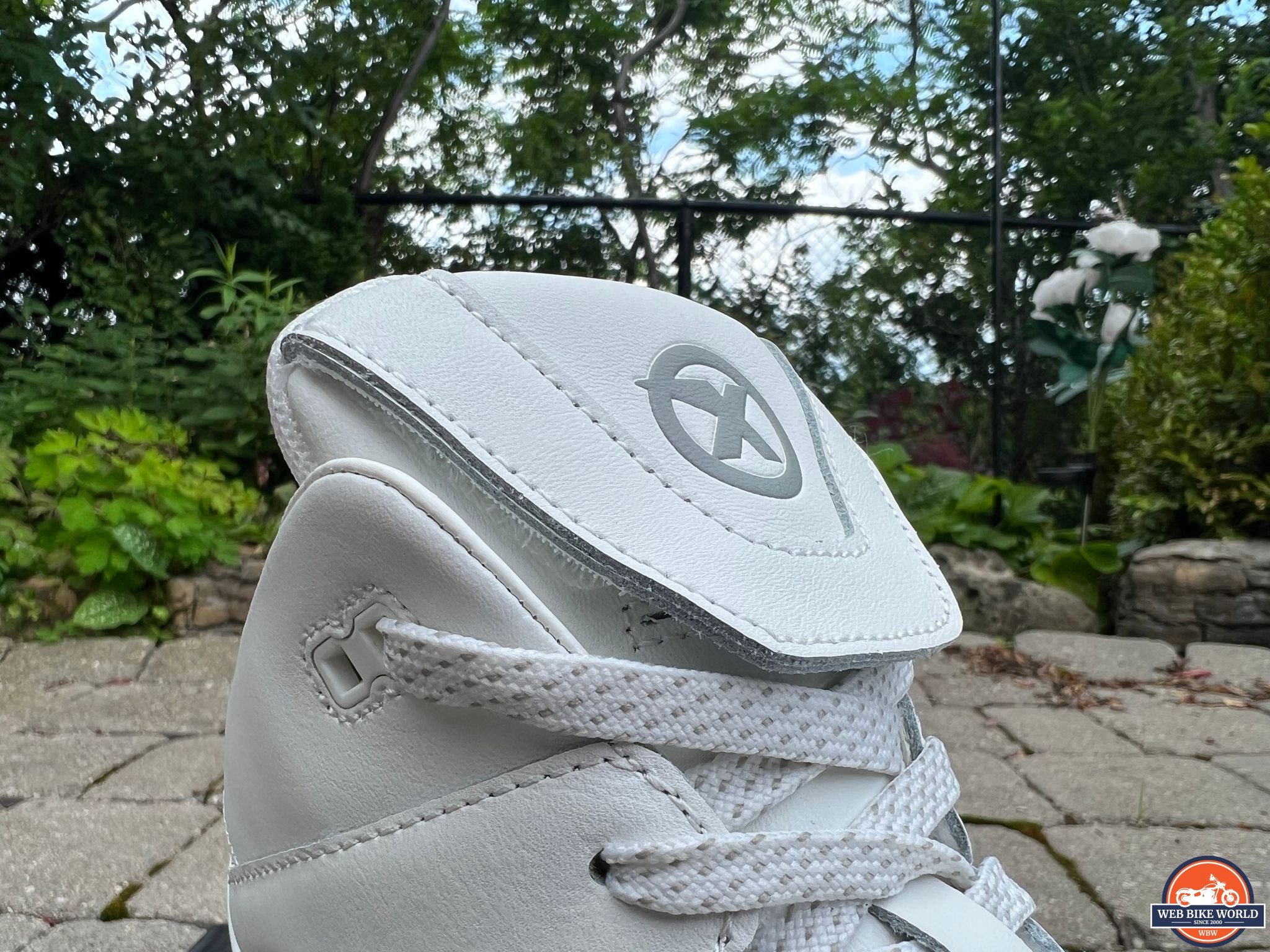 The shoes sport a large folding tongue which conceals a convenient pocket for your laces. I found it to be very effective and a nice touch that allowed me to tie the shoes as tight as I wanted without worrying about the laces interfering with my style.
The toe of the shoe is reinforced so feel free to bang out gears as aggressively as you please. It is made out of the same suede leather as the rest of the shoe and held up well over my testing period. Like most other shoes, the toe is perforated to allow your foot to breathe.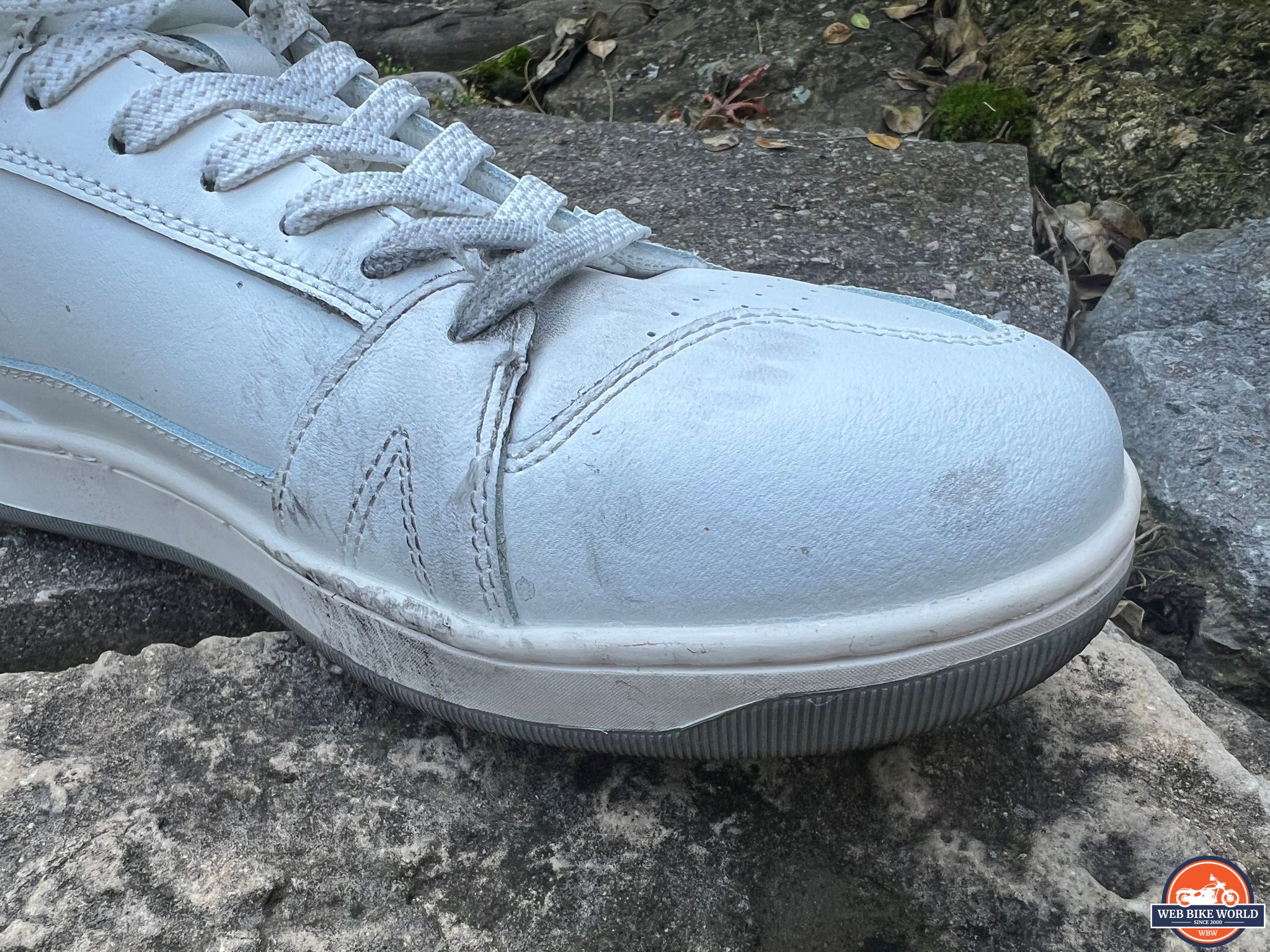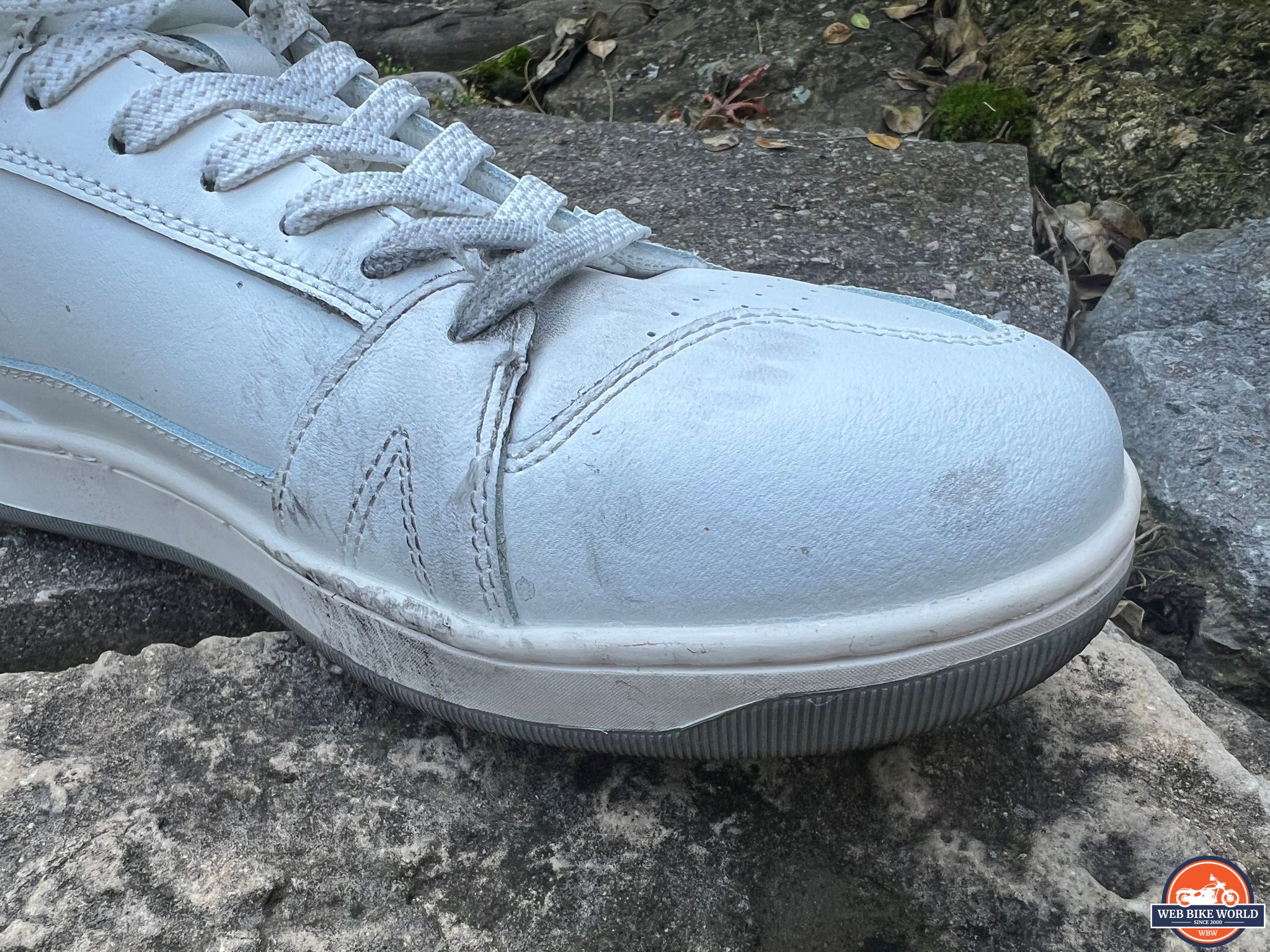 As you can see from the photo above, I have a bad habit of shifting with the top of my foot, closer to the laces, as opposed to on the toe as the design intends. The surrounding leather and laces began to turn black and mark up from my shift lever.
I was very pleased to learn that the leather was extremely easy to clean without much effort at all. After a few swipes of a Mr. Clean magic eraser, the suede leather looked as good as it did on Day 1. The laces, however, took a bit more scrubbing but that was to be expected.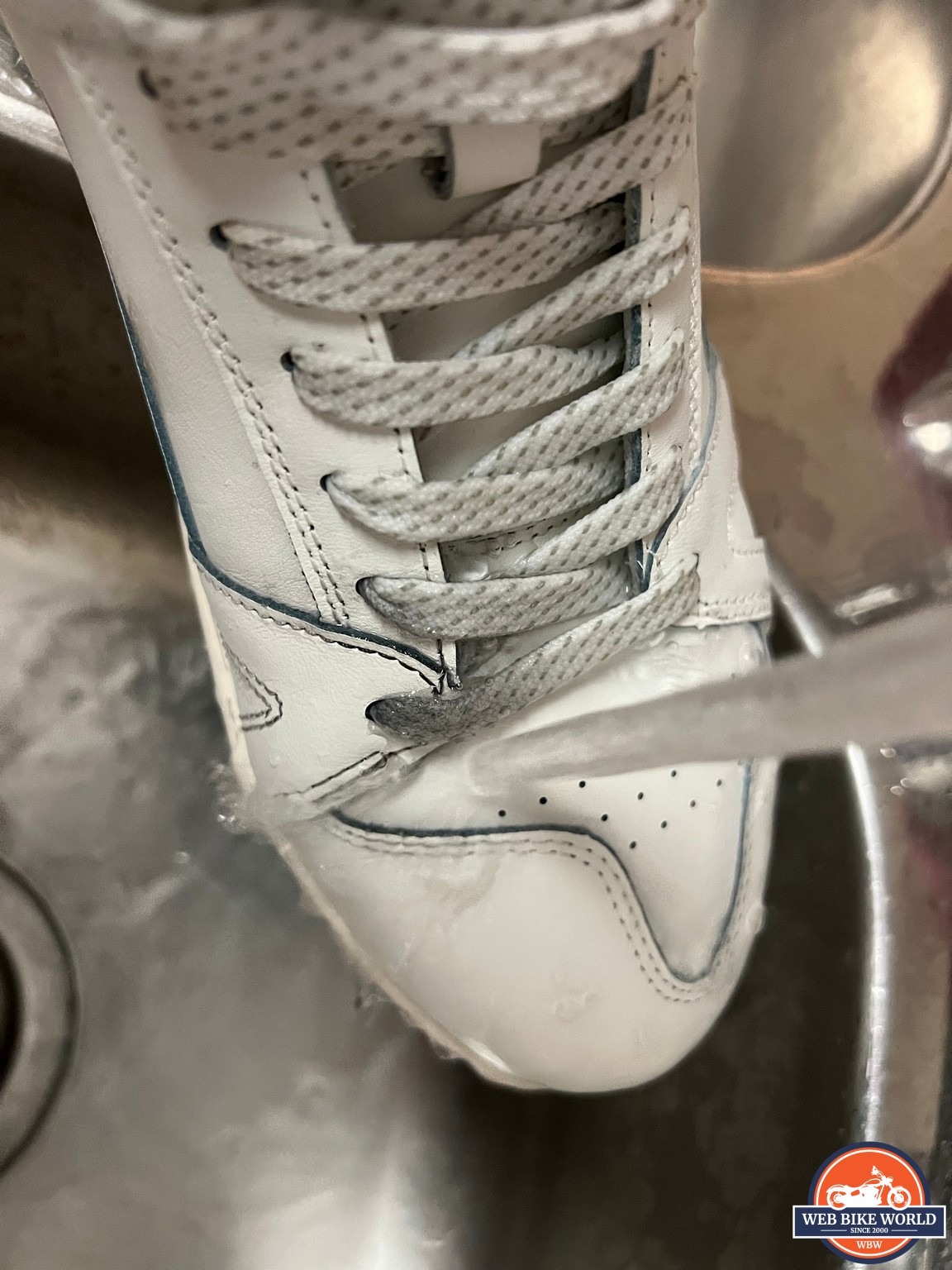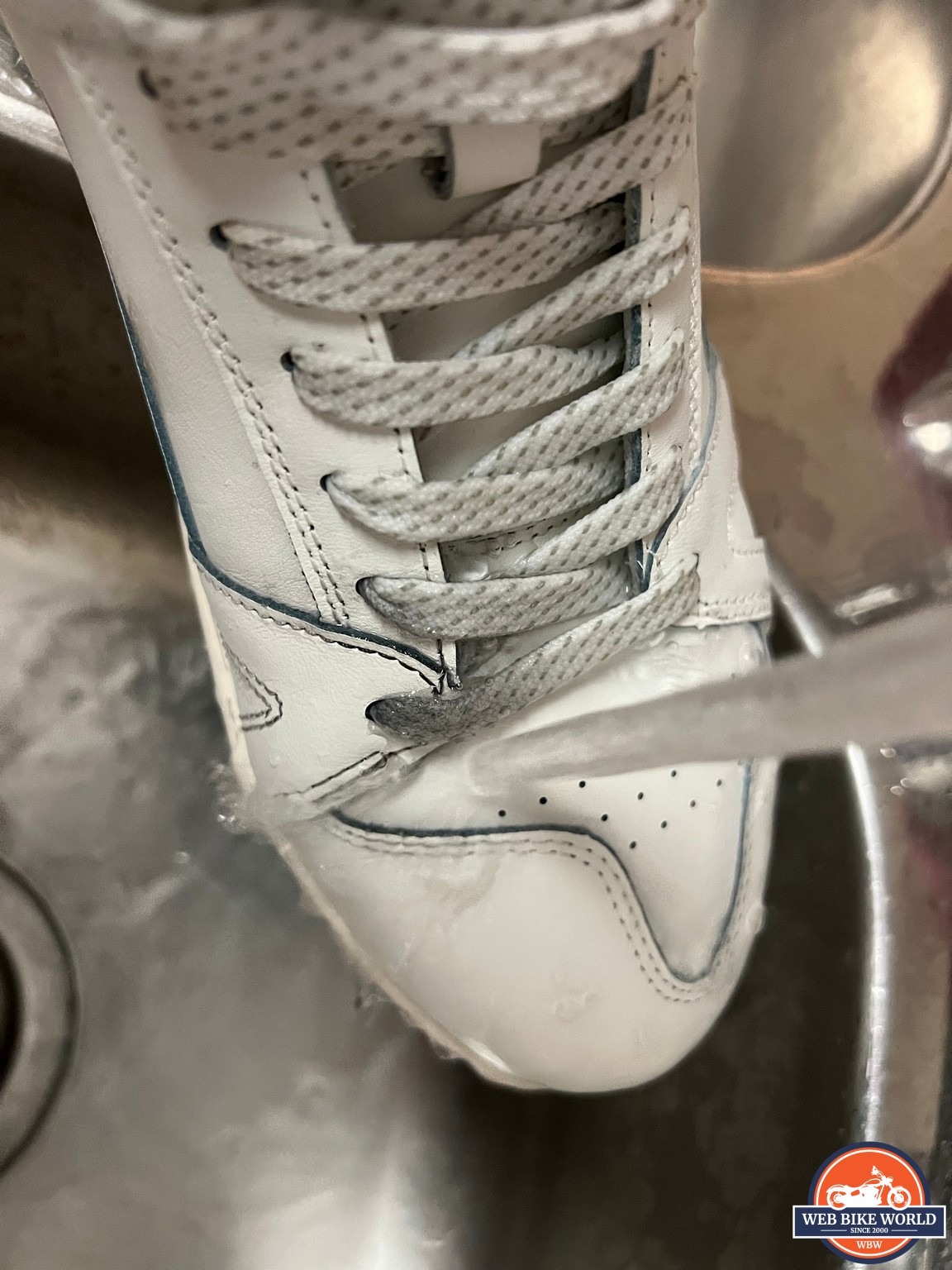 Throughout the cleaning process, I learned that the XPD Moto-1's are not waterproof. The internal components were soaked after just a few seconds under the tap. The shoes are not advertised as waterproof, and as such I cannot fault them for it. If waterproof is what you're after, the
TCX Blend 2 WP Boots
may be a better fit for you.
The back of the shoe is plain with a pull tab that came in handy. The ankles of these shoes are reinforced for your protection. As such, I found that sliding my foot in could be difficult if I didn't completely loosen the laces. The pull tab gave me some leverage to avoid bending or creasing the heel.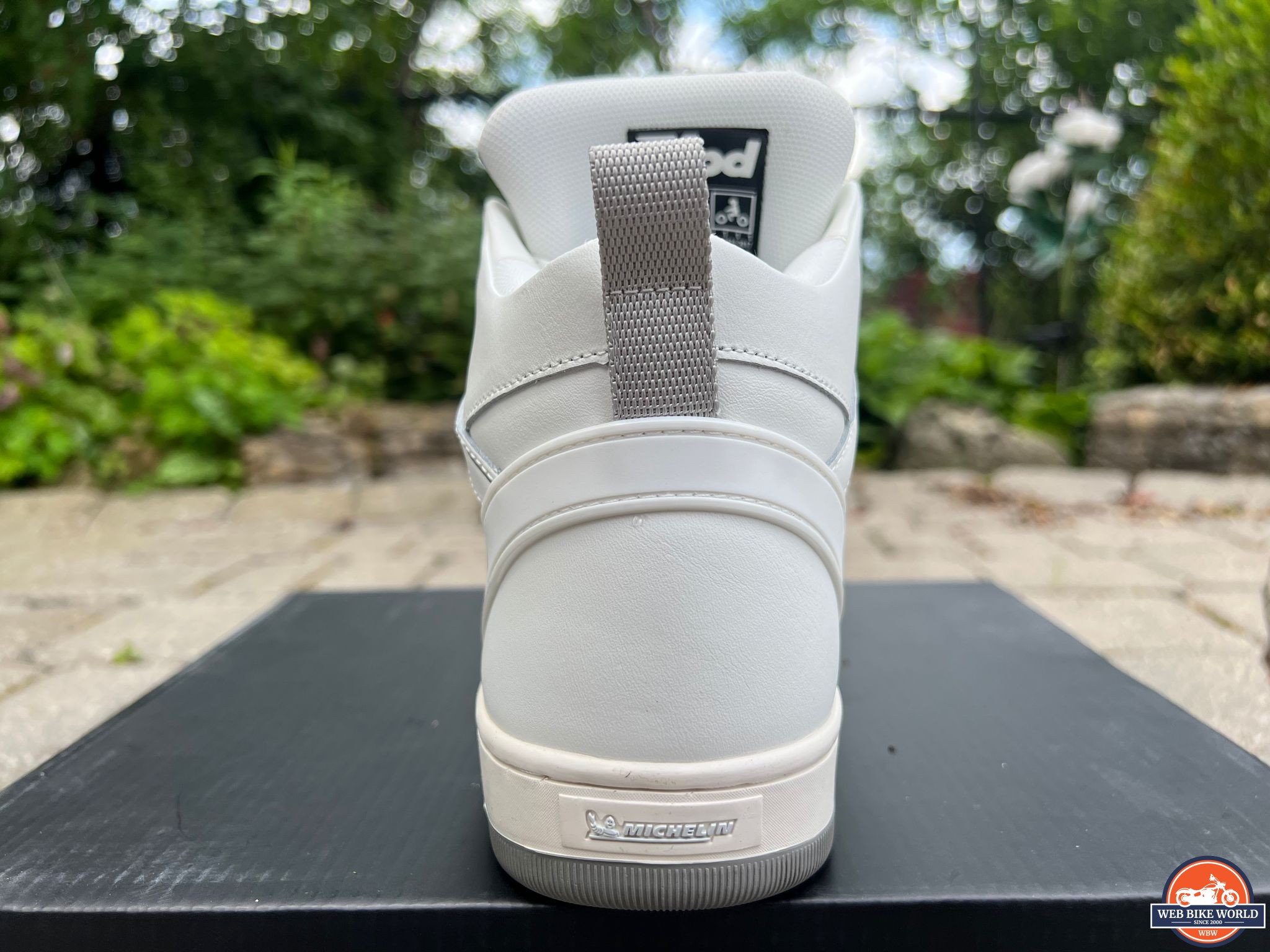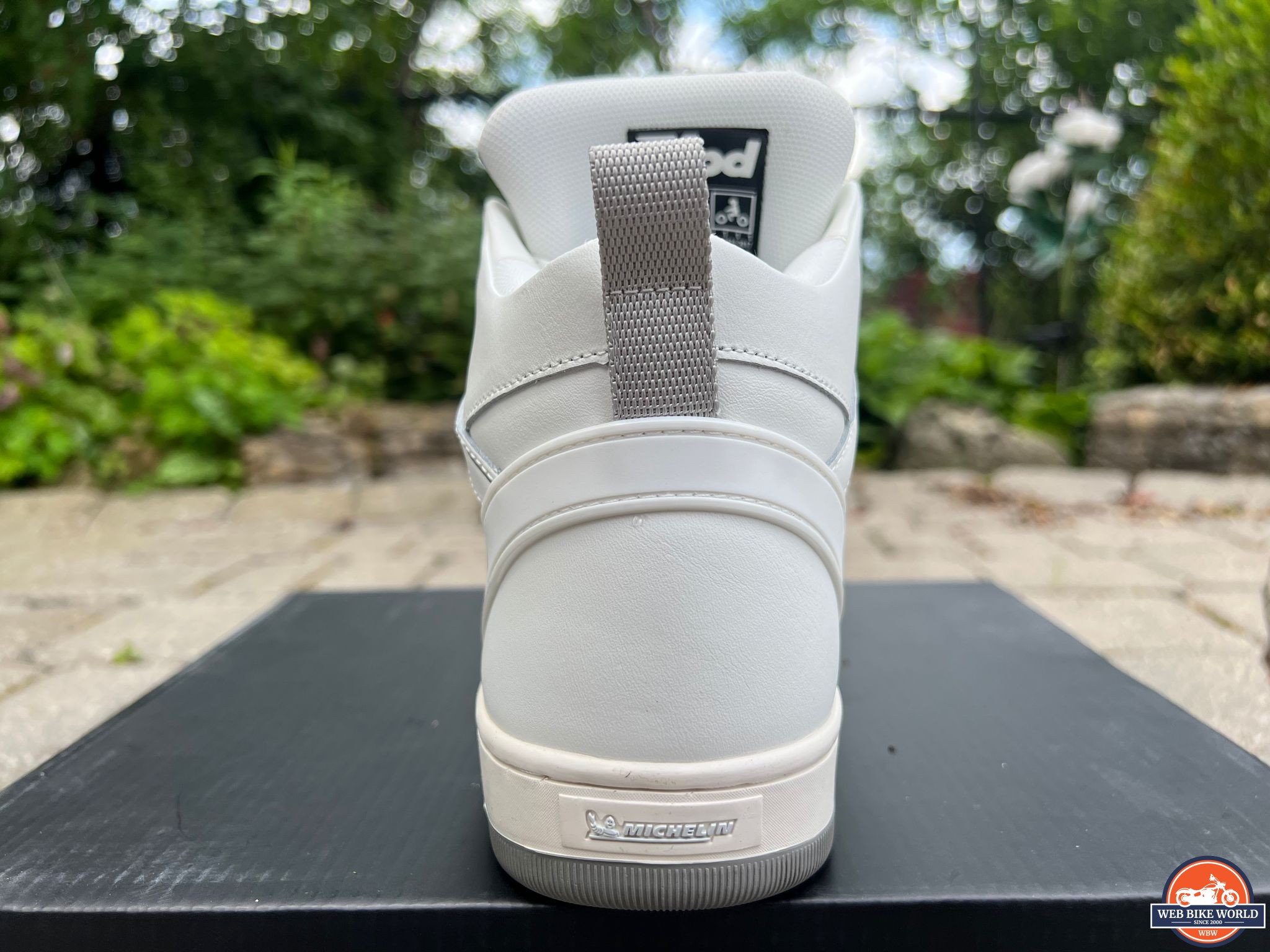 Sprinkled through the shoe are various pieces of reflective material that'll help you stay visible in low-light conditions. In my opinion, the reflective components aren't much of a selling feature but more of a nice touch.
For the sole, Spidi has made use of Michelin rubber that is designed to handle anything you throw at it. I found the sole to be a great addition with plenty of traction when dry, but an entirely different story when wet. I'll touch on this more under
Protection
.
Design Rating: 85%​
The design of these shoes is fairly basic but that's exactly what I like about it. They are discreet and easily passable as streetwear. While I found the tongue to be a bit over the top in terms of size, the hidden pockets for the laces was a much-welcomed feature.
As you saw above, the reinforced toe wasn't of much use to me but is a necessary feature for all riding shoes. Without it, you will begin to wear away the material after repeated use. The reflective areas are very subtle and don't take away from the overall style of the shoe.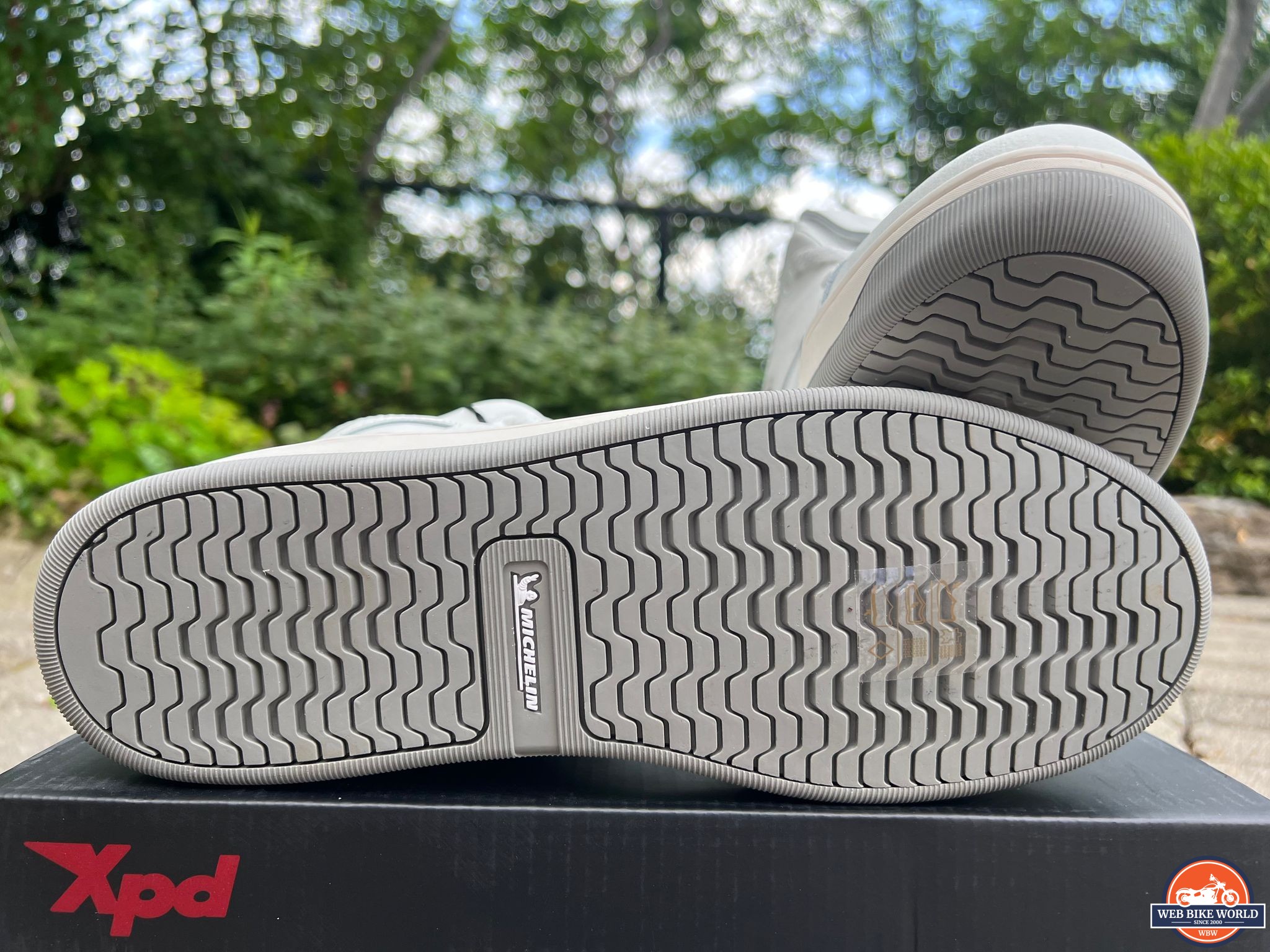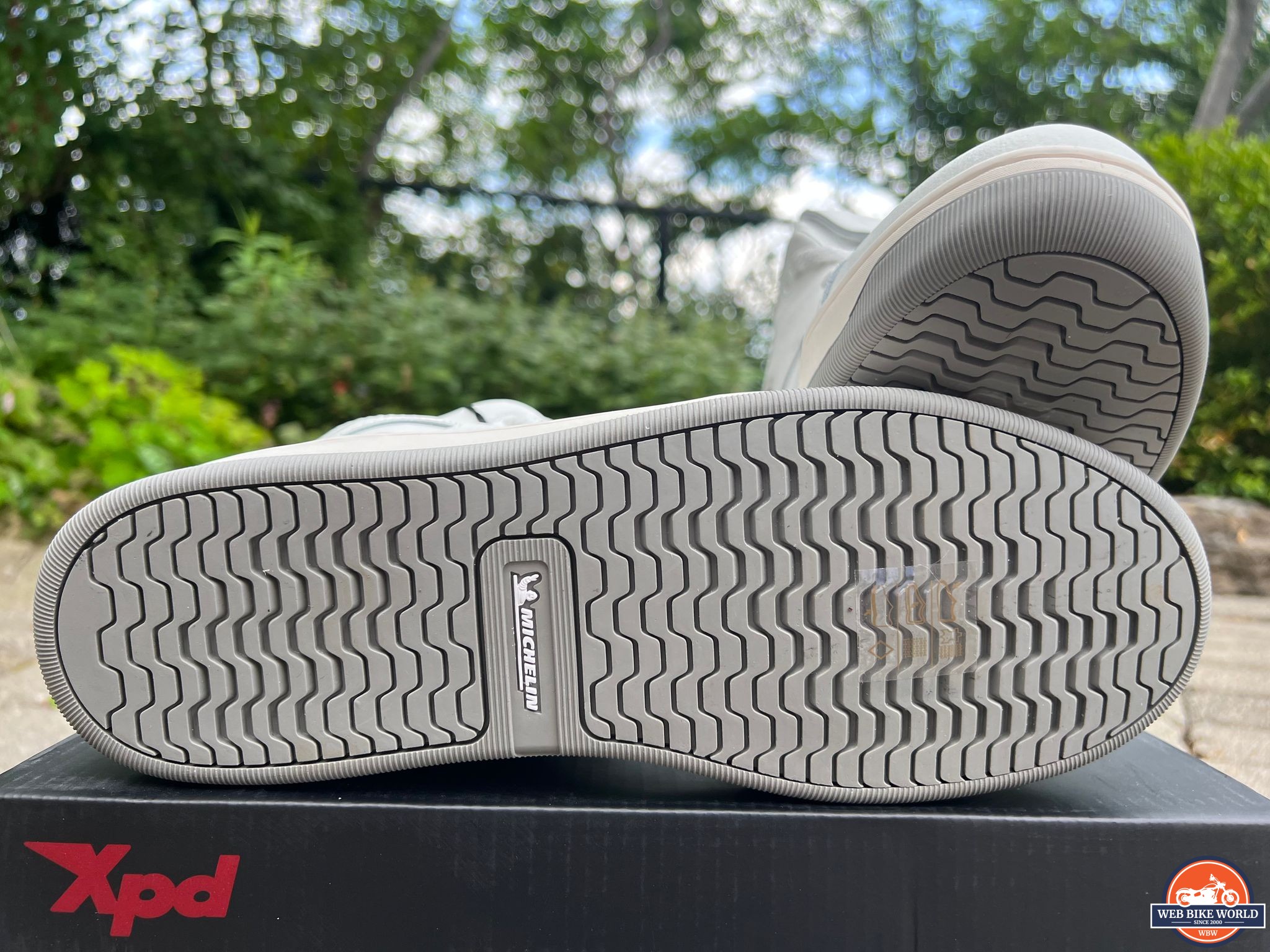 The shoes markup fairly easily but that is to be expected from the all-white design, and as such I didn't let this affect my overall score. In all honesty, I am a big fan of how easy it was to clean them, even if the laces did require a bit more scrubbing.
Overall, the simplicity of the XPD Moto-1 is what drew me to them in the first place and Spidi has definitely delivered in terms of design. If I could have one wish, it would be for Spidi to revamp the white Moto-1's with a matching sole. While these shoes look good as is, I believe that a white sole would take them to the next level.
Exceptionally Comfortable​
Would you believe me if I told you I'm wearing the Moto-1's as I write this?
I slipped them on for a quick refresher before writing about the shoe design, got distracted by incoming emails, and soon found myself writing while still wearing them.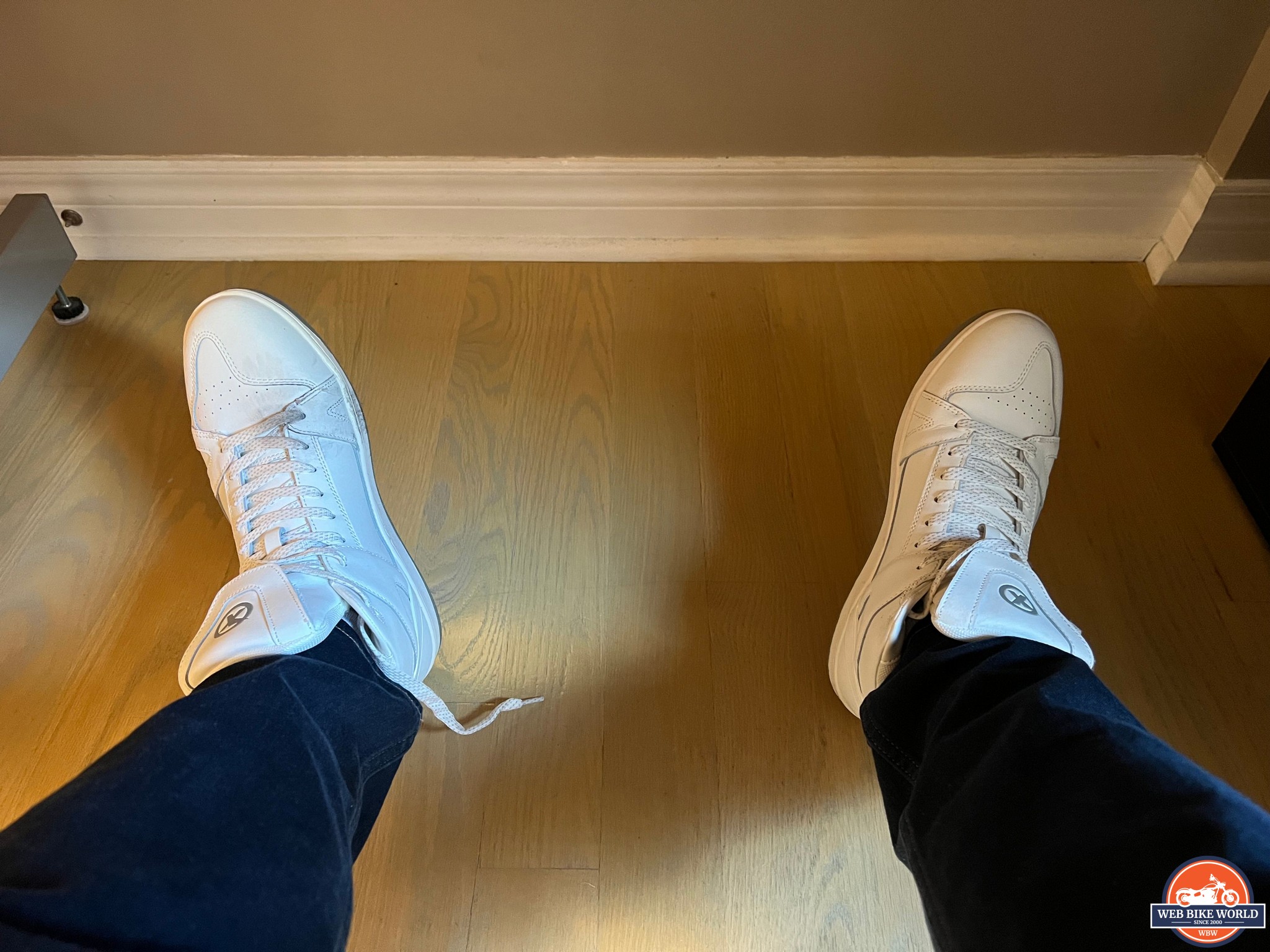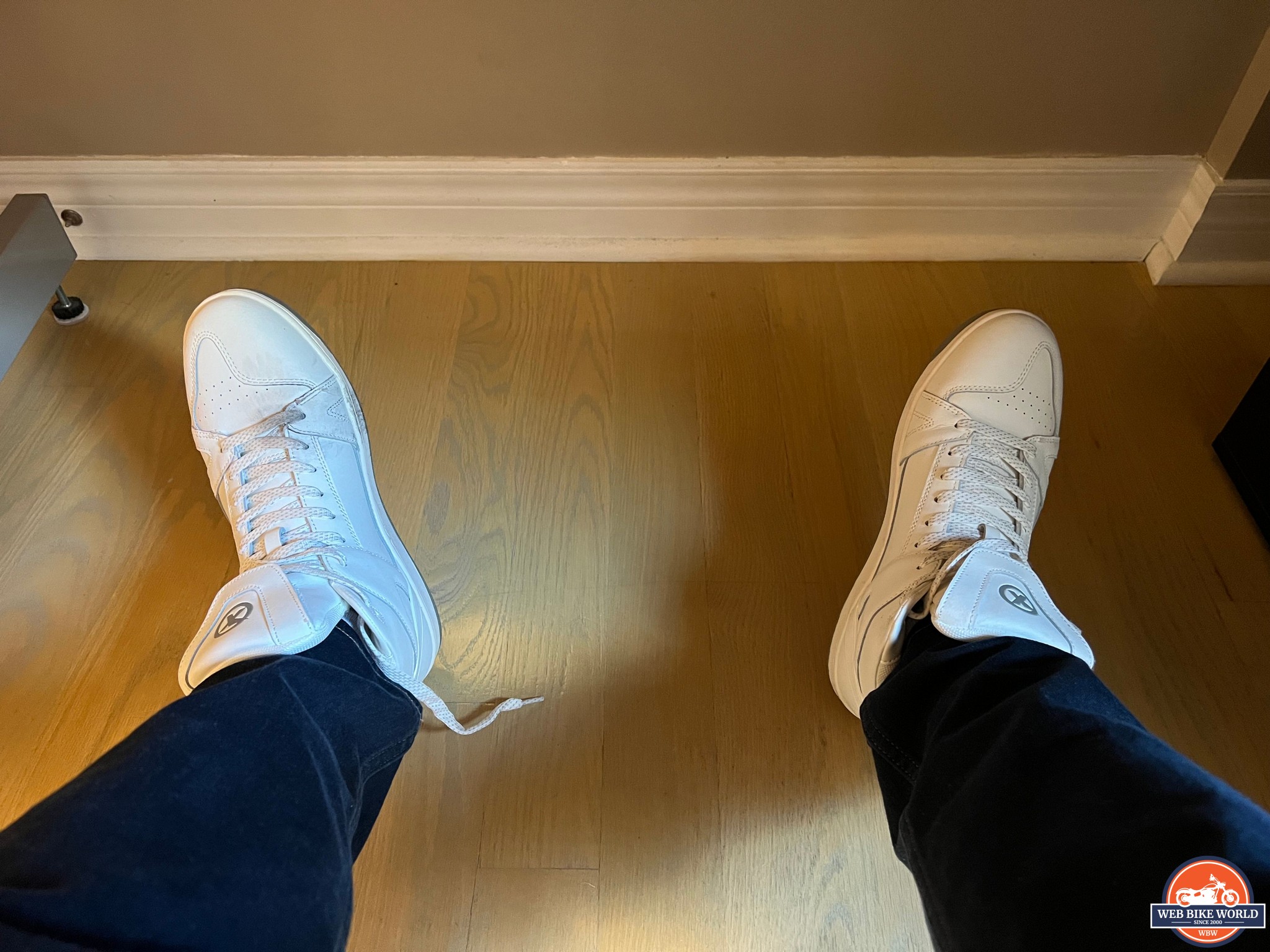 In terms of comfort, it's been hard to find a difference between the Moto-1's and other shoes I own. One thing is for sure, I've bought Nikes in the past that are far less breathable than these shoes. Thick or thin, I can wear whatever style of socks I want without worrying about my feet sweating.
Spidi has incorporated a perforated mesh/net fabric lining inside the Moto-1's. You can really feel the difference when you slide your foot in and the fabric is
cool.
They also come outfitted with an OrthoLite insole. I did some
research into it
and it turns out that the OrthoLite insole is over 95% breathable!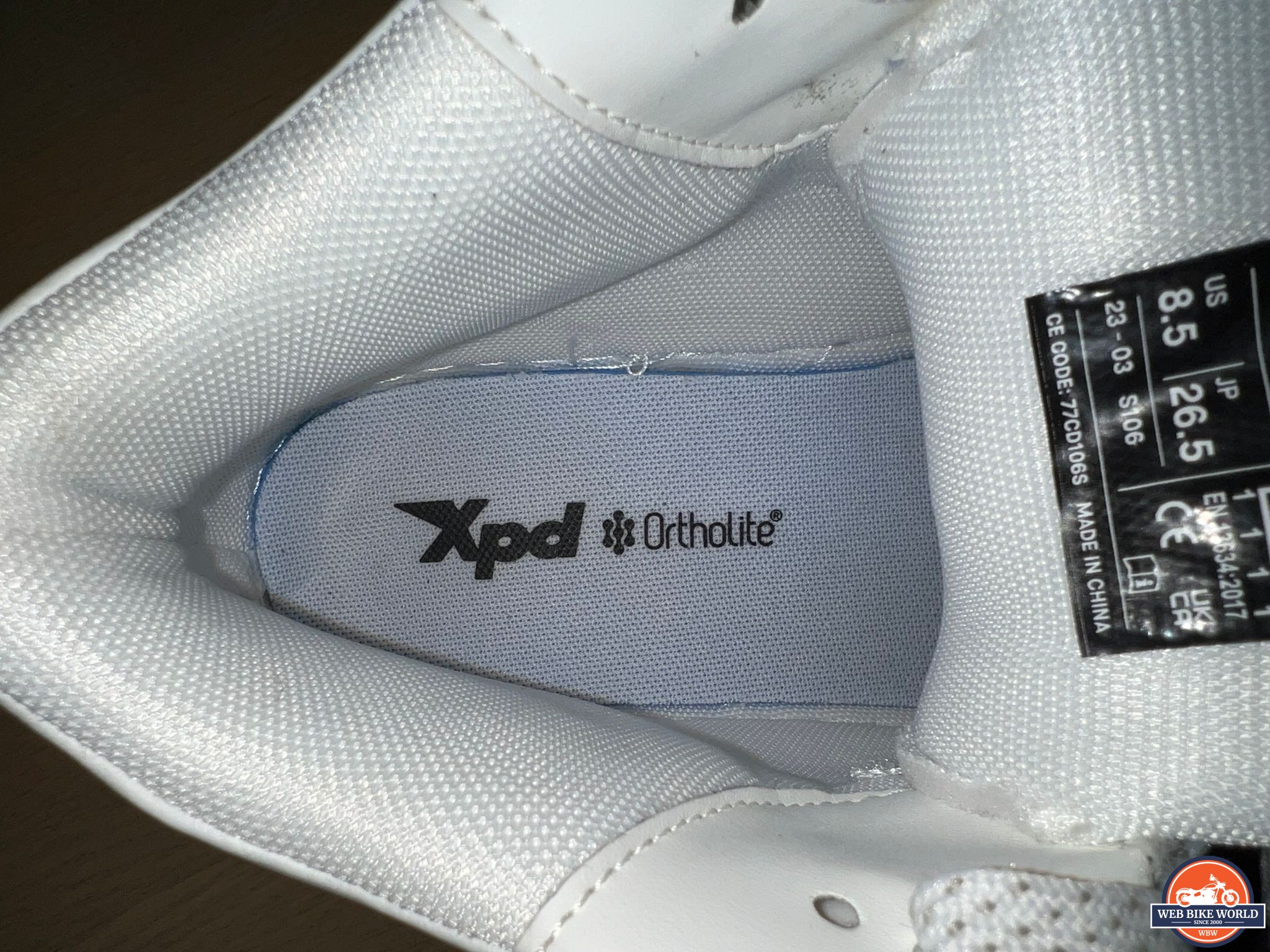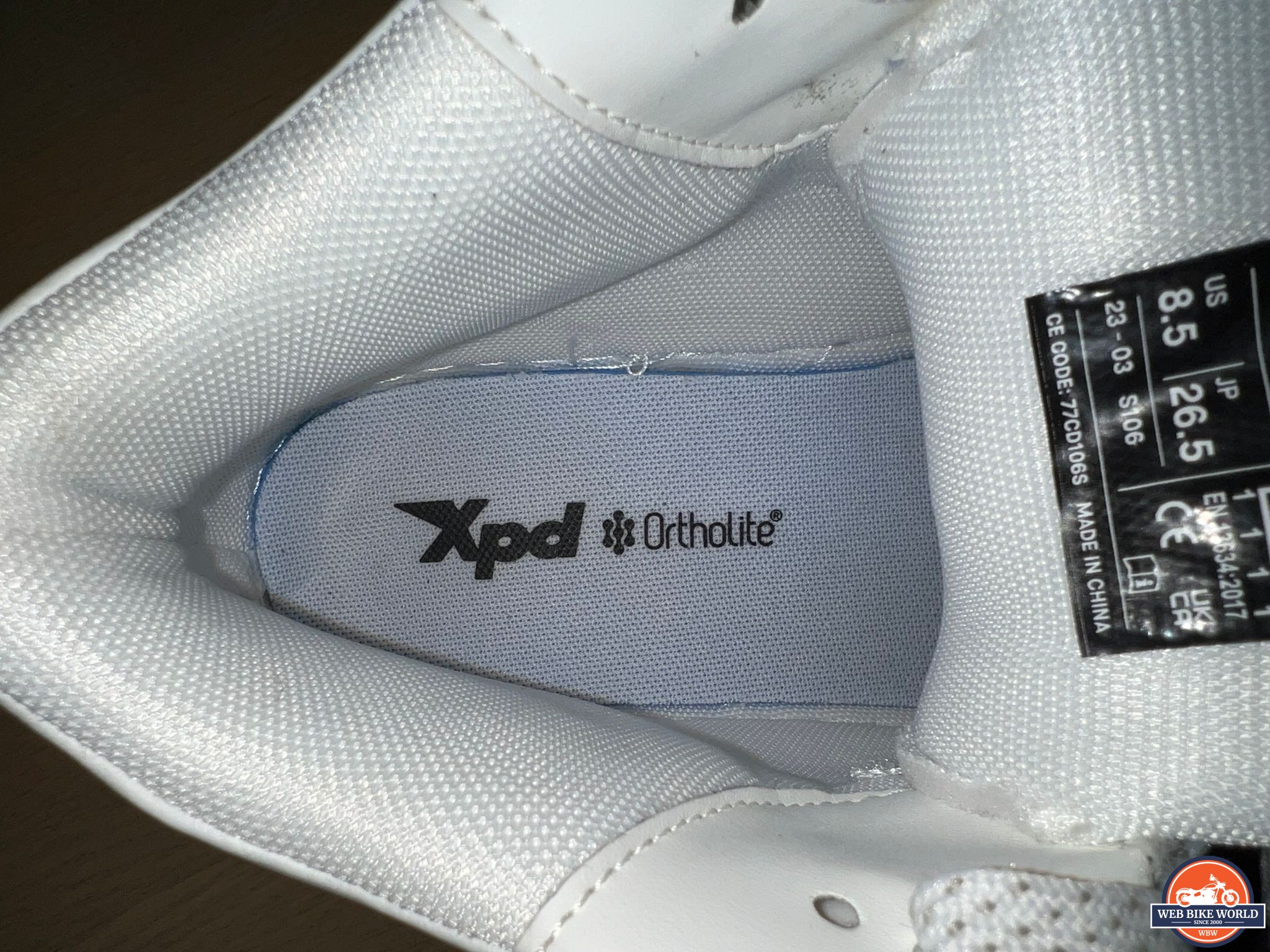 What's more, OrthoLite claims to compress less than 5% over the lifetime of the product. This means you can expect the same level of comfort on day 1 as you would a few years down the road.
While I can't speak to the long-term durability of the insoles, I can attest to the experience I've had with them. I now find myself taking my motorcycle to run errands I'd previously opted to drive. Walking up and down grocery store aisles? No sweat. I'd even go as far as saying my feet would be happy walking through the mall in the Moto-1's.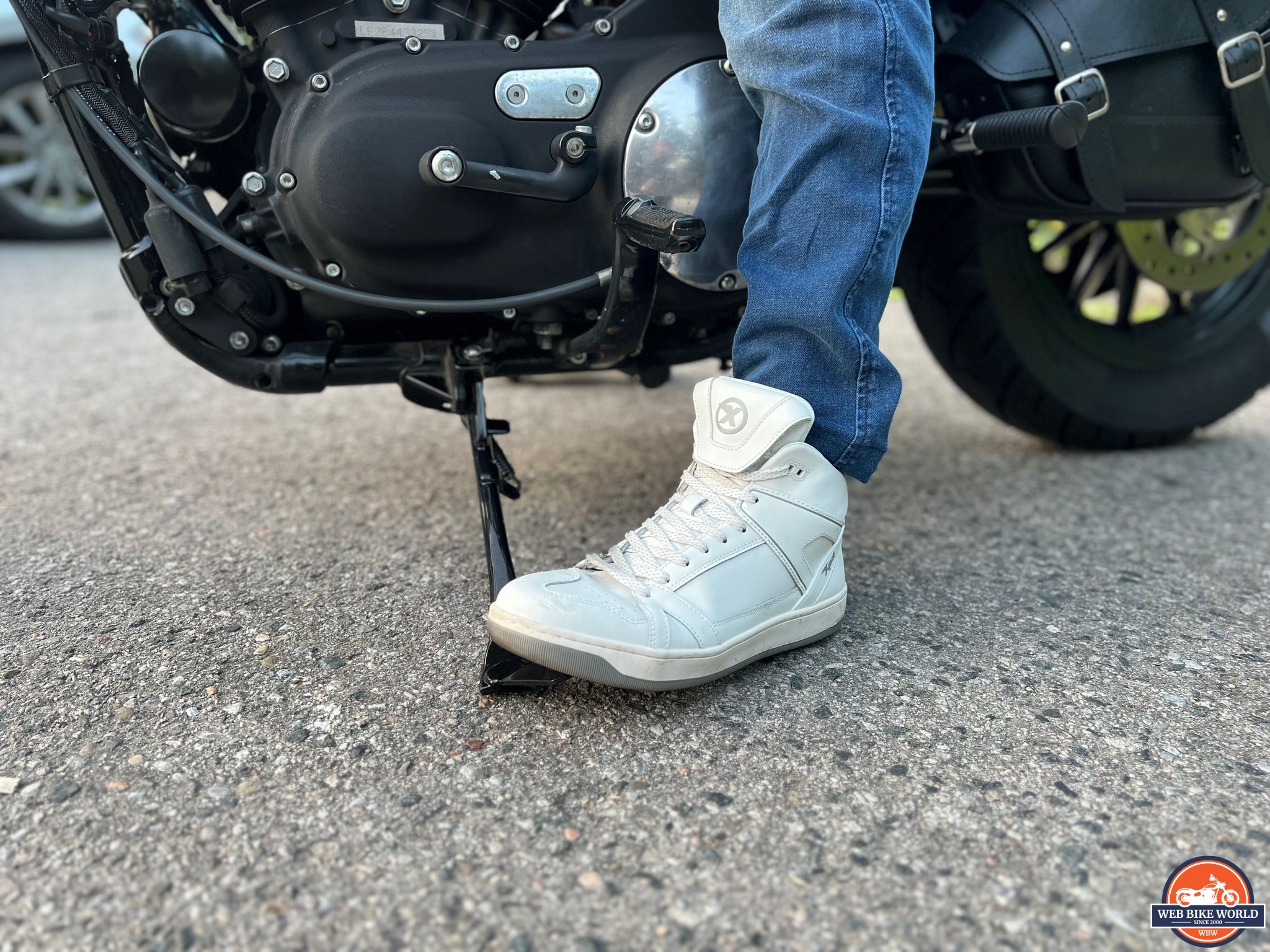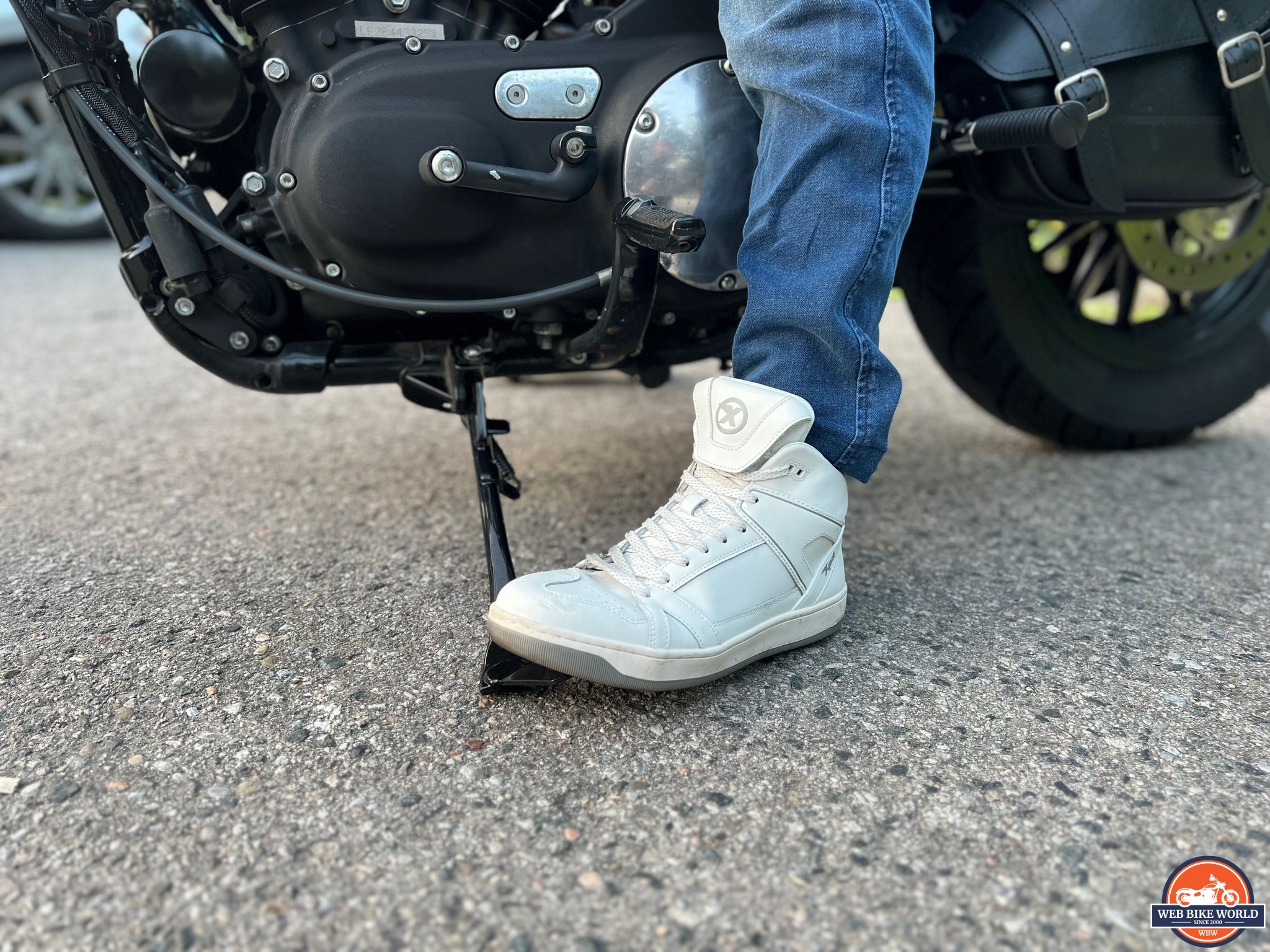 When compared to a regular sneaker, the toe is more reluctant to bend when walking. That is to be expected with the reinforced toe and protective features, but I will cover more on that later.
Short-riding shoes/boots are known for their comfort. If the XPD Moto-1's aren't your style, yet you don't want to sacrifice comfort,
here are some great alternatives.
Comfort Rating – 90%​
If I were to close my eyes and have you put a pair of Adidas shoes on one foot, and the XPD Moto-1's on the other, I wouldn't be able to tell the difference. I'm being completely serious while I attempt to convey how comfortable these shoes are.
The breathability of these shoes is really where the XPD Moto-1's shine. There's nothing worse than your feet feeling cramped and sweaty on a long ride. This is most certainly not the case here. The use of the OrthoLite insole, as well as the perforated liner, was a great move by the Spidi design team. Without it, I feel as though this shoe would've been nearly half as enjoyable to wear.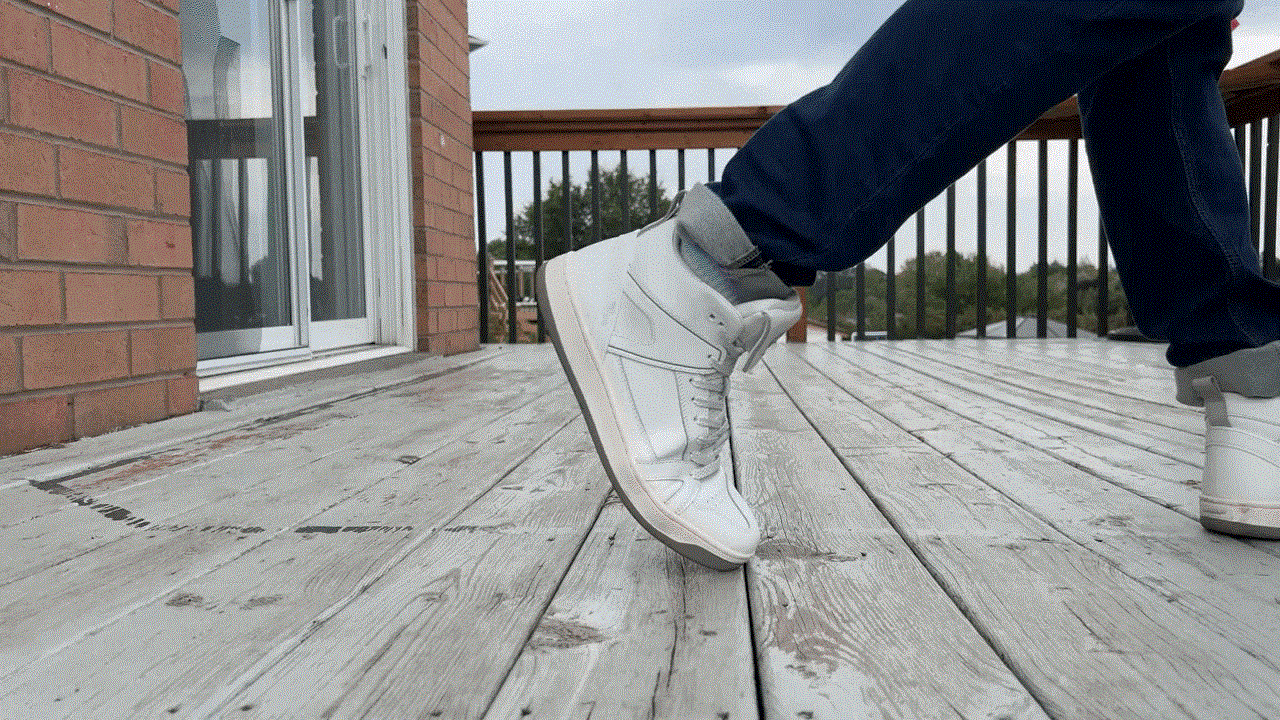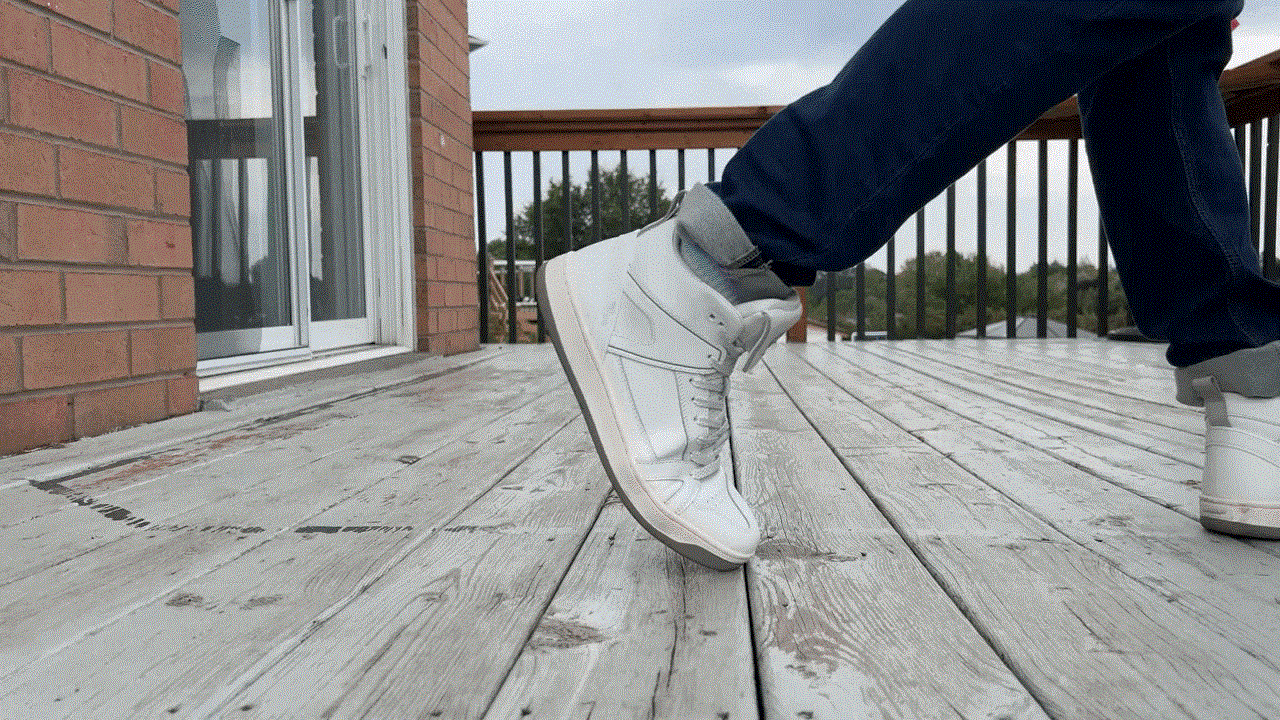 In terms of comfort, the only area I can see room for improvement is with the flexibility of the shoe. As I mentioned, the Moto-1's are a bit reluctant to bend with your foot when walking which can feel a bit stiff at times.
Acceptable Protection​
Above everything else, the XPD Moto-1's are meant to protect you while you're riding. While we've covered how hard they work off the bike, let's discuss what you can expect while riding.
The XPD Moto-1's are CE EN 13634:2018 certified level 1 for upper abrasion resistance, as well as upper cutting resistance. This is a standard for protective footwear for motorcyclists. Level 1 means that the shoes have met a minimum level of acceptable, and effective, protection in the case of an accident.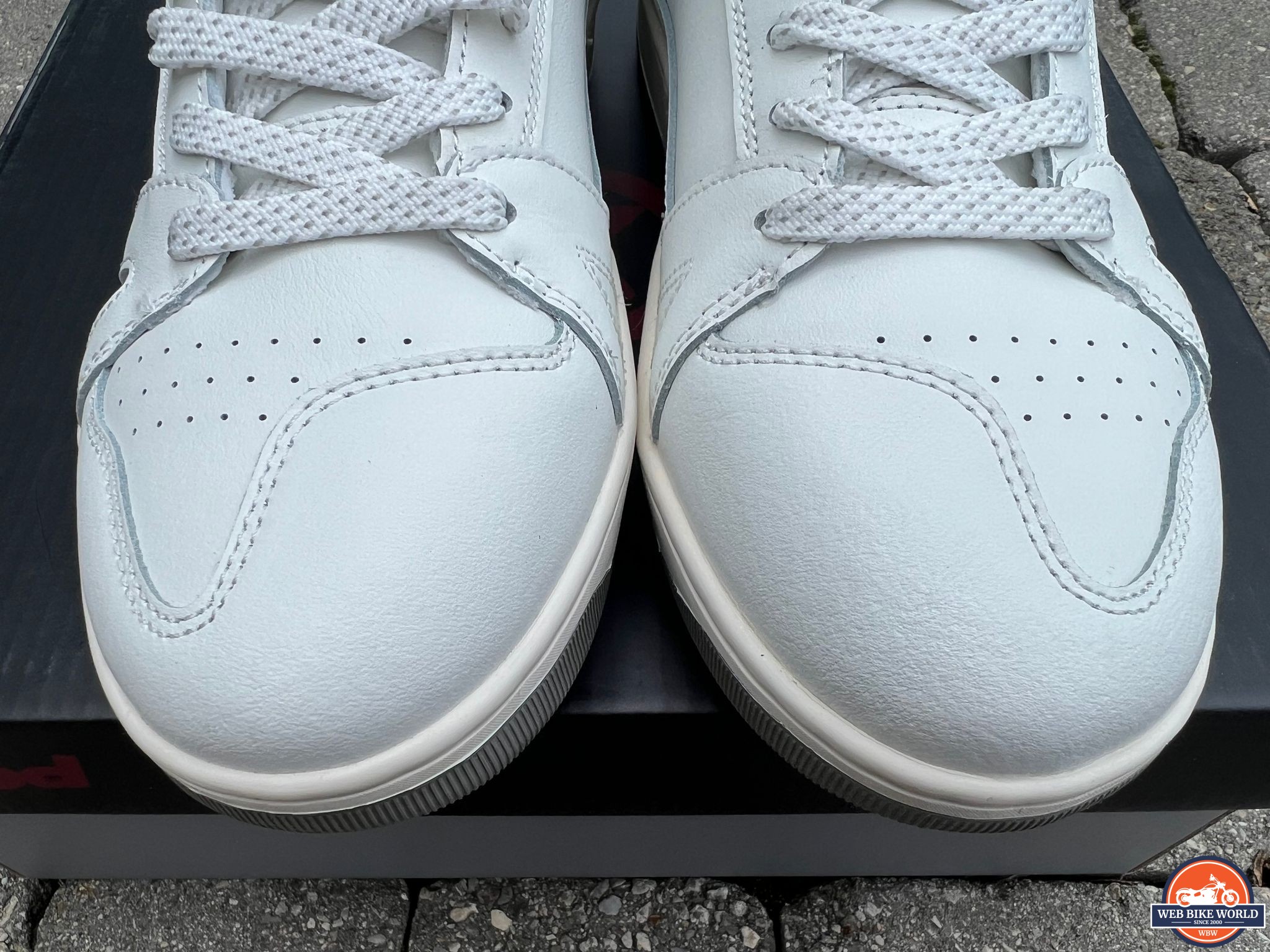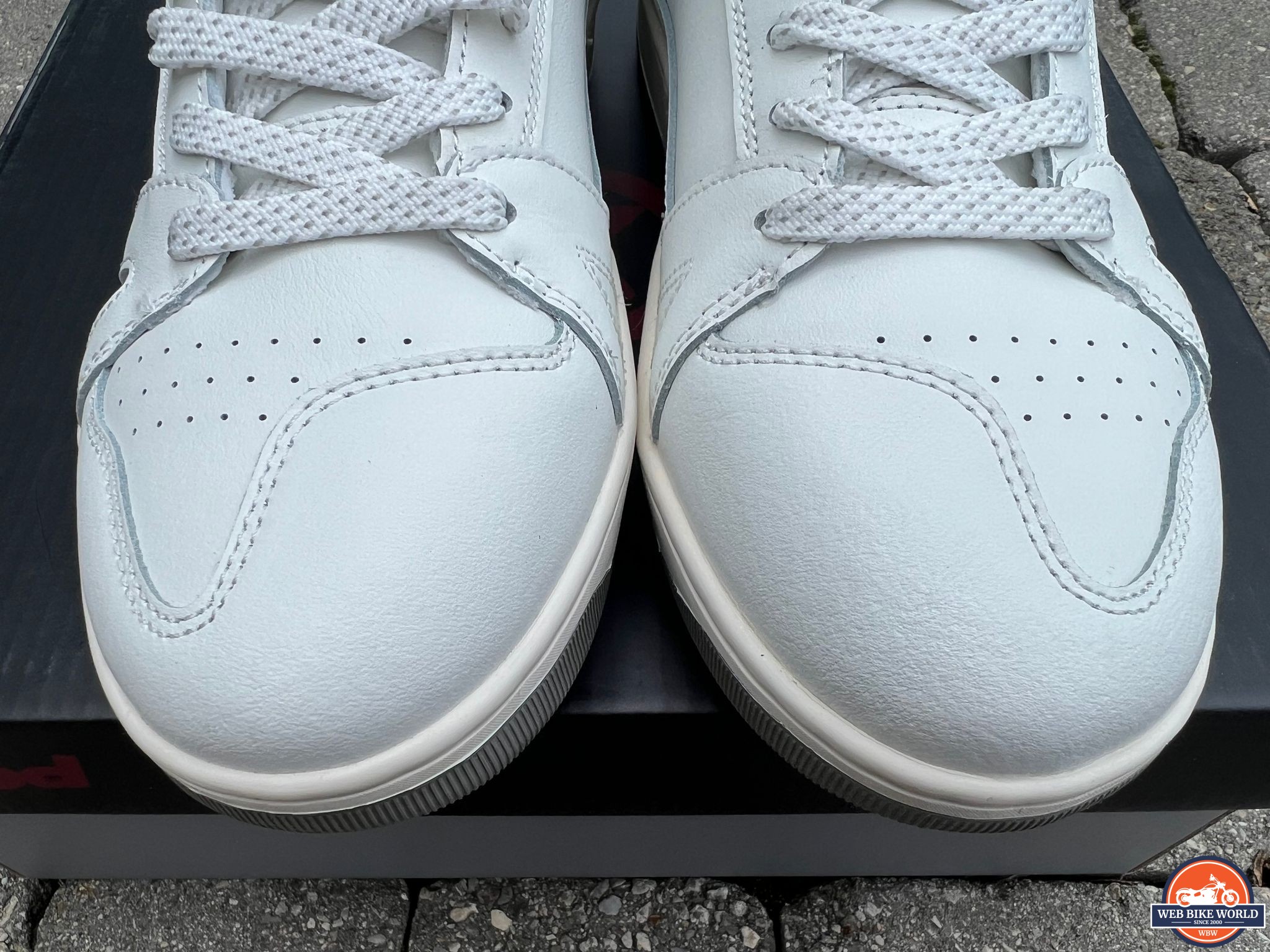 As this is a riding shoe and not a boot, I wouldn't expect more than level 1 certification. Key features are going to keep your feet safer and better protected than regular streetwear. These features include:
Reinforced toe
Reinforced heel
High top design that covers your ankle
Polyurethane protection for the lateral malleolus (This is a fancy way of saying that the shoes have polyurethane reinforcement for the outer side of your ankle)
Reinforcement Buttress tip-heel (A buttress is a stiff wall that gets inserted on one side of the shoe to provide extra support)
Metal support within the internal sole
Reflective materials
For all my fellow cruiser riders looking for a bit more protection, check out our
Best Cruiser Motorcycle Boots here.
One important detail to keep in mind is how slippery the Moto-1's become when wet. I attempted to take my bike out for a ride after washing it and found my feet slipping off of my footpegs. This can create an
extremely dangerous
situation while riding. Be wary if you're wearing these shoes in wet riding conditions.
Protection Rating: 70%​
Riding shoes will never be as protective as
full-length riding boots
– that much we are clear on. While manufacturers can incorporate meaningful protective features, they will always lack full shin protection, as well as protection against twisting forces. There is also something to be said for abrasion & impact resistance in riding shoes as lighter materials may not offer as much protection.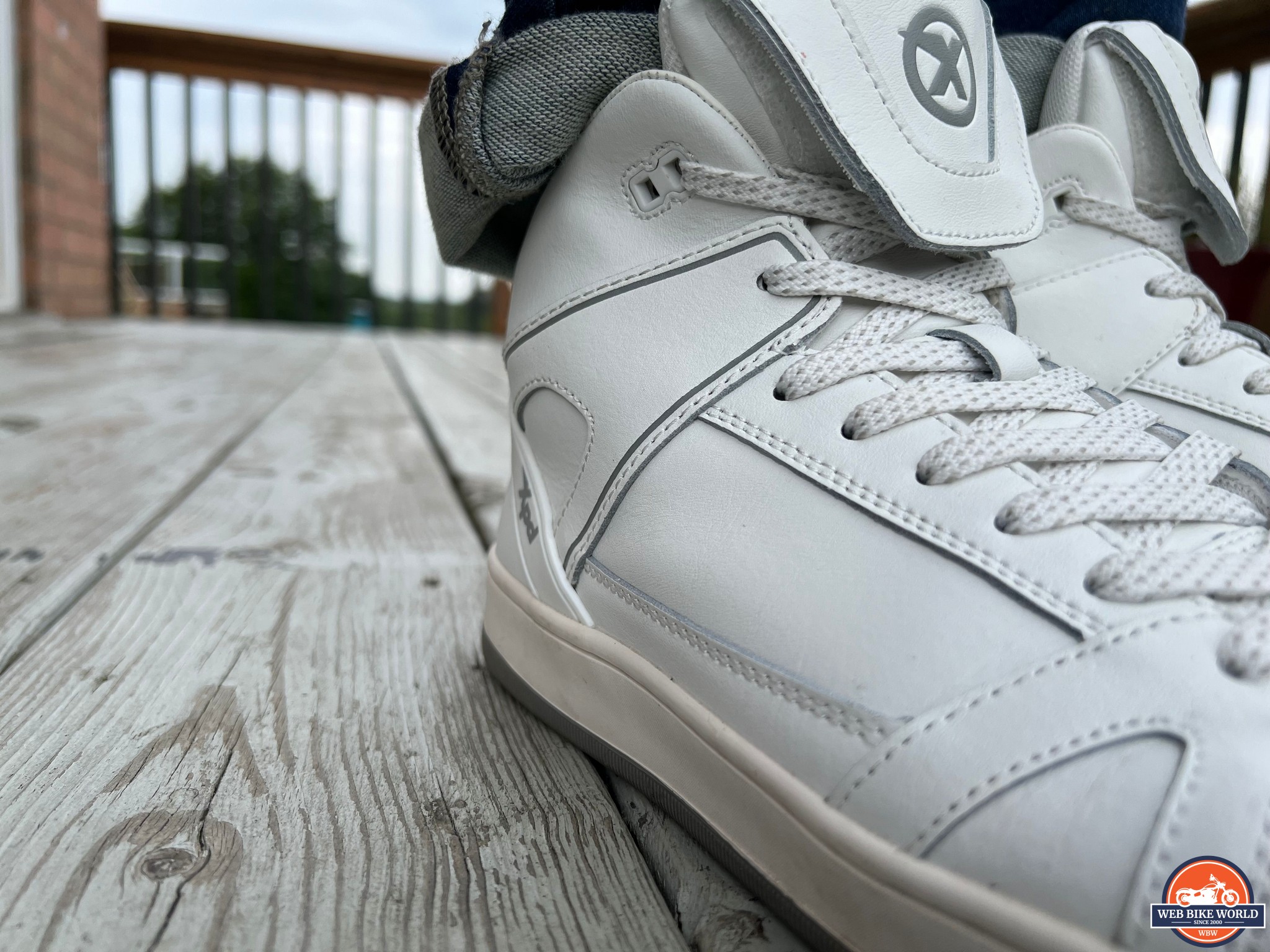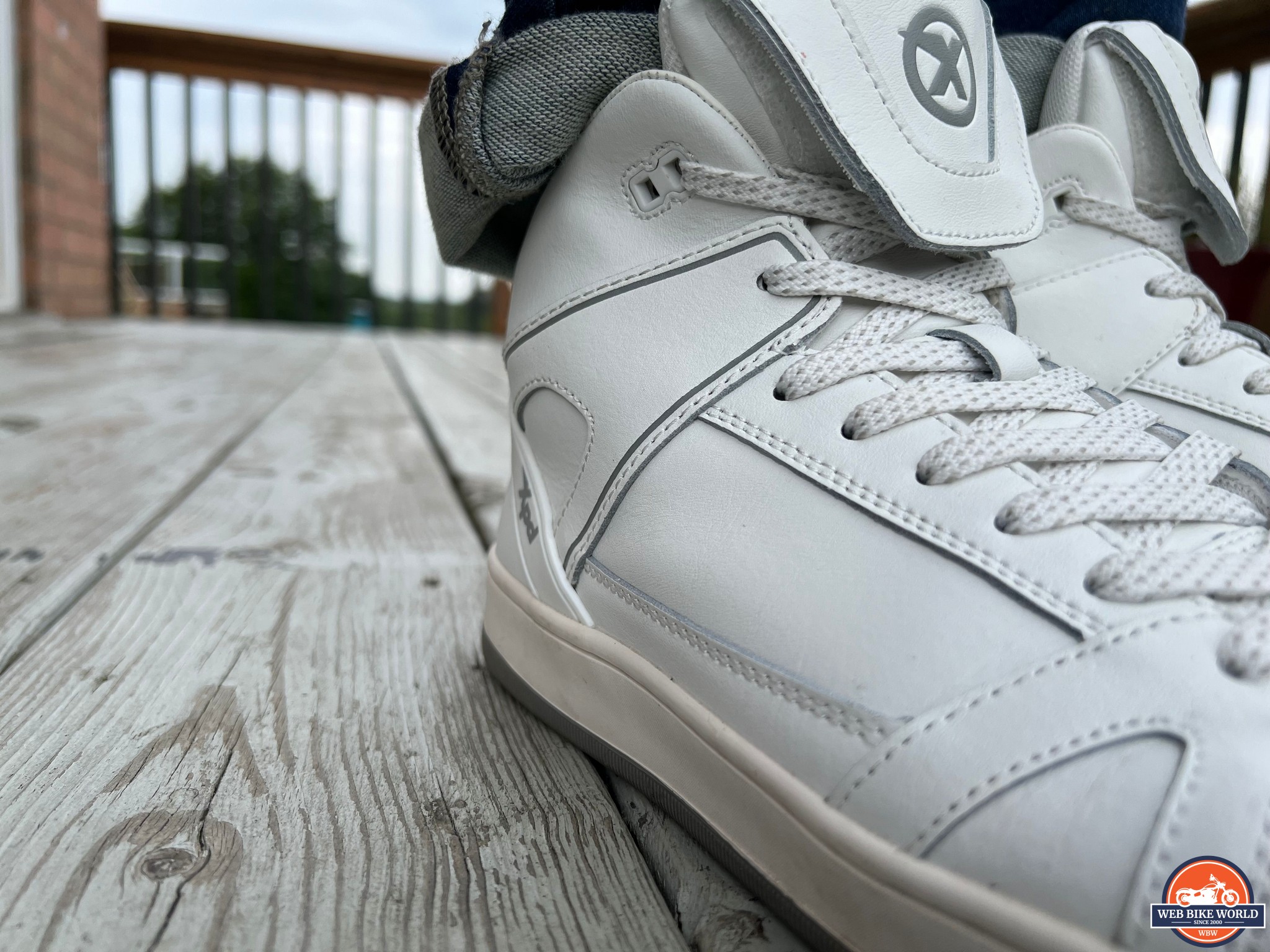 When it comes to a good pair of riding shoes, a reinforced toe, heel and sole is what we are looking for. With that, we give preferential treatment to shoes with reinforced ankles on both the medial and lateral sides (inside and outside).
With the XPD Moto-1's, the reinforced toe and heel are very apparent. I have to take Spidi's word on the sole as I'm unable to verify it myself. In terms of the ankle, the XPD Moto-1's only have polyurethane protection on the lateral side of the ankle. As such, I've had to dock a few points.
In addition, I've had to further remove points for the sole's performance in wet conditions. While you can control what I wear after washing my motorcycle, you cannot control the weather. Should you be caught out in the rain while wearing the XPD Moto–1's, you need to be extremely cautious as the shoes may slip off of your pegs. The same will hold true for passengers, which in turn could create an
even more
dangerous situation.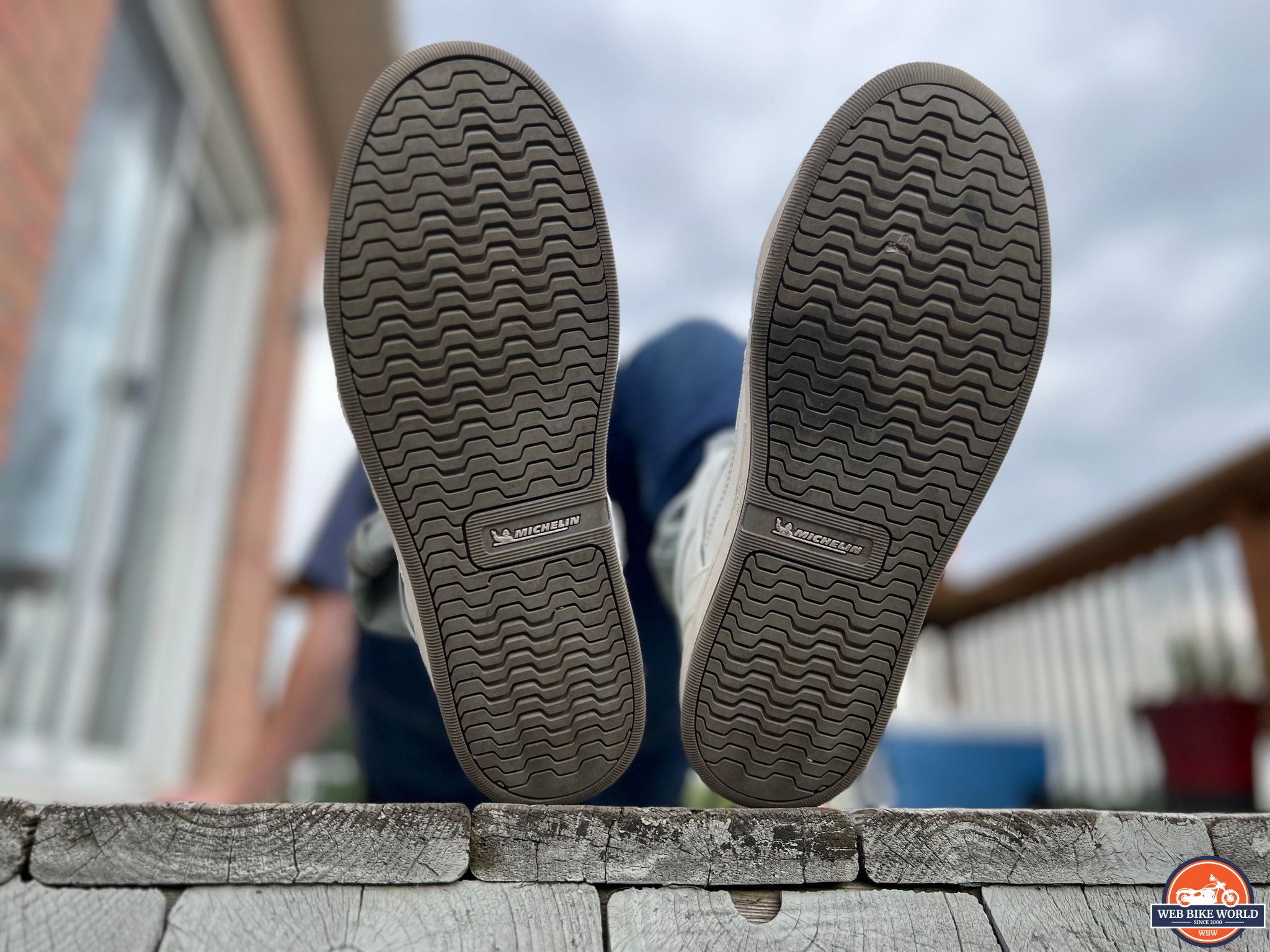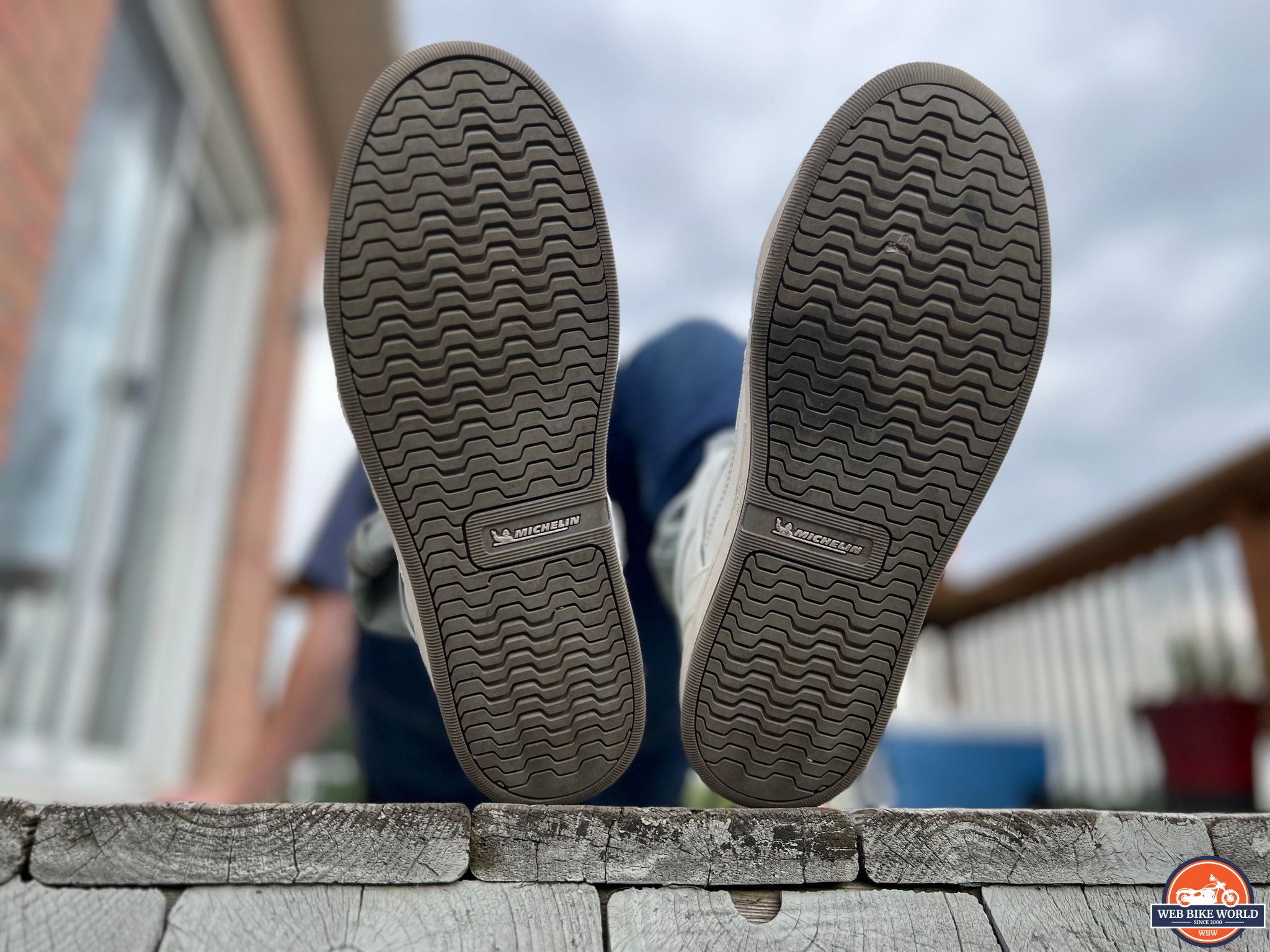 Overall, the shoes are good for what they are. Meaning, that you aren't considering purchasing the XPD Moto-1's for their
superior
protective properties. Nonetheless, when we talk about protection I cannot rate these shoes higher than 70% simply because of the key points I've identified above.
Unpredictable Sizing​
The first thing you'll want to make note of in terms of size is that the XPD Moto-1's come in EU sizes only. This makes sense as Spidi is a European-based company. RevZilla has a convenient EU to USA size chart for your reference when ordering.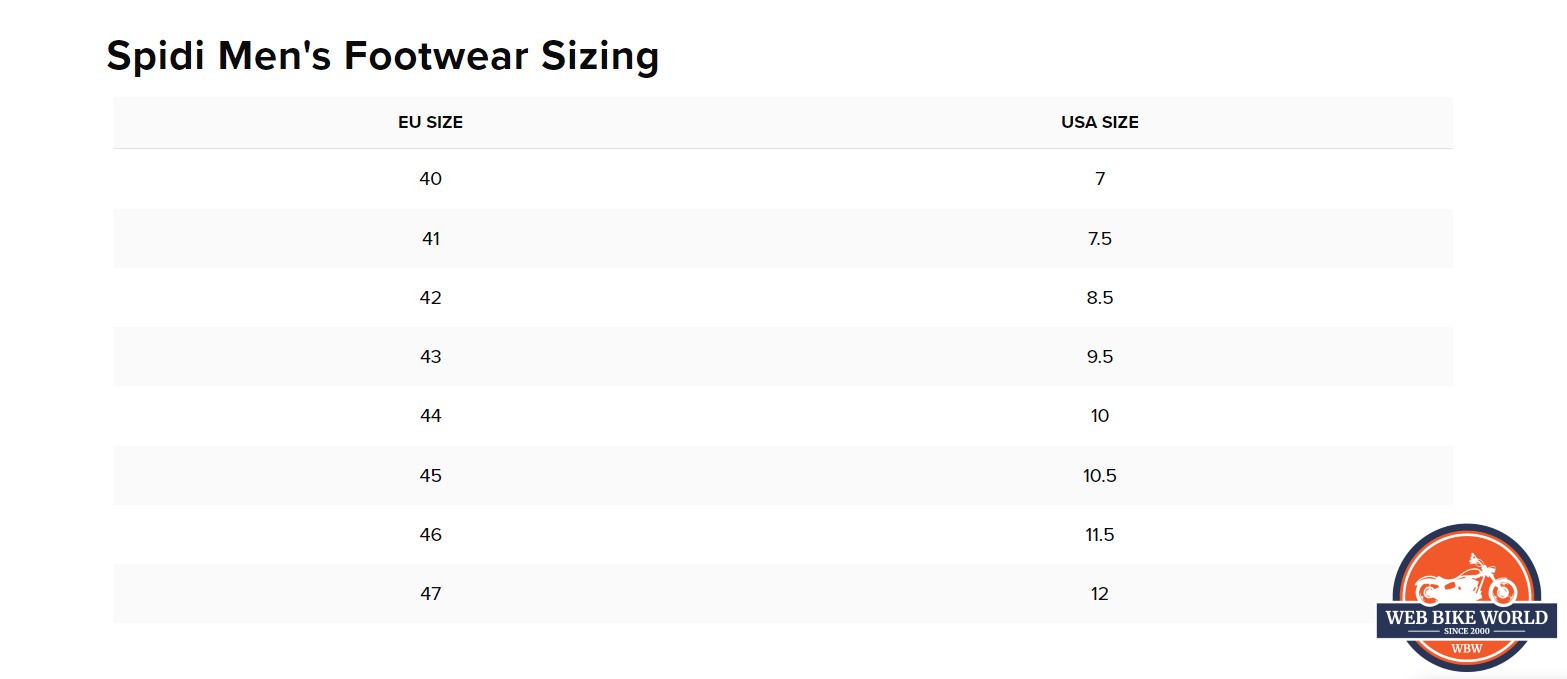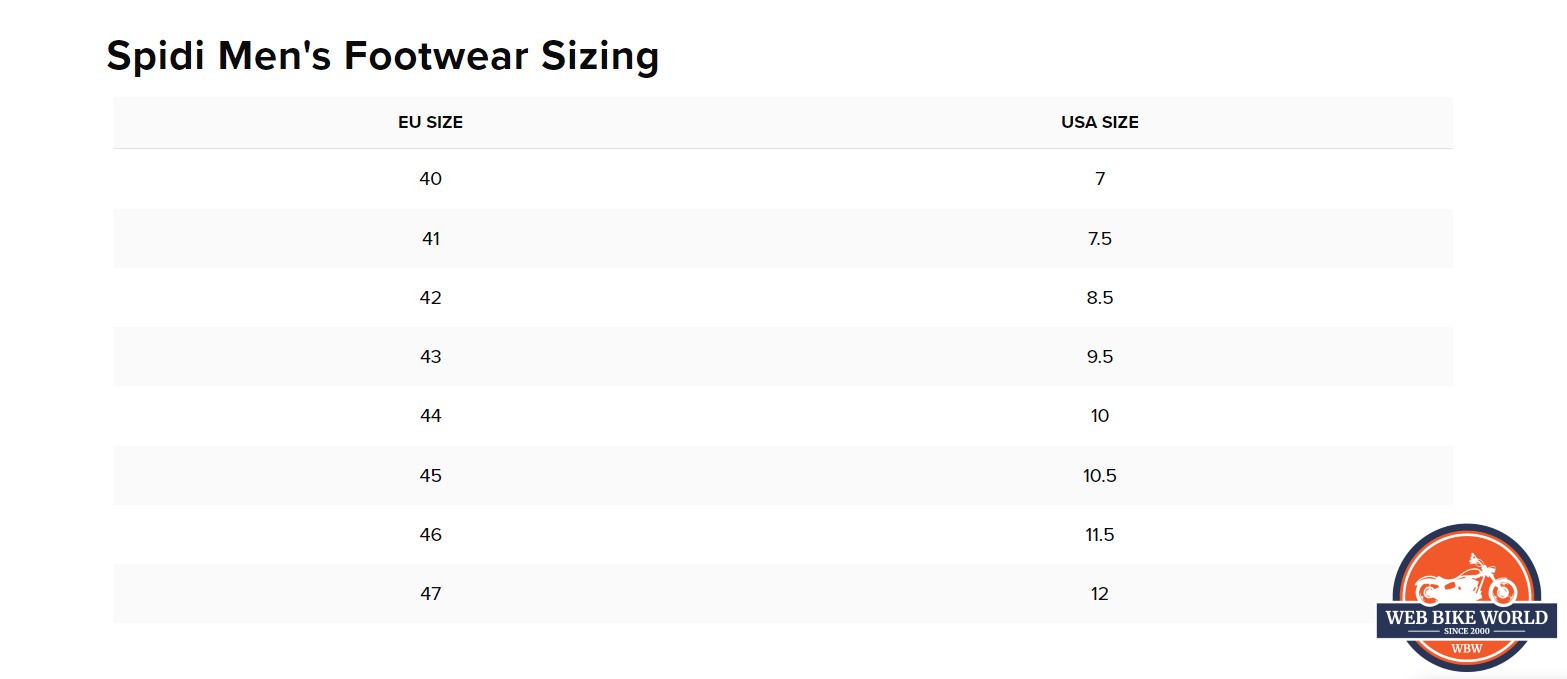 I found that the XPD Moto-1's sizing fits true to that of other shoes I own. I ordered the same size shoe that I would whether it was from Nike or Adidas. I wear an 8.5 US, which is a 42 EU based on RevZilla's chart, and they fit perfectly.
In our female rider Ashley's case, the complete opposite was true. She had asked for a size 41 EU and wasn't very impressed when a size 44 was sent instead. The box was labeled as a women's 41, but the shoe inside was certainly not. We contacted Spidi and they told us they had sent out the correct size.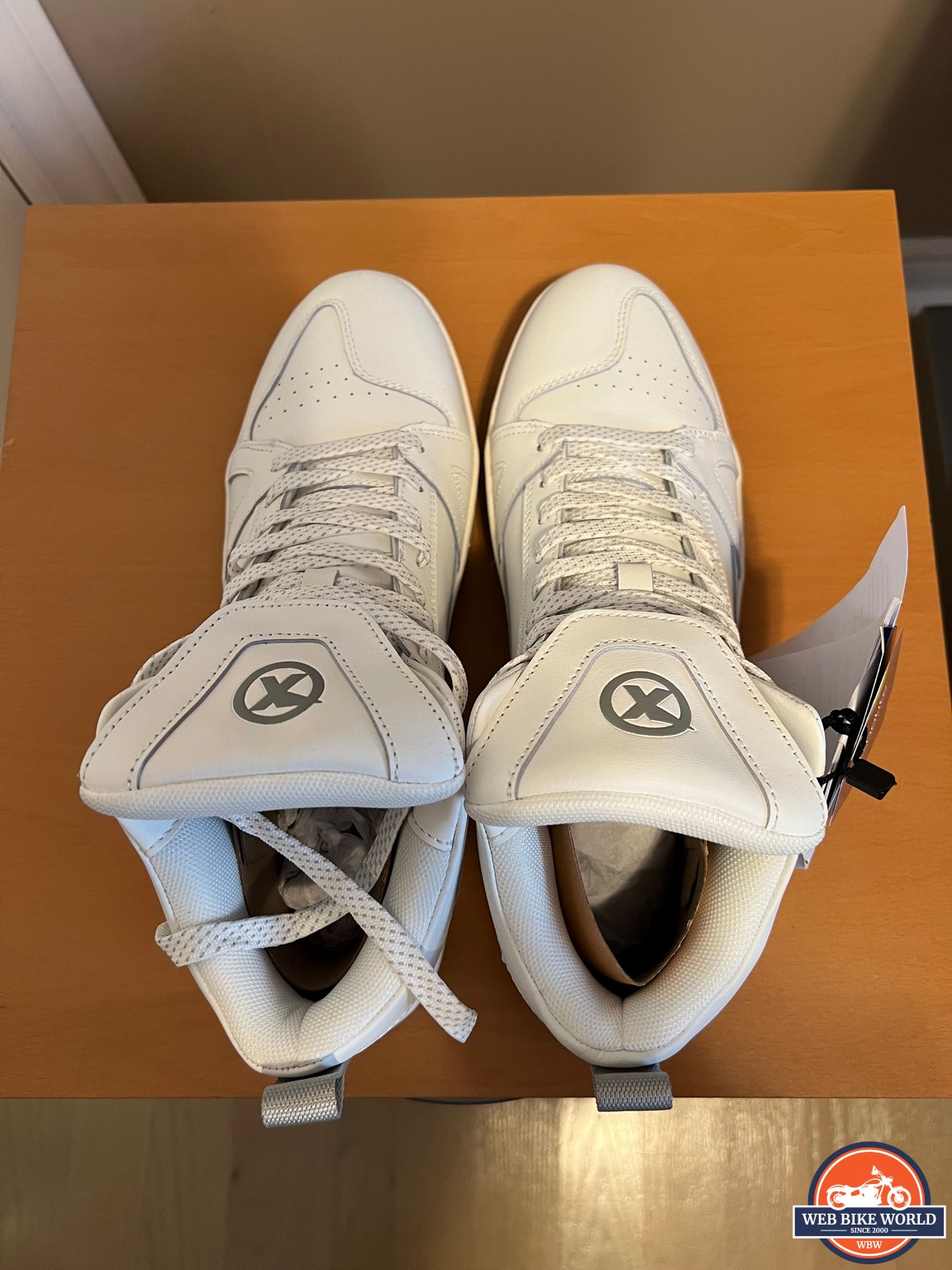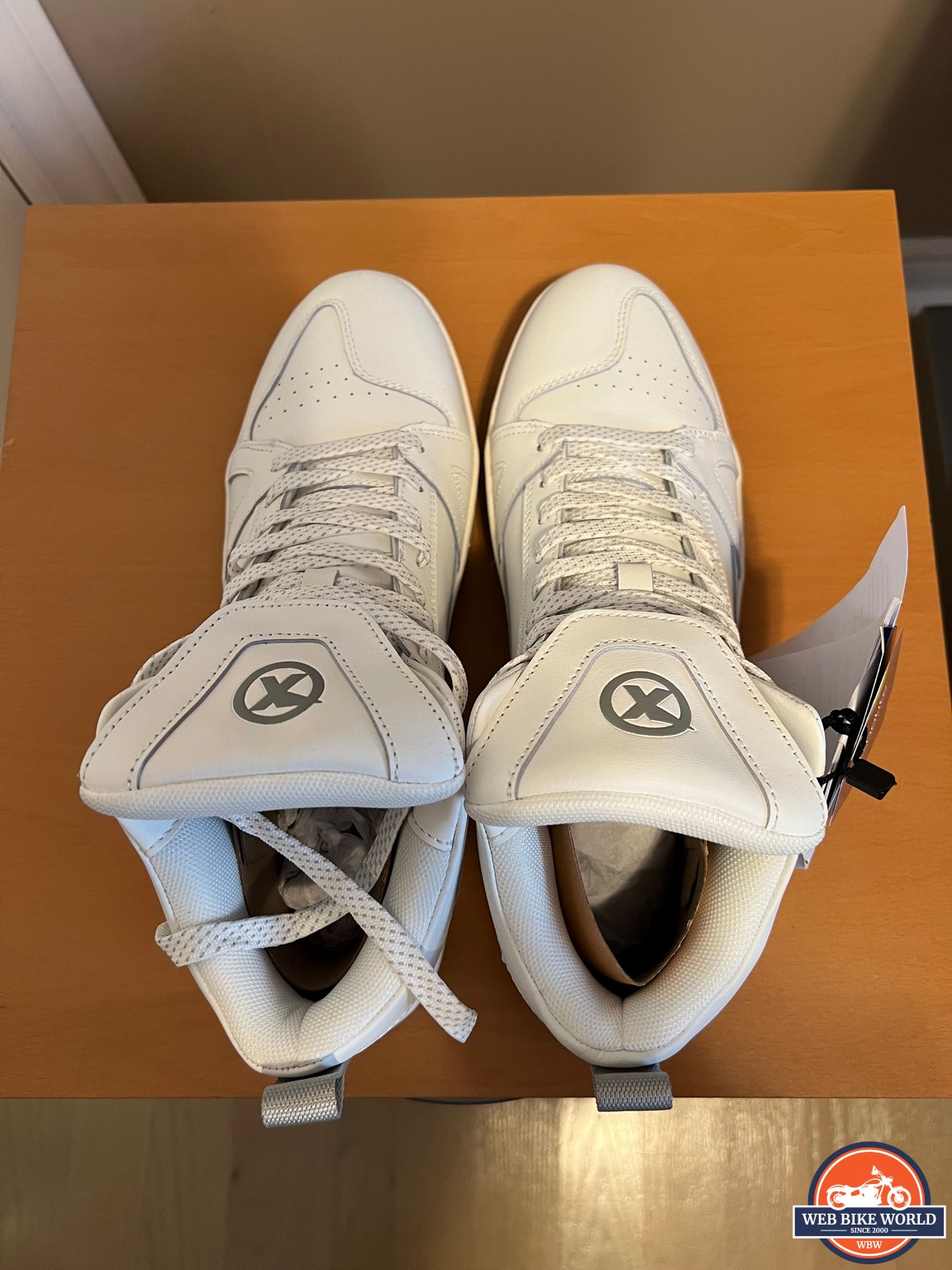 When the second pair arrived, both the box and the shoe were labeled as a women's 41. We were shocked to soon discover that the 41 was the exact same size as the previously sent 44. Pictured above are both sizes and as you can see, they're identical.
We later on discovered that the supposed women's 41 was actually larger than my men's 42, and not by a little. The below picture shows the women's shoe on the left and the men's on the right.
Before you speculate that I've got the sizes swapped by accident, pay attention to the black mark on the lacing that I mentioned earlier. This marking indicates that my shoe is on the right-hand side.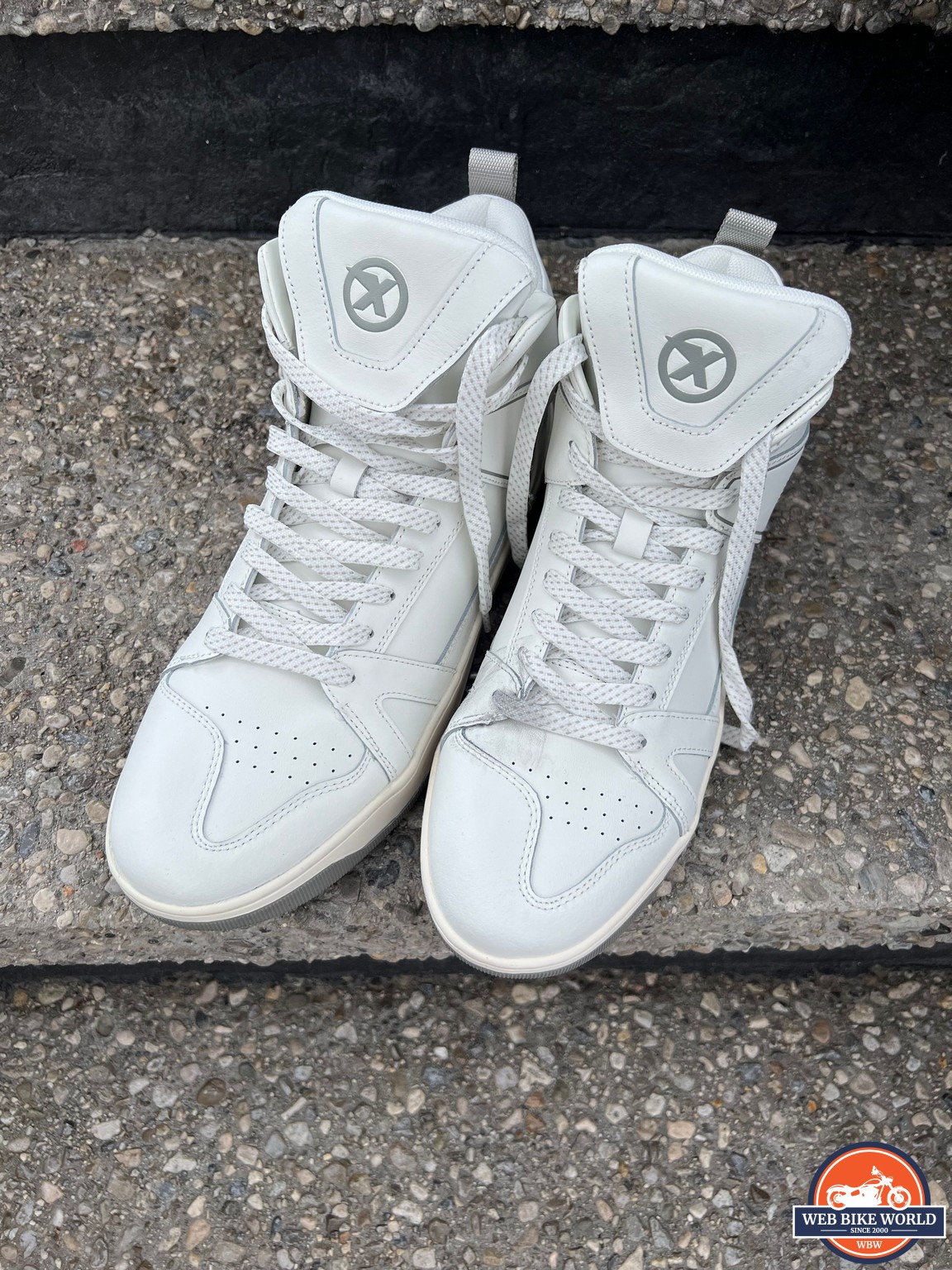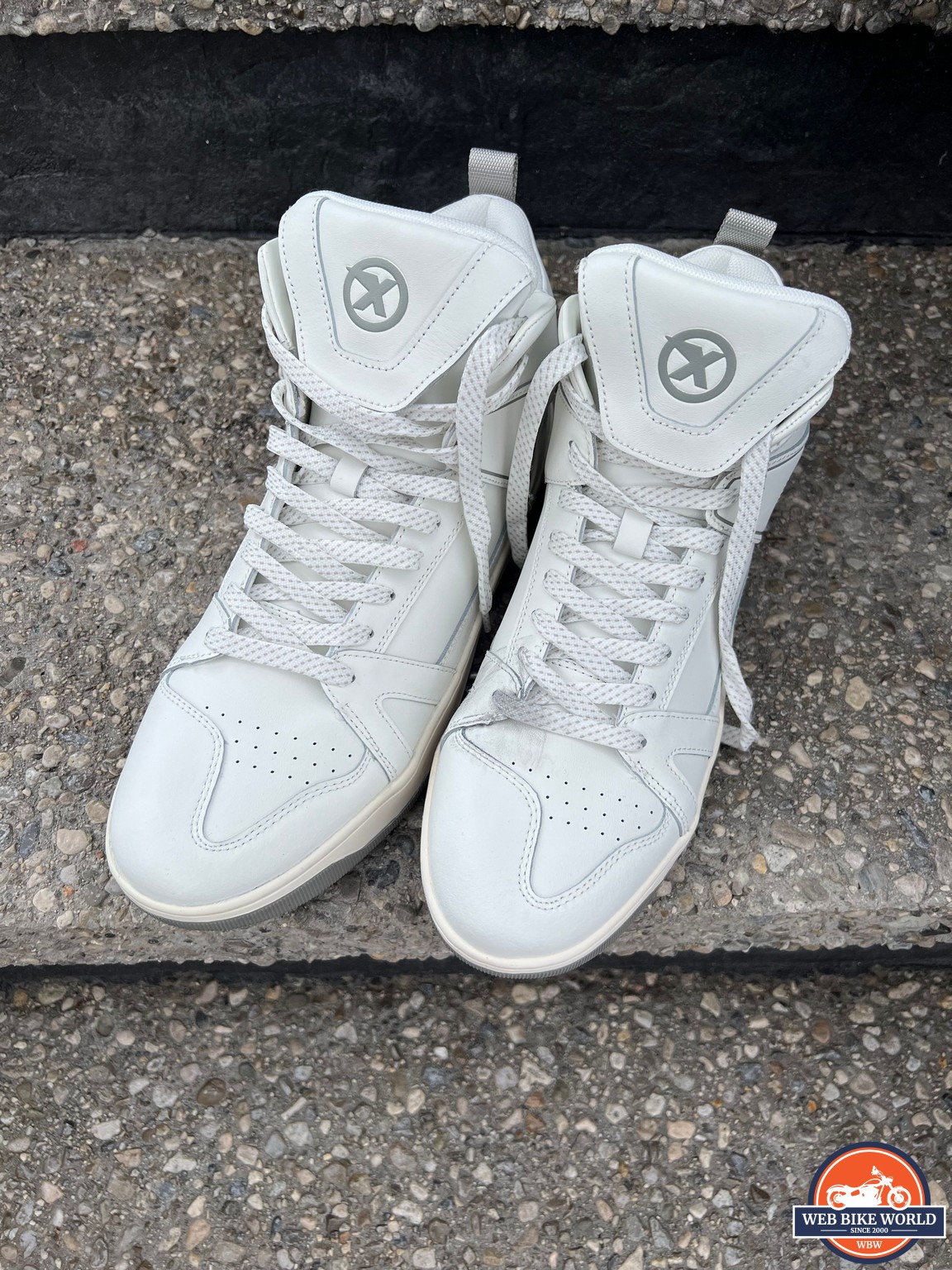 Sizing Rating: 65%​
Unfortunately, sizing is where the XPD Moto-1's are taking their biggest hit. On one hand, they fit true to size when the correct shoe is sent. On the other hand, the
correct shoe
must be sent in order for them to fit.
We understand that the Moto-1's are a new launch, and because of that, it's possible Spidi is experiencing some quality control issues. However, this isn't an issue that we've experienced before in the past.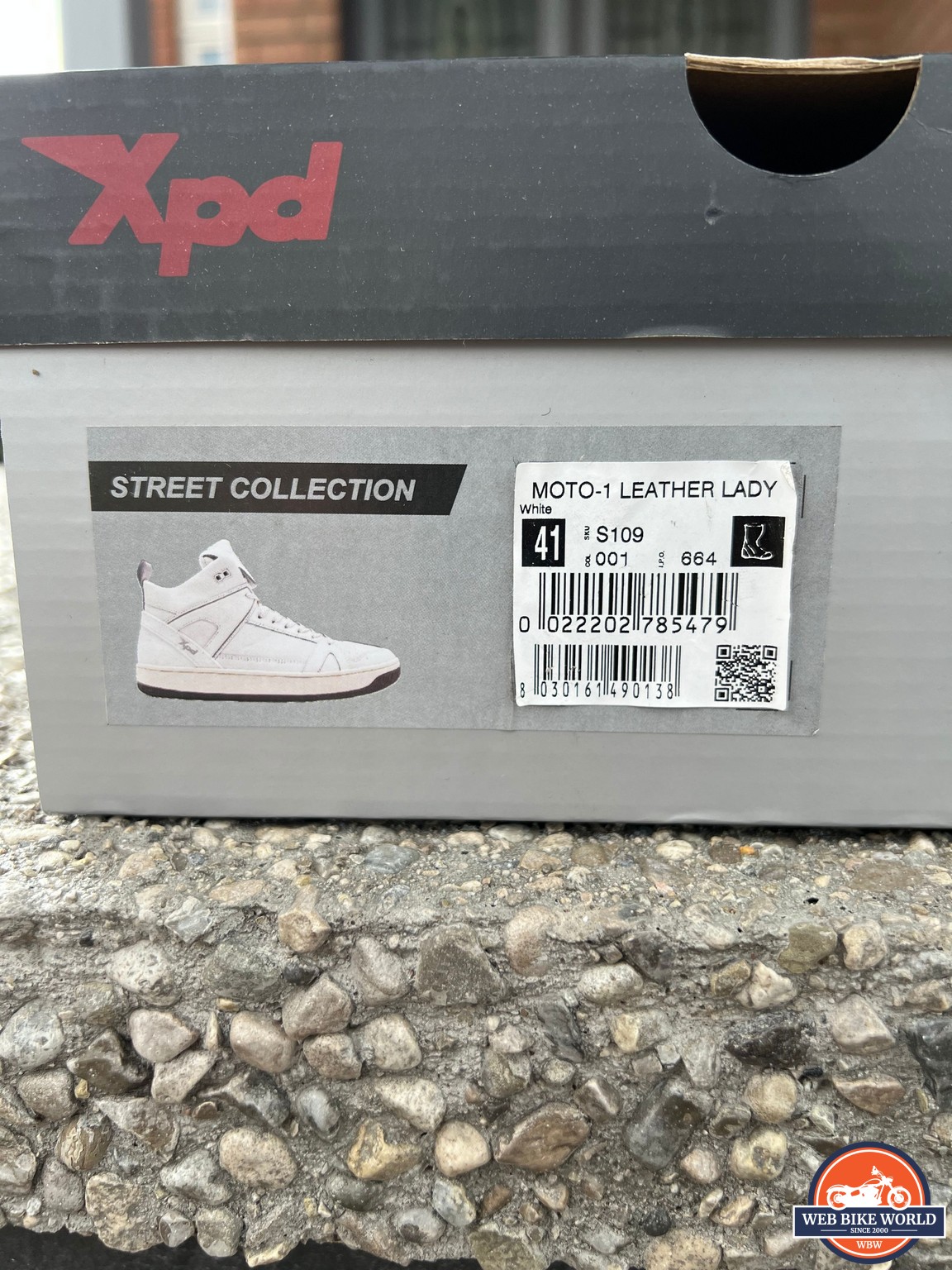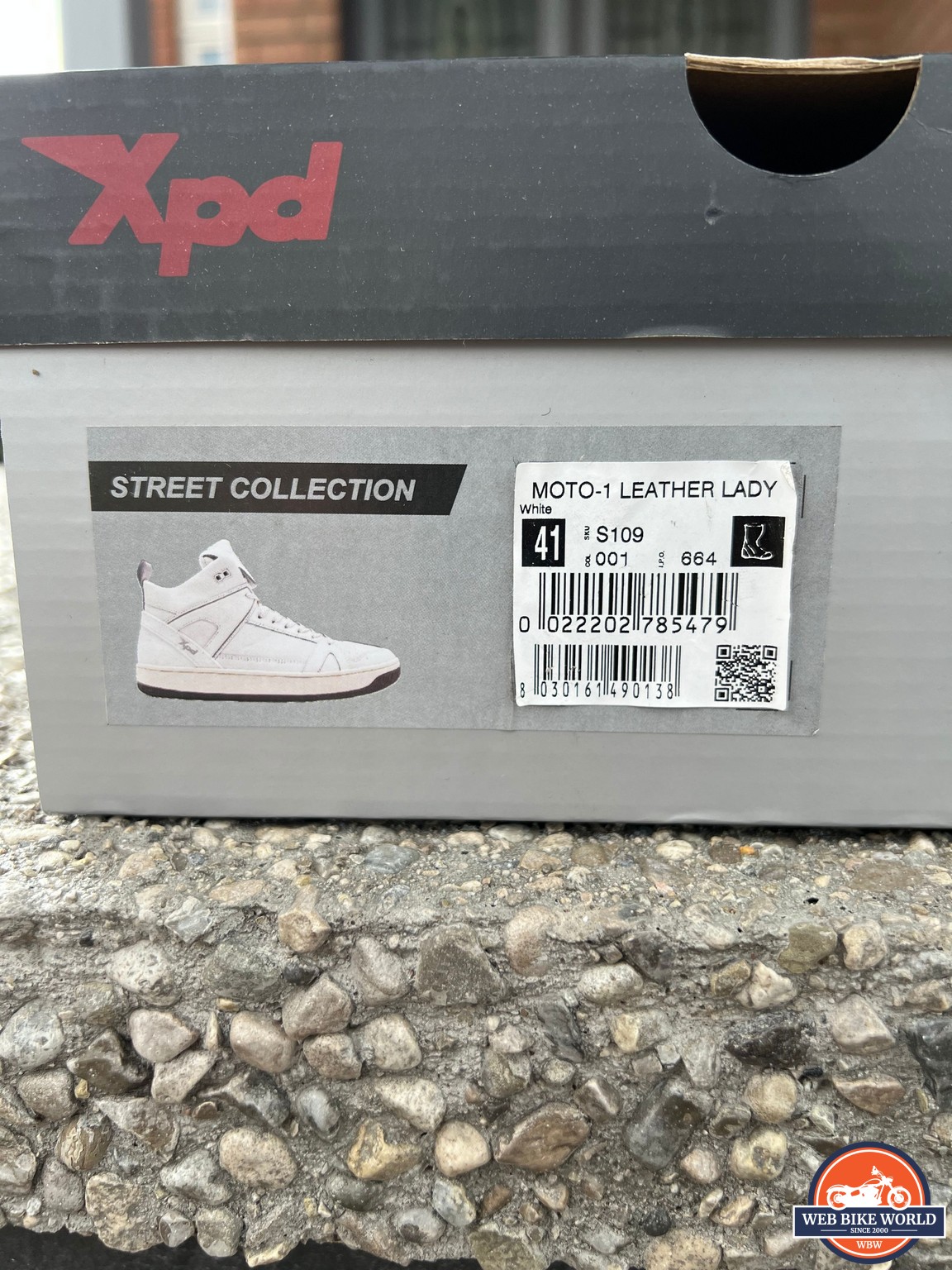 Final Verdict​
I'm really struggling with my final verdict on the XPD Moto-1's.
First off, they didn't catch my eye because of their staggering protective capabilities. No, I knew full well going into this review that riding shoes do not offer the same amount of protection as riding boots. Regardless, we need to rate them accordingly for those of you who may not know that.
What drew me in was the style of these shoes. When talking about the design and comfort of the Moto-1's, I feel like Spidi has hit a home run. They look great, and more importantly, they
feel
great. These shoes have become my everyday riding shoes and for good reason.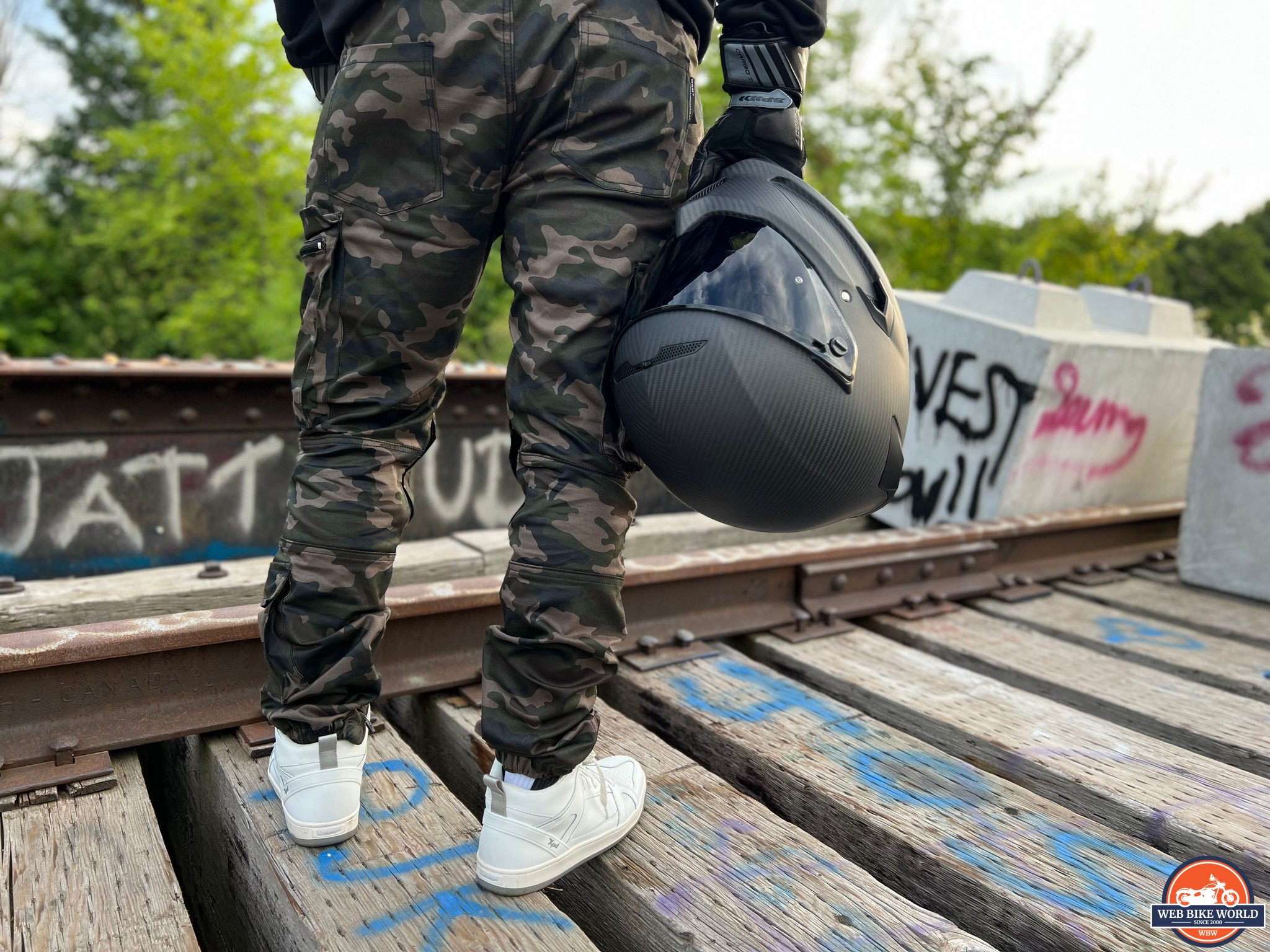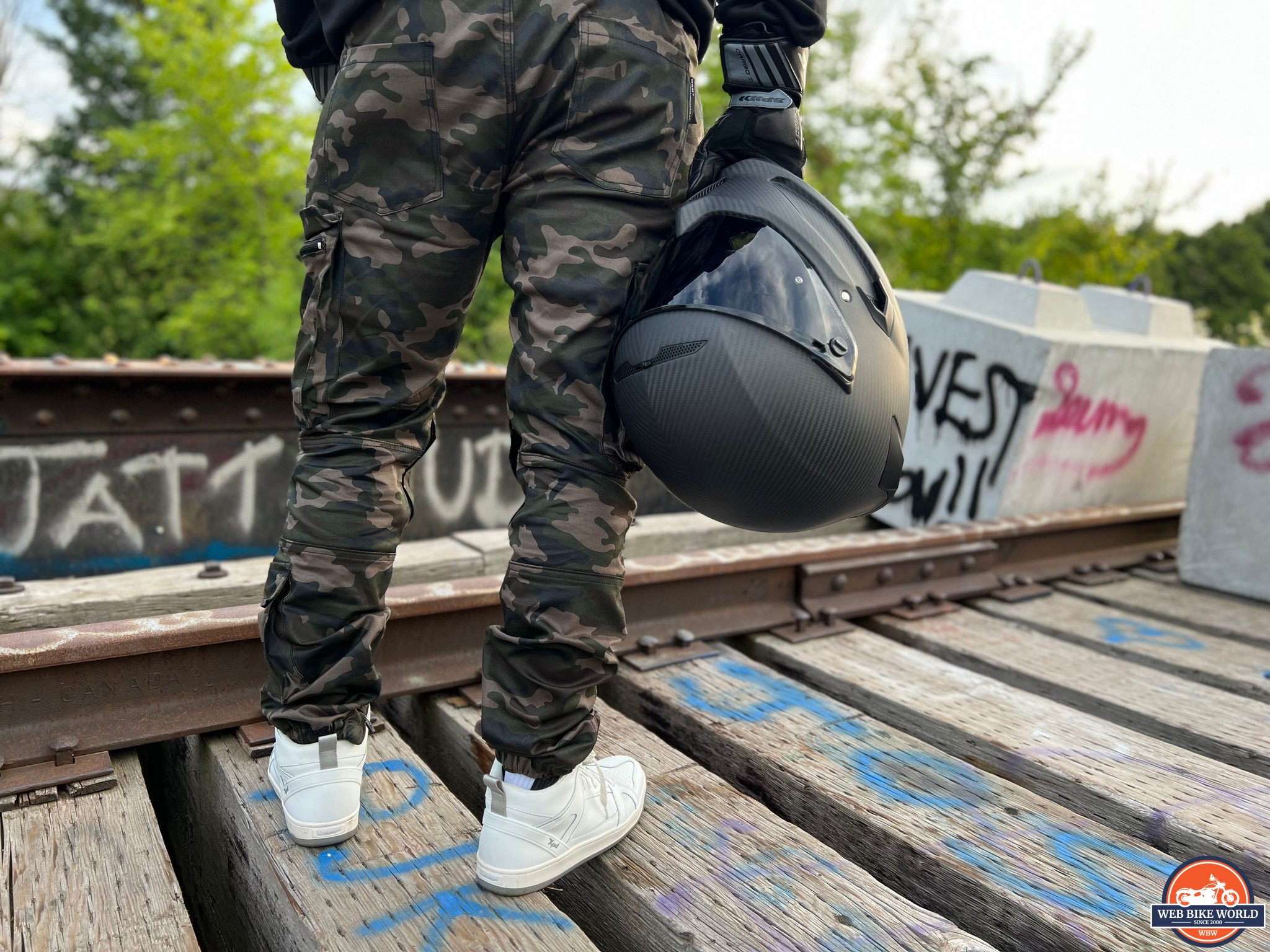 webBikeWorld has built a reputation based on
honesty and integrity
. As such, I have to be completely transparent when it comes to sizing. What we received was inconsistent with what we asked for on 2 separate occasions. There is a quality control issue prevalent at Spidi that needs to be addressed.
I will suggest that the sizing situation is unique to Ashley and I. In order to get our hands on a pair of the XPD Moto-1's to review, we were dealing directly with Spidi. They have been shipping our gear directly from their personal warehouse.
If you were to purchase these shoes through RevZilla, you have the added assurance that they've confirmed your order for accuracy, and can leverage their exceptional customer service should there be an issue.
At the end of the day, the XPD Moto-1's are a great shoe and I don't think you should allow a potential sizing mixup to deter you from enjoying an otherwise remarkable pair of riding shoes.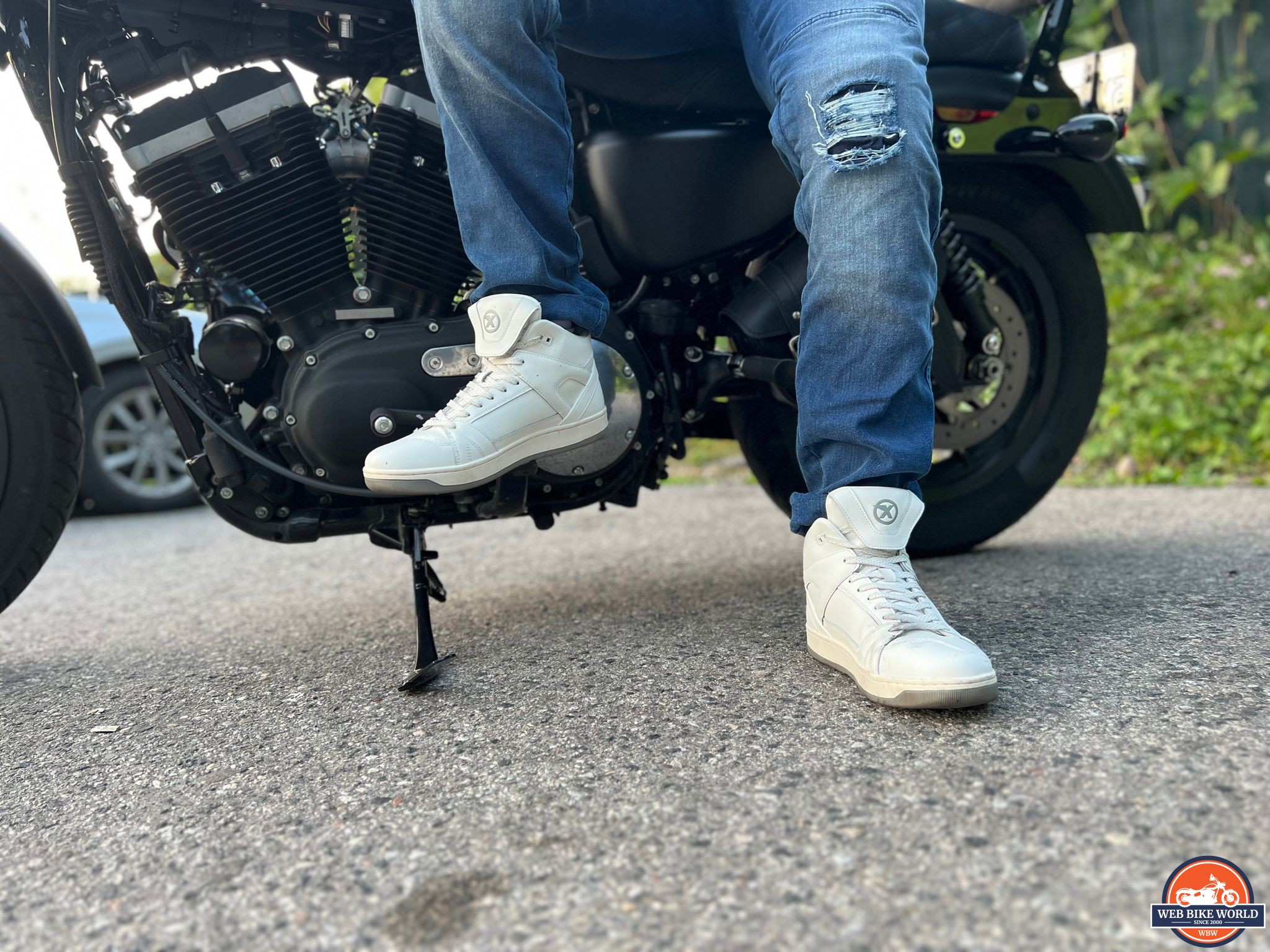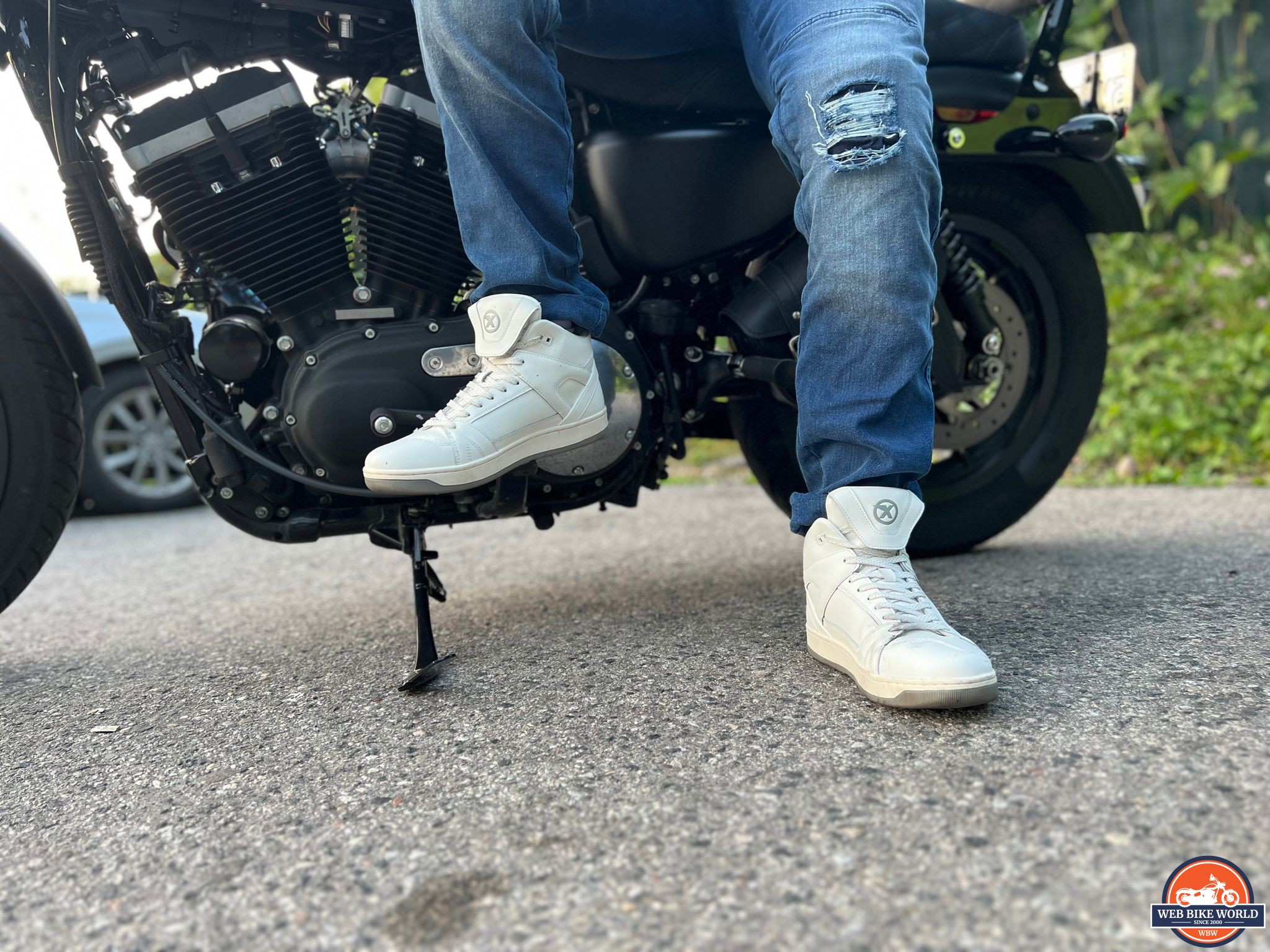 Buy Now
RevZilla
Pros​
Stylish high-top design that looks brilliant in white
Extremely comfortable with an Ortholite insole that retains its shape
Large tongue hides a pocket for your laces
Very breathable with a perforated lining
CE EN 13634:2017 Certified Level 1
Cons​
Sizing may not match what's labeled on the box/shoe
Polyurethane protection on the lateral side only
Michelin rubber soles can become slippery when wet
Suede leather is not as abrasion resistant as genuine leather
Specifications​
Manufacturer: Spidi
Price: $179.90 USD
Colors: White, Black, Black/White/Red, Grey/Black/Blue
Sizes Available: 38-46 EU
Review Period: July-Sept. 2023
Where to Buy​
The post
Spidi's XPD Moto-1 Leather Shoes In-Depth Review
appeared first on
webBikeWorld
.
Continue reading...