Joined

Sep 20, 2016
Messages

618
Reaction score

122
Points

43
Location
I have 2013 NC700X DCT. I bought it from first owner. Since then the handlebar weights were a bit off from the handlebar axis. Handguards were installed and now I'm assuming it probably has something with it.
But I'm pretty sure the main "cause" for the issue am I - I dropped the bike twice, once broke the handguard plastic part. I used the loctite and it was ok for a while, and on my last 2-3 rides it would become loose and I had to tighten up every couple hours. And then nothing would help. You can see it here:
https://photos.app.goo.gl/LpMNbhQ8jwpLY4CT7
As you can see the handlebar weight is rotating around axis but not in correct way, kind of wobbling... On both handlebar weights.
How to fix it? I'm assuming I have to buy all inner parts?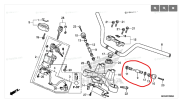 The weights and the screws I bought last year, still in good condition.
Is it something I can do myself (using the service manual) or I should take the bike to the shop?
Thanks for any help.
Last edited: